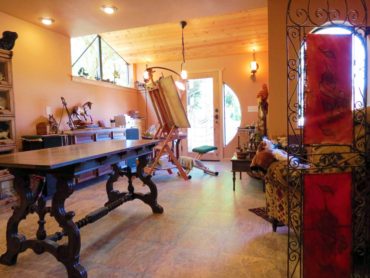 To visit Spirit of Horse Gallery at SkyeLandeSea Farm is to immerse yourself in artful magic. It is a result not only of planning but also of minds open to serendipitous revelations.
A pair of ancient, carved Tibetan temple lions acknowledge your arrival. They give no sense of guarding. They simply announce a different way of looking at creativity and life as they invite you to suspend disbelief and judgment while experiencing the art and story of their home and gallery.
During the last three years, Kim McElroy and her husband, Rod, designed and built their place to honor nature in its many forms, indoors and out. It all began with Kim's love for a horse named Darma, a tall bay mare who needed to escape the confinement and injury she had suffered as a racehorse on a busy circuit.
Kim McElroy has drawn and painted horses since childhood and is now a successful artist. Her deeply spiritual renditions are internationally popular, as are her blogs and poetry. Horse owners from all over the world commission McElroy to paint their animal friends, and many of those popular paintings are available as prints.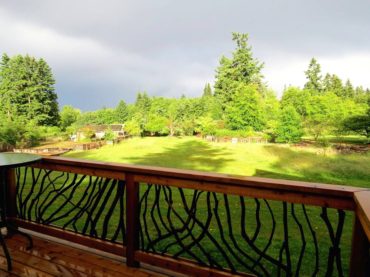 Her paintings depict not just the appearance of the horse but the spirit she senses in them. After spending time with the horse, if possible, or at least with pictures and detailed background, she connects with the soul of the animal through meditation and dreams. That deep study leads to a perspective and a vision for the portrait.
In 1999, drawn to its history and large open pasture, the couple bought an old farmstead near Kingston and moved into the original house on the lower end of the hilly property. They often sat on an oddly out-of-place knoll above the house, contemplating what to do next. Eventually they were inspired to build what is now their home and gallery called Knoelle House.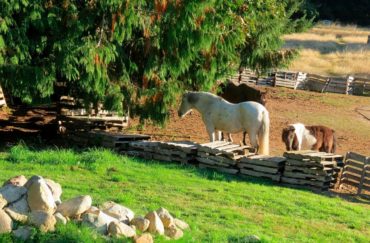 Knoelle House continues to evolve with the help of friends and artisans who share the McElroys' immersion in nature, belief in serendipity and love of whimsy.
Laurel branches laid out as they would normally grow, uneven and random, fill the spaces below railings inside and on decks outside of the house. Peeled trees and open beams support what few walls there are inside, leaving tall, open spaces because McElroy, like her horse, craves open air around her.
An off-kilter, angular loft sits above the kitchen and suggests a possible appearance of Harry Potter.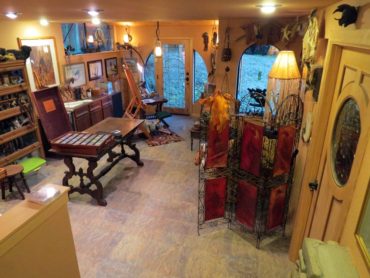 Alan Vogel of Bainbridge Island designed and built a unique dining room table just for them. A large cross-section of a maple tree trunk with a burnt center from a lightning strike holds up the glass top that is cut out on the inside to follow the lines of the tree's hollow center.
Another, smaller table made with logs from the same stressed maple and topped with the center cutout from the same piece of glass, is held together by a handsaw wedged through the glass and wood. Vogel named it "We Will Get Through This," a prominent theme in life for Kim and Rod McElroy.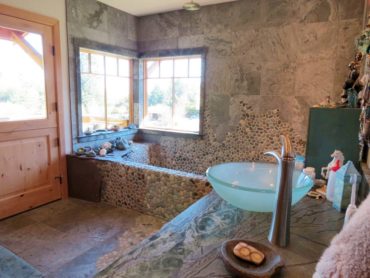 Jeri Hansen, owner of Creature Comforts in Hansville — a place for "old souls" -scours markets at home and abroad for fanciful and unusual items. Many of them have a history from their time in faraway places. The McElroys have adopted some of those lost things. The friendly, seemingly prescient lions at the entrance of Knoelle House were one of Hansen's finds.
River stones in flowing patterns pour along a bathroom floor, past a sea-green sink, and lead the way to a huge, stone-lined bathtub surrounded on two sides by windows looking out on a horse pasture. A showerhead hangs from above and imitates rain. It is deliberately difficult to tell indoors from outdoors or nature from art.
Darma lives in that sloping, roomy pasture with three other horse friends, all adopted by the couple. The horses are visible from most of the house, including a sitting room heated by a unique Russian stone fireplace.
Carved Celtic dragons support a mantle sitting underneath a metal wall with a sculpture showing Darma surrounded by the moon and stars. She is, after all, the muse of this spiritual, mystical place where Kim McElroy and her art flourish.
There is a depth beyond the physical reality of McElroy's home and gallery at SkyeLandeSea. Nature is honored, and, in return, inspires visitors and the artist herself.
The whole was not envisioned before its creation. Step by step, serendipity shaped the work, which is still in progress. Nature inspires the place and the place inspires the art.
McElroy opens her gallery by appointment and hopes to be a part of Art in the Woods this November. Visit spiritofhorse.com for contact information and to see more of her work.