Baking a traditional Christmas bread every year keeps us connected to our family traditions, dear friends and loving memories. My family had established Christmas traditions, such as making Grandma's old-fashioned fruitcake on Thanksgiving Friday, eating oyster stew on Christmas Eve, and gobbling cookies and cocoa for breakfast on the big morning.
I had no idea how far-reaching traditions could be until I married my husband, Paul, who came from a long-established, old German family. The Europeans give real meaning to tradition — repeating the same stories, recipes and rituals year after year, generation after generation.
I had tasted Christmas stöllen at some point in my life. I liked it but I had no connection to it until my new father-in-law asked me if I knew how to make it. I loved baking bread but didn't know anything about stöllen, so I embarked on a journey to learn about it — and more importantly to try and make it.
My Betty Crocker cookbook had a recipe that was OK for a starter. A recipe from a German cookbook checked out from the library produced a more or less satisfactory loaf. And then — sadly, after my father-in-law passed away — I met Dieter Koerner.
Dieter and Eileen were members of my garden club. Visiting with them at a meeting, I expressed my love of German traditions and travel. Before we all departed for the evening, Dieter and Eileen invited Paul and I to come to their home for coffee the following week.
As it was December, we were served Erzgebirge Stöllen, the traditional Christmas bread from the area where Dieter was raised. His grandfather ran the village bakery, and as a young man, Dieter became a baker's apprentice, and also worked at that trade in his early years as an immigrant to the United States.
As you can imagine, anything we ate in the Koerner home was beyond delicious. I just could not get enough of that sweet, firm-textured bread, sparkling with its sugar crust and brimming with golden raisins, glistening citron, slivered almonds and a few cherries.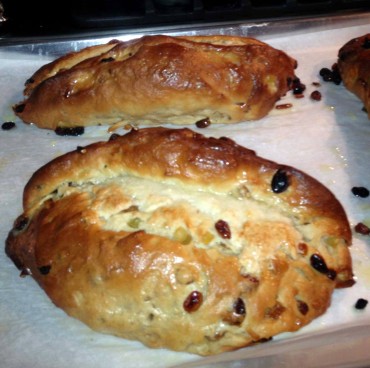 Down the middle of the loaf ran a golden vein of marzipan, just a little tease to the palette in each slice. Dieter explained the significance and symbolism of this succulent loaf and its ingredients, and seeing my ecstatic joy over its amazing taste, he offered to teach me to make it!
Armed with the recipe, I shopped and gathered all the ingredients, and one Saturday afternoon, master baker Dieter arrived at my kitchen. About six or seven hours later, two tired bakers shared a glass of brandy and cheered as the last coating of sugar was loaded onto the crust of seven golden loaves.
From that day forward, every year, a couple of weeks before Christmas, I dutifully gather the ingredients together and spend a day in the kitchen. Honoring the age-old tradition of making European Erzgebirge Stöllen, I also honor my dear friend Dieter, who has gone to bake with the angels. I think my father-in-law would have been proud that I finally got it right.
The shape of the loaf, elongated into an oval and folded over on the top, is symbolic of a mountain. The fruits and nuts are rocks, and the marzipan is the vein of ore, hidden inside. Granulated sugar and butter crust form the surface of the mountain. The dusting of powdered sugar applied just before serving becomes the snow, which of course occurs in the mountains every winter.
Erzgebirgische Stöllen
Ingredients:
5 pounds bread flour
5 ounces dry yeast
3 cups warm milk
1 pound granulated sugar
2 1/2 pounds butter
1 tbsp vanilla extract
1 lemon — zest only
1 tbsp salt
1 1/2 tsp cardamom, ground
2 1/2 pounds golden raisins
12 ounces citron
6 ounces maraschino or candied cherries, chopped
1 pound slivered almonds, toasted
1 cup rum
1 pound butter, melted
1 pound sugar
Directions:
On the day before baking, pour the rum over fruits. Cover and stir hourly to saturate.
Make the sponge: In a large bowl, dissolve yeast in warm milk, add 2 tablespoons of the sugar. When foamy, stir in about 2 pounds of the flour. Let rise until yeast is multiplying rapidly, about 30 minutes.
Dump remaining 3 pounds of flour on large work surface. Make a well in the center. Pour sponge into well and add butter, cut into 1-inch chunks, and all flavorings. Knead until smooth.
Drain fruits and knead with nuts into dough.
Place in large, buttered bowl; cover with towel and let rise until double in warm place.
Turn onto work surface, punch together, make a ball and place back in bowl. Let rise again.
When nearly double, turn onto work surface, divide into 2-pound sections, knead and form into slightly elongated balls, "tucked" side down. When all balls have been formed, turn over and roll onto the tuck about 1/3 way from edge. Spread 2-3 tablespoons of almond paste, or marzipan, lengthwise along the center. Fold 1/3 dough back toward the center, encasing the marzipan, and pinch tight, leaving a ridge lengthwise along the center of the loaf.
Let loaves rise until soft and a little puffy, bake in 375-degree oven until dry inside and light-brown outside.
While hot, brush loaves with butter until they will accept no more butter. Let cool thoroughly, brush with butter again and coat with sugar. When dry, wrap in plastic. Store in a cool, dark place up to a month or freeze.
Just before serving, dust with powdered sugar.