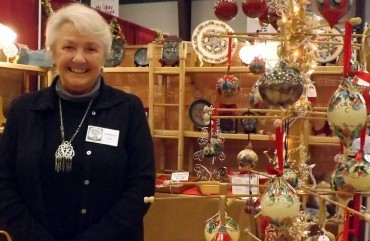 Holiday shopping can be an exhausting and daunting task. Traffic, crowds and mass-produced goods at high prices all add to the frustration, sucking the joy out of gift giving and decorating.
For nearly three decades, the Associated Student Body (ASB) organizations at Peninsula and Gig Harbor high schools have provided an alternative to the usual holiday rat-race. Each school hosts an enticing holiday festival featuring gifts made by local artisans, holiday décor, refreshments and continuing entertainment by students, sure to cure the holiday shopping blahs and raise the spirit.
Winterfest Arts and Crafts Fair, hosted on Thanksgiving weekend at Peninsula High School, is home to about 200 sellers of handcrafts, gourmet food items and refreshments.
The following weekend, on Dec. 5 and 6, Gig Harbor Highs Tidefest Fine Arts and Crafts Celebration sports over 100 stalls of fine art and crafts.
About half of the vendors live on the Gig Harbor or Kitsap and Olympic peninsulas, the other half coming from areas around Washington, with a few out of state. Artists and crafts-folk from the local area often participate in many art and craft shows throughout the year. As serious artisans, most make their living or a large part of it by producing and selling their hand-crafted items.
The rules at both schools stipulate all work in a given stall must be made by the vendor. Some reproductions may be eligible, such as cards replicating an artist's original work.
Visitors to festivals such as these will meet interesting and talented artists, such as Melanie Delaney of Black Waters Fine Handcrafted Garden Art and Home Décor. With her husband, Bob, Delaney produces plasma-cut, heavy-gauge steel images and 3-D critters designed to decorate the garden or hang on a wall.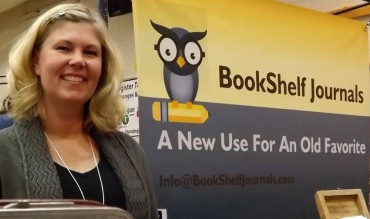 The Delaneys have been part of the local craft show and farmers market circuit for about six years, coming from retail management and sign-industry backgrounds. True entrepreneurs, they turned their hobby and creative talents into a full-time business when caught in the economic downturn of 2008.
They work together, attending between 30 and 40 shows and markets each year. The Black Waters metal art can be seen and purchased at "Tidefest."
Amy Jablonski of Amy's Decadent Chocolates is a familiar presence around the West Sound. She usually has booths at all the local festivals, but is "partial to those who support the local schools and communities," she said.
Jablonski and her team attend about 30 events a year, and in a recent week alone produced 1,125 caramel and chocolate apples to keep up with seasonal demand. Amy's Decadent Chocolates can be found at both Winterfest and Tidefest, as well as at her storefront in Bremerton.
A very unusual and clever product for those who love to write or sketch is the brainchild of Tracy Woods, who lives in Silverdale. BookShelf Journals are upcycled book covers from every subject imaginable.
Using anything from dictionaries to Dr. Seuss books, Woods removes the covers, saves a few pertinent pages from the publication, and layers the book pages between sections of high-quality, unlined writing paper. The whole stack is then punched and binding rings are inserted to hold the journal together. Imagine finding a cover of an old gardening encyclopedia, with a few pages intact, to use as a gardening journal!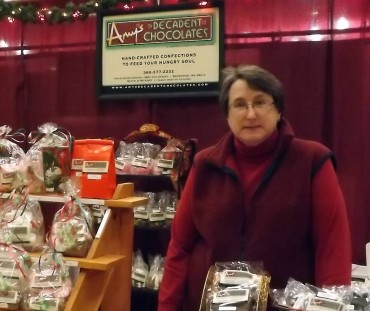 Sharing the love of the traditional and ancient art of Rosemaling, Usula Alstead also is a regular fixture at Tidefest. Rosemaling is a Norwegian folk painting style, used for centuries to embellish furniture and other wooden household objects.
Known for her lovely, hand-painted Christmas ornaments, Alstead has a following that frequently causes a traffic jam at her booth each Tidefest opening morning. A resident of Olalla, she has been a participating artist at TideFest for more than 25 years, when it first began and was hosted in the library.
She loves the festival atmosphere, how she is treated as an artist, and enjoys being around the students. "They are such a wonderful bunch of kids," she said.
Both festivals charge a $5 admission fee and charge vendors to participate. All moneys collected go directly into the ASB accounts, supporting student club and sports activities.
Sandy Malich, the vendor coordinator for Winterfest, said, "It's all about making money to help the kids."
Malich and her husband are both Peninsula High alumni. She is retired from a long-term role as the school office manager and her husband served as an athletic coach for several years.
Alyse Yeaman, art teacher and faculty coordinator at Gig Harbor High, said she is "thrilled to be a part of Tidefest."
"The experience teaches the students leadership skills, and how to work together as a group. It brings the community together and supports student programs," she said.
Treat yourself to a wonder-filled experience at either or both of these winter festivals. Meet the creators and makers of the gifts you are giving to others, listen to the talented musicians our students are becoming, and get a good and old-fashioned dose of holiday spirit.
Meaningful gifts are made by hand, not mass-produced. Every dollar spent at either Winterfest or Tidefest benefits programs at the local high schools, and supports local artisans who create from their hearts.
It's a win-win all around!