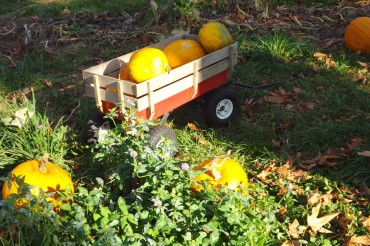 Cooler temperatures and shorter days evoke the primal instinct in us to walk along leaf-strewn pathways, set in stores for the winter, and look forward to warming soups and luscious baked goods from our ovens. Perhaps no other foodstuff is better suited to long-term storage and usefulness in so many recipes than those of the winter cucurbit family — pumpkins and squashes.
Technically, a pumpkin is a squash originating in the New World, and introduced to the pilgrims by the indigenous American peoples. The members of this plant family are nutritious and filling, and lend themselves to a wide variety of sweet and savory cooking methods. Low in calories and carbohydrates, they contain high levels of potassium and vitamin A and some fiber, as well as no fat.
Pumpkins and squash come in all sorts of beautiful colors, weird and wonderful shapes, and in a large array of textures and tastes. Those with discerning tastes will be interested in the differences found in this large, interesting family of produce.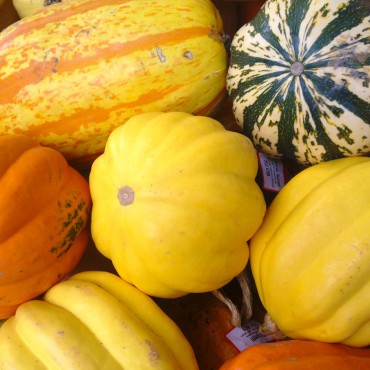 Some fruits are heavy, water laden and suitable for creamy soups, such as the Jaune Gros de Paris (large yellow Paris), and some — such as the New England Sugar pumpkins — are best suited for pies.
Unless a pumpkin or squash is purchased from a specialty grower or knowledgeable grocer, it is sometimes difficult to know what variety it is, and hence the best use. An excellent identification chart can be found on Earthbound Farm Organic website. Epicurious also offers a chart with links to recipes.
To learn about the differences in varieties and optimal uses for these useful fruits, I recently paid a visit to Creek House Farm in Manchester. The present owners purchased the 1908 farmhouse and property in 2000 and planted multiple varieties of organic heirloom pumpkin and squash in 2009, when restoration of the 1908 farmhouse and soils was complete.
Everyone in the family is involved in some way. Each year, the farm's "you-pick" fields are open to the public on weekends from the first of October until sold out, about four weeks. The emphasis is for families with children 10 years and younger to visit and enjoy the activities. There is a hayride, petting zoo and water-balloon gallery.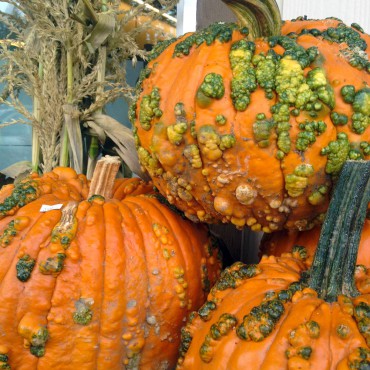 The demand has been so great for pumpkins, Creek House is unable to grow enough for everyone to take one or more home. So in addition to the organic eating pumpkin and squash they produce, they bring in truckloads of carving pumpkins from another farm and stress that these "imported" pumpkins are for carving and decoration only.
The "Jack-o-lantern" pumpkins grown at Creek House Farm are Connecticut Field pumpkins and because they are organic and sustainably grown, they can be used for both carving and eating.
Pumpkins grown for their carving qualities are typically well shaped and have a large cavity for a candle. Their pulp tends to be coarse and stringy. Those grown for eating are denser; the meat is solid and finely textured.
All pumpkin and squash seeds are edible and make a nutritious, crunchy snack when roasted. Some seeds are well-suited to hulling and served raw on salads or added to cooked dishes.
When choosing a winter squash or pumpkin, make sure the fruit feels firm and solid with no obvious bruises or soft spots. It should have a well-developed color for its variety and a slightly waxy feel with no breaks in the surface of the skin.
Because they tend to be extremely hard, it is necessary to use a large, sharp knife, and sometimes the aid of a small hammer. Begin by cutting the squash in half and scooping out the seeds. Reserve the seeds for drying and roasting later on.
The next step will be determined by the cooking method you plan to use. Most varieties can be sliced and baked for a very beautiful and delicious meal or side dish.
For soups or pies, you will make a puree by cooking to soften, and whirring in a blender or food processor:
Cut the fruit into large pieces, arrange skin-side up in a large baking dish, add a 1/2 inch or so of water and steam in the oven or microwave.
The oven temperature for baking should be about 400 degrees and depending on the thickness of the pulp, allow between 30 minutes and an hour. The squash is ready for processing when a fork easily pierces the skin and flesh.
If using the microwave, place the fruit skin-side down in a microwaveable glass dish, add 1/2 inch water, cover loosely with waxed paper and microwave on high for about 12 minutes.
Check for softness, and reset microwave in 5-minute intervals, checking every 5 minutes until ready. Remove squash pieces from water and set aside until cool enough to handle. At this point, the lovely flesh is easily peeled with a paring knife and ready for mashing or blending.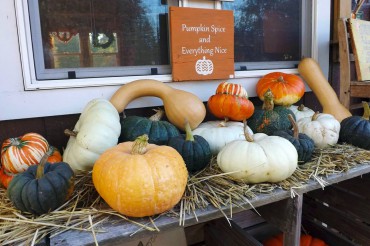 Check out this online recipe shared by Maria Rodale for one of the best pumpkin soups I have tasted! Also here's a great recipe for roasted winter squash slices, by Sally Schneider, author of "A New Way to Cook."
My Method for Roasting Pumpkin or Squash Seeds
Scoop seeds out of the cavity; remove large pieces of pulp and strings.
Rinse in a large colander, swishing seeds with your hand under running water.
Drain well and set aside. Meanwhile dissolve about 1/4 cup sea salt in a quart of water.
Add seeds to salt water and let soak about 3-4 hours, stirring occasionally.
Drain in colander again, shaking off as much water as possible.
Preheat oven to 350 degrees.
Spread seeds evenly in one layer in a large rimmed baking sheet, and sprinkle with another tablespoon of sea salt. (Have fun, use your imagination and add whatever seasonings your family likes, such as garlic powder, chili powder, etc.)
Place in oven; bake about 20-30 minutes, flipping seeds with a spatula occasionally. When all seeds are dry and just beginning to turn a pale yellow, remove from oven. When cool, store in a tightly lidded jar.