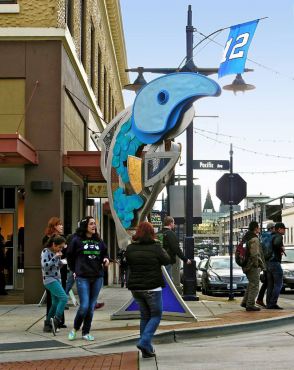 There was immediate controversy.
I cringed. I was told the imagery of a fisherman, costing thousands of dollars, was not made by a local artist and it would be installed a few feet from my art gallery's front door at 4th Street and Pacific Avenue in downtown Bremerton.
Like the three hear-no-evil, see-no-evil, say-no-evil monkeys, I kept my mouth shut. It weighed heavy. Was no art better than bringing outside art in? After all, we were, and are, an official arts district, not lacking local artists.
Every part of the street and sidewalk outside my building was being torn up, taken away and reconstructed. It was a brutal time: noisy, dirty, crushingly shaky, obstructive and definitely not conducive for attracting customers who had nowhere to park.
Then one day, like magic, the crane lowered the 14-foot, bright-colored statue of a fisherman onto its base. It was more two-dimensional than three-dimensional, so it almost disappeared when viewed from side angles.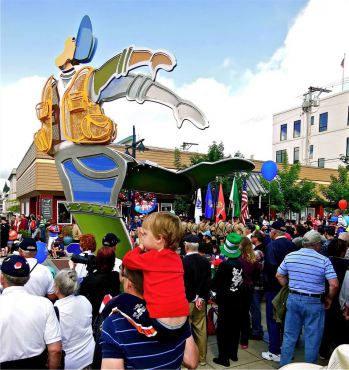 I'd never seen a fisherman that looked quite like that. It was impressive but still, I winced a bit.
Then an equivalently large statue of a fish was installed diagonally across the street. The concept was of a "fish catching the fisherman."
At the time of installation, I was filming for my cable-TV show about Bremerton, so on-street comments were encouraged. There was no surprise. The negative folk remained negative, and the positive folk stayed positive.
But there was a huge surprise. The immensity and impact of the reactions really caught me off-guard. I was not prepared for such popularity of the giant statues.
During the summer tourist season, it was almost nonstop with the picture taking. Many a time I would notice the picture taking trade-off, and go outside and say, "Would you like me to use your camera and take a picture of all of you?"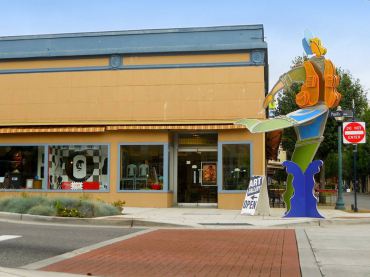 Another surprise was that little kids recognized the fish catching the fisherman concept.
The other city sculptures are smaller, less impressive and more abstract. They attract positive attention but nothing like the attention for the huge fisherman.
Several summers have passed. The 14-foot oddity has become part of the cityscape, and I even see some of the naysayers smile when they walk by the clown-like fisherman.
Me? I am still torn, but have to admit it is one of the best things to come out of that Homeland Security money triggered by the Sept. 11 aftermath and the elimination of obstructive buildings on Pacific Avenue lining the Puget Sound Naval Shipyard.