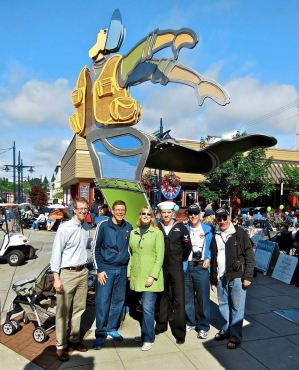 Old timers like me wouldn't believe it either if I hadn't seen it with my own eyes. Bremerton, a tourist magnet — really?
Many of the old Navy town natives who watched the demise haven't been back for years. When they do make that downtown return, they are surprised at the new look.
Even more surprising is the number of tourists. One has to see it to believe it, especially during the summer season when the world-renowned fountains are cooling and sidewalks host street musicians.
That notorious 14-foot-high fisherman statue? I, along with many others, criticized its existence. But my, oh my, I've changed my tune.
The summer season sees daily visitors hovering around the bright configuration, touching and taking pictures. Often I step outside my business and say, "Would you like me to take a picture of both of you?" Then I invite then in to take pics of my Pyrex Museum, which greatly amazes them!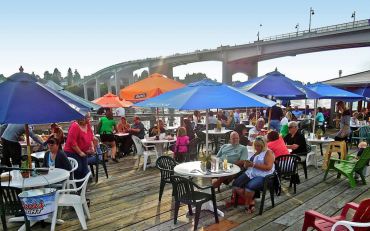 If you have seen my TV cable series, "Amy's Pyrex People the Reality Show," you've seen the influx of tourists as I ask folks where they are from. They are from around the world, most taking that famous ferry ride and finding Bremerton.
What other West Coast city has waterfront amenities, two hotels, five museums, three art galleries, public art, fountains, two theaters and more than a dozen restaurants, from an ice cream parlor to the famous Anthony's Homeport, all within a radius of a few blocks?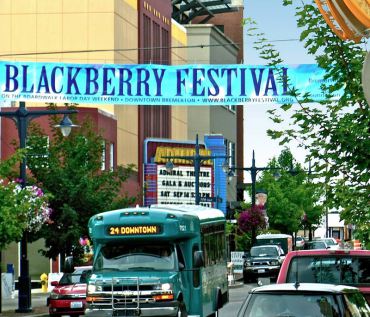 But this ferry-ride-from-Seattle place has its downfalls, as it is still in the thralls of revitalization, limited parking during the week, limited shopping facilities and open business hours that don't always coincide with one another.
It is hard to keep secrets. Come see for yourself. With out-of-town company this summer, Bremerton is a great destination.
I would say the best days to visit would be Thursday, Friday or Saturday. Also mark your calendar for Bremerton's art gallery walk the first Friday of every month.
Bremerton Chamber of Commerce can answer a lot of your questions at 360-479-3579.