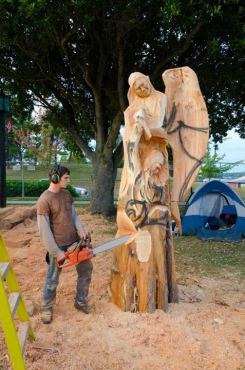 There will be plenty of fireworks in Port Gamble for Independence Day, but why stop there?
On July 4-6, the picturesque town will host Old Mill Days Americana, a festival that will include a lumberjack show, chainsaw carving competitions, music, ice sculptures, food and craft vendors — the list goes on.
The buzz of chainsaws is not an unfamiliar sound in Port Gamble. For many years, an invitational competition has attracted chainsaw carvers from around the world. The event has even had a brush with fame — it was featured on an episode of the Saw Dogs television show.
Just as impressive, the lumberjack show and the Toughest Timberman contest will mix a display of precision and athletic skills as well as a few dangerous feats.
The festival caters to all ages. Carnival rides will keep kids occupied while adults can relax in the beer garden. Local performers will keep the beat going on the stage, while a classic car show will add a little shine to the festivities.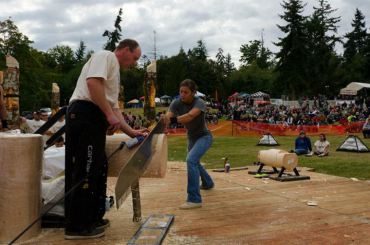 The Kitsap Chordsmen are among the performers making an appearance, and the festival serves as a fundraising venue for the nonprofit group.
There are plenty of July 4th celebrations around Kitsap, but Old Mill Days is certainly unique. With the backdrop of Port Gamble and a little nostalgia mixed in, it's a festival worth checking out. Besides, where else in Kitsap can you see fireworks two days in a row?