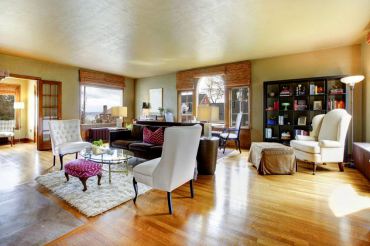 A client asked me recently whether modern and traditional pieces can mix together in the same room. She had inherited some traditional sofas and chairs from her grandmother, but her husband prefers more modern and simpler look.
The two styles are not mutually exclusive!
The sizes, and especially the seat heights, are a more important consideration than the look or style. I believe that a room can have pieces from all the design periods, as long as you like each piece.
The same goes for art. Don't select an oil painting because it blends in with your sofa. Buy it because you love it.
When properly placed, even the beautiful, mid-century Eames lounge chair will blend in with
Victorian furniture. Just put it in a corner, away from those pieces that have higher seats.
In a particular group, the seat heights should be within an inch or so of each other. It is uncomfortable to be sitting much lower than the person with whom you are conversing.
When we do office layouts, many executives want the guest chairs to be substantially lower than their own leather desk chair. The person sitting the highest has the upper hand.