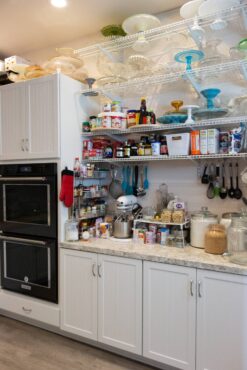 The only thing better than a pantry is a butler's pantry. There are different ways to define a butler's pantry, according to Bainbridge interior designer Molly McCabe. It can be just about anything, such as a mudroom or a place to arrange flowers.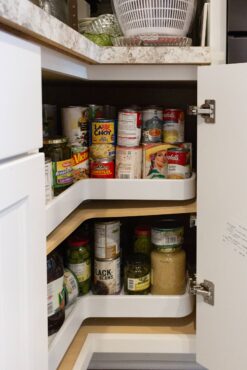 McCabe says she "grew up around architects and designers." When she bought her first house in adulthood, she "remodeled the whole thing." It was a gratifying experience and led to her business, A Kitchen That Works, a full-service design-build firm that specialized in kitchens, baths and whole-house remodels. After many years in business, McCabe is morphed A Kitchen That Works into McCabe by Design, a residential design and specification firm.
McCabe certainly knows her kitchens. She says that butler's pantries are "about figuring out what the purpose of the room is."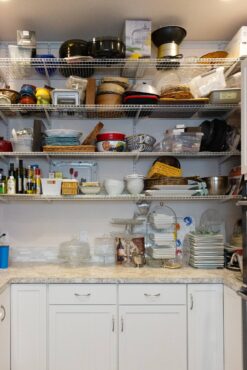 "Is it to hide dishes? Is it to facilitate catered parties? Is it to facilitate cooking ethnic foods like kimchi? And it's also to have auxiliary appliances," she explains. "So, you might find a wall oven, a microwave oven, a steam oven or a built-in coffee machine. … It just depends on the space that's available and then again, what the purpose is."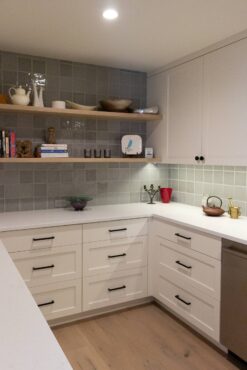 Homemaker and mother Lisa Sarfati uses her butler's pantry for storage. It's filled with food, dishes and small appliances. Building the pantry took an entire team, including Tammara Stroud Interior Design, Cedarwing Builders, Westside Cabinets, AMM Granite, Grandy Marble & Tile, Trueman Plumbing, Day Rd. Electric and Salisbury Wood Floors. She and the team also worked with salesperson Kay Koehler at Ann Sacks, where the tile was purchased.
"We used some glass in the design of the cabinets, as well as floating shelves on one end of the pantry to create more of an open feel," Sarfati says.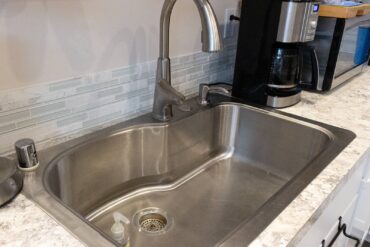 When undertaking a project, she recommends first creating an inventory of what you have. "Then visualize where you'll put everything and what extra bells and whistles you might need," she says.
Pam Hanson, who owns Cameo Boutique in Union, has her own interpretation of a butler's pantry. She designed hers as a separate room off the kitchen. It has her freezer, dishwasher, a very large sink, trash compactor, double ovens, a microwave and more.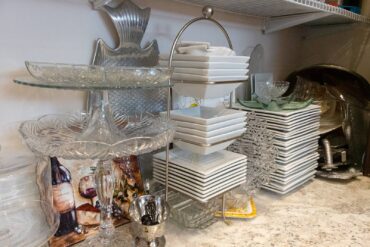 "I love going through magazines and getting ideas, and it [a butler's pantry] was always just something that I wanted to have — this space, so that it wasn't seen by anyone," she says.
Hanson is a big fan of how her butler's pantry enables her to keep dirty dishes out of the way when she has people over. To create her butler's kitchen, she drew it out for her contractors.
"Our contractor was Terry Evans, and I did a lot of consultation with him. And then, I went and purchased the shelving, and they installed everything," she says. "The process was just meeting with my contractor and going over what I wanted, showing him on paper what I wanted."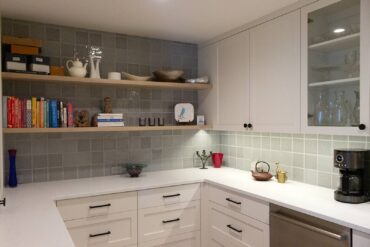 Hanson wanted high ceilings and open shelves. For flair, Phoenix Design South from Belfair did glasswork and a door carving.
McCabe has two additional methods for creating a butler's pantry. One involves remodeling the existing space. For homeowners trying to put something within their house's square footage, she says that many laundry rooms can function as a butler's pantry. It's a matter of adding appliances or whatever you might want. Wiring can be a challenge; however, McCabe says that if you want your butler's pantry to be a mudroom, that's not a problem.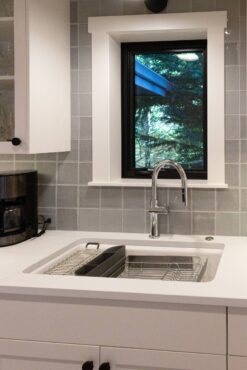 An enclosed porch is also an option if you're willing to get a permit, which is often necessary. And finally, with heating and cooling added, a bump-out will get the job of a butler's pantry done.
The second way to build a butler's pantry is with a full-on addition. "That can be on an existing home, but if you've got the luxury of doing new construction and you can plan it out, then the sky's the limit, so to speak," McCabe says. "But I think having an exterior door is super valuable. I think having windows in your butler's pantry is really valuable, too."
McCabe recommends choosing durable flooring, such as tile, linoleum or rubber. "Don't overlook the lighting. Lighting is always important," she adds.
Hanson loves her butler's pantry. "If I ever did another house, I would also have one," she says.