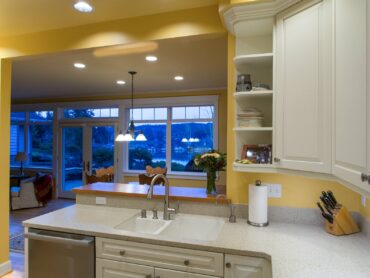 After the refrigerator, what is the second most used fixture in a kitchen? Here are some hints: It can be made of many materials, such as stainless steel, cast iron, fireclay, concrete, solid surface, quarried stone or quartz composites, and is available in a variety of colors and finishes. It facilitates meal preparation and cleanup. It's also the source of many homeowners' frustrations because of its size or shape.
Give up? The kitchen sink! Selecting the right sink for you and your kitchen takes some effort. Let's dig in.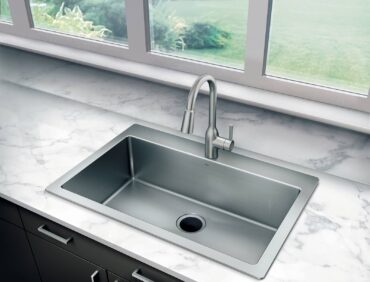 Installation Style
The first selection criteria for sinks is the installation style. Choices include:
Top mount: This sink drops into a hole in the countertop and is supported by a rim or flange around the outside edge. This style has a lower unit and installation cost than other types and comes in a variety of materials. It will often come with one or more predrilled holes for a faucet and other accessories. This is the recommended sink style for laminate countertops.
Undermount: This style is mounted under the kitchen countertop, adding to the "depth" of the sink by the thickness of the countertop or approximately 1-1 1/2 inches. Undermount sinks are very popular due to the ability to effortlessly wipe countertop debris into the sink with a swipe of a sponge.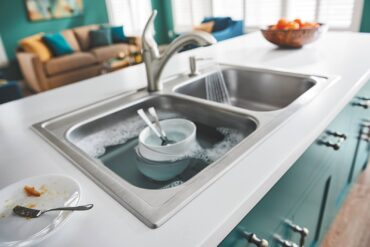 Microedge: This sink drops into a hole in the countertop and has a microthin rim/flange, allowing you to wipe down a countertop into the sink with more ease than a traditional drop-in style. The design style associated with these sinks is contemporary or modern.
Integral: This style implies that the countertop material and the sink material are identical in make-up and generally have no visible seams between the sink and the countertop. Integral sinks are typically made of stainless steel, solid surface, concrete or quarried stone.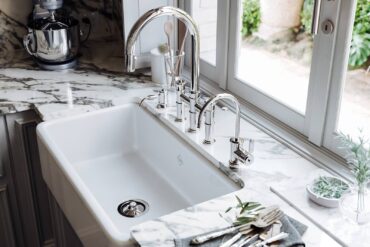 Workstation: This style has become very popular in recent years and for good reason! Workstation sinks come in undermount, microedge and integral (typically custom) styles. The upper perimeter of the sink has a ledge where you can drop prep accessories such as a cutting board, colander, drying rack and more, depending on the manufacturer. This style is particularly good for small kitchens with limited countertop prep space.
Farmhouse or apron-front sinks: Beautiful in appearance and stylistically aligned with farmhouse and contemporary farmhouse kitchens, these sinks have a long history dating back to the late 17th century in England and Ireland. Farmhouse sinks come in a variety of materials, including cast iron, fireclay, stainless steel (note the front apron can get scratched by men's belt buckles), granite composite, quarried stone and concrete. Some models are designed to be mounted under the countertop while others to be installed flush with the countertop.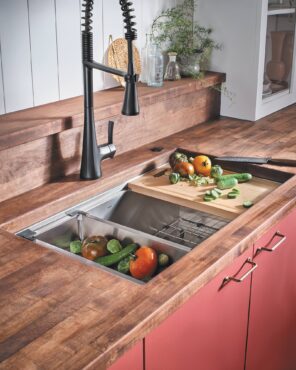 The majority of farmhouse sinks are single bowl, but two-bowl models are also available. These sinks can be very ergonomic for people who are 5 foot, 6 inches or taller, as their arm length is suited for the depth of the sink bowl and they don't have to reach as far to activate the faucet. However, for shorter people, it can be more challenging to reach the bottom of the sink and to stay dry while washing dishes. Note that the apron typically comes down 8-10 inches, which makes the hardware on the sink cabinet doors 2-4 inches lower than with a standard sink installation. Lastly, it's important to wipe up water drips down the front of the apron to protect the cabinet doors below, especially if they are painted.
Material and Color
The sink material and associated color options comprise the second selection criteria. Things to consider:
Stainless steel: A popular choice, stainless steel has come a long way since our grandmothers' days. These sinks are deeper and are made with a higher gauge of stainless steel (the lower the gauge number, the higher the quality — 16- and 18-gauge are most common). They come with sound absorbing pads on the underside to dampen the "tink" sound that our grandmothers' sinks had. While easy to clean, they can be prone to scratches. Best to use a bottom grate with this material.
Cast iron: A classic sink material, cast iron is highly durable and easy to clean. The number of manufacturers and bowl configurations are limited, but the colors are not. Cast iron sinks are very heavy, so it's important to provide additional support with certain countertop materials, such as laminate and solid surface. Unlike stainless steel, if you drop a glass in a cast iron sink, it's highly unlikely to survive in one piece.
Fireclay: A mixture of clay and glaze is fired at high temperatures to create fireclay, an easy-to-clean, very durable surface that is resistant to breaks or nicks, but it can scratch. The price point is often lower than cast iron, as are the maintenance requirements. The color options and bowl configurations are limited, but steadily growing.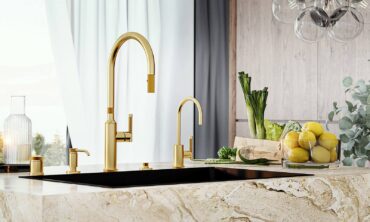 Solid surface: This material is typically an acrylic and polyester composite, known under brand names such as DuPont Corian or LG HI-MACS. The sink is fused into the countertop, hence why the sinks are referred to as integral. The colors and bowl shapes are limited and tend to be shallower than sinks made from other materials. Colors are limited to whites and off-whites. Cleaning is simple with standard kitchen cleaners such as Soft Scrub or Bar Keepers Friend.
Granite composite: This is an engineered material comprised of crushed granite (or quartz dust) and resin. The sinks are highly durable and nonporous, but hard on glassware (if dropped into the sink). They come in variety of shapes, bowl configurations and colors and are easy to clean. Uniform in color, they don't possess a "natural" color variation like a quarried granite sink. This material is heavier than stainless steel and may require additional structural installation support.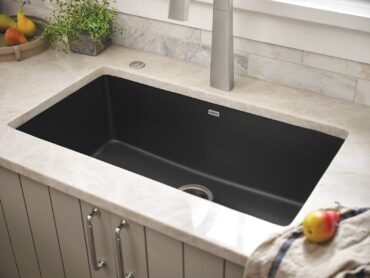 Quarried stone: Beautiful and unique with regards to the size, shape and material, quarried stone sinks can be a real statement piece. However, they're heavy, requiring additional installation support. They're also challenging to clean and maintain and are susceptible to chipping and thermal shock — and therefore to cracking.
Concrete: Concrete sinks are typically produced by small, local fabricators. Glass-fiber reinforced concrete (GFRC) is durable, lightweight and malleable and can be rendered into a multitude of sizes, shapes and custom colors, as well as integrated into a concrete countertop. National manufacturer Native Trails (a producer of eco-friendly bathroom and kitchen sinks) has developed a proprietary concrete product, which comes standard with a proprietary sealant, NativeStone Shield, to protect against stains, scratches and cracks. Concrete sinks are higher on the cost scale, but add an artisanal element to the kitchen with eco-friendly attributes.
Size and Bowl Configuration
After narrowing your sink search by installation style and material, you can now drill down to available size and bowl configuration. Most kitchen sinks are 33 inches wide and 16-20 inches in depth (front to back) and are designed for a standard 36-inch-wide sink-base cabinet. Bowl depths can range from 7 to 10 inches.
Remember, when you undermount the sink, the bowl depth will increase by 1-1 1/4 inches. It's important to keep this in mind so that you don't strain your back trying to reach into the sink bottom.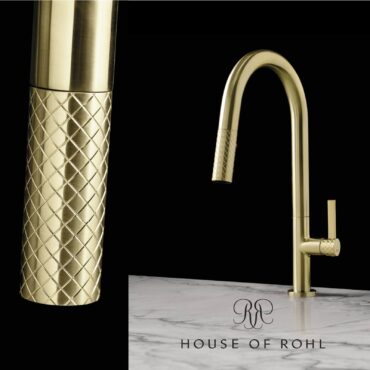 If you choose a sink that is wider than 33 inches, recognize you're giving up counter space and the sink cabinet has the potential to become a collection point for a lot of unnecessary items. Contemporary-styled sinks often have square corners, while transitional and traditional sinks have rounded corners. By selecting sinks with a drain positioned toward the back of the sink, you will have more room in the sink cabinet for pullout trash cans and other accessories.
Choices to consider:
Single-bowl sinks: Convenient for washing large pots and cookie sheets, they don't easily afford the ability to dry hand-washed dishes (in the sink), nor prevent cross-contamination from dirty dishes in the sink while washing fruits, vegetables, etc. Consider adding a prep sink, space allowing, if you want to incorporate a single-bowl sink as the main cleanup sink.
Double-bowl sinks: These are configured in one of two ways — two equal-size bowls or what is referred to as a 1 3/4 configuration, with one bowl (often on the left side) being wider than the right-side bowl. This can afford a large bowl for washing and a smaller bowl for rinsing fruits, vegetables, meats and fish or drying dishes (saving precious counter space). A feature included in some double-bowl sinks is a reduced-height bowl divider, which can help with scrubbing roasting pans and sheet pans, but does limit the quantity of soapy dishwater maintained in the bowl.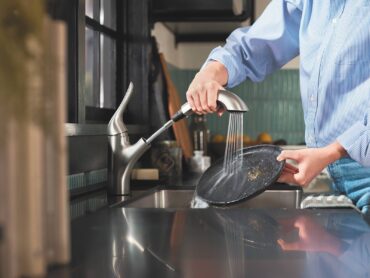 Triple-bowl sinks: This style of sink generally has two large bowls and one very small bowl that typically services the garbage disposal and not much else. With a width of 35-48 inches, there's a lot of countertop space forfeited, as well as an excess of base cabinet storage space.
Prep sinks: Typically a single bowl, a prep sink is a welcome addition to any busy kitchen. It's common to match it, in terms of material, to the main sink, but that is not a rule.
Once you have the sink picked out, review the manufacturer's accessory options for your exact sink model. Some models, particularly the workstation sinks, come complete with accessories. In the event your selected model does not come with any accessories, bottom grids are a must-have, but check out the cutting boards, drying racks, colanders and other accessories that may be available.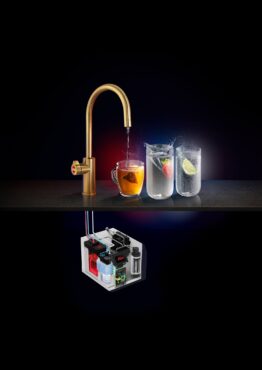 Faucet Styles
What is the third most used fixture in a kitchen? Here are some hints: It produces a range of temperatures, can have one or two handles, can be installed on a countertop or a wall, is available in a variety of styles and finishes and you use it multiple times a day. Give up? A kitchen faucet!
Faucets and their plumbing fixture siblings play a major role in the functionality of a kitchen, but are often overlooked in the material-selection process. Let's explore the decision tree in selecting the right faucet for your style and other plumbing-related products that complement a kitchen's design.
Faucet varieties include:
Standard faucets: These can have a single-lever handle or dual-knob/lever handles for mixing the water temperature. The low-hung arm can be rotated from side to side and the aerator is fixed at the end of the arm. They are budget-priced and have limited functionality. Most notably, it can be challenging to place a stock pot under the faucet and the lack of pull-out and pull-down head requires you to manually splash water around the sink bowl to clean it. This style can be wall-mounted (often referred to as a bridge-style faucet) or deck-mounted (countertop) and is often paired with an escutcheon, which may be concealing bore holes in the sink under the faucet escutcheon and a side spray for washing down the sink.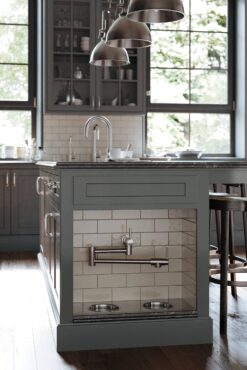 Pull-out faucets: This style is deck-mounted and has a single-lever handle and an aerated faucet head that is pulled out in a position that runs parallel to the countertop. It has similar shortcomings as the standard faucet, in that the arm is low, making it challenging to placing and filling stockpots in the sink. Further, the pull-out motion is not terribly ergonomic, making it potentially difficult for people with shoulder or elbow issues.
Pull-down or high-arc faucet: This style is wall- (very limited styles) or deck-mounted, can have one or two mixing handles and has a tall gooseneck arm, making it ideal for cleaning and filling stockpots. It also has an aerated head that pulls down in an ergonomic motion. Some can have a motion sensor feature, whereby a wave of your hand activates and shuts off the flow of water from the faucet. This is a great feature when handling raw meats and fish or sticky cookie dough because you don't not have to touch the handles to wash your hands. It's also a great way to save water.
Pot-filler faucets: Typically wall-mounted (behind a cooktop or range), these have an articulating arm that stretches across the cooking surface to fill a pot with water. When not in use, the arm folds back against the wall. These faucets are great for people with back, shoulder, elbow, wrist and finger issues because they eliminate the need to carry heavy pots of water from the kitchen sink to the cooking surface. Not all permitting jurisdictions allow pot fillers, so check before you buy one.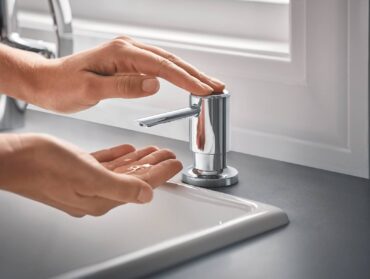 Bar faucets: These are typically a shorter version of a pull-down model for use at a prep sink or bar sink.
Side note: Faucets with single-lever handles and a removable aerated head are an excellent choice for people with physical limitations associated with their arms or hands and can also aid in keeping the sink and countertop neater and cleaner.
Plumbing Fixtures
Kitchens benefit from — and often require — a variety of plumbing fixture accessories. The following is an overview of the various options that may be required by code or that you might find useful.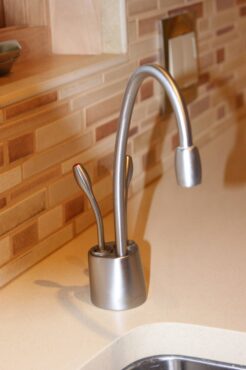 Air gap: Required by code in many jurisdictions, an air gap is a cylindrical deck-mounted fixture installed to ensure an "air gap" between the dishwasher and the kitchen sink drain to prevent water from flowing back out during a cleaning cycle and dirty water from entering your dishwasher.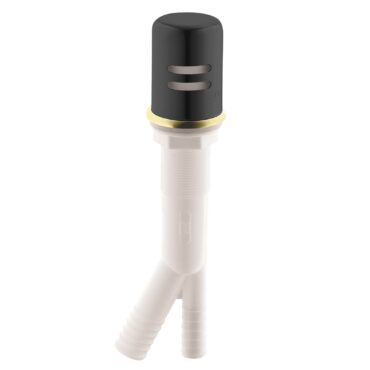 Filtered water dispenser: This fixture is deck-mounted with an arm or spigot that is typically 4-8 inches tall and a filter that's connected to the main water supply. Depending on the type of filtration, the system can improve the taste of the water and remove a variety of contaminants. Some models dispense hot, filtered or sparkling water.
Hot water dispensing has numerous uses, from making single cups of tea or coffee to cleaning. The filter and hot water tank can be installed remotely in the garage or under the sink (most common). A built-in sparkling water spigot is a nice feature for people who enjoy drinking sparkling water on a regular basis, and having it built-in means less trash and recyclables from store-purchased sparkling water.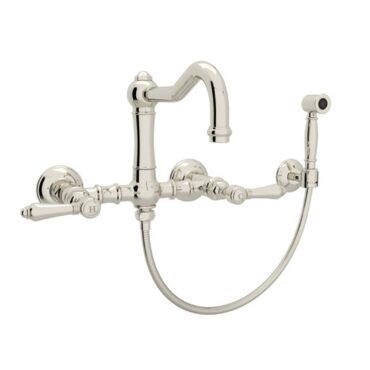 Garbage disposal: This "appliance" allows food scrapes to be ground and channeled into the home's sewer line. The garbage disposal can be activated with a switch on the wall behind the sink or, if located in a kitchen island, an air-switch that is built into the countertop. Garbage disposals are not recommended for homes that operate on a septic system rather than public sewer. Over time, food particles can clog the septic drain field, creating the need for a very costly repair.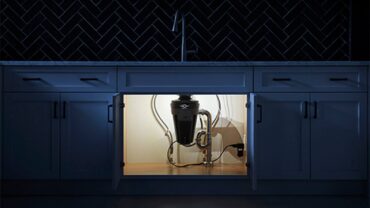 Soap dispenser: A deck-mounted pump for dispensing soap or lotion can be an excellent vehicle for keeping the sink area clean and tidy. Note: You fill the soap reservoir by pulling out the pump and filling the reservoir from above the countertop; there is no need to crawl into the sink cabinet and remove the reservoir, fill and reattach.
Similar to purchasing a car, take time to visit plumbing showrooms and "test drive" a variety of sink and faucet styles to determine which ones fit your style, your space and your wallet.