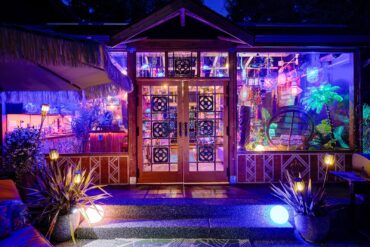 Wendy and Carl Tonge were locked down, isolated and staring into an evergreen forest in March 2020 on their tiny side porch. They sat in two reed chairs under a sign from Disneyland's Enchanted Tiki Bar that says Trader Sam's, reminiscing about another favorite tiki bar they visit whenever on Kauai. Clearly, they were not going to escape to their Bali Hai with a pandemic in bloom. And they were bored to tears.
Before exploring the Tonges' tiki hut in a Northwest forest, a quick jaunt down the timeline of tiki phenomena might help. Polynesian culture is the root of tiki. Derived from two words meaning "many" and "islands," it refers to the cultures of the 10,000 South Pacific islands. The word tiki comes from a Maori amulet that represents both humans and Tiki, the god assigned to watch over them.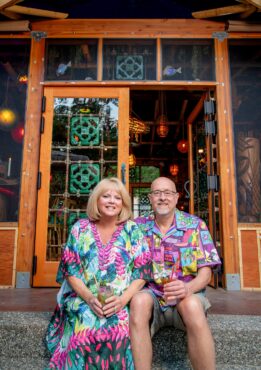 Another branch of the tiki trend comes from the rum culture of the Caribbean islands brought by sailors to the South Pacific. The planter's punch, which is the base recipe of rum drinks, fueled the movement across America at the end of Prohibition. In 1933, Donn Beach, a world traveler and bootlegger during Prohibition, opened Don the Beachcomber, an unassuming bar in Hollywood. When Beach mixed his unusual collection of island artifacts with his expertise as a mixologist specializing in complex rum concoctions, he attracted the Hollywood hoi pilloi and turned it into a hot spot. This small bar introduced the first tiki wave.
One customer Beach attracted and inspired was Victor Bergeron, who opened a tiki-themed restaurant named Trader Vic's in Oakland. Suddenly, their combinations of rum and Polynesian themes set the foundation for the look, foods and rum beverages of tiki bars and restaurants around the world they each would open.
The World Fair in 1939 bolstered the Polynesian themes. But World War II turned down the heat on tiki popularity. However, it also birthed a generation of soldiers serving in the South Pacific, with families stateside tracking battles by sticking pins on maps mounted on the wall. At the end of the war, a burgeoning middle-class newly introduced to the South Pacific was fueled by the adventure of Thor Heyerdahl and his raft, the KonTiki, crossing from Peru to Hawaii in 1947 and James Michener's book, "Tales of the South Pacific," winning the Pulitzer Prize in 1948.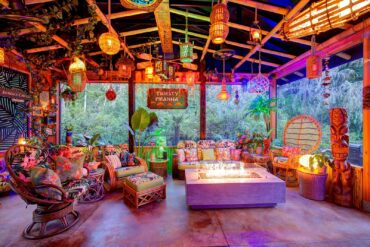 Tiki themes exploded in a second wave. President Truman appeared on the cover of Time Magazine in a Hawaiian shirt on Dec. 10, 1951. Disneyland opened in 1955, launching the Jungle Cruise and floating ideas of the exotic further into the American consciousness.
By 1959, Hawaii became a U.S. state and the simplicity of tiki sculptures and architecture had won an established position in midcentury-modern design. Elvis stretched the Polynesian dream in 1961 with his movie "Blue Hawaii." Don Ho rode the wave to Las Vegas in 1965 with his ukulele and island vocals. Tiny bubbles, anyone?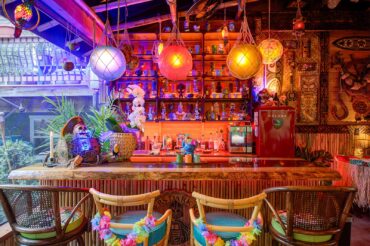 "Hawaii Five-O" appeared weekly in the living rooms of Americans, transporting them to sandy beaches, blue skies and fragrant flowers in 1968. But by the '60s, young people were reworking the world in their image and tiki lost its heat. In other words, the late '60a snuffed out the tiki torch.
The Tiki Dream
Tiki is fun and relaxing, an escape. It's not the Depression or Prohibition. It rolled out of the end of those dreary eras. It ignited again as the world escaped a tedious war and led the celebration of a new prosperity. The recent revival of midcentury-modern aesthetics is bringing a third wave to tiki. An almost two-year, worldwide lockdown by a deadly virus, a call for fun and escape is raising tiki to new heights.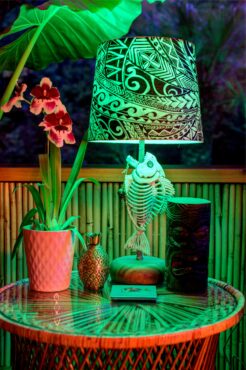 Exposure to 80 years of movies has twisted tiki free of its moorings in this third iteration. It has morphed into fragments of set designs embedded in people's memories from hundreds of jungle and island movies, plus the fantastic architecture and interiors of nightclubs, resorts, restaurants and bars that celebrate tiki in different cultures around the world that stamped tiki with their visuals.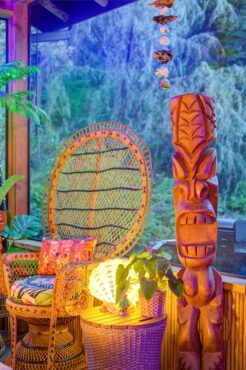 Given time to dream during lockdown, the Tonges talked about how nice it would be to have a tiki hut close at hand: say, attached to the back of their garage just off an expansive patio sporting a pool, lounge chairs for two and oversized umbrellas topped in thatch. Perhaps the tiki carving and palm trees overlooking the patio is where the tiki magic came to them.
Propelled out of their chairs and into a computer search, the two discovered that a new heyday had dawned for tiki. Where do they start? They found tiki groups on Facebook, vision boards on Pinterest and tiki blogs. They pored over photos of other people building tiki huts at home. They stumbled over conventions dedicated to keeping all things tiki alive, including TikiCon celebrating its 20th year in Portland, Oregon. The Tonges traveled there this past summer to hang with other tiki lovers touring vendor booths and discovering new ideas. But truth be told, at the end of their project, physical space in their hut was limited. Still. Maybe something small?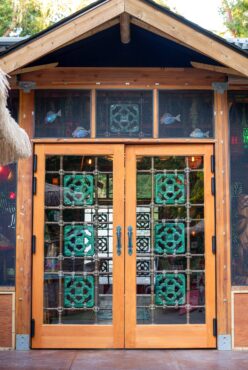 Marketplace and Craigslist were great sources of unexpected kitsch. Instead of island hopping in Hawaii, Wendy and Carl Tonge adventured around Puget Sound playing the COVID-19 game of "Porch Pickup Only, Please." They stuffed the car like it was a treasure chest and imagined ways to use their bounty. Without baking a single loaf of sourdough bread, the Tonges had broken through the boring pandemic spell.
Artists trying to make a living during COVID-19 played in the imaginative Land of Tiki, also. Wendy found MaryBeth Darin, who turned the costume jewelry that she had inherited from her mother and sister into a sparkling treasure chest. Their family got involved in the fun of tiki treasure hunting, too, so unexpected oddities arrived from afar.
This team of Tonges worked every aspect of their tiki hut together. They discussed each artifact's highest and best use. The floor plan for the tiki room was planned together and although each took a section of tasks to wrestle with when the building phase began, their teamwork in decision-making and detailing never faltered. They gained creative energy by bouncing ideas back and forth until the perfect one emerged.
Wendy Tonge worked with the scale, sizes and shapes of their abundance. A variety of reed fish traps and Japanese glass floats were set aside as possible light sources. She laid out preliminary plans for the walls filled with posters and small shelves holding their kitschy collection. Carl Tonge took on building the structure they designed (and redesigned) and enhanced (and reenhanced). Remember — lockdown; they had time to do that stuff.
Carl signed on a supporting cast of subcontractors. In real life, he is an engineer, plus his father ran a woodworking shop, so he wasn't completely out of his element. Still, this man learned serious specialty skills to bring substance and authenticity to the project. Again, lockdown — he had time.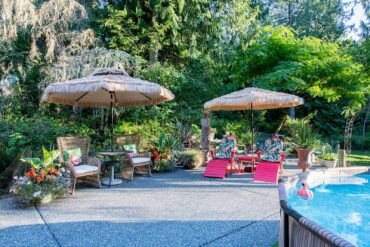 By the end of the lockdown and the supply chain debacle of 2021, the structural elements were in place: a concrete slab, a plywood roof, posts and walls. The windows on three sides are half-walls with screens. Protective coverings toggle on for winter and with the fire table lit, the hut becomes a cozy escape. In yet another cultural mix added to the theme of tiki, this hut's roof is not thatched but covered in solar panels.
Who knew that a lumber yard in Kent handles big bamboo poles for buildings? Carl drilled the poles and suspended them from the deep blue ceiling, lashing them together with skills he and Wendy learned in attaching a framework of bamboo onto the two sets of exterior glass doors. Jungle-green, three-dimensional jade tiles also lashed onto the doors signal that an extraordinary experience lies ahead.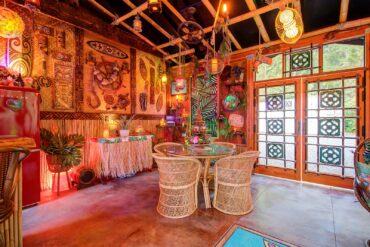 The Tonges found artist Sheryl Schroeder, who gave life to their hut's logo design and painted the hut's sign. The concrete company ordered a giant stamp to make an unexpected, cool and colorful 3D stamping in the middle of the bar floor. (Stay tuned for the big reveal of its name.)
Turning to the bar area, Carl split the bamboo that faces it and assembled the cabinetry. Then he learned how to epoxy the thick wood bar top with its live edge. He also built the tall tiki mug shelf and back bar.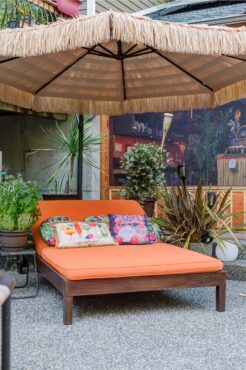 Wendy says the drinking part of tiki isn't big for them. This hut is about family and friends gathering and having fun together, as well as a quiet escape for the two of them. However, she did mention her favorite quaffable concoction is a mai tai — which is close to the Tahitian word for "good." But anything can be drunk out of a tiki mug: milk, ginger ale, beer, whatever. And in their case, tiki mugs can have movie themes like the Mine Cart from Indiana Jones or stars like Minnie Mouse or Yoda.
Creating the Magic
One of the most amazing feats this design duo dared to take on are the posts, lintels and center ceiling beam. Carl Tonge learned a complicated Japanese technique called "shou sugi ban." This project took all four hands, so with Carl routing out the island-type carvings sketched on the boards, Wendy manned a shop vac, a solid plan. However, when the router started up, sawdust was everywhere, even as Wendy battled it like a warrior.
Next, Carl burned the wood with a torch to get the smoked-grain effect. Wendy stood guard with a fire extinguisher. All went well. Finally, Carl moved on to wire-brushing the timbers and glazing them. They look like planks from a burnt shipwreck or ancient temple.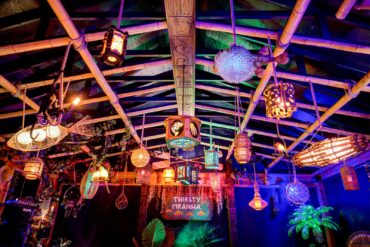 "If something was a little wonky, we laughed and said, 'Hey, it's a tiki bar — let's move on,'" Carl Tonge says. Sounds like a proper tiki motto.
Attaching reed matting to the walls, installing the laser-cut Masonite boards with large palm fronds on either side of the entrance doors and placing and securing the tiki kitsch was no small task. The bar's sign, outrigger canoe paddles, an octopus tentacle sconce, four stained glass parrots, puffer fish and parrots on perches suspended from the ceiling, live and silk plants and twisting vines around the displays required an assortment of attachments.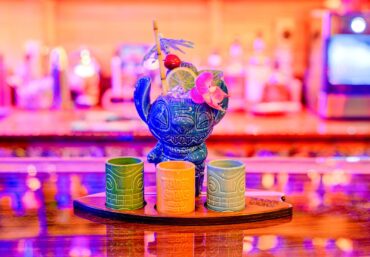 Jim Lee, owner of Nuts About Hi-Fi, brought his magic, too. Speakers that look like rum barrels are unexpected details in the bamboo rafters and tucked here and there on the pool patio. An audio-visual screen scrolls down from behind a hand-carved lintel. Carl assembled a play list from movies and songs of the '40s and nature sounds from the Disneyland Jungle River Cruise and beyond. He operates it from his cell phone and says it's easy. (Sure, but he's an engineer.)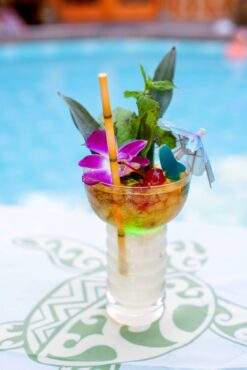 With the structure built and detailed, the furniture arrived, some of it newly refinished or reupholstered in bright floral prints. Rattan sofas and lounge chairs surround the fire table with a wee one sized for the grandbaby. A dining table and four chairs of woven reeds feature a lazy susan draped with leis and exotic flowers and topped with a pineapple. The glass table top protects nostalgic paraphernalia such as an illustrated cocktail menu.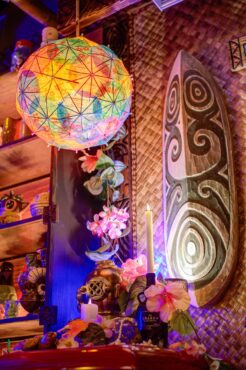 Mismatched rattan bar stools sit at the bar draped with a straw hat and leis. Wherever they could, the couple tucked in surprises: parrots dressed as pirates, a monkey soon to be animated, piranhas and pineapples, ship's wheels, masks, carved turtles and plumerias, a harpoon, a toucan, a porthole with the Creature from the Black Lagoon looking in, an octopus here, another there, bottled ships, rum signs, Indiana Jones' bull whip, a hippo survival gun and oh, goodness, Bernie Sanders in his mask and mittens on the Jungle Cruise ride, plus a colorful map of the ride itself.
Plans for the mast and crow's nest of a shipwreck tilted in the forest are for the future.
Will the Tiki Hut ever be finished? Probably not. But this jungle dream got them through the pandemic in good humor with an excellent outcome — not to mention new skills and stories. Photos of this project would be a strong resumé if they decide on another creative adventure, such as Hollywood set designers.
But the Tonges built a tiki hut close at hand to enjoy. The couple are kicked back, relaxing in their getaway with family and friends hanging out in a tiki hut named — here it is, the big reveal — "the Thirsty Piranha." Cheers! Aloha! Tiki!
---
Planter's Punch Recipe
This is the base to a myriad of other cocktails.
If you are a rum aficionado, the planter's punch is a loose recipe based on four ingredients. One part sour (citrus), two parts sweet (sugar and unusual spices), three parts strong (rum plus other alcoholic beverages) and four parts weak (coconut milk, water).
---
Battle of the Caribbean
Courtesy Crabtree kitchen + bar
Type of glass: Collins
Type of ice: Pebble
Ingredients:
1 ounce El Buho Mezcal
1 ounce Plantation pineapple rum
1 ounce lemon juice
0.75 ounce orgeat
2 dashes grapefruit bitters
2 dashes lemon bitters
0.5 ounce Kaloa dark rum
Instructions:
Combine all ingredients in a tin and shake to combine. Pour into collins glass. Float .5 ounce of Kahlúa dark rum. Garnish with lemon wheel.