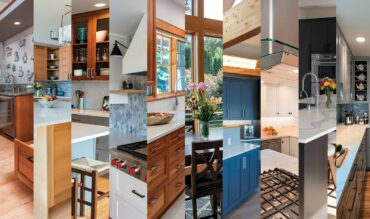 The kitchen is a cornerstone in any home. It's where we cook dinner and where we gather with friends and family. Everyone wants a beautiful kitchen, but remember, this is a functional space as well. This issue we feature 10 kitchens from West Sound industry professionals to provide you inspiration for your next dream kitchen project.
---
A Dream Kitchen for a Dream Home
Creekside Cabinet & Design, Inc.
This newly built dream house required kitchen design. Patrick and Hannah Higgins hired Timothy Zeiser of Zeiser Built Construction to help with custom ideas and assist with the design. Changes included eliminating a pantry to create more open space.
The couple especially love the large island counter, the incredible view and the gas cooking range, among many other aspects of their new kitchen.
The Team and Suppliers
Zeiser Built Construction | General contractor
Creekside Cabinet & Design | Cabinetry (Columbia)
Albert Lee Appliance | Wolf E Series oven and convection oven, Wolf gas cooking range, Sub-Zero refrigerator and freezer, Wolf drawer microwave oven, Bosch dishwasher
Silverdale Plumbing | Sinks, faucets and installation
2Shae's Painters | Paint
Jack's Hardwood Flooring | Hardwood floors, stairs
DS Sales Associates | Tile, carpet, countertops
Sound Custom Siding | Exterior siding, outside deck
Scorpion Ironworks | Interior and exterior steel railings
---
New Colors, More Space
Works Granite & Stone, LLC
This 1992 kitchen was due for updates, as the old design was restrictive and the laminated cabinets showed wear. The homeowners undertook the project themselves, making decisions based on research and recommendations from their suppliers.
They removed the peninsula to open up the space and gain a better flow and added seating to the island, but followed the original appliance arrangement and updated the kitchen style to make it more modern. Cabinets, countertops and backsplash are among the new materials.
The homeowners love the new colors, as well as the quality and the workmanship of the products. Their favorite parts of the remodel include the larger island with seating, the coffee station, the quiet dishwasher and the trash drawer.
"Take your time and stock up materials before you need them so you're ready," the homeowners advise. "Be vigilant with subcontractors and suppliers."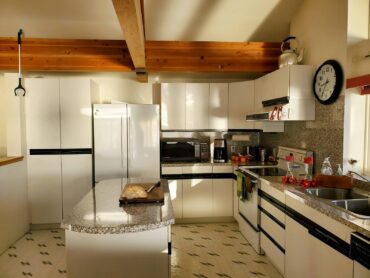 The Team and Suppliers
Works Granite & Stone | Countertop fabrication
Great Floors | Floors and window treatments
Albert Lee Appliance | Bosch appliances
Delta | Stainless steel, farm-style sink
Moen | Hands-free faucet
Cambria | Quartz countertops
Coldicott Woodworks | Cabinets
---
White Space as a Backdrop
Kae Rosenberg Interior Design
Photography by David Cohen
This project was part of a complete home remodel. The property had been vacant for several years before the new owner purchased it. The homeowner lived in another state and wanted the remodel completed before moving in. She hired designer Kae Rosenberg of Kae Rosenberg Interior Design to assist.
The kitchen was demolished down to the studs, including a dark warren of three little rooms that were situated behind the living room. The original size of the kitchen was maintained, with the exception of adding part of a room that shared a common wall.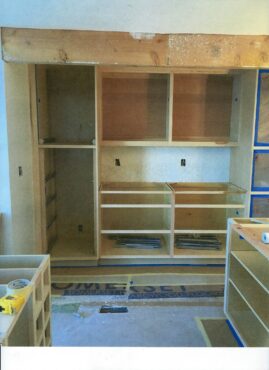 The homeowner wanted everything white, so the space would act as a backdrop for her furnishings and artwork. Part of the design challenge was to keep the spaces from looking plain and somewhat boring. Rosenberg used a variety of different textures and materials to emphasize various areas and surfaces, which served to give the kitchen depth and interest.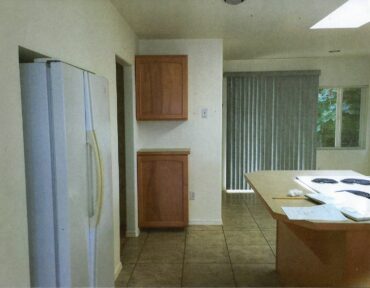 An important part of the project was rearranging the floor plan to make the kitchen functional. Rosenberg added a butler's station by carving out a 2-by-10-foot space, setting it apart by using a backsplash in a classic basketweave mosaic of Bianco Venatino polished marble. This area is the homeowner's favorite part of the new kitchen.
Rosenberg also added a larger island with stove and storage and space for cookbooks, and incorporated an undercounter wine refrigerator and wine rack. The white shaker cabinets have drawers in the base and the upper parts have frosted glass panes. Recessed lighting identifies the space and creates an important focal point in the kitchen.
The Team and Suppliers
Kae Rosenberg Interior Design | Designer
Contract Furnishings Mart | Hardwood flooring
Empire Lighting | Electric
Albert Lee Appliance | Kitchen appliances
Lumens | Kitchen sink overhead lighting
Contract Furnishings Mart | Kitchen tile
Cutting Edge (Portland) | Kitchen cabinets
Grandy Marble & Tile | Marble and tile fabrication
Architectural Surfaces | Kitchen countertops (quartz in polished super white), kitchen island (extra-polished Carrera)
Water Concepts | Faucet, sink, garbage disposal
Lighting by Jared | Kitchen pendants
Artistic Tile | Kitchen backsplash (white Thasso marble in chevon pattern)
---
An Accessible Kitchen For a Petite Cook
McCabe By Design
Photography by Northlight Photography
Failing appliances, poor quality cabinetry, very poor lighting, less than ergonomic storage and unappealing finishes were incongruous with this beautiful home and location. These were just a few of the many reasons that precipitated the remodel of this kitchen for a petite chef.
A Kitchen That Works LLC (now McCabe By Design LLC) was the project builder. As a design-build firm, A Kitchen That Works was responsible for all aspects of the project, with Molly McCabe of A Kitchen That Works and McCabe By Design serving as the designer.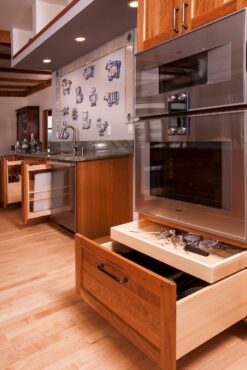 The cabinetry layout was redesigned with internal convenience hardware (mixer lift, pullout knife block, pullout cutting board storage, tray dividers, rollouts, tandem trash and recycling, and pullout base pantry), along with a dropped counter on the end of the island with an electrical power strip to ensure that the chef can cook and bake with ease with a minimum of bending or need of a step stool, especially when the kids and grandchildren are helping in the kitchen. The new coffee station, tall pantries and relocated island sink allow noncooks to be in the kitchen without being underfoot.
The appliances were selected based on the features that would provide maximum accessibility, safety and ergonomics, with a focus on health and wellness. This includes an induction cooktop, electric grill and griddle, side-hinged wall oven, side-hinged steam oven, warming drawer, microwave drawer and counter-depth refrigeration.
Extending the open shelf soffits provides additional illuminated space to showcase the chef's extensive collection of M.A. Hadley pottery, as well as much-needed lighting over the perimeter countertops. Undercabinet lights provide much-needed task lighting.
Despite the home's proximity to Puget Sound, the kitchen was somewhat dark, especially during winter. Therefore, the decision was made to lighten the paint on the walls to better complement the pottery, and the breakfast nook walls and ceiling were also lightened up.
The remodeled kitchen checks a lot of boxes for the chef, from highly functional appliances to storage that makes sense rather than "makes do." There is no doubt who will be hosting family holiday gatherings!
The homeowner's favorite parts include the dropped countertop with popup mixer below and power strip, the side-hinged ovens, which provide safe and ergonomic access; the additional open soffits with more display space; and the lighting, which improves the ambiance of the room.
McCabe's advice to homeowners is, "Don't hesitate to ask for the things you need, from the most-effective means of communication to assistance with material selections. Your design and build professionals are there to assist you to create the right kitchen for you."
The Team and Suppliers
McCabe By Design (formerly A Kitchen That Works) | General contractor and designer
Day Rd. Electric | Electrical
Johnson Drywall | Drywall
Lyons Painting | Painting
Nyman Construction | Cabinetry and millwork
Stonehenge Custom Tile & Home | Tile
Salisbury Hardwood Floors | Flooring
Costa Esmeralda Granite | Countertops
Dura Supreme Cabinet Co. (cherry with natural finish) | Cabinetry
Top Knobs | Cabinet hardware
M.A. Hadley | Tile
Gaggenau, Sub-Zero, Sharp, Miele | Appliances
Moen, Franke, InSinkErator | Plumbing fixtures
---
Brighter, More Functional Space
Creative Countertops, Inc.
This kitchen was outdated and felt dark. The countertop was brown and felt too plain without contrasting cabinets. The homeowner wanted to update the kitchen without redoing all the cabinets, while also removing a split-level bar and a built-in bread box. The homeowner hired Creative Countertops and was surprised to learn the company could do all that work in-house.
The contrast between the new quartz countertop and cherry cabinets makes the kitchen look brighter and the two materials complement each other well. The remodeled kitchen, which also has new sinks and faucets, now feels more modern. The homeowner loves the one-tier island, which is much more usable now.
---
An Organized, Relaxing Space
Cedarwing Builders
The original layout had a galley-style kitchen toward the back of the house, with a bonus room facing the view to the west. The homeowners, Lisa Sarfati and Todd Heimes, wanted to move the kitchen into what was originally the bonus room so they could make the kitchen bigger and maximize the view. They hired Tammara Stroud Interior Design to assist with the design and Cedarwing Builders to handle all other aspects of the remodel.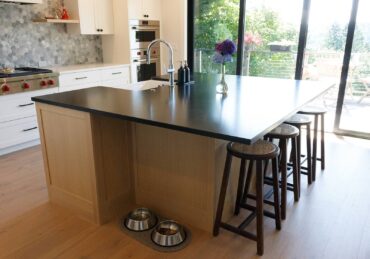 They reoriented the kitchen to face west instead of their neighbors' house. Since they spend so much time in their kitchen, they wanted it to be the focal point of the house. In addition, they removed a dividing wall and created an open floor plan between the kitchen, dining room and living room.
The galley kitchen space was repurposed into a butler's pantry while fixtures, cabinets and appliances were updated to fit the homeowners' taste. A new wall was created by removing an exterior door and a wall of bay windows. A mudroom was also added, with cubby and cabinet space for each family member, storage for pet supplies for the family's dog and a vacuum and broom closet with an outlet to charge the vacuum.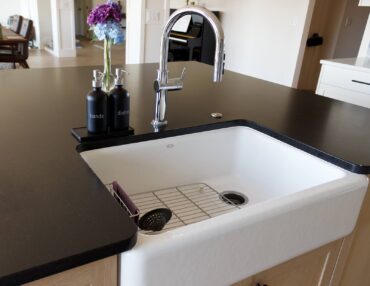 Sarfati and Heimes love their dream kitchen. "The ease of use and flow between workstations makes it very relaxing and enjoyable to cook," they said.
They have many favorite aspects of the new space, including the island to sit and congregate around, the openness to the rest of the house, the reorientation to the west, the flow between workstations and the beautiful tile and lighting.
They advise other homeowners to take the time to think through the space. Research ideas for design and organization online, including websites like Houzz and Pinterest.
"Tape the areas out to better visualize the flow and location of each area (sink, workstations, fridge, oven, sink, island, etc.)," they recommend. "Take inventory of everything that needs storage — small appliances, utensils, spices, pots and pans, glasses, etc. — when designing your cabinet and drawers."
The Team and Suppliers
Cedarwing Builders | General contractor
Tammara Stroud Interior Design | Designer
Westside Cabinets | Cabinetry
AMM Granite & Marble| Countertop fabrication and installation
Grandy Marble & Tile | Tile backsplash installation
Trueman Plumbing | Rough and finish plumbing
Day Rd. Electric | Electrical
Salisbury Woodworking | Flooring installation
Sub-Zero, Wolf | Appliances
Kohler | Farmhouse-style sink, butler's pantry sink, faucet
Arizona Tile | Countertops (Della Terra quartz)
Ann Sacks | Backsplashes (Mosaics Pala Series, Arcilla Ceramic),
CP Decorative Arts | Plaster hood (Catherine Panofsky)
---
A Spacious, Functional Kitchen
WRK Construction
Although this kitchen functioned well, it was 20 years old and the finishes were dated and beginning to show wear. The homeowners worked with builder WRK Construction, who worked closely with Creekside Cabinet & Design, Inc. and also put them in touch with vendors for the finishes.
Homeowner Cathy Johnson had previously worked with a designer and had chosen a completely new layout for the kitchen. After receiving a few bids, she decided the cost for the changes far outweighed the increase in function.
"My husband and I worked with WRK Construction and Creekside Cabinets to make changes to the original layout that would make the kitchen function better for us," she says. "A bookshelf that was a junk magnet was removed and replaced by additional upper and lower cabinets. This created additional counter space and allowed a perfect area for a coffee bar."
They also replaced lower cabinets with deep drawers that are much more functional. An appliance garage was eliminated, adding more workspace. A lower-corner lazy susan unit and tray pullout were also added. Wall outlets were replaced by undercabinet electrical strips and the quartz countertops were continued to the backsplash without interruption.
"Undercabinet lighting adds workspace lighting and can be dimmed when overhead lighting isn't needed," Johnson says. "Overall, the space feels larger and functions better."
The homeowners kept the original oak hardwood floors that extend throughout the house. They also chose to keep the existing stainless steel appliances because they were still in good shape, but they replaced the cooktop that was original to the house.
"The kitchen now feels updated and much more spacious," Johnson says. "WRK was easy to work with and did a quality job."
From a visual perspective, her favorite part of the new kitchen is the slab backsplash. "I love the clean look. But I have to say, I'm loving the wider, deeper drawers. I feel like I have so much more storage space," she says.
Johnson advises homeowners to do what works for them. "I spent a lot of time searching for the right cabinet finishes and countertops," she says. "I was really nervous about bucking the white kitchen trend, but am so glad I did."
The Team and Suppliers
WRK Construction | General contractor
Creekside Cabinet & Design, Inc. (manufactured by Rainier Woodworking Co.) | Cabinets
Matthews Electric | Electrical
Great Floors | Countertops and backsplash (MSI Calacatta Valenti quartz, installed by FLOFORM)
Albert Lee | Cooktop (GE Profile)
Build.com | Sink (Delta Lorelai)
Lowe's | Faucet (Moen)
---
The Gathering Kitchen
McCabe By Design
Photography by Tammy Dwight
The primary objective of this project was to create the ability to install a refrigerator sized for a family of six. The original 14-cubic-foot refrigerator was much too small for a four-bedroom home. Additional objectives included wider (and safer) isles, more counterspace for food preparation and gathering, and more accessible storage.
A Kitchen That Works LLC (now McCabe By Design LLC) was the builder. As a design-build firm, A Kitchen That Works was responsible for all aspects of the project, and Molly McCabe of A Kitchen That Works and McCabe By Design served as the designer.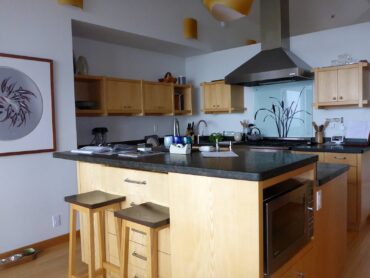 After removing the dual walk-in pantries and installing a beam above the original refrigerator (missing despite being in the original building plans), this area of the kitchen was opened up to make room for a much larger refrigerator, pantry storage, small appliance storage and a concealed information center including backpack storage for the youngest family members (complete with an in-drawer charging station).
Thanks to the sink relocation, the isle between the island and the range became much less congested and provides space for below-counter pullout pantries for oils, vinegars, condiments, baking sheets and more. Taller wall cabinets on the new sink wall provide improved storage for dishes.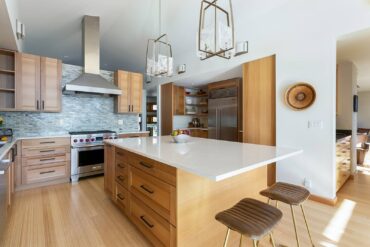 The island was enlarged to include more storage, additional prep space and an ergonomic bar top for homework supervision and socializing.
All the lighting was replaced and enhanced to include undercounter lights, decorative pendants, wall scones and dining table chandelier.
The homeowners are very happy with the results, especially now that everyone can be in the kitchen together with comfort and ease. The new space is more conducive to frequent entertaining, but is cozy enough for a family who cooks and eats together on a nightly basis. The beautiful materials, natural light and marine view are the icing on the cake.
Their favorite parts of the new kitchen include the "refrigerator niche" with the larger fridge, more counterspace and more electrical outlets for small appliances. They also like the dedicated zones for kitchen activities with all the requisite tools and food products within close proximity, the island with its enhanced functionality and the beautiful new lighting and lighting controls.
The Team and Suppliers
McCabe By Design (formerly A Kitchen That Works) | General contractor and designer
Swensen Say Faget | Engineer
Fusare Construction | Framing
Day Rd. Electric | Electrical
Johnson Drywall | Drywall
Lyons Painting | Painting
Nyman Construction | Cabinetry and millwork
Stonehenge Custom Tile & Home, Lunda Bay and Sonoma Tilemakers | Tile
Salisbury Hardwood Floors | Flooring
FLOFORM | Countertops Cambria (quartz)
Bellmont Cabinet Co. | Cabinetry (rift-cut white oak with natural finish)
Rejuvenation | Cabinet hardware
Wolf, Sub-Zero, Sharp, Bosch, Vent-A-Hood | Appliances
Elkay, California Faucet, InSinkErator | Plumbing fixtures
Hubbardton Forge | Lighting
---
New, Modern Kitchen
Creekside Cabinet & Design, Inc.
Nash and Amy Johnson hired BJ Builders of Bremerton to build this new home as their primary residence. Their architect, Amy DeDominicis from Puyallup, was key in the kitchen layout and design and ensuring the space flows the way they envisioned. They then worked with Creekside Cabinets to refine the specifics.
The Johnsons selected their own materials and worked jointly with BJ Builders to choose the subcontractors. They love their new space.
The Team and Suppliers
BJ Builder | General contractor
Amy DeDominicis | Design
Creekside Cabinet & Design, Inc. | Cabinetry (Columbia Cabinets)
Albert Lee Appliance | Appliances (Thermador)
Contract Furnishings Mart | Tile, hardwood flooring (Muller Graff Lyon Hills Ballamy white oak), carpet
Carpetology | Hardwoods and carpet installer
5 Star Granite (Mukilteo) | Countertops (Cambria, silestone)
Julien | Kitchen sink
Kraus | Utility and pantry sink
Delta | Faucets
---
Kitchen with a view — From Dated to Stunning
DeMane Design
Kitchens are the heart of the home and this one was in need of a major remodel. The house was built in 1979 and the homeowners have lived there for more than 30 years. They'd made many meals in the kitchen and it was time for a change. The space was dark and lacked storage and adequate counterspace. Additionally, they were in need of better lighting and new appliances.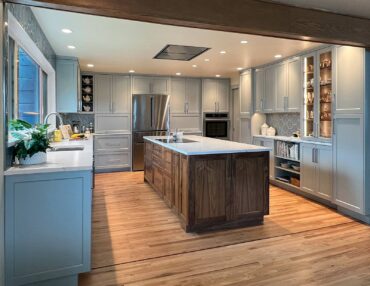 The owners worked with Nancy Finneson, DeMane Design, for the design. Finneson also managed the project, along with product and material selections.
The layout was key in the transformation of the space. It had to be functional for two cooks. The expansive new island almost doubled in square feet. It now has ample space for prep and serving. There is an abundance of storage for pots and pans, a pullout knife block, a drawer for the multitude of cooking oils they use, divided utensil inserts and space for more than 50 jars of spices and herbs.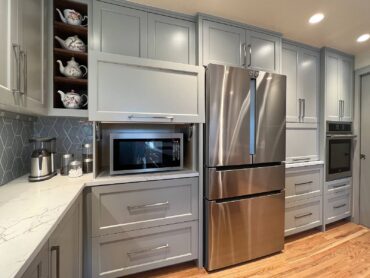 A new induction cooktop is center stage, with a recessed ceiling-mounted hood for ventilation that doesn't block their lovely water view. The island also can seat up to five, which is great for entertaining.
One of the challenges in the space was the back wall, which housed a wall oven and two pantry closets that didn't function well. Both had sagging shelves, but the most undesirable part of the existing layout was that closets had deep blind corners, making it impossible to reach items. The wall was removed and replaced with full-height cabinetry and new appliances. A special corner space was designed into the perfect coffee nook, which the homeowners love.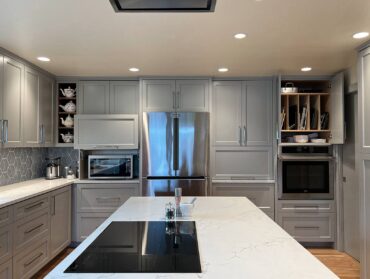 The next update was to say goodbye to the garden window. It was difficult to clean and didn't provide good ventilation. A new picture window was installed, with bookend casement windows that open easily for fresh air. The owners are elated with how the window change has increased their view.
Lighting is important in any design of a space and should always be planned carefully. In this remodel, lighting was kept sleek with strategically placed recessed cans and undercabinet lighting. The lighting plan gives task, ambient and overall light to the room. A glass cabinet has diffused LED strips for enhanced display.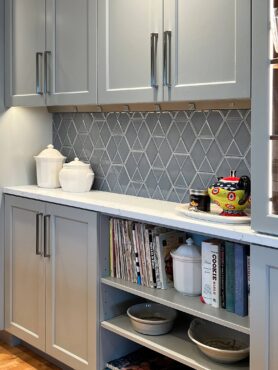 Materials and finishes coordinate space and aesthetics. The cabinetry is an elegant shaker style in a soft blue-gray color, with the island in natural walnut. Every cabinet has a purpose, from slotted tray dividers and hidden drawers in drawers, to heavy-duty drawers for items like weighty cast iron pans.
There are two cabinets with Aventos lift doors (the door opens parallel to the cabinet) for easy access. One is used for a microwave and the other as a small appliance garage, great to keep items out of site when not in use.
The tile that skirts the wall to the ceiling has a hexagon shape. Its dimensional surface reveals different levels of depth, creating an interesting and sophisticated look in the relief as light plays off it. All the countertops are quartz in a light color that coordinates well with the tile and cabinets.
It's nice to have a place to display some items. An open cabinet in walnut displays often-used teapots. On another wall, open wire racks were replaced with a new bank of cabinetry that has deeper cabinets at the ends for pantry items, a place for books in the center, more storage above and a convenient open area so as not to clutter the island. It also has a glass-doored cabinet with a walnut interior that is lighted, perfect for those special dishes and glassware.
With better flow and increased storage, seating and counter space, the homeowners are excited to cook, entertain and enjoy their uniquely personal space that now functions brilliantly.
The Team and Suppliers
DeMane Design, Nancy Finneson (CKBD, CLIPP, CAPS) | Design
Cool Construction | General contractor
Hyland Cabinetworks | Cabinetry
Crescent Lighting | Electrical fixtures
Destiny City Electric | Electrical
Ferguson Bath Gallery | Plumbing fixtures
Emtek | Hardware
Architectural Surfaces Quartz/Avenza | Countertop
Infinity Stone Works | Countertop installation
United Tile, Settecento Outfit Hex/Storm Blue | Tile
GOCO Construction | Tile installation
Zepher | Recessed ceiling hood
Elkay, Crosstown | Sink
Smeg | Cooktop
Bosch | Refrigerator and dishwasher
Beko | Oven