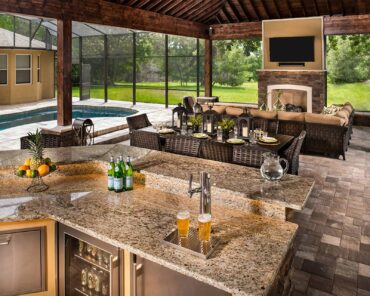 Now more than ever, homeowners are acquainting themselves with their home's outdoor spaces in an endeavor to expand their living space and to enhance their quality of life. Historically, many homeowners opted to de-stress and connect with nature away from home and to entertain family and friends at restaurants and other hospitality venues. However, there has been a significant cultural shift, spurred in part by the COVID-19 pandemic, to relax, entertain and experience nature at home. From water features and fire pits to outdoor kitchens, we will review the nuts and bolts of planning and designing outdoor entertaining spaces.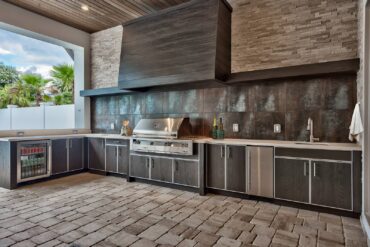 Step 1: Define Your Budget
To develop your outdoor entertainment space, you will need to establish your budget bucket and determine just how much can fit in it. When determining your budget, think of the investment in terms of the value it brings to both your personal life and that of your home.
According to a recently published report by the National Association of Relators and National Association of Landscape Professionals, homeowners recognize that the expenditures in landscape upgrade, outdoor kitchens and new patios yield a 100% return on investment when a home is listed for sale.
Step 2: Define Your Space
A common outdoor space ratio for hardscapes (manmade features such as patios and pergolas) is approximately 25% of the square footage of the abode. Your entertainment space can be a condo or apartment balcony, the back or side yard of a house on a standard 40-by-100-foot lot or the "back '40" for a home on acreage. Within those parameters, you will next want to consider:
Existing setback requirements from neighboring properties
Potential wetlands and drainage issues
Location of a well head and septic system (if applicable)
Existing amenities that you would like to retain
Feasibility of equipment access to the areas slated for improvement
Sun, shade and wind patterns
Scenic views
Location of existing utilities (don't dig before you call) and access to desired utilities (power, gas, water and cable)
Connection to the house for a seamless transition from indoors to outdoors
Permitting requirements
Step 3: Define Your Desired Activities
Ask yourself, "How would I like to spend my time in my outdoor oasis?" Some possibilities are:
Gardening
Relaxing with a good book or chatting with family and friends
Cooking
Eating
Meditating or exercising
Watching sports on television
Playing lawn games
Displaying outdoor art
Attracting birds, bees and butterflies
Step 4: Select Your Amenities and Features
With the square footage, existing features of the improvement area and desired activities in hand, you are ready to piece together the puzzle of features on your needs-and-wants list, such as:
Retaining walls
Lighting (overhead, path and security)
Patio
Deck
Porch
Pergola or pavilion for shade and covered outdoor activities
Outdoor kitchen — simple or luxurious, outdoor cooking is primal
Dining space
Grassy play area
Edible and nonedible garden beds
Fountains and waterfalls — the sound of bubbling water can induce relaxation and reduce stress
Fire pit or fireplace for multiple season usage
Spa or swimming pool
Storage for cushions, games, etc.
Step 5: Determine Whether You Can DIY
Installing flower beds, a grassy play area, patio pavers and building or purchasing a fire pit are relatively simple projects, provided you have the time and physical ability. But when it comes to building decks, pavilions, water features and outdoor kitchens, there are a myriad of decisions and code requirements you may not think of considering and, if overlooked, could compromise your safety and that of your home. Therefore, you may be better off enlisting the services of one or more professionals such as:
Excavating contractor
Landscaper
Landscape architect
Interior or kitchen designer
General contractor
Step 6: Choose the Right Materials
With so many choices for pavers, plants, outdoor-rated appliances and plumbing fixtures and more, you can easily be overwhelmed. There are three guiding selection principles that will streamline your decision process: high durability, low maintenance and geographic suitability.
If you want your investment to last and you want to minimize the time and money you spend maintaining and replacing the installed materials in your outdoor space, then each material you select should be able to jump through the three guiding selection principle hoops. For example, when choosing cushions for outdoor furnishing, look for fabrics that are manufactured for outdoor use; this can minimize fading and mildew, extending the life of your purchase.
Lastly, consider adding a fourth principle to your decision-making process: sustainability. When you embrace durability, low maintenance and geographical suitability in a product selection process, you are factoring in sustainability. For example, materials that meet the three principles will inherently be replaced less frequently, reducing not just costs to the homeowner but fodder for landfills.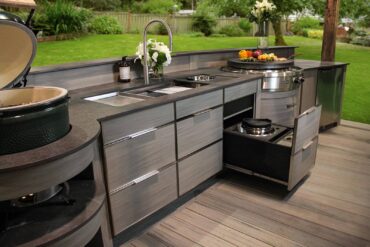 To further elaborate on suitability, consider factors such as xeriscape gardens planted with native species that can be draught resistant and moisture tolerant, solar-powered path lighting, rain barrels for rainwater harvesting, manufactured veneered stone for walls and planters that are more environmentally friendly than quarried stone, composite decking, Pacific Northwest Douglas fir and cedar for outdoor structures and furniture, variable-speed water pumps for fountains and water walls that run off energy-efficient DC power and even electric barbecue grills.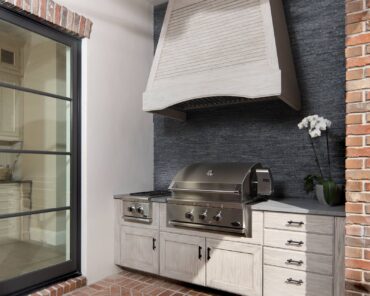 Creating an outdoor oasis can be a smart investment in your health and wellbeing and in your home. Peruse Houzz.com, Instagram, Pinterest and back issues of WestSound magazine to find inspiration for backyard enhancement projects, as well as sources for finding professionals who can help make your backyard dreams come true.
Below you will find a few of the enticing outdoor products debuted at the 2023 International Builders Show and Kitchen and Bath Industry Show.
Nexgrill: A California-based designer and manufacturer of outdoor living products including grills, griddles and smokers, it has introduced the Daytona 2-burner propane gas griddle with foldable cart. This addition to the Daytona family of griddles brings versatile cooking features and durability with its black powder-coated steel lid and lock to protect the steel griddle surface when not in use. Oversized side shelves offer additional food prep and serving space. From balconies to the beach, campsite or tailgate party, the foldable cart provides compact storage and portability. Available from many online and brick-and-mortar stores.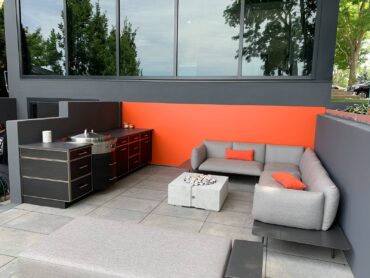 Empava: The California-based manufacturer of kitchen and bath products has debuted the Italian vintage style PG06 wood-fire pizza oven. This portable unit pre-heats quickly with a top temperature of 800F° and an interior capacity for pies up to 24-inches in diameter. This product is perfect for backyard gatherings and comes in a sassy red and stainless enamel finish with rugged wheels that makes it a candidate for outdoor storage. Available from many online and brick-and-mortar stores.
Dometic: The global leader in premium refrigeration and outdoor appliances displayed its award-winning MoBar 50, MoBar 300 and MoBar 550 (the 300 and 550 models require a plug-in electrical connection). These outdoor rated, stainless steel, mobile beverage centers can store, chill, prepare, present and serve beverages on the deck, patio or poolside and are compact enough to be easily stored in the garage. Currently available through Williams Sonoma.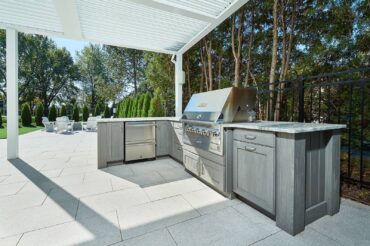 Perlick: More than 100 years old, this American manufacturer of customizable food and beverage storage is ever on the forefront of creating luxurious products for indoor and outdoor entertaining, as confirmed by the launch of two new products. First, the Marine and Costal Grade Undercounter Refrigeration with Perlick Armor is the only all-stainless marine-grade undercounter refrigeration line on the market today, making it an excellent choice for marine locals, be it boats or homes. The second is the Tobin Ellis Signature Series Limited Edition Mobile Bar. Features range from an eco-friendly, recycled leather exterior and solid surface top to a meticulously curated bar storage where even a celebrity bartender like Seattle's Chris Elford would enjoy practicing his signature mixology. This mobile bar cart doubles as a functional show piece for service inside and out.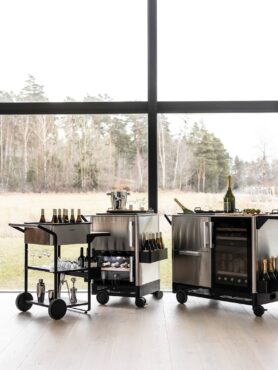 True Residential: A division of the nearly 80-year-old, U.S.-based and family-owned refrigeration company True Manufacturing Co., True Residential launched the Slide-Top Beverage Refrigerator in multiple colors at this year's show. The Slide-Top comes in 24 and 36 inches, with a beverage storage capacity of 108-264 12-ounce bottles or 144-348 12-ounce cans — no need to restock in the middle of the party.
The ADA-compliant design is suitable for indoor and outdoor use in most climate zones. The adjustable interior storage, LED lighting, optional rolling casters and accessories make these units perfect for entertaining. From dawn to dusk, the True Residential single and dual beverage dispenser can kickstart your day with a delicious nitro coffee during an al fresco breakfast or brunch. With an accessory conversion kit, you can be sipping a frosty beer that afternoon during game time or with dinner. The beverage dispenser is available in two sizes (15 and 24 inches) and is suitable for indoor and outdoor installations. Available at Albert Lee Appliances.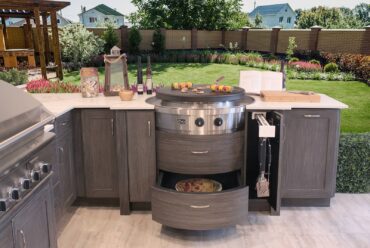 Bromic Heating: Bromic Heating designs and manufactures wall-mounted, ceiling-mounted, free-standing and recessed outdoor heaters, primarily for hospitality and residential spaces. Both functional and stylish, the Eclipse electric line of outdoor rated heaters has built-in, dimmable LED lights that can extend the number of days in a year that decks, patios and pavilions can be enjoyed comfortably. Available at Heritage Fireplace in Poulsbo and Bremerton.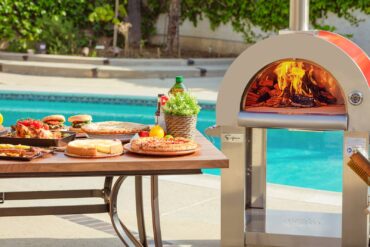 NatureKast Weatherproof Cabinetry: This is an exquisite line of marine grade outdoor cabinetry that will hold up in subzero temperatures, scorching sun and salt spray. The cabinetry is manufactured with a 3/4-inch PVC box with side-mounted drawer glides and an expanded polyurethane resin door and drawer fronts with either a teak wood or cypresswood embossed surface.
The eight different resin door and drawer styles can be stained and lacquered or painted on site and NatureKast offers 20 different finishes. The cabinets will not warp, split, chip or swell. There is a wide variety of functional cabinets to house many major manufacturers' outdoor appliances, as well as a full complement of decorative end panels, coordinating moldings and more. Available at Liberty Bay Cabinets in Poulsbo.