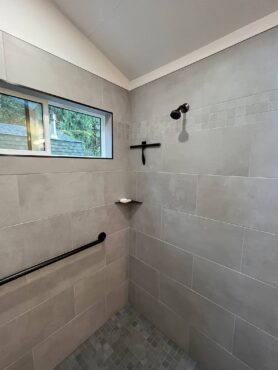 As a remodel professional, I am asked frequently to remove tubs and convert them to showers. Tub-shower conversions seem to be prevalent on TV shows and social media, and I have noticed that these types of conversions often come with terms such as no payments for a period of time or similar.
What I have discovered is that homeowners request tub-shower conversions for all types of reasons. For some clients, it' a very practical reason like getting older or having a disability that no longer allows an individual to enter or use a tub safely. In other cases, homeowners are looking for a way to experience luxury bathing that their busy schedules don't allow the time to experience.
To complete a project properly and create a safe and code-compliant space, many variables must be considered.
First things first, whether the project is a simple swap-out or a complex reuse of the space, you must think carefully before going forward on a do-it-yourself basis. There is much to be considered with codes and the skills to perform the task. For instance, there are minimum sizes for showers and drain sizes are different for showers and tubs due to codes. Definitions of the enclosure are often interpreted differently, creating additional safety concerns. The conversion also requires many complex skills, such as soldering plumbing, framing, setting glass, modifying flooring, installing drywall, painting and more.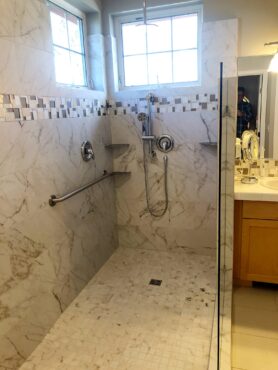 Alcove tubs — the 5-foot-wide tubs that are almost always 30 to 32 inches deep and have a stepover height of about 18 inches — are the most common type of tubs in a home. There are many options to replace and convert these tubs. Some examples follow.
A Cutout System
This is a system where the front edge of the existing tub is cut away with a saw and a large plastic insert is placed over the cut edge to create a low-threshold stepover height. Then foam and caulk are used to seal it up. Per customer request, I have looked at these systems in the past and have personally made the decision I would not be willing to install such a system as the fit and finish, along with ability to warranty such a system, were simply too big of a concern for me. I also couldn't figure how to fit a shower door in this system, leaving only a curtain option to enclose water from escaping and damaging other surfaces. Therefore, I would not recommend this choice.
Fiberglass and Acrylic Retrofit Shower Pans and Shower Surrounds
This is a very common system that we would install for a conversion. These systems are readily available and provide many options for wall surrounds. The first things to address are the exact size of the existing tub and whether you need to ensure this shower fits exactly in the existing space or if there's additional space available so the shower provides a little more elbow room. Often, there is no more room, which is OK because the major suppliers produce shower pans that will fit your existing drain locations with very little modification. These pans can be ordered with drains on the left, right or center. These systems come at varying price points as they are available in different surfaces that can be upgraded as desired.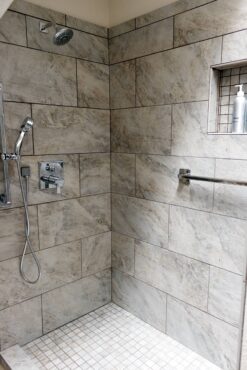 When you're considering a pan system, you must address the wall surrounds. The faster and more cost sensitive approach is most likely an acrylic or fiberglass wall surround. When choosing this path, we highly suggest that the system be a direct-to-stud one rather than a system that glues onto a drywall or concrete board backing. It's a good idea to pick a surround with flat wall sections that are set up to allow for future addition of grab bars, should they become necessary later. If you want a nicer design element, consider tile or solid surface surrounds — they are very customizable and allow you to add custom features such as shaving shelves and niches for toiletries. Shower tile should always be put over a good waterproofing system such as Schluter that is engineered for every step of the process to ensure that you have a long-lasting, leak-free shower.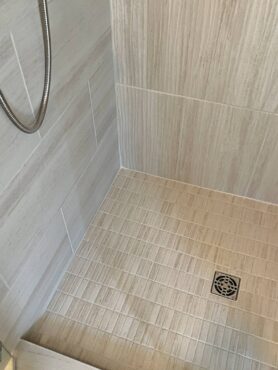 Often times, we are asked for a luxury shower system to replace the oversized soaking tub and platform that is rarely used or is unusable due to the difficulty of getting in and out of it. These conversions are typically part of a larger master suite reconfiguration. This type of project can be very complicated and frequently requires structural modifications to the building, which means you need a qualified remodeler with necessary resources to complete it.
Large, tile floor showers are very adaptable and allow for roll-in, barrier-free showers for individuals with mobility issues. These showers can be fitted with seats and handheld shower wands that allow for easy bathing for those with physical needs. But most of these types of showers are fitted with multiple shower heads and beautiful, open showers that don't need doors to keep water from escaping and really add a luxury spa feel to an everyday event.
A few other things to keep in mind with all the options available for pans and wall surrounds:
Shower doors or glass enclosures need to be considered (in cases were loved ones may need help with bathing, we suggest shower rod and curtain, as doors can impede safe access for a caregiver).
Don't forget to modernize the shower valves and trims to prevent having to go back later and tear apart good work to fix the valve (modern water-saving showerheads will reduce your water usage compared to the water used taking a bath).
Installing wood backing in the walls is recommended, whether you think you want grab bars or not, because you don't know if you'll need them in the future. For consistency, I suggest that they be installed on every wall at 36 inches off the finished floor.
There is so much more that could be covered on this topic, as the choices, options and budgets are truly endless. Whatever your reasons are to convert your tub to a shower, this is a great project to consider in your home.