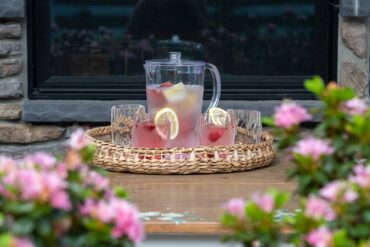 Tiffany Gilmore and her son, Gracin, a 19-year-old, lived in northern and then southern California before returning to the Northwest. She trained in production design in the storytelling industry of films and worked on student projects. Her specific job was "dressing the stage." What an education that proved to be in building this home.
Before sets are built, there must be a story. Their story has sparkle woven through it. In 2016, Tiffany met Ryan Gilmore on the eve of Christmas Eve, a magical time of year. By 2019, their son, Lincoln, arrived. In 2020, they married in Hawaii on Valentine's Day, a magical experience on another magical day, and that summer they found out their family was growing. Charlie showed up on set in early January 2021.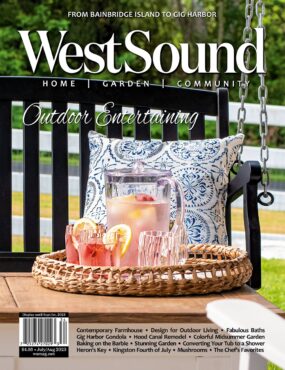 Ryan Gilmore is a new father but not new to fathering. Gracin has had Ryan in his life since he was 10. Now in his midteen years, Gracin has turned into the big brother of a 4- and a 2-year-old. He's cool with it and fortunately, his mother finds it exciting to be raising toddlers again.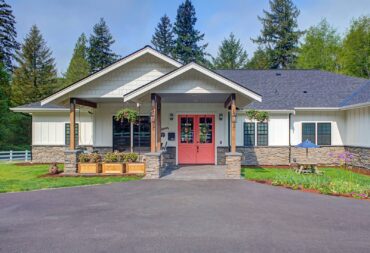 Tiffany Gilmore's parents, Chuck and Madonna Boykin, and her brother Ryan Boykin live in sight of the Gilmore home — within yoo-hooing distance. The Boykins bought a house on Horsehead Bay for their retirement, but endless stairs proved to be undoable as a retirement home. So they refocused and remodeled a single-level outbuilding on their son's property into their home.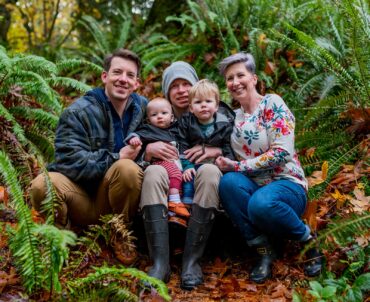 It was at the Gilmores' wedding in Hawaii that her parents offered to help them build a home on the lot adjacent to her brother's. Due to their retirement experience, their offer was for a single-level home where Tiffany and Ryan, who are not the youngest parents raising such young toddlers, could "age in place."
Their contractor, Bart Lovely, has a personal handle on aging-in-place. He lives in a wheelchair. But he pointed out that even short-term illnesses or accidents can benefit from wider doors, no thresholds and easy access in and out of showers. Ryan Gilmore agrees. As an active painter managing buildings at the fairgrounds in Puyallup, he knows accidents can and do happen in construction.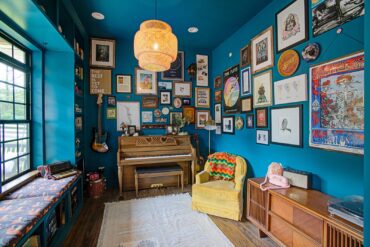 A Home of Contrasts
The home is a contemporary farmhouse leaning toward minimalism. But the Gilmores have created highly personal spaces that corral activities. A music room loaded with floor-to-ceiling shelves houses Tiffany's beloved books. Another wall clustered with framed art and posters that the couple collected while dating holds old family photos, as well as new baby pictures of the family they are growing.
Instruments stand ready for a jam session: a bass guitar, a piano and smaller handheld noise makers. Deep-peacock-teal walls, a window seat and furniture that is at-home slouchy make this a cozy place to hang out. Attached to the monochromatic entry, it gives an instant glimpse at the heart of the family who lives here.
The home calls to mind contrasting words. It's a comforting farmhouse, light and airy, but with a gutsy, edgy quality in architectural details that bring an understated drama. Black, anodized, multipaned windows hint at an industrial or punk theme. A sleek, black ceiling fan manages to look industrial while imitating the spokes of a wagon wheel. Wood lintels over the open doorways in and out of the living room balance the harder architectural elements to maintain the classic farmhouse sensibility. Smoked walnut floors bring soaring 10-foot ceilings and extra tall doors back to human scale.
A rectangular fixture over the dining table is repeated in four square light fixtures over the kitchen's island. Simple shapes of black metal and glass stay with the industrial undertone. Ornamentation and decor are stripped down, but stay true to the story of family and romance and — dare we say — human comfort.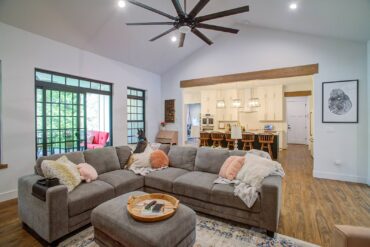 The upholstered dining chairs are made for comfort and ease, both physically and visually. The boys have a starring role in bringing the power of the human to the table. They spring to life with joy and laughter that delights the dining room in a set of three black-and-white, life-sized, candid photographs. Truly a show-stopping display of unexpected drama.
The generous sectional sofa in the living area faces a gigantic black entertainment center used as a bold and gutsy architectural statement. The adjacent wall features painted arches stacked like portals to an imaginary adventure. Comfy throw pillows and blankets piled on the sofa are topped by the beautiful husky named Frankincense, who arrived at Christmas and is called Frankie. The living area opens onto a covered porch, which offers yet another venue for entertainment or for the boys to play.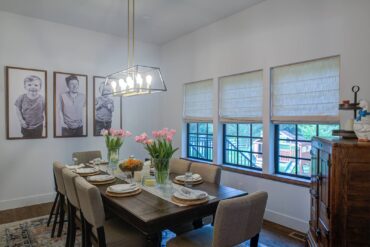 A seriously stunning kitchen balances the black entertainment center. Creamy shaker cabinetry goes all the way to the 10-foot ceilings. Appliances are white but not farmhouse enamel. They are creamy, matte and slightly textured, with softened edges and curves. In a word, they are gorgeous.
The hardware is black with brushed brass trim warming up the light, bright and white room. Most meals are eaten around the natural quartzite of the island in full-sized wooden chairs that bring the farmhouse house motif into the modern kitchen.
This large, open area resonates with life. The rooms are set up for easy change depending on what activities are happening. As open an area as it is, it maintains an organized sense of calm, ready for at-home fun or relaxed presentation should family or friends drop by.
Space for Kids to Thrive
Beyond the kitchen, the boys' playroom corrals activity and noise. Tiffany Gilmore's time working as a para-educator for special needs children showed her what kids need to grow and thrive. Lincoln and Charlie can get their wiggles out in a huge playroom. A colorful climbing wall gives an unexpected dimension to their play, as does the circular swing. Behind double doors, the closet is as wide as the play area and deep enough for desk chairs, counters and significant storage. Even this closet creates a dramatic moment with black cabinetry to the ceiling and bold brass hardware. Eventually, the boys will tackle homework here, but for the moment, their mother uses it for crafting.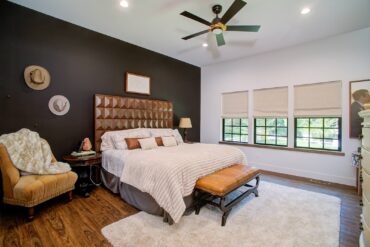 As the only woman in the house, Tiffany needed a room for herself. So she took on an "Alice in Wonderland" guest bath — and boy, did she! Decals on the wall of roses surround doors and mirrors. Details like topsy-turvy chair shelves and the door knob that Alice turned to go into Wonderland are delightful. To top it off, the room is screaming pink and is a total hoot.
Next to the boys' playroom stands their sunny bedroom. Currently, Charlie, the 2-year-old, has only recently moved up to a big boy bed, which he shoved next to his brother's. After all, Lincoln, at 4 years old, has conquered the territory of big-bed sleeping. They share a bath with their older brother.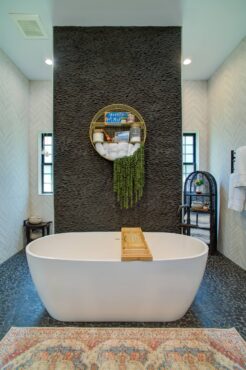 Gracin's room has shades drawn and looks like, well, a college kid's room. It's a creative disaster. Gilmore displays her relaxed mothering style by saying, "If he roomed at college, I wouldn't know how he kept his room, but he's here with us. So I ignore it." This may be a peek at why these families want to live in a compound — including the 19-year-old.
Designed for Family's Lifestyle
An interesting outcome to following the American with Disabilities Act requirements for accessible design includes wider doorways and halls, which add to the sense of spaciousness in this 3,300-square-foot home. There are few hallways that never feel tight and the floor plan, like old farmhouses, wanders and loops around itself.
Continuing the loop, a guest suite a bit away from the active part of the home does not share a bath with the three boys. This fact alone probably accounts for the extended visits of Ryan's parents, Diane and Walter, who live in Wenatchee and come often to visit their grandsons.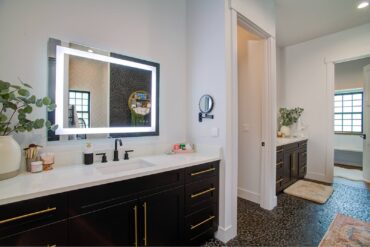 A mud room near the garage displays a changeable lettering sign. Today it says, "Love Grows Here." Instructional signage that focuses on how to remove stains is featured in the laundry room. The boys will be doing laundry. In the kitchen another sign shows cooking conversions. They will be cooking, too. These touches come from Gilmore's para-educational career and focus not on decor but on daily living and growing self-sustaining children.
Returning to the kitchen from the back hall, she opens two doors that look like a tall cabinet. Surprise! The doors open into a pantry room complete with windows, deep shelves for kitchen equipment and appliances, as well as another refrigerator. With four growing males in the house, that will come in handy — more so every day.
The alcove to the parents' suite displays the Gilmores' wedding vows. They hang in plain sight of their children and visiting guests. They remind them as a couple of their words and intentions. They remind them that the pair are the foundation of this family and they demonstrate how love grows here. Romantic photos of their wedding, a bed with a lovely textured wood headboard on a black wall and oversized chests make a statement.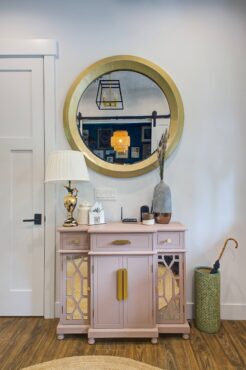 The bathroom nods to their Hawaiian wedding, with a freestanding tub backed by a polished, stacked pebble mosaic in black lava. Polished sliced pebbles form the floor, too. The little boys love splashing in this tub, which is as deep and large as a small pool. Floor-to-ceiling doorways on both ends of the pebbled wall allow them to step — or roll — into the sunlit shower.
Tiffany and Ryan Gilmore's story will take a lifetime to unfold. But the stage is set in their contemporary farmhouse as life evolves scene-by-scene and day-by-day. However, when a movie starts with a farmhouse, it develops into a storyline about family that builds to a happy crescendo. This is a tale to linger over, and with toddlers in the picture, the end is not in sight.