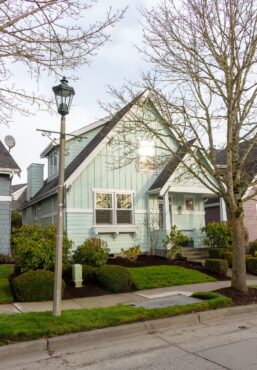 Builder Jim Collins saw a business need in Kitsap County and filled it. He laments how difficult it is to have a kitchen or bathroom remodel done — it's a complex and convoluted process for clients, because everything is so disconnected.
"I had an idea that I was going to do something a little different," Collins says. "It would become a one-stop shop for kitchen and bath remodeling."
In 2009, he founded Kitsap Kitchen & Bath Co. to accomplish that goal. It was "a better way of remodeling by putting everything in the same spot," he says.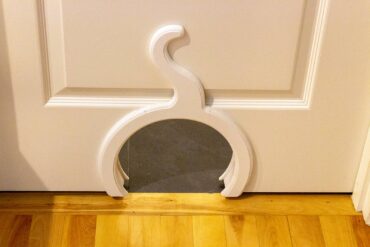 Kitsap Kitchen & Bath Co. business manager and interior designer Natalie Collins expresses the servant heart of the company. "The community is very important to us," she says.
Randy Torres, a project manager with the company, echoes Collins' sentiments. "We stay small and we do quality work due to that," he says, adding that Kitsap Kitchen & Bath Co. uses the best products and tries to keep everything made in the USA.
Another Kitsap Kitchen & Bath Co. project manager, Lacey Collins, says, "We care about the quality of work that we're producing in (homes). We care about the finished product."
This heart for the community and quality work were brought to the table as the Kitsap Kitchen & Bath Co. began work on new projects: the community of Poulsbo Place. As of July 2021, the Kitsap Kitchen & Bath Co. has done three full-house remodels, says Torres, along with a plethora of other small jobs in other Poulsbo Place homes.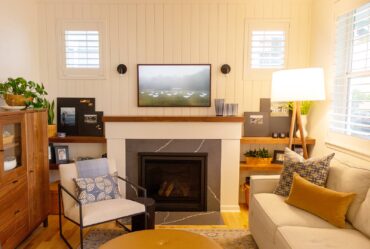 Poulsbo Place "is just a remodeling bonanza over there, because it was built on the cheap; wicked on the cheap," Torres explains. "They have the cheapest countertops, the cheapest cabinets. … They just went as inexpensive as they could. So, when we go in there, we reface or we replace. It's amazing what we can do in there and how we spruce those things up."
The owner of the featured Poulsbo Place home has researched the renovation. She came with a notebook of ideas for Kitsap Kitchen & Bath Co. The company renovated the kitchen, living room, dining area, bathrooms, stairwell landing, bedrooms and laundry room, according to Natalie Collins. She shares that in the kitchen, living room and dining area, they resurfaced existing maple cabinetry to a refreshed painted look and added new quartz countertops and matching backsplash.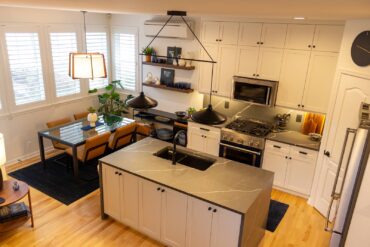 She adds that those rooms were painted, plumbing fixtures were put in, the lighting was replaced, walnut shelving and a mantle were installed, along with a quartz fireplace, and an shiplap accent wall was added.
The downstairs bathroom received a vanity, quartz countertop, tile floor, new tub and tile shower surround, updated lighting, Kohler plumbing fixtures and interior paint. The upstairs bathroom received similar treatment with a vanity, quartz countertop and shower bench, tile floor, tile shower surround, updated lighting, Kohler plumbing fixtures, interior paint, walnut shelving and a barn door that came from the Cabinet Door Service.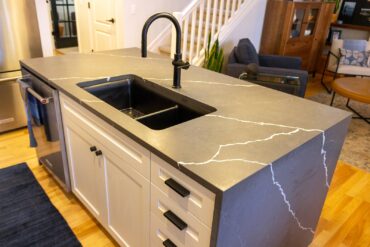 The bedrooms took minimal renovations with only a coat of paint and shiplap accent wall in each, creating a warm and cozy feeling. The laundry room was minimalistic, as well. The company installed tile flooring and backsplash. Lastly, the stairwell landing had its lighting redone, was painted and received a walnut ledge cap.
When the Kitsap Kitchen & Bath Co. revamped this house in Poulsbo Place, the team had some help. Swift Plumbing and Heating Inc. worked on the fixtures, which came from Kohler, Keller Supply and Ferguson.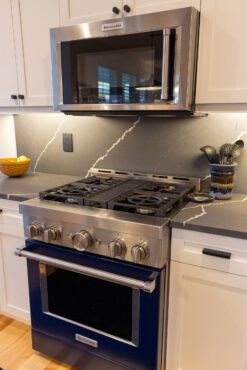 Sunset Electric Northwest Inc. did the lighting. The countertops were installed through FloForm with honed Sorano quartz from PentalQuartz and Architectural Surfaces. The tile work was done through HP Tile with Sabias and Bedrosians Tile and Stone. In addition to the barn door, the Cabinet Door Service Co. supplied the drawer fronts. The walnut wood came from Copperwood Manufacturing and Edensaw Woods. Lastly, Kitsap Custom Coatings did the paintwork.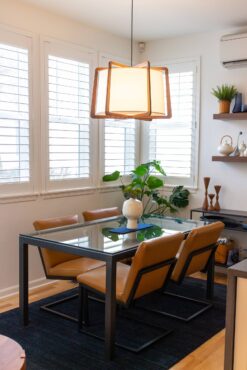 This job was a full makeover, and the home ended up "looking brand-new," says Lacey Collins. It was more than a facelift, though. She says, "When you're dealing with small communities or small developments like (Poulsbo Place), where they're so cookie cutter and they're all the same but your home stands apart from the rest, it elevates your value so much more." The Poulsbo Place renovations from the Kitsap & Kitchen and Bath Co. were both an aesthetic investment and a financial one.
Suppliers and Contractors