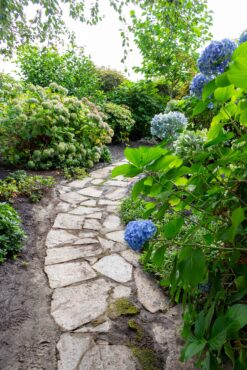 Joanne Peterson and her bernedoodle, Winne, stand in the welcoming front door of her Nantucket-style cottage: a simple, snug home with a shingled exterior built to withstand weather coming in off the inlet. Memories of quintessential waterside cottages flood in when stepping into her living room. Natural materials and an understated architecture with a classic brick fireplace and deep mantle, multipaned windows, arches, honeyed wood floors and vanilla walls invite wandering through the living room and adjoining areas. True to the cottage style, the interior is peppered with eclectic collections casually displayed.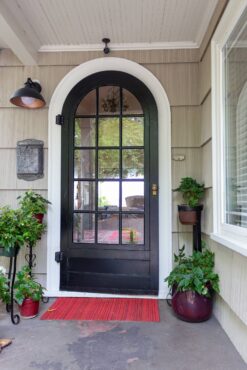 There is nothing fussy or straitlaced here. The living room is shaded and cool, with comfy chairs and a sofa nestled with throw pillows. The modest dining room table glows with wood that shows beauty marks, the scars and dings of a previous life. One of the goals in the remodel was to connect the interiors with nature's abundant offerings, so each room features large windows, some framed by evergreen clematis hanging on pergolas or glass doors to the patio. Either way, views of the garden and inlet issue invitations for a meander along the flagstone path.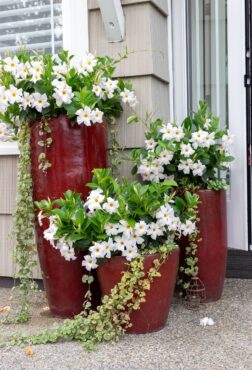 Peterson's family lives in Kitsap. She was a public employee in Seattle in 2003 when she bought the hundred-year-old home. She spent 11 years in California, most recently working for the Los Angeles Metropolitan Transportation Authority, an organization with 1,200 employees and big budgets where she served as the chief people officer. Peterson returned ready to transform her home in 2021. One treat in the yearlong project was her electrician — a realistic and artistic craftsman — who happens to be her nephew.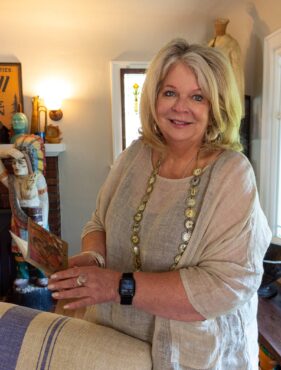 Peterson is a maximalist living large in a minimalist world. Her collections are fanciful cornucopias spilling with abundance. A wealth of colors, textures, patterns and finishes overlay the strength of the home's structure. As much as this modestly sized cottage holds, the architecture and the collections combine in an atmosphere of peacefulness mixed with curiosity.
Her light touch in remodeling preserved and enhanced the period charm of the cottage, contrary to the current fashion of stripping to the studs and tossing out. Willy-nilly changes made throughout the past hundred years were peeled away. For instance, a squirrelly and dangerous stairway demanded a costly remodel. Peterson says there is little gratification in that fiddley project because no one notices. Why not? Because the stairs look exactly like a stairway of that period should. What's to see? This entire remodel could be overlooked in that same way because what was done blends and balances what was there with what modern life requires.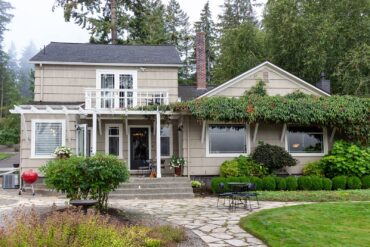 Smaller arches stayed in the entry and especially in the private sector, a small hall that leads to the front bedroom, bath and office. The bathtub retains the wide arch and charm of its origin. However, Peterson strengthened an arch between the kitchen and the eating area by bringing it into square. This shift brought them together into one flow. The added wooden beams warmed the updated kitchen.
Clearly, the kitchen needed and received the most modernization. Peterson took a moment to remember living through its remodel with only a refrigerator and an air fryer — good times! Cafe au lait quartz counter tops soften the modern sensibility. Creamy-white cabinetry features traditional raised panels outlined in a warm cocoa shadow line.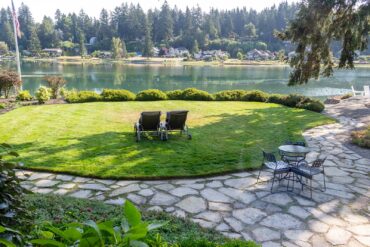 A refrigerator seen all the way from the front door is disguised in this paneled cabinetry, too. Next to it, a huge cabinet opens into a pantry, replacing an exterior door that had gobbled up space. A light cocoa grout similar to the shadow lines on the cabinets warms up the white subway tile behind the stove and on the entire sink wall with its large window.
Contractors didn't understand why Peterson wanted the tiles to align with cabinet edges, run right up to door frames or continue behind upper cabinetry so edges where tile meets paint disappear. But Peterson knows. The eye sees everything, consciously or unconsciously. When all is in order and alignment, peace and calm flow in.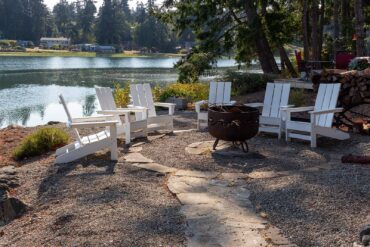 Chunky open shelves with wrought iron strap supports on the tiled wall that marries the kitchen and eating area allow the eye to travel. An unexpected steam-punk flavor with industrial stools and a flattened drafting board that becomes the table provides a moment of delight. It's a whimsical juxtaposition with the industrial modern stove and kitchen. With two walls of windows and the newly added double glass doors to the patio, it's like eating in the neighborhood press box. The doors to the patio complete the inside-out path through the home. There are no boxed-in corners in this cottage.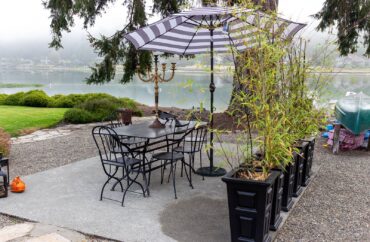 Peterson can't remember when her passion for collecting began, but wherever she travels, she seeks out unusual local treasures. Estate sales and garage sales are destination points for her: The adventure lies in finding the unexpected. She spent two months in Australia and New Zealand and time in Alaska, and also traveled the Southwest. Peterson's interest is not in high art or pop culture of the mainstream but of the less celebrated subsets of historic society: tramps, merchants, tribes, artisans and craft people, tools of daily life that are used and put aside or discarded.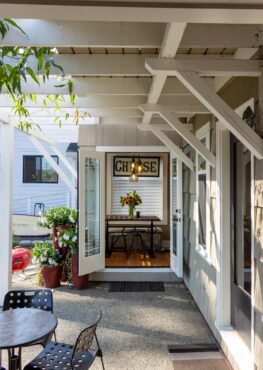 Her honoring of indigenous people and their languages started with her first job, where she sold moccasins in Hayward, Wisconsin. When Peterson found an elaborate but sun-damaged example of beading and feathers in a Native American chief's bonnet, she turned it over to find the other side was in stunning, perfect condition. Now it reigns in her living room.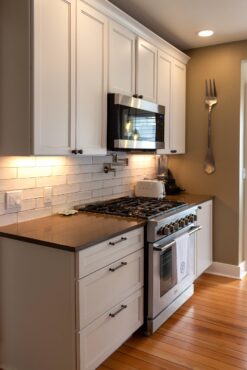 Another great find came in six ceramic busts of Native American chiefs by an Ohio artist, Van Briggle. The strength of their turquoise glaze weaves through several displays, carrying the eye and curiosity from one display to the next. Along the journey, old typewriters, decal-covered luggage and sport trophies and loving cups stir stories. Peterson says she overcommits herself even in her collecting because she is interested in everything and everyone.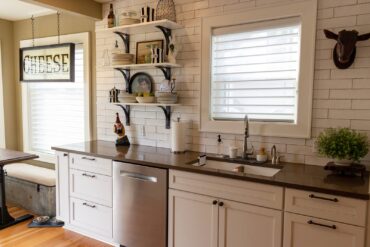 What saves her from chaos is a strong sense of structure. With the renewed architecture as foundation for her collection of paraphernalia, whimsy and oddities, she focuses the eye and sets up vignettes that compare and contrast unrelated items. Somehow it fires the imagination and tickles our fancy as delightful connections are made.
Even as her sense of humor shows up in her settings, it truly emerges in her storytelling. As Peterson's barista once said, "She's more fun than your average public employee." Some items are gathered because she likes them. Some have detailed histories. Some are personal.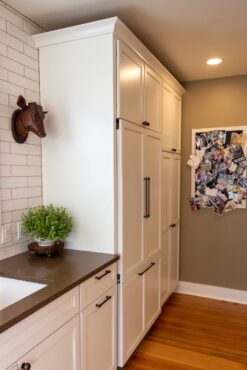 For instance, the huge Palmer Bros. sign, a tin silhouette of a pocket watch, is punctured with white lights and hung above a jewelry store in downtown Seattle at a time (OK, a little pun!) when it was known as "The City of Clocks." The large clock sign found new life in her living room. Neighbors who boat along the inlet see it as a welcome sign when they return to their home port.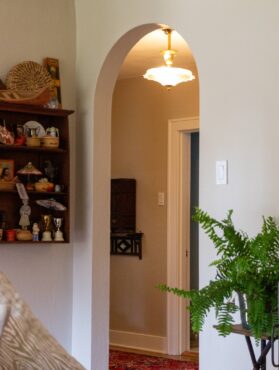 Her extensive collection of 1920-1940 black-and-white photos are of her family. They are unified by being shown in tramp art frames and given gravitas by the large rectangular grouping in her office. Nearby, Pendleton blankets climb a ladder. Tramp art also shows up in small boxes and a large construction of unknown origin that hangs in the dining room and looks like it could be tramp art. It's a mystery — which is part of the fun.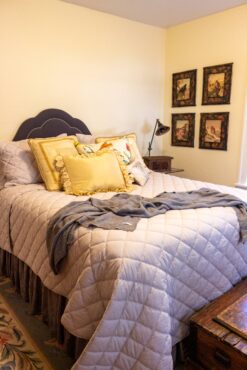 A natural focal point is, of course, the fireplace. Peterson built visual impact there with a huge real estate company's sign on the mantle. "Trumball $1 an acre down" advertises land available in Superior, Wisconsin, where Peterson grew up. A carved and painted cigar store Indian stands on the hearth. Surely it came from the Southwest. But no. Peterson says it was a thrilling find in Port Orchard.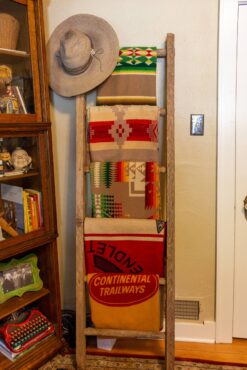 When asked if the gigantic living room area rug was a found treasure, she said, no, it's new. But its rich colors and slightly tousled texture are the perfect complement to the room. At this point, we may have wandered into Wonderland where new is old, old is new and who knows what has been remodeled. It's part of Peterson's gift.
This rug led to a story about the unanticipated decision to refinish the hundred-year-old, real wood floors and straighten out threshold issues. During the entire remodel, Peterson was living her daily life with all of its furnishings in the cottage side-by-side with her collections. All of it had to be moved out. (Oh, joy!) But what a result. Rich honey-colored wood enriches every room's foundation. With her sense of history and appreciation of imperfections, she left some of the patina of age in stains and spots on the kitchen floor.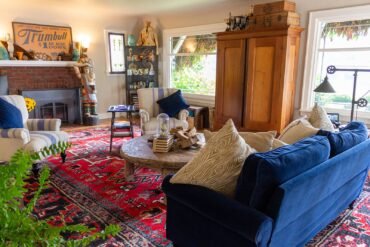 They bring a timeless sense of home, of a life well-lived by the cottage and its inhabitants. Her collections honor the people who made and used the everyday objects, now treasures. Her ancestors in the photos breathe life into her home. Most of all, Joanne Peterson's home expresses the richness of her own well-lived life — at least to this point. But now Peterson and Winne, the dog, must take off. An estate sale awaits her.