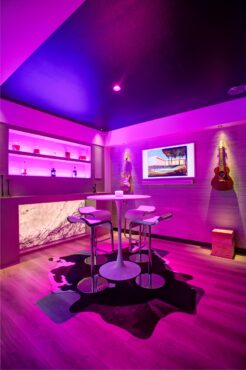 Depending on where a person falls in the generational lineup, the idea of an automated home may be as reasonable as apps are to the millennials or as startling as the concept was in 1962, when first introduced to the boomers on the black-and-white animated show "Meet the Jetsons." Technology has crept into homes and daily lives via smart phones, computers, various television and movie platforms, touchscreens, voice-activated commands ("Hey, Alexa!") and doorbells with cameras. But for most homes, automation is spotty and not integrated.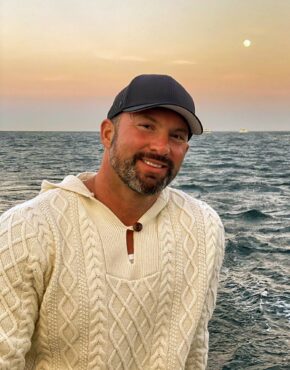 Smart home technology is Brian Scott's passion. After working 20 years as a lighting designer and home automation integrator in California, he has become the go-to-person for local builders and architects needing a consultant savvy in integrating, installing and programming these systems.
Scott says it's a common misconception that in order to have a fully integrated smart home, systems must be built-in during construction. Current technology offers lighting and automation solutions that don't require cutting holes in drywall or running new wires. Another misconception is that all LED lighting is basically the same. In reality, exceptionally intelligent LED lighting can transform any home into a state-of-the-art oasis. The maturing of millennials — along with well-built, older homes ripe for remodeling — indicates the future is at hand. Right here. Right now.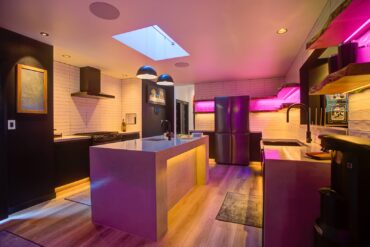 So Scott bought a late '80s Chaffey home in Silverdale in July 2021 to remodel for himself — and frankly, he was out to prove his point. He took on the project with two good friends: Josh Zurbrugg, a general contractor and finish carpenter; and Jennifer Gurley, a designer with an architectural background. Their collaboration carried an underlying intention of showcasing and educating homeowners on the functionality and ease of use of high-end lighting and integrated automation.
This contemporary residence in its remodeled state crosses into territory many still consider futuristic. A palette of black, white and gray on sleek surfaces shows off the lack of clutter inherent in these technical systems. To soften and warm the interiors, a wood-burning fireplace, live-edge shelving and natural grass cloth wallpaper were incorporated.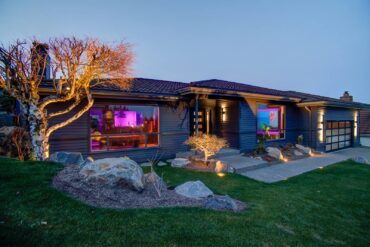 Scott wanted concrete countertops in the kitchen, but concrete comes with a steep set of issues. Zurbrugg, who has been pouring concrete for 20 years, points out that one overlooked aspect is whether the home's structure can support the concrete's weight. In this case, the weight came to 2,000 pounds to produce the concept they wanted. After his investigation, Zurbrugg determined the floor could not support it, nor could the large kitchen island ensure that the countertop would not crack under its own weight.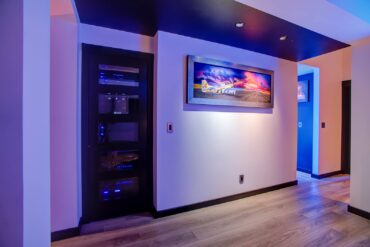 With this analysis, the team redesigned their approach. A wood structure with a concrete overlay fit the design plan without requiring structural changes. They were delighted with the concrete's look and decided to use it on multiple walls in the home, including the master bathroom shower.
Precise Lighting
The dining room turned into an intimate gathering area. The built-in bar features a slab of translucent marble that can take on the look of a colorful abstract painting or simply emanate a warm glow when back-lit with LED lights. With a touch of the control, interface lighting can change to set the stage for a mellow morning or a lively cocktail party.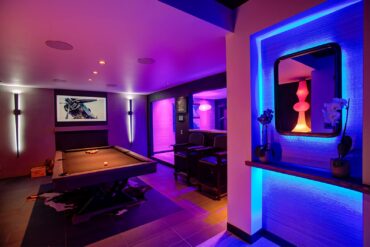 In many home projects, the importance of light throughout the day is overlooked. Recent scientific discoveries, however, reveal how lighting impacts the human brain and circadian rhythms. Scott designs lighting to complement or mimic natural light, which helps the home dwellers to feel alert and productive, or relax into rest and sleep.
His lighting design is precise. He puts light to work in a purposeful manner. For instance, Scott points out that kitchens don't need to be brilliantly lit all the time. Where specific tasks are undertaken — like over the sink, stove and chopping areas — spotlights give maximum visibility.
Simple Operation
The former coat closet conceals the floor-to-ceiling audio, visual and network equipment — the brains of the operation. The entire home automation system operates from wall-mounted touchscreens in each room. Or it can be operated by a portable Wi-Fi touchscreen. These systems manage the entire home's lighting, audio/visual components and shades, as well as mechanical systems such as HVAC, security cameras and locks, doorbells and appliances. And thanks to phone apps, they operate from wherever you are. Wondering if you left the stove on as you drive to the airport? Check your app.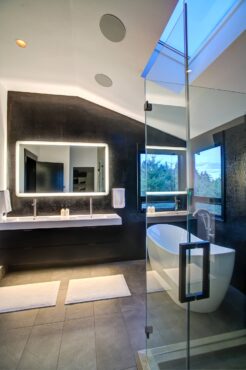 When Scott demonstrated how to navigate the touchscreens, it looked surprisingly simple. Easier yet is a voice-controlled, artificial-intelligence system named "Nikola." (Alexa is so yesterday!) Wake the kitchen in the morning by saying, "Nikola, good morning." The kitchen stirs with a soft, warm glow from the accent lighting, raises the shade and plays a little John Coltrane. All of these options can be programmed in during installation.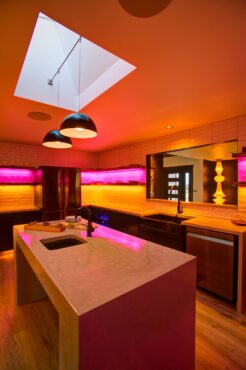 The family room transformed into a luxury theater, complete with a 120-inch screen, a 4K projector and a 13-speaker sound system. Gurley chose two "cuddle couches" for comfy viewing. They are circular and as big as a small island. Certainly, they are large enough for a person and a large dog, or several smaller pets and the kids, or two people snuggled up among throw pillows. Netflix, sports, reading? What's your guilty pleasure?
Mount Rainier shines bright out the family room window but the control interface can lower whisper-quiet shades to control light coming in from outside. The shade fabric is dense for comfortable screen viewing but translucent enough to see the mountain. Go a step further and lower a secondary blackout fabric behind the main shade and create a total theater immersion.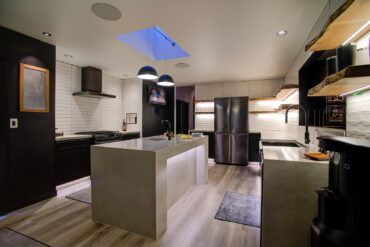 Several screens dot the home. They can be set to the same event or different ones at the same time. With personal audio devices like earbuds or headsets, multiple movies can be enjoyed by different members of the family. But during playoff season, different games can be watched at the same time and during the final event all screens can display it. This is the home you want an invitation to for playoff games and the Super Bowl.
Practical Finishes
Gurley's primary focus was on fixtures and finishes for the home. She specified Franz Viegener faucets, which are German-engineered and Argentinian-crafted. These faucets begin in the factory in Argentina from rough brass and are forged in the same location. Every detail synthesizes architecture, geometric forms and fluidity. Gurley says, "You can feel the difference with the smooth handle movements, the silky finishes and the pleasure of the elegant water flow."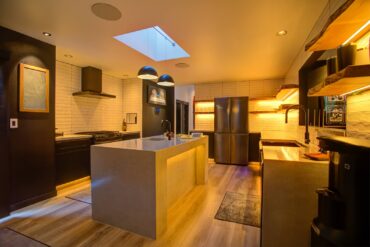 Electric floor heat was a simple addition under all floor tiles, which creates a comfortable barefoot trek through the home. Even the shower floor and bench are toasty because, well, who wants to sit on a cold shower bench.
Allergens such as mold and mildew can be concerns in the Northwest. The clean electric floor heat combined with the Airmada shower drying system that blows the shower dry all but eliminates allergen concerns. Scott says there is rarely a need to squeegee, plus the dry shower prolongs the life of finishes, grouts and sealants. The towel warmer not only warms towels, but also dries them — holding mold issues at bay, too, which means they need less washing.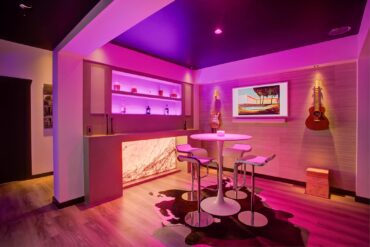 This walk through the home is begging the question: If something is useful and efficient, and saves time and replacement costs, can it be called a luxury?
The rock gardens and an 11-foot-high cascading waterfall consist of over 50 tons of boulders. The yard is lit with precision and forethought with lighting recessed in the rock gardens and submerged in the waterfall. Lounge by the firepit and enjoy the calming sounds of water and nature. Or rock out to the virtually invisible outdoor audio system.
By the way, hidden door keys are a thing of the past. Just open the interface and unlock the door. And hanging exterior holiday lights? Reprogram the lights to a cheerful red-and-green theme and you are done and ready to move on to the hot chocolate and popcorn festivities!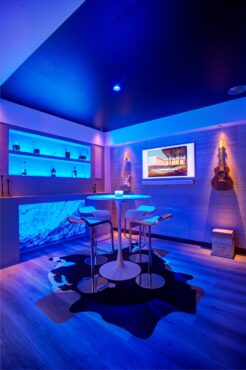 No matter what generation you claim, check out this showcase home. Scott planned it for a firsthand experience of ways to make life easier and more efficient and comfortable. He and his Illumina, LLC team delight in helping homeowners discover these new realities. Once systems are installed, they do the programming and from there, the interface pad or phone runs the home.
Neither new builds nor remodels are inexpensive. However, they are undertaken to solve present or future needs. Scott's home demonstrates the wave of the future. So hop aboard.