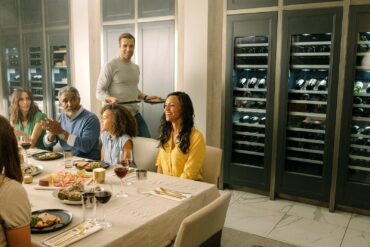 Wine sales around the world are on the rise, with more people enjoying wine in the comfort of their own homes rather than in restaurants or bars. Drinking wine can be a thoroughly delightful experience and a worthwhile expenditure, provided you treat it with respect. For best results, understand the fundamentals of when to consume wine, how to store it and how to preserve it at home.
Whether you are a budding enthusiast or an avid wine imbiber, consider following some standard guidelines regarding the timing of your wine consumption to ensure you reap the greatest enjoyment. First, the year printed on the bottle's label defines the year the wine grapes were harvested, or "vintage." If no year is printed on the bottle, it means the wine was made with grapes harvested in different years.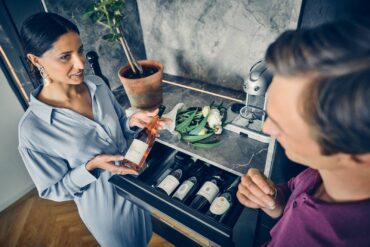 Depending on an array of variables, including the wine varietal (type of grapes used), the "release" (shipped-to-market date) is not always indicative of a wine's worth. Some red wines and sparking wines, especially ones that come from vintners who have been in operation for many decades or even centuries, are often cellared for 10 or more years before being released and are highly likely to be well balanced, pricier and sought after for special occasions and by wine connoisseurs.
General rules of thumb for optimal time and temperature for drinking wine:
(Photo courtesy Dometic Home)

White and rosé wines, starting within zero to three years from the vintage year at a temperature of 40-50 degrees for dry whites and 50-60 degrees for full-bodied whites such as chardonnay and viognier.

Red wines, two to three years at a temperature of 50-60 degrees for light reds such as a beaujolais and 60-65 degrees for fuller body reds such as cabernet.
Cooking wines such as marsala and madeira, three to five years at 55-65 degrees.
Champagne (excluding sparkling wines), five to 10 years at 40-50 degrees.
Fortified wines such as port and sherry, five to 20 years at a temperature of 60-65 degrees.
If you have brought a white or rosé home from the store shelf, you can successfully chill it down in your refrigerator in approximately two hours or less. If you have purchased a red wine, you may want to place it in the refrigerator for 15-30 minutes to get it down to the optimal serving temperature. A standard kitchen refrigerator is typically set at approximately 40 degrees and therefore is not the best place to store wine for any length of time unless you plan on giving the wine time to warm up before serving.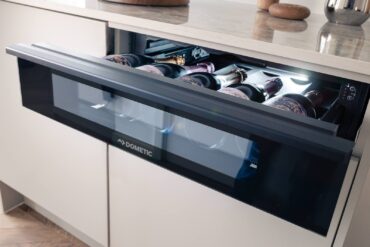 Once you open the bottle, wine starts to oxidize. Oxidation damages the aroma, taste and appearance of the wine and can turn it to vinegar with time. Unconsumed wine in a bottle can be preserved, retaining its character, for several days and up to several weeks, depending on the varietal (three to five days for reds, whites, rosés and sparkling wines and 21-28 days for dessert and fortified wines) and if they are handled and stored properly.
Two primary conditions to avoid when storing opened wine are UV light and temperatures above 65 degrees — a cool, dark space is best. There are a variety of tools that minimize a wine's rate of oxidation, allowing you to enjoy an open bottle over several days and potentially weeks. The affordable Vacu Vin saver pump, which retails for less than $20, utilizes a rubber cork with a reverse plunger that sucks air out of the bottle with every pump, preserving the wine for two to three days if stored in the fridge in an upright position. More complex and costly tools include the Coravin Model Two wine preservation system, which retails for approximately $350 and preserves your wine for up to four weeks, with an infusion of inert argon gas (other manufacturers use nitrogen or carbon dioxide to achieve the same results). The best part is you can pour wine from the Coravin, eliminating the need to remove the cork each time.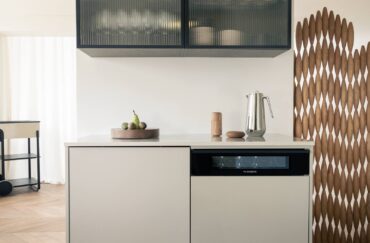 Serving wine at the proper temperature is instrumental to enjoying its many characteristics. Understanding the role temperature plays in the storage of wine will assist in both the preservation and the enjoyment of every bottle.
Wine is best stored at 45-65 degrees. Colder temperatures can dry out the corks, allowing oxidation to damage the wine, while warmer temperatures can impact both flavor and aroma. Therefore, storing wine on your garage workshop bench or on your kitchen countertop, where the temperature generally ranges between 67 and 75 degrees, is less than ideal.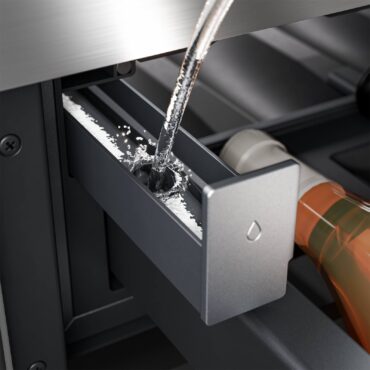 After temperature, three other important storage variables to control are UV light, humidity and vibration. Wine is best preserved by storing it away from direct UV light or behind UV protective glass. An ideal range for wine preservation is 60-75 percent humidity. Insufficient humidity can dry out corks, leading to oxidation, and too much humidity can result in mold and damage to bottle labels. Humidity can be controlled with a freestanding or built-in humidifier.
Lastly, during near-term storage such as one to three months, vibration is not of consequence, but it's still not a great idea to store wine next to your front-loading clothes washer. With long-term cellaring, vibrations can disturb natural wine sediment, negatively impacting your ability to preserve the character and therefore the enjoyment of the wine.
Wine bottles ideally should be to be laid down. Horizontal storage helps keep the corks wet, minimizing the potential for dry corks and oxidation. Horizontal stacking or racking is also the most space-efficient means of storage.
Now that we have addressed the primary variables you need control to preserve your wine, let's turn our attention to where and how to physically store it. Before we do, here is a list of places not to store wine:
In a kitchen cabinet above the refrigerator, the wall oven or range/cooktop. The air these appliances generate is too warm and dry and can have excessive vibration.
In wine "cubbies," open shelves or a decorative wine rack exposed to direct light.
In an uninsulated garage on a shelf or rack.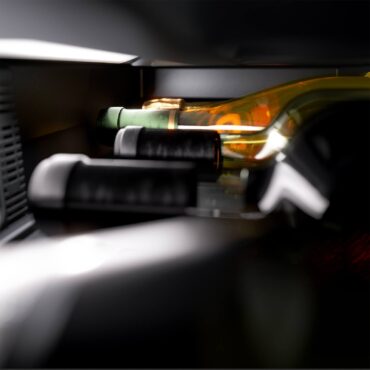 "Before deciding how one is going to store wine, it is important to determine where one will physically store their wine," says Kevin Kok, district sales manager for BSH Home Appliances Corp. "This decision will be influenced by a homeowner's wine preferences, the quantity of wine they want to store and, most importantly, their entertaining style. Do they prefer to decant or serve wine in the dining room, a wet bar, a media room, the kitchen or from an outdoor entertaining space? How will the location and type of storage facilitate their ability to serve wine at the right temperature without a lot of forethought or effort? Once the physical locations are determined, then the homeowner's wine storage budget and the available space in the preferred storage locations will drive the types of storage selected."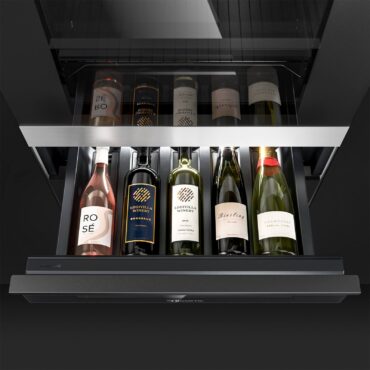 Near-term storage —
Less than one year for quaffing wines (nice wines but not of the caliber that they would be included in an organized wine tasting):
Simple, decorative wine racks on display on a kitchen countertop dining room sideboard.
Furnituresque wine cabinets in a dining room or living room, provided they are not located near a heating register.
Built-in kitchen cabinet wine racks or utilitarian wine racks in the pantry, laundry room or garage, provided they are not exposed to direct light and unfavorable temperatures or humidity.
Dedicated undercounter beverage refrigerators. An undercounter beverage refrigerator can be utilitarian, i.e., one temperature zone, with or without shock absorbers and UV-protective glass door.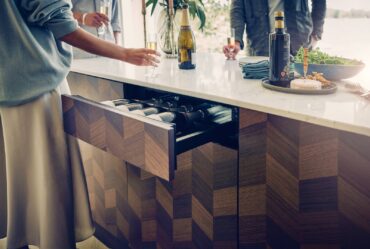 Kok recommends reading the manufacturer's specifications for the requisite air space around these units before you buy. "If you can't find the specifications, then allow at least 1 inch on either side, 1 inch above and at least 2 inches behind the unit to keep the interior temperature of the unit stable and to avoid overheating the compressor," he advises.
Short-term storage —
One to five years:
Dedicated wine racks in a cool, but not too dry location with stable humidity, such as a basement, closet or insulated garage that tip the "laid" bottles down, keeping the corks wet.
Dedicated undercounter or full-height wine refrigerators with single, dual or multitemperature zones, allowing reds, whites and sparkling wines to be consistently held at the proper temperature for on-the-spot enjoyment. These units will likely have shock absorbers to mitigate vibration, humidity controls to prevent the corks from drying out and glass doors to protect against UV and label damage. Another feature to look for is wood racks with soft-close glides, which help preserve the bottle labels and minimize vibrations. Wi-Fi connectivity is a useful feature that alerts homeowners of potentially damaging changes in temperature or humidity control within the wine refrigerator.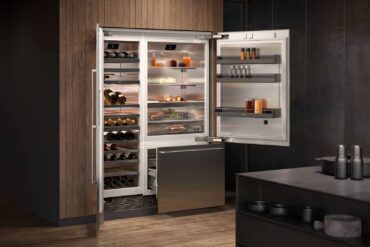 Long-term storage —
Five or more years:
The aging of wine is often associated with long-term wine storage in a dedicated wine room or cellar. Approximately 1 percent of all the wine produced globally is destined for long-term aging. Commonly cellared wines include syrah (five to 15 years), merlot and sangiovese (seven to 17 years), pinot noir (10 years), tempranillo and cabernet sauvignon (10-20 years), and nebbiolo (20 years). If storage conditions are optimal, aging can enhance the aroma and taste of a wine.
Dedicated wine rooms are typically located in the primary living space of a home adjacent to the dining room or living room. Glass-walled wine rooms are very popular and allow the wine collection to be on display. These rooms have dedicated built-in equipment for temperature and humidity control. The area below the floor, above the ceiling and in any nonglass wall will often be insulated with closed cell spray foam to mitigate the potential of condensation in the wall or ceiling cavities. It's important to specify UV blocking glass in the glass walled wine rooms.

Built-in cabinet wine storage (Design and Photo courtesy A Kitchen That Works LLC)

A wine cellar is a dedicated room located underground, often in a basement. There are two kinds of cellars — natural ones and mechanically controlled ones. Regardless of the type of cellar, these spaces can be outfitted with a variety of racking styles, from off-the-shelf racks to fully custom racks, depending on the size of the wine collection and the style you desire. Other amenities might include a sink and faucet, refrigeration units and beer taps, barware storage, seating and tables and a powder room.

Natural cellars take advantage of the ambient temperature of the adjacent ground, which is relatively consistent throughout the year, ranging from 50 to 60 degrees at 8 feet below the ground, depending on geographical location. This reduces the required mechanical equipment and therefore the electricity consumed, as well as the noise emitted by the chilling equipment. A humidifier may still be necessary, depending on the depth of the ground water around the location of the cellar or tidal surge for low-bank waterfront homes. Think of it as a sustainable wine cellar.
Mechanical cellars are just as they sound — their heat and humidity are maintained by mechanical equipment. They're more common than natural cellars.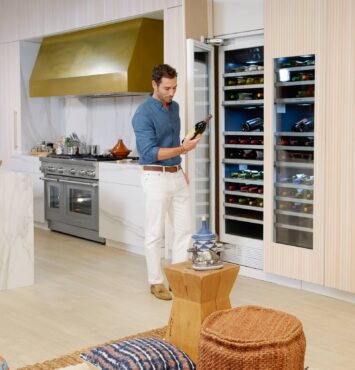 Preserving wine once the bottle is open is a simple act of mitigating oxidation by using a handheld device to remove oxygen from the bottle and then storing it short term in a refrigerator or other cool, dry location for near-term consumption. Short- and long-term preservation is centered around the types of wine you enjoy and how they will be stored until opened, mitigating potential damage to the content of the bottle from temperature, light, humidity and vibration.
How you decide to store your wine is based on your lifestyle, entertaining style, the wine varietals you enjoy, the available space you can dedicate to wine storage, and your design and construction budget. There are many limbs to the wine preservation decision tree; therefore, consider working with a professional who can assist you in designing and building wine storage that is just right for you.
Saluto!