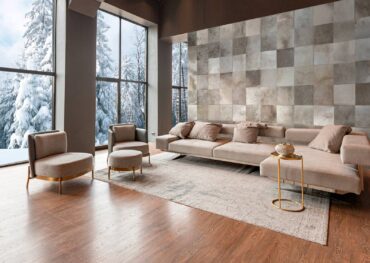 When you think of your walls as a canvas, there are a multitude of ways to enhance the look and feel of any room. As with most projects, you need to consider some initial criteria:
Budget: What level of investment do you want to make in enhancing your walls? Wall covering costs can run a wide gamut depending on material, labor, tools and requisite preinstallation preparations.
Tools, expertise and time: Be honest with yourself. Do you own the necessary tools, have the skill level and, most importantly, the time to tackle a revamp of your walls? If you are tackling a material that you have never worked with before, such as wallpaper that requires a perfectly smooth substrate (virgin drywall) with no texture, along with precision cutting and hanging, you might have the tools, skill and time, but do you have the patience, especially if you learn your walls are not plumb? Reviewing a few online videos should give you some perspective as to what you will be undertaking in the event you choose to DIY your wall finish project. In the end, if you decide to hire a professional, do your due diligence to ensure the professionals you are considering have experience with installing the materials you have selected — ask for their references, view their website, etc.
Goal: Do you have specific objectives for your project, such as improving the sound quantity of the room (sound abatement) or products that have low or no volatile organic compounds (VOCs) to minimize the off-gassing of toxic substances that are wreaking havoc on your indoor air quality? It's easy to search for materials on the internet that are designed for sound abatement, as well as those that maintain health and wellness in your interior home environment.
Style: Define your aesthetic style — traditional, transitional, rustic, eclectic, beachy, farmhouse, etc. Don't know your style? You can find a multitude of design style quizzes online to help you pinpoint your style.
Now that we have defined the four basic criteria for determining how you approach your project, you can consider the myriad of options to choose from. Each material listed below includes the cost, skill level, time commitment, maintenance and lifespan, and environmental impact score — with 1 being the lowest and 5 being the highest.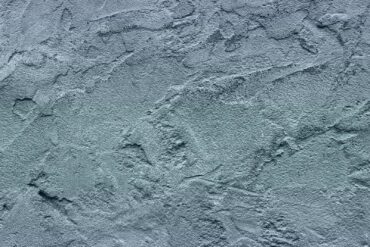 Painting
Depending on the color, painting walls can have a dramatic, mood-evoking impact on a room. It can be as simple as a single accent wall or as elaborate as faux finishing and metallics.
Cost: Scores 1-2 depending on the prep work, necessary tools as well as the formula and quantities required. Paint costs, excluding prep materials, tools or labor, average $1.20-$1.60 per square foot. Note: Low-cost products may require additional coats, making them less cost advantageous.
Skill: Scores 1-3 depending on the complexity of the finish, such as stenciling or striping, and how much moulding you are working around.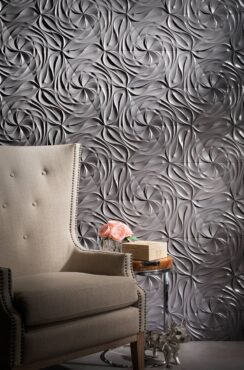 Time: Scores 1-3 depending on how much preparation the walls require, such as drywall patching, priming and masking. Also, whether the room is empty and easy to move about, as opposed to moving ladders around furnishings.
Maintenance/lifespan: Scores 1 for maintenance and 4-5 for lifespan. Depending on the quality of both paint and labor, painted surfaces can have a lifespan of many, many decades.
Environmental/health impact: Scores 1-5 depending on formula. By choosing low-VOC primers, paints and stains, you can measurably reduce the environmental impact of painting on your home's indoor air quality. The ability to clean painted walls with nontoxic products is a bonus.
Pigmented Clay, Lime Plaster and Venetian Plaster
When you want to give your walls a truly artisanal or organic look and feel, nothing beats this category of wall finishes. These products allow you to fully customize the color and depending on application technique, the surface texture as well.
Cost: Scores 3; these materials can easily run $10-$35 per square foot installed, depending on the prep work and tools required and the availability of local installers.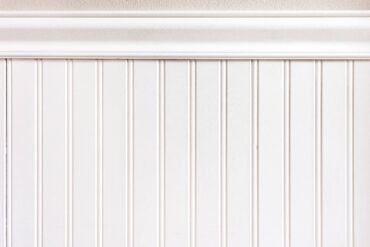 Skill: Scores 4-5 because they are primarily troweled on in multiple layers with a degree of compaction during application — healthy shoulders and arms are a must.
Time: Scores 5 given the multi-step process involved. Note that lime plaster is typically painted, adding a step, unlike pigmented clay or Venetian plaster.
Maintenance/lifespan: Scores 1 for maintenance with a duster typically used for cleaning; scores 4-5 for lifespan. One variable to consider among these options is repairability, especially for those in earthquake- prone zones; pigmented clay is very easy to repair but Venetian plaster is not.
Environmental/health impact: Scores 1-2. This category of wall finish is generally easy on the environment (historically lime plaster had asbestos added to it but this is no longer commonplace) and can be beneficial to individuals with respiratory issues. These materials breathe, helping maintain indoor air quality and desirable indoor humidity levels.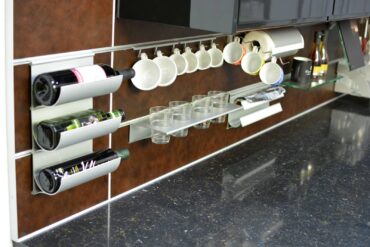 Wood
Wood paneling and wainscotting continue to be popular in many interior styles, including traditional, midcentury, rustic and eclectic. Shiplap or tongue-and-groove wood paneling in a variety of species and finishes can be applied in a horizontal, vertical or diagonal pattern over a less- than-perfect wall surface.
For a bit more texture, there's floor-to-ceiling beadboard or wainscoting with a chair rail moulding. For a truly personal and tailored look, prefabricated wall panels made of wood or medium density fiberboard (MDF) can be purchased at home improvement stores or from custom millwork fabricators and installed over drywall with finish nails and a dab of glue.
Cost: Scores 1-3, depending on the style and species, with MDF being the least expensive at $2.50 a fabricated square foot and woods like walnut and sapele being on the high end, which could easily run $18 per fabricated linear foot, excluding installation.
Skill: Scores 1-3, depending if you are working with MDF, which is easy to cut; or a denser grainy wood, which can suffer blowouts when handled by a novice.
Time: Scores 1-3, depending on whether you're working with prefabricated MDF products or dimensional millwork and how intricate the pattern is. Good math skills and miter saw are a must.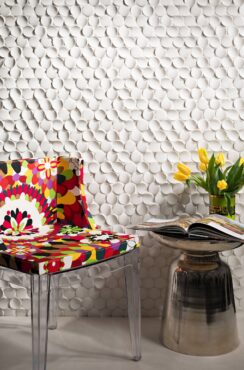 Maintenance/lifespan: Scores 1 for maintenance; 3-5 for lifespan, with MDF being a 3 and real wood a 4-5.
Environmental/health impact: Scores 1-2 depending on the material selected and how it's installed and finished. MDF uses wood pulp, a byproduct of the milling industry combined with low-toxicity resins; however, once damaged, it cannot be easily repaired and is often torn out and replaced, adding to landfill fodder. Because MDF is comprised of wood fibers, it's advisable to wear a mask when cutting it to avoid breathing in the fibers.
The wood species with the lowest carbon footprint are local and native species. The farther the wood needs to travel from the forest to the mill and then to your local retailer, the bigger the environmental impact. So, consider local and native wood species. Working with real wood should have little or no impact on your health but it's not unheard of for people to have allergic reactions to certain wood species such as cedar. How you choose to finish the wood is where you will experience the greatest potential health impact. Focus your selections on low-VOC paints, stains and varnishes.
Leather
Yes, you read that right, leather. Leather can be used to cover cabinets, countertops, floors and walls. It's warm and luxurious, helps with sound abatement and provides a plethora of creative options for most rooms in a home. A wide variety of color and texture options are available.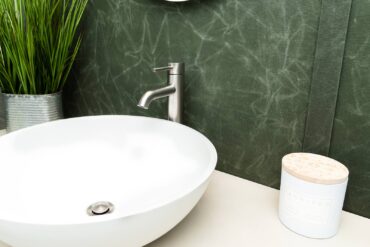 Cost: Scores 3-4. These materials can easily run $25-$50 per square foot installed depending on the prep work and tools required and the availability of local installers.
Skill: Scores 3-4. With the base cost of the material, you may want the installation done by an experienced installer.
Time: Scores 2-4, assuming professional installation and the necessary wall preparation.
Maintenance/lifespan: Scores 1 for maintenance with only a slightly damp rag or vacuuming with an upholstery brush. Lifespan scores 3-5 depending on installation and the average relative humidity in the room.
Environmental/health impact: Scores 1-2 because the leathers used are typically recycled from a postconsumer byproduct.
Tile
With tile, the sky is the limit with so many styles, sizes, textures and colors. Two-dimensional tiles have been all the rage for several years and they make for exceptional wall coverings.
Cost: Scores 1-4, with porcelain tiles being the most affordable at $14 a square foot, glass tiles at $30-$70 a square foot and natural stone tiles $45-$150 a square foot. These price ranges do not include thinset, grout, backer board, etc. or labor.
Skill: Scores 2-4 depending on how level and plumb your wall is and the style of tile you choose; cutting two-dimensional tiles can be tricky.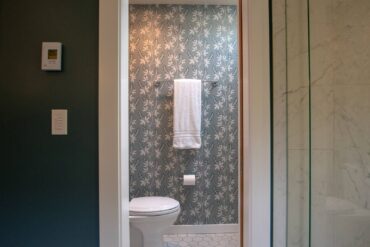 Time: Scores 1-3, with large-format, one-dimensional tiles being easy and quick to install while more intricate tile patterns and two-dimensional tiles add to the installation time.
Maintenance/lifespan: Scores 1 for maintenance, requiring a duster or slightly damp rag; scores 3-5 for lifespan depending on the quality of the installation.
Environmental/health impact: Scores 1-3 on both environmental and human health, with most tiles in the 1 range. The few higher-scoring tiles have compounds in their glazes that are less earth friendly but render no negative impact to human health. The ability to clean tile walls with nontoxic products is a bonus.
Textiles
Like tile, there are a wide variety of options. Grass cloth and burlap were common wall coverings in midcentury-modern homes. Velvet is a favorite for a boudoir. A new product to the market is Lord Fabrik, a sustainably produced and installed canvas product that is a natural alternative to vinyl. It's stain-resistant, available in multiple colors and styles and can even have custom embossing.
Cost: Scores 1-5. From burlap to gold thread textiles, there is a wide variety of price points, starting with $10 a yard to over $200, excluding prep materials and labor.
Skill: Scores 2-4. Like wallpaper, the level of installation difficulty may depend on the need to sequence patterns in the textiles.
Time: Scores 1-2 depending on the preparation of the wall as well as the width and length of the material; the wider or longer the material, the more wrangling you may need to do.
Maintenance/lifespan: Scores 1 for maintenance, requiring a light vacuuming with an upholstery brush; scores 4 for lifespan depending on installation quality and UV exposure.
Environmental/health impact: Scores 1-3, with most products having minimal impact on the environment or human health. Exceptions can include the dyes used to color certain textiles and the adhesives used to install the textile. Most textile wall surfaces can be cleaned with a gentle vacuuming, or a damp cloth in the case of Lord Fabrik. Textiles are also good for sound attenuation.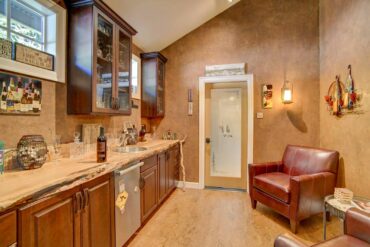 Wallpaper
Wallpaper has made a significant comeback but realize this is not your grandmother's wallpaper. We are talking bold patterns, textures and, with some wallpapers, washability. Note: Make sure the wallpaper is rated for the room it's intended for; for example, high-humidity kitchen or bathroom or low-humidity entry hall.
Cost: Scores 1-4. Pricing runs a wide gamut, from $110 to $260 a square foot for materials and professional installation. The cost of the wallpaper itself will depend on complexity of the pattern, material composition, size of the rolls, designer name and country of origin. Professionally hung wallpaper should have an average life of 15 years.
Skill: Scores 2-5 depending on your patience level, how square and plumb the walls are and how intricate the pattern is on the paper (and therefore how challenging it is to line up). Note: Repairing a tear is difficult.
Time: Scores 1-3, assuming the walls require minimal preparation. In general, it will take less time to hang a peel-and-stick wallpaper than a glue-down wallpaper.
Maintenance/lifespan: Scores 1 for maintenance with only a duster or slightly damp rag (depending on composition) for cleaning; scores 3-5 on lifespan depending on quality of installation.
Environmental/health impact: Scores 1-4 depending on the primary materials used in the manufacturing. Wallpapers with a low score are fabricated with recycled content and organic materials and are marked zero VOCs, PVC-free and toxic metal free. Wallpapers with a high score are comprised of solvent-based inks and polyvinyl chloride (PVC), which can off-gas VOCs, negatively impacting the indoor air quality.
Another factor to consider is the adhesives used to hang the wallpaper — environmentally and human health friendly adhesives are wheat and clay based while nonfriendly adhesives contain vinyl and biocides, both of which are toxic to people and the environment.
The Fifth Wall — Your Ceiling
Don't overlook your options for an interesting ceiling, from handpainted "frescos" to paneled box ceilings to tin. There is a wide variety of fanciful options for ceiling treatments that can bring character and lasting beauty to a room.
Don't be daunted by all the options. Remember, if you start your project with defining your budget, understanding your ability to successfully complete it in a timely manner and defining your objectives and your style, you can quickly narrow down your choices from the options detailed above.