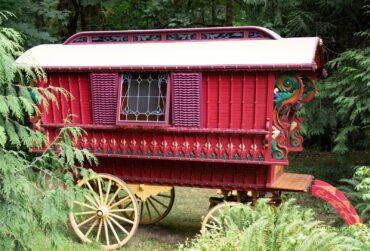 Denise Harris jokes that it was a "hairbrained idea" to build herself a gypsy wagon 20 years ago. However, she doesn't regret the years of hard work that it took. It was a journey that brought her into collaboration with a plethora of talented, artistic people.
Harris began building the gypsy wagon due to her husband's influence. One day, he found an old wagon. "We thought that maybe we could build a gypsy wagon on top of that," Harris says.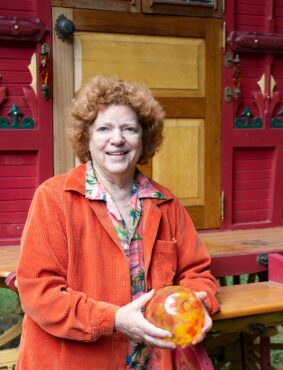 "But, as it turns out, the regular old wagons you saw in times past were straight axle," Harris says. This made the wagon her husband found incompatible with a gypsy wagon as it "didn't have any suspension." This was a problem because "for a gypsy wagon, of course, it had to have some kind of suspension. It has to be able to bounce along," she says.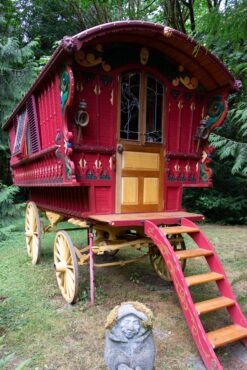 Yet, her husband's discovery of the old wagon inspired Harris to create a gypsy wagon of her very own. She chose to build a sheep herder's style of wagon, which has a "bowed top." Her wagon is also considered a ledge wagon. "It's called that because there's a ledge that goes through the whole length of the wagon," Harris explains. The wagon is 13 feet long and can fit a queen-sized bed inside.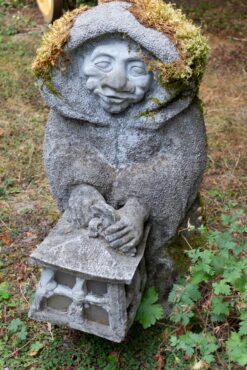 Harris didn't build this wagon on her own, though. "It was kind of a collaboration among all these other art people, which is kind of fun," she says. Harris teamed up with David Sutter, a shipwright. Together, they worked on the wagon almost every day for three years. Sutter dealt with the structure of the wagon, while Harris worked on the ornamental areas.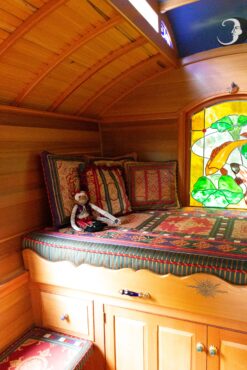 "I'm an artist," Harris says. "A lot of what I did was all the carving. All of the ornamentation that was on the wagon was more my part of it."
She is especially attached to the comedy and tragedy faces she carved. "On the front, over the door, it's comedy," she says. "So, there's a face; a comedy face … and on the backside is tragedy."
Additionally, Harris had help from Janie Ekberg and the Mesolini Glass Studio. Harris shares that Ekberg "is an incredible fiber artist, and she did all the interior fabric that's in the wagon. And, it's extraordinary." Additionally, the Mesolini Glass Studio on Bainbridge Island built the stained-glass windows in the wagon, per Harris' designs.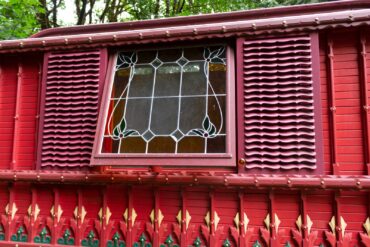 After the wagon was finished, Harris put it to good use. For many years, it was in Bainbridge Island's annual Harvest Festival, as well as being a vibrant piece of Harris' property. Nowadays, it just spends the summers on her land. Harris says the wagon is "very beautiful when it's sitting in its place" on her property.
Harris also makes use of the wagon's interior, sleeping inside it during some summer nights. "It's really nice to be in, to sleep in," she says, adding that "it smells wonderful" due to being built from Alaska white cedar.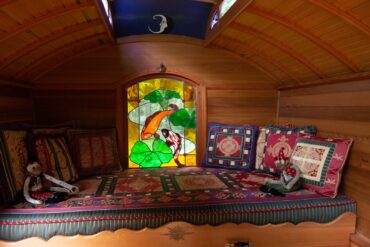 Additionally, the wagon sits near a man-made pond with a stream. "It's very fun to sleep in it when the pond is running," she says. With the culmination of pleasant smells and sounds, sleeping in her gypsy wagon is a delight for Harris.
Looking back, Harris says that she "had to be crazy to do it." Building the wagon "was a lot of work, but it was fun. It was a real learning experience. It was rewarding."
But the wagon was well worth the time and effort. It created both a beautiful piece on Harris' property that she can enjoy and the opportunity to work with other artistic people.