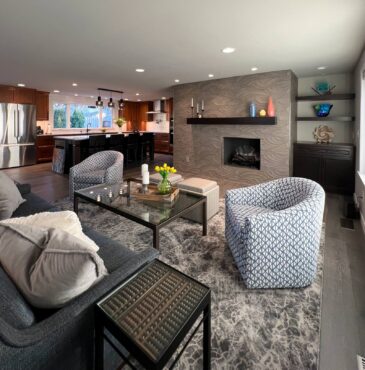 Joyce and Brian Boettcher lived in their split-level home for 27 years, working and raising two children. Keeping up with the day's demand was their main focus — even as a myriad of home inefficiencies piled up that they had no time to remedy. As Joyce says, "When you have time, you dream."
Their dream time arrived in December 2019, shortly before the word "COVID" flooded our vocabularies. They called interior designer Nancy Finneson of DeMane Design in Gig Harbor to direct them through a kitchen remodel. However, Finneson presented a design not only for the kitchen but for the entire home in order to give the kitchen remodel a context toward future possibilities that could be done in phases. As the discussion developed, the couple decided they were up to the challenge of remodeling the entire home as one project.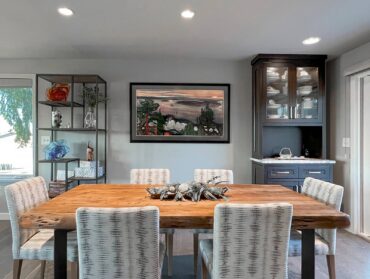 This remodel touched every room in the house. Walls were moved, removed or enclosed. Finneson designed the space, lighting and custom built-ins for the Boettchers' needs. She kept their preference for a dynamic, exciting but comfortable home at the forefront of her choices throughout the project. Comfort also came in new, energy-efficient windows and a new front door. Contemporary exterior paint completed the remodel.
In order for Finneson to present successful choices, she gave the Boettchers the assignment of looking at photos on Houzz.com and "liking" what spoke to them. After that, she and the couple reviewed the photos and sorted out underlying similarities of the designs they had chosen and marked their must-haves. This process helps owners communicate their thoughts to the designer and lays a foundation for the easy collaboration Finneson and the Boettchers enjoyed. Finneson resourced a variety of tiles, cabinetry details, furnishings and lighting fixtures as possibilities for the couple to select.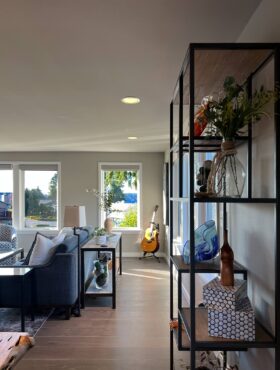 Finneson knew a remodel of this magnitude needed an exceptional contractor and so she referred Tim Reier. When Joyce Boettcher met him, she recognized him as a member of her athletic club. They had shared many conversations over the years but didn't know each other's last names. Now they were to embark on a remodel adventure together.
A Changed Space
A skylight high above the split-level entry fills the stairway with a vertical column of light. Ascending the stairs leads to a wide space of elegant proportions. Enclosing an outside porch and removing two kitchen walls created a flowing area that houses the kitchen and the elegant living and dining room.
Expansive windows with filtered water views on two sides and a third wall of double glass doors to the deck, plus a large kitchen window, shift light throughout the room over the course of the day. Motorized shades adorn new windows and disappear under a valance to preserve the view. They rise and fall in one synchronized motion.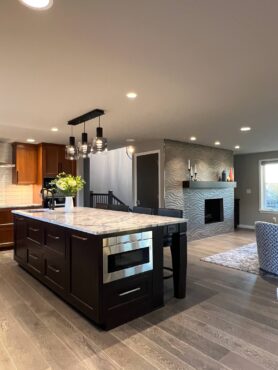 Changing values of gray, black and white create depth and drama while wood acts as a warming accent throughout the home. Here, the furniture falls into the midtone, with textured fabric on the sofa and a stunning regulated pattern on the chairs. Plush pillows add softness and an invitation to touch. The area rug softly mimics the pattern on the kitchen's granite.
Sueded taupe tiles imported from Spain on the fireplace wall are deeply textured with contemporary shapes that reflect evening sunsets in delightful and unexpected colors. This loft-like living area is a chic, flowing expanse with a relaxed urban sensibility.
The dynamic patterns Boettcher wanted in her home are established in the bold and splashy black-and-white granite countertops streaked with dramatic veins. White subway tile backsplashes have a completely different effect in this kitchen. Their unexpected irregular texture breaks the light into soft-edged bits and pieces as in a lake's reflection.
Even though the couple chose an aged driftwood finish on the engineered floors for most of the home, the final choice for kitchen cabinetry went to a rich cherry wood with bold, black hardware on the peripheral walls. A smoky dark charcoal stain, a must-have as soon as Boettcher saw it, defines the large, furniture-style island, which seats four and complements the wood cabinetry.
A pool of warmth as inviting as a hearth shows up in the live-edge acacia dining table with upholstered chairs. The same stain from the kitchen island finishes the-floor-to-ceiling, built-in china cabinet in the dining room. Beyond the dining room doors, a new deck with stainless steel posts and horizontal cable railings sparkles against a rugged stone wall.
The upstairs hall leads to a full bath, which had a major remodel. By reworking the hall linen closet into the bathroom, it becomes a cabinetry piece. Large tiles of slate radiate heat from the floor while gray-and-white tiles gleam in the tub surround. A light tube brightens the space even on a sunless day.
Pocket doors installed in the bathroom and three bedrooms save space in the rooms and increase visual space in the hall. They are also used in the downstairs laundry/powder room, where a chevron pattern of exciting contrasting hues tile the floor. Light cabinets and matte black fixtures with contemporary mirrors and fixture make the small space feel special.
A subtly patterned carpet in the downstairs hall and media room soften the space. A deep- brown leather sectional sofa made the cut from old house to new and provides comfy cushions and throw pillows for enjoying an afternoon game on the wide-screen television over the fireplace. Built-in cabinetry on the back wall holds games and books while the front wall cabinetry houses a functional bar hiding a microwave and a beverage cooler. A unique tile backsplash finishes off the glam for the den.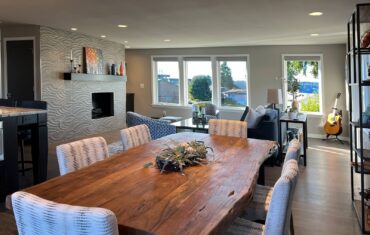 The Boettchers spent their budget according to which rooms get the most use and so they declined an expensive increase in the master bath's footprint. Finneson calculated every inch to maximize the function within its compact space. Transformed into a contemporary bath, it feels bigger with a step-in shower, glass enclosure and an added window. Again, the tile work stands out with a wide, vertical stripe of cracked gray tile grouted in black.
Making the 'Cuts'
Boettcher had practical words of wisdom when asked about surviving a full home remodel. In a word: purge. She undertook this step after the design phase while materials were ordered for the build phase. The first cut was the deepest as she sorted out everything she could and determined what would be stored off-premise. At the end of this purge, Boettcher thought she was done. Well, she was done. It was exhausting and emotionally draining.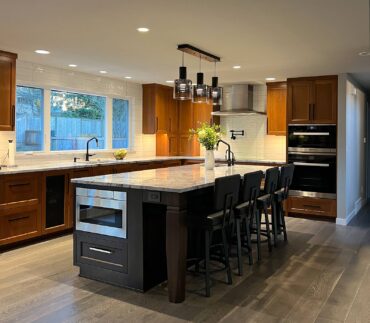 More cuts came as they moved in. The new aesthetics of the home showed them what would fit in and what looked out of place so purging in the excitement of the new home came easier. A final cut came as she organized the two of them into their new space with all of its storage and cabinetry. Boettcher methodically placed items and set up systems as she went. By then, she says, it was a joy to let go.
The other big decision the Boettchers made was to move out — from September 2020 until April 2021. Reier, their contractor, offered to rent them a house he had on Horsehead Bay. When they arrived to see it and meet his wife, Boettcher knew her from the club, too.
Getting to the Finish Line
Once back home, they arranged their stored furniture back into their bedroom and media room downstairs and settled in to await the arrival of new furniture for upstairs. It took another six months before the furniture arrived a few days before Thanksgiving 2021. The spectacular tiles for the fireplace wall ran into a frustrating supply chain issue. They arrived from Spain a few months after the furniture's arrival. With their installation, the remodel ended — and what a fitting finale.
Boettcher also relied on researching, ordering and patience, but the most important skill she said is knowing measurements. Measure twice, order once! Also, pin down a timeline for the three phases of a remodel — design, order, build — as much as possible Then, know that it will take longer. The pandemic was their culprit but every remodel has an unknown factor that will devour time. Oh, and here's a kicker. Expenses will change and therefore, the budget. It's simply the nature of the remodel beast.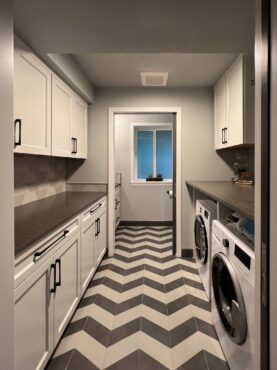 The Boettchers had an excellent team in Finneson and Reier, and it shows. Resourced materials, cabinetry, closet construction and finishing details are standouts with the wisdom of professionals behind them.
Boettcher says the fact that they did the remodel as a whole rather than in phases brings an unexpected pleasure. She feels joyful every day. When she steps out of bed, the beauty and efficiency in her home fill her soul and she feels blessed.
One unexpected room was squeezed in and deserves a mention. A frosted glass door tucked behind the media room hides a small smoking and cigar lounge. Two barrel chairs, a wall- mounted TV and a small wooden cabinet for the cigars give them a quick getaway for a daily indulgence. Needless to say, extraordinary care was taken to assure proper ventilation.
With Brian's recent retirement, who knows what new rituals lie ahead for the Boettchers in their extraordinary home. But after a full two years, it's a guarantee that their remodeling days are behind them.
Designer's Notes/Special Features
Written by Nancy Finneson, CKBD, CAPS, CLIPP, ALLIED ASID
Remodel touched every room in the house and walls were moved, removed or enclosed. The exterior even received a new color and front door.
All windows were replaced and are now energy-efficient. Shades adorn the new windows; most are motorized and can rise and close in synchronized unison.
The kitchen had two walls removed to open it into living, which was also enlarged by enclosing and outside porch, making the upstairs space open and larger.
Every surface had a new color or material. Pocket doors now embrace many rooms as a major space saver.
Fireplace tile in living room, distinct contemporary relief in a suede finish from Spain.
Kitchen special features include pot filler, steam oven — which the homeowner has embraced and is now a favorite appliance — and workstation sink (with inserts for a colander, cutting board and drying rack, open-mesh faced cabinet for fresh vegetables).
Broom closet is neat, disguised and handy. Large, furniture-styled island with auxiliary sink and lots of room for prep and partying now seats four.
Master bath is small, but every inch was calculated to maximize function within the compact space. Special emphasis was placed on unique materials and fixtures.
Downstairs den/bar was remodeled as a comfortable space for friends to gather, watching the game on a large-screen TV or playing cards and games. Custom built-ins for storage and display make best use of the space. The bar has a beverage cooler and frosted glass doors on the wall cabinets that hide a convenient microwave. Unique tile for the splash finished off the glam for the den.
The "smoking/cigar room," a request by the homeowners, is not a typical space. Extraordinary care in the design was taken to assure proper ventilation was in place.
The laundry/powder room received a complete makeover, making it an enjoyable place for necessary chores. The powder room kept with the contrasting theme, light cabinets and matte black fixtures and mirror make the small space feel special.