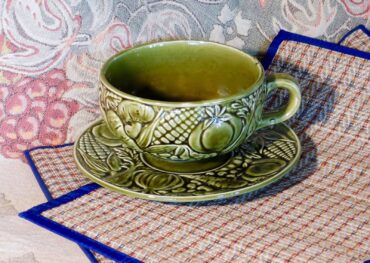 They were on the floor in an open cardboard box, conspicuously in plain sight at The HUB Shop thrift store in Belfair, located a block or so from the QFC grocery store. The thrift shop was packed that day but no takers, not even a looker. Maybe it was the avocado green that many find repulsive.
Approaching, I soon discovered two things. First, the box was filled with a set of six giant, green, veggie-embossed soup cups and under-plates that appeared to never have been used. Secondly, the tag indicated that the $15 set of vintage oddities had sat there for weeks.
I was puzzled. They weren't that bad. In fact, I found them to be charming, especially for someone with a certain understanding of the '70s, when that mud-gold-green color was everywhere and on everything, from carpets to refrigerators.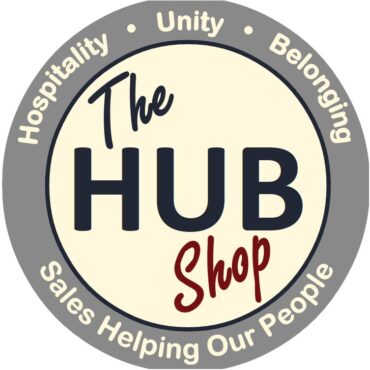 The rule for "Contemporary Thrifting" articles is that I can't just pull an item from my kitchen cupboard. It has to be a recent find from a local thrift shop.
"I'm getting these," I said to the gal at the counter and used my half-off coupon for that month.
Hard to tell from the photo, but these gems are big. A standard cup or mug would have a diameter of about 3 inches. These cups have a diameter of 5 inches, more like a bowl with a handle — hence "soup bowl," which is a popular item these days for casual dining or walk-around eating.
These were made in Japan. This embossed, olive-green vegetable design is similar to other vintage dishes, but not quite like these, which seem to be an earlier endeavor. Of the six cups, each handle was off-center, slightly crooked, and there were many small glazing flaws.
Here's a funny kicker. Had company one day and dinner time caught up with us, so I thought, "A green theme." Husband Earl went to CJ's General Store and got homemade chili and toasted roast beef sandwiches.
"Hello, big green beauties, get ready for chili and sandwiches," I thought. Luckily, I had standard green plates to complete the setting. Did the green plates match? Of course not, but they looked good — a bit odd, but great.
Besides a thrift shop, the HUB facility (also known as "Faith in Action") accommodates senior activities, music, markets and services. The organization is also a provider of free medical equipment for those in need.