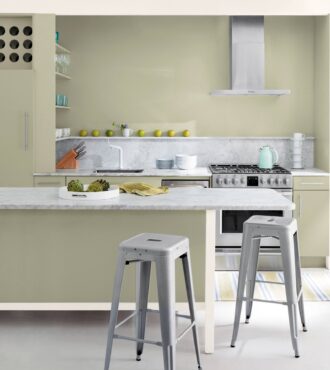 In this final segment about designing your home for health and wellness, we look at trends in color, interior décor, biophilia, health and wellness in kitchens and baths, as well as smart home technology.
Health and Wellness Trends
Beauty is in the eye of the beholder. Ever had a yearning for a specific countertop or a chair? Or on the flip side, a visceral reaction to a certain color or light fixture? If so, you are not alone. Colors, textures and design elements can evoke strong feelings of desire or displeasure.
These reactions can be explained, in part, by neuroaesthetics, a new field of experimental science that combines neuroscience, psychology and aesthetics to understand how humans derive intense pleasure or displeasure from aesthetic experiences such as art and beauty. Neuroaesthetics contends that visual aesthetics, namely the capacity of assigning different degrees of beauty to certain forms, colors or movement, is a specifically human trait not possessed by other members of the animal kingdom.
Designers and architects are consciously incorporating aspects of neuroaesthetic principles in their work, such as biophilia — the art and science of using objects of nature to render a sense of calm and relaxation. These design elements can increase the level of serotonin in your brain and effectively enhance your level of health, wellness and healing within the built environment.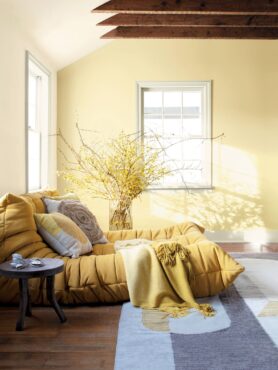 Color Trends
Color can have a significant impact on setting the "tone" of a space. Consider what emotions you experience when you look at a bold color like red. What does the color represent to you? For many, it's a color of passion, romance, fire or anger. Red can create an environment that promotes a sense of creativity or one that puts you on edge.
Color trends today are reflecting consumers' desire for colors found in nature. Earth tones such as soft greens (e.g., Benjamin Moore's color of the year, October Mist 1495, a shaded sage-green color), yellows and browns can promote a sense of serenity, calm and relaxation (like nature). Trends aside, when selecting colors, ask yourself what a color represents to you and how it can enhance your sense of wellbeing. Everyone is different, so be sure to use this as an opportunity to look inward to what colors elicit joy and wellbeing.
Along with color, matte sheens (as opposed to semigloss, high gloss, etc.) are trending in paint, tile, countertops, cabinet finishes and more. Matte sheens are easy on the eye and can evoke a subtly soft and delicate look and "feel," illustrating how sheen ties into neuroaesthetics and its ability to help promote wellbeing and better living situations for all, including individuals with conditions such as dementia, Alzheimer's and autism.
Décor and Furnishing Trends
Trends in décor and furnishings, like colors, share the common theme of being inspired by nature. There has been a significant uptick in décor and furnishing options that are rich in texture and patterns that mimic the natural world and are made from natural materials such as rattan, hemp (flashbacks to the '70s — even macrame), jute, bamboo, organic cotton, etc. These materials provide a feeling of authenticity with a nod to artisanal wares that have been touched by human hands as well as the incorporation of biophilic elements.
When purchasing décor and furnishings, consider some or all of the following selection criteria to ensure that your purchases complement the objective of creating and sustaining health and wellness:
Choose durable materials that are free of toxic chemicals. For example, solid wood furnishings hold their value and can last a lifetime, making them a worthwhile investment. Furnishings that are produced or finished with harmful chemicals can adversely impact your indoor air quality by off-gassing toxic and noxious chemicals (make an effort to seek out products from manufacturers who are members of, or whose products are certified by, the Sustainable Furniture Council SFC and whose products have been certified by Indoor Advantage Gold, CARB ATCM 93120, NSF/ANSI 336, GreenGuard or similar certifications). Alternatively, consider gently used furnishings and décor. Not only have they probably off-gassed any toxic components, but you can save them from the landfill.
Simplify by choosing items that are easy to clean and maintain. If your couch has shown some age, consider purchasing a slipcover to update your décor. Slipcovers can be washed, helping keep pet hair and dander to a minimum (if you allow your pets on the couch).
Only purchase items that truly bring you joy or help make your life easier and more comfortable.
Design Trends
Home organizing is a growing service business that complements health and wellness design trends. Divesting of items that have no purpose in your life can be very liberating, especially if you can provide them to others who can give them a new home and a new life (think Buy Nothing, FreeCycle, Habitat for Humanity, etc.).
Another resurging trend is wabi-sabi, the Japanese design philosophy of "acceptance of the imperfect," both in yourself and in the objects that surround you. By embracing the notion that perfectly matched and curated "everything" is contrary to both nature and human beings, you free yourself to design and decorate in a more natural, organic, uncluttered and personalized way. In nature, everything is perfectly in its place by being nowhere in particular, and you can extrapolate by accepting that mismatched furniture is aesthetically appropriate.
A significant design trend that's likely to last is biophilia. It's the theory that people have an inherent affinity to nature and by incorporating natural elements, such as living plants, materials and colors reminiscent of nature in interior environments, your health and wellbeing can be improved.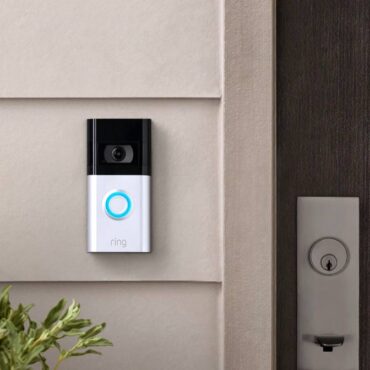 Biophilic design recognizes that most people obtain a direct and positive relationship with nature and natural elements such as light, water and organic materials, and that biophilic-designed spaces have the ability to create a sense of sanctuary and safety. Therefore, by integrating these elements into the built environment, occupants can experience positive changes in mood, reduced stress and anxiety, increased creativity and accelerated healing, all of which contribute to health and wellness.
Simple ways to incorporate biophilia into your home:
Add house plants. Bringing live plants into your home can have multiple benefits including natural air filtration (peace lily, Boston fern, Chinese evergreen and Chinese money plants are all good choices, among many others). The sense of nature and life that plants possess also promotes feelings of hope. Naava green walls are relatively self-sustaining planters that help filter indoor air and add helpful humidity. Naava has a built-in fan system (requires an electrical outlet) that sucks air through the plant's root system, filtering out toxins while the plant releases oxygen into the room. If you choose to introduce a lot of plants into your home, consider acquiring a portable dehumidifier to ensure indoor humidity remains at a reasonable level, 40-55 percent.
Improve food security from growing your own food indoors hydroponically. Many products on the market today, such as Gardyn, Hydropolis, Lettuce Grow and Urban Cultivator, provide homeowners and apartment dwellers alike the ability to create self-sustaining hydroponic produce inside their abodes. These units are designed and equipped for both the green- and black-thumbed among us, with grow lights and watering systems to ensure your crops stay healthy and sustainable.
Take advantage of whatever natural light and air your home can provide by opening window coverings and windows. With any luck, this will also provide a view to natural landscapes.
Create and incorporate tables, benches, fireplace mantles and more from "blow down" (trees that have fallen in a storm). These natural and repurposed elements can bring a connection with nature into a room.
Health and Wellness in Kitchens and Baths
Through good design and material selection, kitchens and baths can inspire both health and wellness. We have all experienced poorly designed kitchens and baths at least once in our lives — ones that appear to have no concept of workflow, accessibility, storage, ergonomics, lighting or biophilia. On a conscious or subconscious level, an inviting and comfortable kitchen or bath is likely to encourage occupants to spend time in the space. This can translate to more cooking, which means better nutrition and better hygiene (respectively), adding up to enhanced health and wellness.
If you think of a kitchen or a bathroom as an ecosystem, then these spaces can be designed to not only function well but to nurture you for a healthier, safer and more fulfilling life.
Consider incorporating these ideas:
Install and use ventilation fans to maintain good indoor air quality (reference Part I of this article for more details) and utilize ventilation filters that are effective at removing harmful airborne substances from your home.
Incorporate natural lighting with windows, glass doors, skylights or tubular skylights (most energy efficient and lowest maintenance). When natural lighting is not an option, choose light fixtures and light bulbs that illuminate with human-centric lighting in mind (reference Part II of this article for more details).
Incorporate natural elements and patterns like butcher block and quarried stone countertops, wood cabinetry and flooring (or their lookalikes, and wood or bamboo drawer organizers to bring a connection to nature indoors. You may be surprised to know that many natural materials, like maple butcher block, possess antimicrobial properties, further advancing their natural place in a healthy built environment.
When choosing appliances, opt for products that are designed to last and are efficient and easy to operate. For example, dishwashers that eliminate the need for prerinsing, cooking equipment that cooks food more efficiently and retains nutrients (such as induction, convection, steam, air frying and sous vide) and refrigeration units with good lighting and food-preservation technologies that can reduce food spoilage and accidental food poisoning. Note: Some jurisdictions are phasing out propane and natural gas appliances to achieve carbon neutrality, hence kitchens are becoming more electrified. The added bonuses are that electric appliances are safer to use, produce less indoor air pollutants and are generally a more efficient means of cooking.
Minimize the transmission of bacteria, viruses, germs and contaminants within the home by incorporating the following:

A designated landing space such as a mud and laundry room, where shoes and clothing can be removed and washed, as well as hands, to contain potential contaminants
Touch-free or handless fixtures and appliances, such as faucets, toilets, soap dispensers, light switches, dishwashers, oven doors and refrigerator doors, to minimize contact with surfaces used by multiple occupants
Touch latches on cabinet doors (to replace handles) to open the cabinets with the touch of a knee or elbow
Antimicrobial surface materials
Materials that contain no volatile organic compounds or have a low level
Living plants as discussed above
Smart Home Technology
A smart home is a healthy home. By harnessing the power of technology, your home can keep you healthy, comfortable and safe. The most important aspect of smart home technology is simplicity and usability. Granted, people of different generations have different approaches to technology, but when all is said and done, the key to successful implementation of smart home technology is the ability to integrate a system in a manner that does not require frequent occupant attention — and when it does need attention, it's simple and easy to use by everyone.
Integrated smart home technology can control many of your home's operable components from a master panel or a smart phone, bringing convenience and peace of mind. When budgeting for smart home technology, develop a plan to define which features and rooms are the most important.
These could include one or more of the following:
Programmable heating, cooling and humidity for general comfort
Programmable lighting and window covers to enhance occupant safety and help them thrive in tune with their circadian rhythms
Measuring of potential air borne contaminants to maintain good indoor air quality and activate ventilation systems when indoor air quality is deemed unhealthy
Security systems, including alarms, cameras, doorbells and locking systems, to enhance your feelings of safety, security and convenience
Leak-detection devices that alert you when they sense a water leak, which can minimize water damage to your home and your water bill
Connected appliances that can be turned on and off from places outside of the kitchen or laundry room, which provides both convenience (getting dinner started before you even enter the house) and safety (ability to turn cooking equipment off when it has been left on inadvertently)
Drip irrigation systems that are equipped with moisture meters and sprinklers that can be activated at optimal times of need, saving water and plants
Entertainment and internet connections that can be programed to simplify operation of music, television viewing and internet access, which can also bring peace of mind to parents who would like to control access to inappropriate content
To make the most of a remodel or construction project, educate yourself or work with a design professional on identifying the potential barriers to having a healthy home and what design features, construction methodologies and material selections can be employed to help create a healthier home and improve the health and wellness of its occupants.