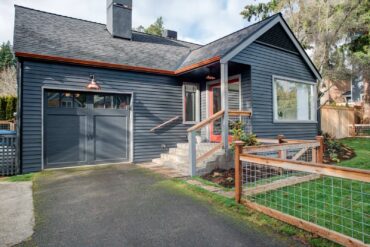 Maggie Hansen traveled the world. Then she came to Bainbridge Island, where she put everything she'd discovered about home comfort and convenience into her own little piece of the world.
After visiting or living in countries from Spain, Norway and France to Japan, Australia and Iceland, the former University of San Francisco professor of nursing had learned a lot about the lifestyles of faraway places — and even more about herself. For one, she became aware of a talent for interior design. Her worldly perspective, coupled with her Buddhist background, shaped a less-is-more design approach, which Hansen shares with clients via her business, Soley Color and Design.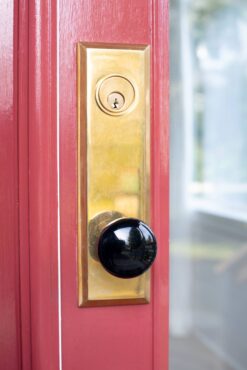 "I counsel clients to go with what they really love and what's functional for them," Hansen says. "One good strategy is to clip pictures out of magazines to create a board of what they like."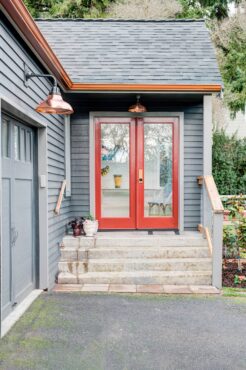 Hansen believes that above all, a home should be unique to the occupant. When it came to her own home, that meant simple, cozy spaces requiring minimum upkeep. The latter was an important consideration for a woman who continues to enjoy travel.
The dominant influence of Hansen's home is Danish hygge, a quality of unpretentious, homey comfort, of which she found versions in France, Switzerland and, notably, Iceland, where she lived in 2012 while on a Fulbright Scholarship.
A Place of Her Own
With all the traveling, Hansen needed a place to call her own. Where exactly that would be was a difficult decision for a woman with the world to choose from. She decided to stay in proximity to family in Oregon.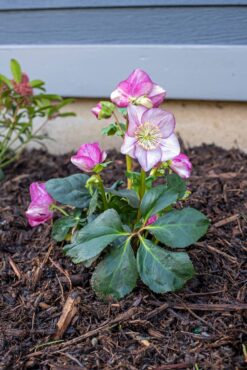 Hansen, who grew up in Southern California and was based for many years in San Rafael, is nevertheless a cold-weather and cold-water lover at heart. When a realtor friend, Amy McFarland of Compass Real Estate, suggested Bainbridge Island, it seemed a good fit.
"Amy said, 'You love hiking, salt water and nature, and Bainbridge has it all,'" Hansen recalls.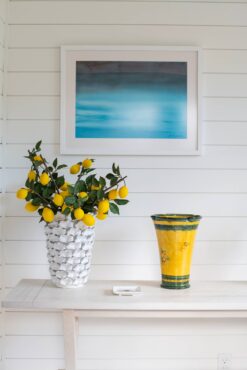 Another big plus for cold-water-loving Hansen was the island's long-distance, open-water swimming club, which braves Bainbridge's bays in all seasons.
Now came the hard part, finding a house on Bainbridge Island. After searching for months, Hansen and McFarland found it — the one. The 1,050-square-foot house, the centerpiece of an erstwhile orchard, was the product of a 1963 mail-order kit. Although a bit dated, the house had quality at its heart.
"I knew right away it was my next home," Hansen says. "It had good energy; I had a vision for it."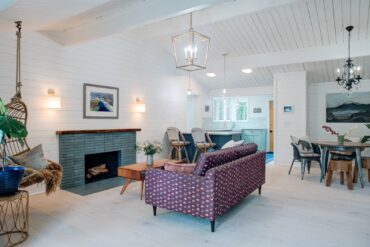 "Scandinavian cottage by the sea" is the way Hansen describes her vision. In the coming months, she would design, research and order everything related to the emerging style of her home. Her criteria were simple: All materials should be natural and she must adore them.
Down to the Bones
First, however, she needed a partner in restoration. For that, she turned to contractor Mike Wall of Wall Masonry, Poulsbo. On May 1, 2021, Wall began demolition of the interior, including the false ceiling, cheap paneling and old flooring. Hansen enjoyed pitching in with an electric demolition hammer to remove old tile. In another bonus, she uncovered newspaper ads from 1962 tucked behind the old paneling.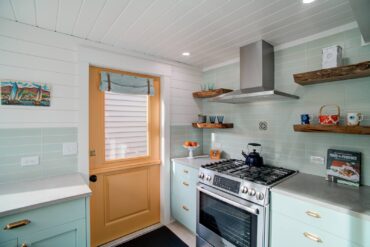 As the demolition continued, Hansen conscientiously repurposed all the removed materials on the Facebook page "Free on the Rock." Everything she posted found a home, including bamboo flooring, kitchen appliances and cabinets.
The walls behind the tacky paneling were thick and, oddly — in a part of the world known for its lumber — imported from Japan, as stated on an emblem attached to the boards. Over the next few months, Wall and Hansen collaborated to shiplap all the walls, change a structural beam to a vintage barn beam, add a skylight to the guestroom and change out the windows in both bedrooms. For flooring, Hansen chose white oak prefab from Norwegian-based Boen.
The Design is in the Details
Everything has to start somewhere, and the first item Hansen purchased for her carefully composed cottage was a brass deVOL faucet from England. From there, she incorporated elements and ideas from across the globe.
The glazed tile of the fireplace and kitchen is from Heath Ceramics of Sausalito. The bedroom basket chandeliers and pendant lighting of the kitchen and living room are from Serena & Lily online. The linen drapes and Roman shades that Hansen incorporates throughout the house were custom-sewn by seamstress Laura Ross from fabric Hansen ordered from Marimekko of Finland.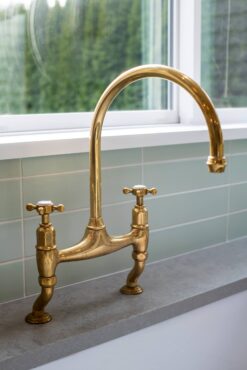 Hansen overlooked nothing. Her favorite paint, highly pigmented Farrow and Ball, was obtained from England. Colors include "Sea Salt" on walls, "Teresa's Green" and "Down Pipe" on kitchen cabinets, and a very Scandinavian "Orangery" on the kitchen's Dutch door. The exterior of the house is an off-black that Hansen admired in Icelandic homes.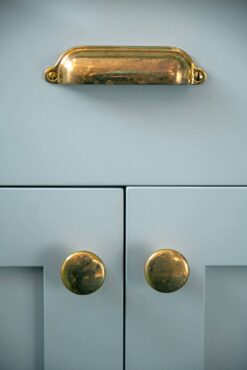 All art comes from her travels. For example, a bird-and-botanical print came from Barcelona, where professor Hansen presented at a medical conference. The elegant chandelier of the dining area she brought home from Australia.
Some elements were found close to home. The fireplace mantel and kitchen shelves were crafted from a fallen elm tree from Bloedel Reserve by Bainbridge Island woodworker David Coates. The home's lone departure from Scandinavian style is the bathroom, where Hansen plays homage to her mother, who delighted in the Beverly Hills Hotel. At the back wall of the room, Hansen hung Martinique wallpaper, the iconic banana-leaf print made famous by the hotel since the 1940s.
In November 2021, slightly more than six months after the first sledgehammer struck the first wall, the remodel was complete. Maggie Hansen had found her soul-place. She'd taken the world and condensed it into her perfect home, making her own special space in a big world. For a woman who gets away in a big way, home is the ultimate getaway.