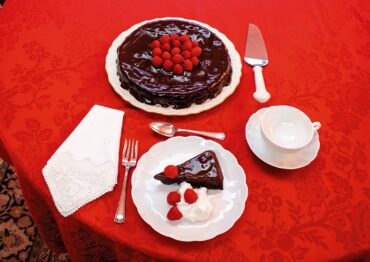 Chocolate's journey to becoming popularly associated with love and romance as a decadent indulgence began in Mesopotamia. Believing it had curative powers, the Mayan and Aztec upper classes consumed liquid chocolate mixed with additives such as cornmeal, vanilla and honey. Cacao beans became so valuable, they were used as currency to pay taxes.
The Europeans capitalized on drinking chocolate, and in the 1600s, copious amounts of chocolate were consumed in the court of Versailles. In London, chocolate houses overtook coffee houses for social gatherings. Marie Antoinette even brought her own chocolate maker when she married Louis XVI in 1770.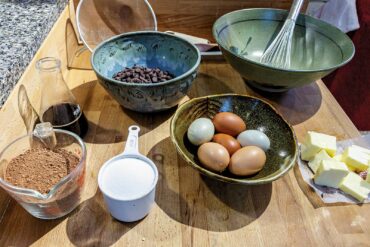 These chocolate concoctions were all thought to aid health and specific maladies were treated by certain additives. Apparently, Madame du Barry even mixed amber into chocolate drinks as an aphrodisiac to her lovers.
The Victorians are responsible for exploiting Valentine's Day as a midwinter celebration by showering their loved ones with sweet messages on printed cards lavishly decorated with flowers, birds and cupids. As the tradition grew, drinking chocolate maker and marketing genius Richard Cadbury invented "eating chocolate." Finding a way to use the cocoa butter, a byproduct of drinking chocolate, he manufactured delectable little bonbons and packaged them in gift boxes decorated with flowers and cupids. The product snowballed in popularity, and the tradition of giving chocolates for Valentine's Day was born.
The romantic connection to chocolate was kindled by the decadent scene in "Dinner at Eight" when satin-clad Jean Harlow feasted on a box of chocolates. The Hershey company capitalized on the notion when it produced Hershey's Kisses, which certainly have stood the test of time and are now available in many different versions.
Nowadays, towns often feature chocolate festivals around Valentine's Day and stores are filled with decorated boxes to suit nearly every budget. Russell Stover, now the largest chocolate company in the USA, began as a home-based business in the mid-1920s. Later, when it opened a factory in Kansas City, the company started marketing velvet and satin heart-shaped boxes of chocolate treats. Russel Stover continues this tradition today, making affordable chocolates available to the masses through drugstores, supermarkets and big-box retailers.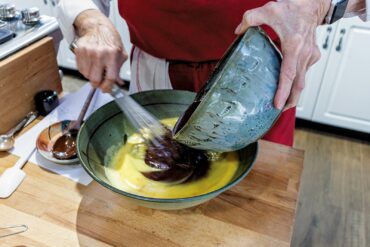 In the mid-1950s, the idea of making a chocolate-themed dessert for one's sweetheart began to gain popularity, and cookbooks and home magazines started featuring Valentine-themed desserts in their February issues.
Bakeries and pastry counters abound with beautiful cakes, decorated cookies and chocolate-covered strawberries for those who prefer to purchase a special dessert. But as home cooking and baking enjoys the resurgence in interest and popularity, below is a recipe to try. Progressing from last year's yeast bread features, in 2022, we will feature seasonally themed desserts or a quick bread recipe. This month's feature is even acceptable for those who follow a gluten-free diet.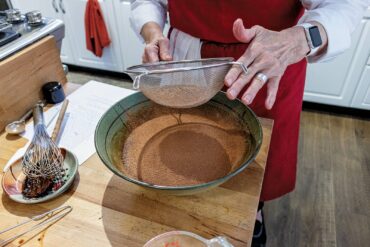 Step-by-step instructions enable home bakers to enjoy successful outcomes using these tried and true recipes. The recipes have been developed, refined and triple-tested in a home kitchen, using relatively common and easily accessible ingredients.
Enjoy!
---
Barb's Decadent Flourless Chocolate Cake
Yields 12 servings
Ingredients:
For pan preparation:
Cooking spray
10-inch springform pan
1 tablespoon cocoa powder for dusting the pan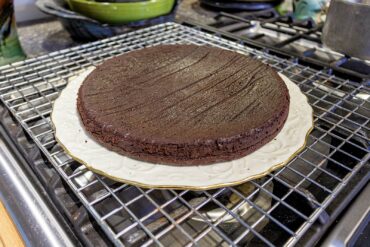 For cake:
8 to 9 ounces semisweet chocolate, 50-60 percent, cut into chunks
(May substitute 1 1/2 cups semisweet dark chocolate chips)
3/4 cup (1 1/2 stick) salted butter, cut into 1/2-inch cubes
2 teaspoons instant espresso powder
(if unavailable, substitute 6 tablespoons of very strong coffee for espresso powder and water, below)
6 tablespoons hot water
1 cup granulated sugar
6 large eggs, beaten
1 cup plus 2 tablespoons unsweetened cocoa powder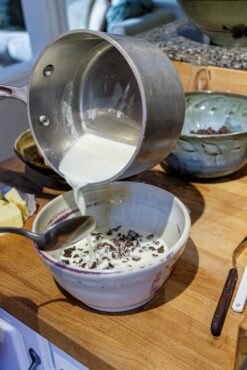 For ganache:
1/2 cup heavy cream
1 cup semisweet chocolate chips
1 tablespoon vanilla (may use brandy or cognac if desired)
Raspberries for serving
Instructions:
Preheat oven to 350 Fahrenheit.
Line the bottom of a 10-inch springform pan with a circle of parchment paper and spray with cooking spray. Dust bottom and sides of pan with 1-2 tablespoons sifted cocoa powder, tap out and discard the excess.
Measure and set out all ingredients on work space before beginning. This is called "mis en place" and ensures all ingredients are available, helping the cook to avoid mistakes in measuring later on; it also ensures you're not missing any ingredients.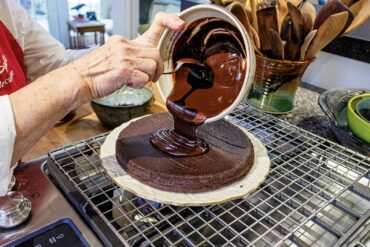 Melt butter and chopped chocolate or 1 1/2 cups chocolate chips in microwave or in a double boiler. (Microwave: Place chocolate in a large, microwave-safe bowl and heat on high power 30 seconds. Stir and repeat in 15-second segments until chocolate is the consistency of very thick cream. Stovetop: Place chocolate in a double boiler or large bowl set over simmering water. Make sure the vessel does not touch the water. Let sit for 2-3 minutes and stir chocolate as it starts to soften. Allow chocolate to continue to melt, stirring occasionally until the consistency of very thick cream.)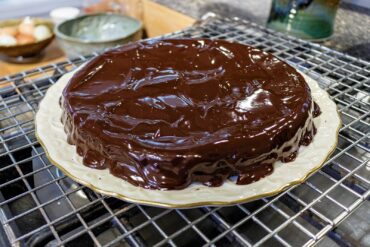 Dissolve espresso powder in hot water. Add sugar and espresso to melted chocolate and whisk well. Beat eggs and stir into chocolate mixture. Fold in cocoa powder and mix until well combined.
Pour batter into the prepared springform pan and bake until set in the middle and a thin crust forms, about 45 minutes.
Let cake cool for 15 minutes, then remove sides of springform pan. Let cake cool completely, then turn onto a large flat plate, bottom side up. Remove parchment paper.
Make ganache: Place heavy cream in a small saucepan and bring to a simmer. Place chocolate chips in a heatproof bowl, then pour hot cream over chocolate chips. Let sit 1 minute, then whisk to combine. Add flavoring.
Pour ganache over cake and smooth with an offset spatula. Place in refrigerator until set, if desired, about 10 minutes. Top with raspberries to serve.
Notes:
This is a very rich, fudgey dessert. You may store it, covered, in the refrigerator for three to four days, or slice into individual portions and freeze up to two months.
If desired, add a small scoop of vanilla ice cream or a dollop of whipping cream to garnish.