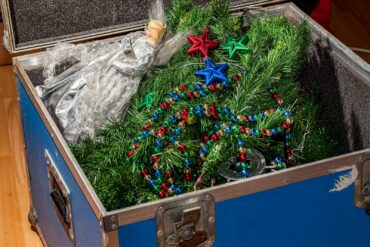 Although Christmas comes just one day a year, the preparation for it, for some, begins in earnest in the fall. With the vast amounts of activities, food prep and decorating to be done, sometimes as early as September!
When it takes what feels like a Herculean effort to get our homes and hearths ready for the festivities, generally, we aren't thinking about downsizing our holiday décor — but in reality, we should be. Most people have far, far more décor than they will ever use.
Holiday bargains, heirlooms and macaroni paper-plate wreaths, among other things, are either rotated or never even see the light of day. Perhaps this year is the one to simplify?
Here are some basics to help the decision-making process.
First, take out everything. Yep, all of it. Then, set your limit. How much are you willing to keep? Be realistic. If six decorated trees are standard at your house, three boxes of décor isn't going to be doable.
Next, grab a trash bag and a container for donations. Immediately toss that smashed garland and maybe donate the Garfield ornament that hasn't been out of the box since 1982. Not sure how you feel about the stuffed elves from 1964? Set them aside into the "for later consideration" pile.
The next phase after the "quick sort" is to do a "fine sort," putting like items together. Again, a great visual to see what is really there. A dozen ornaments in each of the six boxes doesn't look like much, but those same 72 ornaments together in a pile will make a statement.
At this stage of the game, there will likely be many, many heirlooms and children's craft items in the "later consideration" pile. There are some hints to decision making on these items, as these, for parents especially, can be the hardest to think about, let alone send down the road.
Look for a name and date. If no one knows who made it or when, it can probably go.
Anything that is broken or doesn't have special significance can go.
Generally, anything with a photo stays.
Memorable-occasion items, such as "Baby's first Christmas," are usually keepers, as are things that have handprints or footprints.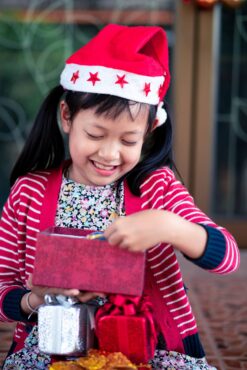 Heirloom items, such as the train set that was around your childhood tree, are worth heavy consideration. Has it been in storage ever since your family passed it down to you? Often times, parents hold onto items that have special memories for them in hopes of giving them to their own children. Problem is, if those items never make it out of the storage closet in our own homes, the fondness for them is never instilled in the kids. And when the time comes to hand them off, those adult children are not going to be interested.
The market is good for vintage and especially midcentury items, so that's a very viable option as well for those items (and may help the holiday budgeting if sold early in the season!).
Additionally, there are many families who, for various reasons, would love to have unwanted holiday items. A family who lost their home due to fire, a parent and children fleeing domestic violence, a single mom trying to make it on one income — all instances in which even a few boxes of dollar-store ornaments or some after-holiday-sale bargain candles might just bless the socks off another family.
There are many ways to give those items. Donating to a local women's and children's shelter, an outreach center or a hyper local "Buy Nothing" Facebook page are all ways to get connected with those who might be in need. Of course, donations to charities are always in season.
Although with the hustle and bustle of holiday prep, sorting Christmas items might not seem like much fun to add that "one more thing" to the schedule, in truth, it's probably not going to happen at the end of the season, as most are really just ready to be done with it all at that point. Most households can do this process in a matter of an hour or two. The investment will seem oh, so worthwhile next year, when those boxes are pulled out (maybe one or two fewer) and what's unpacked is used, loved and enjoyed — and memories are made.
Happy decorating and Happy Holidays!