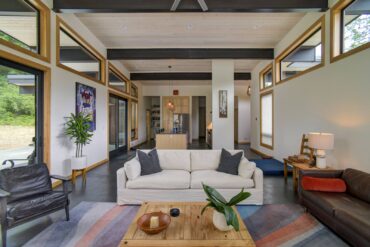 Coming home can mean many things. It can be a holiday gathering. It can be family banding together to help with a temporary setback. It can even be an adult child who's now back in the basement. But for Beth Hill of Poulsbo, coming home meant a chance for a house of her own on property acquired decades earlier by her grandparents. It was the opportunity to be part of her family's third generation to call this place home. It became a house the owner calls Homefront.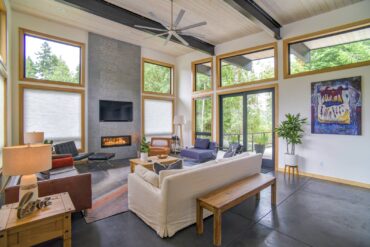 As it happens, Hill lives in the horse pasture — former horse pasture, that is. The acre Hill now calls home holds happy memories of Cinnamon the horse and carefree days of youth spent cantering along what was then a sparsely populated Sandy Hook Road. Even when grownup life took Hill to the San Francisco Bay Area, home was always where her heart was, and her heart was at Sandy Hook.
It was a legacy from her parents that brought Hill home, back to her own piece of the family land across the road from where she grew up. Still in the family, her grandparents' property is shared between Hill, her brother and her sister, which means Hill has siblings only steps away. In fact, when Hill's house was under construction, she rented her sister's house, which was convenient if a bit snug.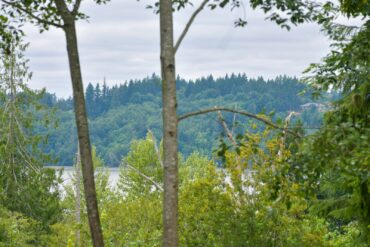 "It was me, three kids, a German shepherd and a cat in a little two-bedroom, one-bath," she recalls. "You walked in the front door and there was my bed." The experience, says Hill, makes her appreciate the 2,000 square feet she has now.
As Hill began imagining the house of her dreams, she kept a few things in mind. First, she intended to keep things modest and thrifty.
"I spent a long time figuring out the size of house I could afford to build," she says.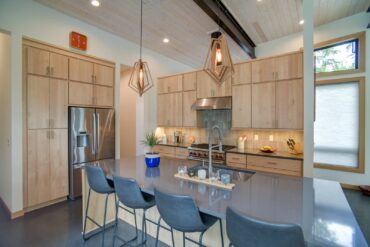 Rather than hiring an architect, she purchased a plan online from Alan Mascord Design. After careful consideration of the company's many designs, Hill found a floorplan that was close to what she envisioned. She then hired a Mascord engineer to adapt it to her site.
Later, as her house took shape, Hill's contractors — and friends — Joe and Judy Gates, of Joe Gates Construction, would make even more alterations to the plan as needs arose. At Hill's direction, they added an extra fireplace, removed several windows and reinforced walls to compensate for the steel-beam construction.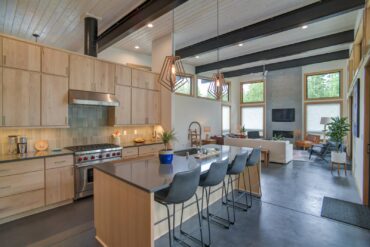 They also added ceiling fans and a big concrete patio and made the ceilings higher than in the original plans. Hill appreciates the feeling of spaciousness from those 10- to 16-foot ceilings.
Her goal was a forever home, on one level for simplicity and ease of access. She also wanted it to be "bombproof," with excellent quality and tough-as-nails materials. To that end, she chose concrete floors (with radiant heat), HardiePlank siding and a charcoal gray metal roof that delivers one of Hill's favorite stress reducers, the gentle patter of Northwest rain.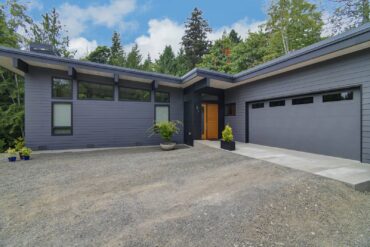 Many items were negotiable; some weren't. Hill chose to forego a dining room, but air conditioning and a generator were must-haves. Details such as hardware and faucets were important to Hill, who chose them all herself, although she simplified where she could. Early on, she determined to finish the house to the best of her specifications, even if the landscaping had to wait. She intends to self-install a Northwest native landscape over the next few years.
"I'm really happy with everything," Hill says. "I almost don't remember what we eliminated."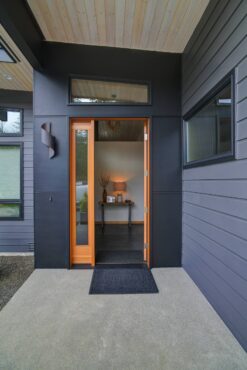 The most important influence on the style of her home, says Hill, is that of her grandfather, Carl Larson. At age 14, he immigrated from Sweden. Eventually arriving in the Pacific Northwest, Larson went into logging and joined one of the first crews to harvest timber on Mount Rainier. He married his sweetheart, Lillian, and they built their home on Sandy Hook. Later, they built and moved to a smaller house on the property, giving the big house to Hill's parents.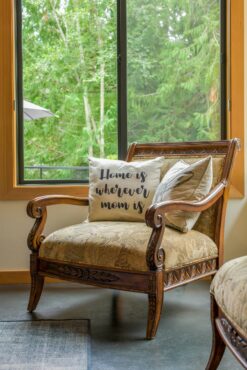 "Grandfather could make anything. He was one of the strongest people I've ever known, but with a kind heart," Hill reminisces. "Grandmother was a strong woman, too. They were a generation that worked hard and gave of themselves.
"I wanted a home that reminded me of the one my grandfather built," Hill continues. "Something simple and functional, midcentury-modern but with a flair of its own. A good way to describe everything my grandfather did was Scandinavian simplified."
Hill kept the flavor of her grandfather's home but with modern materials. His beams were dark wood; hers are dark steel. The white-washed, tongue-and-groove pine of the ceilings and under the eaves echoes the cedar tongue-and-groove used by her grandfather. Her kitchen countertops are a gunmetal gray quartz of which grandfather could only have dreamed.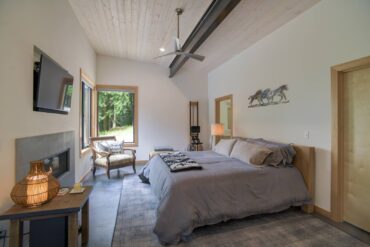 When it came to the interior design, Hill took it on with a gusto equal her design effort for the rest of her house. Keeping the modified midcentury-modern as her lodestone, Hill allowed in only the comfy. Although she describes her "tons of seating" as a "hodgepodge," she admits that it works. A testament to Scandinavian frugality, Hill's furniture has been collected over many years or acquired via North Kitsap and Bainbridge Island online buy-and-sell sites.
Hill is grateful to Judy Gates for being there to bounce ideas off, as well as steering Hill from a few bad decisions. "She's a wealth of information," Hill says. "I had the vision and she helped guide me through it."
In January 2021, Hill and her children moved in. It's a dream, says Hill.
"I have a very grateful heart," she says with a smile. "Thanks to my parents and my grandparents, my children and I have a place to call our own for the rest of our lives. It means family. It means everything."