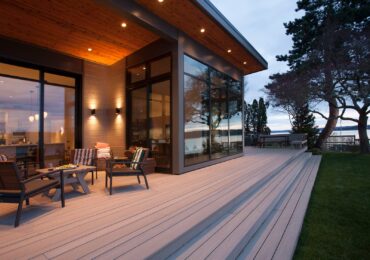 Office al fresco or simply a COVID-safe space to relax and commune with family and friends — many Americans are devoting time and financial resources to creating an outdoor living experience in their own backyards. Driven in part by the COVID-19 pandemic and the need for social distancing, many homeowners are using the disposable income they previously devoted to dining, entertainment and travel, along with the time saved from not commuting, to make improvements to their backyards, with a specific emphasis on decks.
To ensure you get the deck of your dreams, you need to make several important decisions prior to starting a project. In order of importance, they include, but may not be limited to, the following:
1. Choose your decking surfacing material.
Wood or composite decking? Both materials have merit. Wood decking has a completely natural look, sequesters carbon, can be milled to a desired thickness and width (for an additional milling fee) and stained with the color of your choice, has a general life span of 15-25 years (for both the framing and deck surface) depending on species and your dedication to maintenance, and comes with the builder's warranty (generally one year) and no technical support or installation instructions from the wood manufacturer (important if you are DIYing it).
Composite decking has very low maintenance requirements (no pressure washing, no sanding, no resealing and no splinters — most are maintained with a solution of dish soap and water). The aesthetics have improved immensely over the years, especially with the development of concealed fasteners. Boards are made of 50-90 percent recycled materials, have a life span of 25-50 years with warranties of equal duration and come with available technical support, as well as a list of certified contractors and specialty deck builders in the resource section of the manufacturer's website.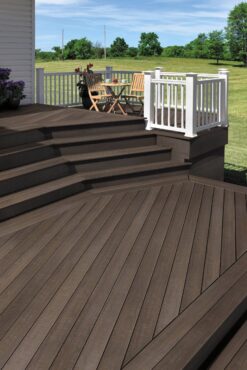 Along with the selection of the deck surface material, it's important to understand your options and the associated material and labor costs of the different deck surface fasteners — exposed face screw (not very attractive), Cortex face screws with plugs made of matching material (slightly labor intensive), biscuiting (very labor intensive) and concealed clips (low labor requirement and high durability).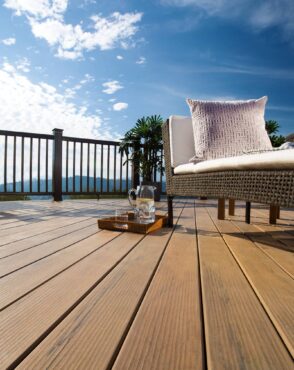 2. Select the deck framing, flashing or fasteners.
Don't skimp on these. In the recent past, there have been multiple fatalities across the United States related to improperly built or maintained decks. First and foremost, the quality of the framing material is paramount. Second, improperly spaced joists (16-inch centers are common and 12-inch centers are better but more costly), especially those that are not "hung," can cause deflection, making your deck uncomfortably "bouncy" and prone to nail or screw pops.
Remember to follow all deck codes. To reduce framing rot, run joist tape over the top of each joist and at least half an inch down each side of the joist to prevent moisture making contact with the joist. Failure to flash to an adjoining structure properly can result in moisture wicking and rot in exterior walls and can go as far as damaging interior flooring.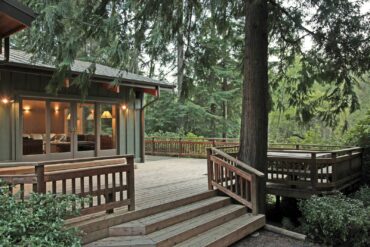 In high-moisture, marine environments found in the Pacific Northwest, is important to use noncorrosive screws and hardware. Stainless steel of at least 316 grade is an excellent choice. Alternatively, silicon bronze screws are known for their corrosion resistance.
3. Select the individual or firm to build your deck.
DIY or licensed professional? It can be immensely gratifying to build your own deck but it's important to understand not only the materials you are installing but also the applicable codes in your jurisdiction.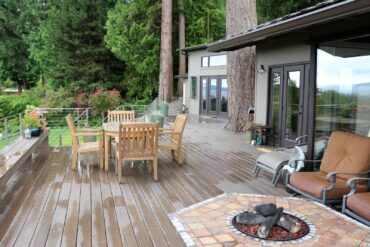 The International Residential Construction Code has several sections devoted to deck building, and No. 703 is one of the more important sections as it addresses required flashing materials and installation for decks. A variety of codes pertain to hand rails and size of posts and ground contact, as well as decks that are more than 30 inches off the ground.
If you opt for a licensed professional, you can search local builders associations, composite decking manufacturer websites and online platforms such as Houzz.com for professionals with the requisite experience and product knowledge. When you speak with those professionals, make sure you understand how many types of decks, at what heights and with which materials they have built to determine their expertise and product knowledge.
4. Consider the deck size and amenities.
Once you have the material and builder nailed down, it's time to think about the more enjoyable aspects of building a deck, such as designing the size and shape of the deck, deck board patterns and the features you may want to include — benches, flower boxes, lighting, an outdoor kitchen, entertaining spaces, furniture, railings and more. Look for inspiration on web platforms such as Houzz.com, Pinterest and decking-material manufacturers' websites.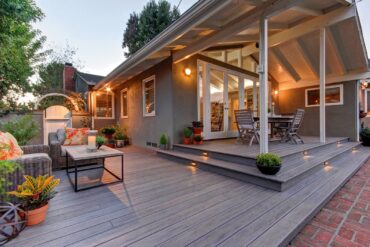 5. Understand pricing and timelines.
As of this writing, the price and lead time differential between wood and composite decking has shrunk due to significant shortages in engineered and milled wood deck products, combined with price increases across all wood products (ranging from 25 percent to 300 percent) between April 2020 and July 2021.
Composite decking has also increased in price due to the freeze in the American South in February 2020, impacting the production of petrochemical products — and with it, the resins for composite decking and the increased trucking and packaging costs. The net result has been roughly 35 percent price increase to consumers between April 2020 and July 2021.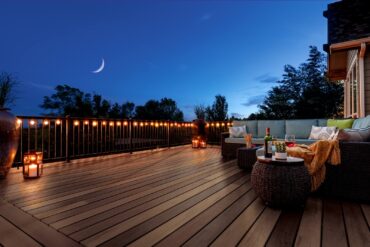 The increase in composite material lead times has been much less dramatic than wood, with most stock products available in one or two weeks and most nonstock products available in two or three weeks. Regardless of these stats, the demand for composite decking increased approximately 40 percent between April 2020 and July 2021 (demand tapered off in July as consumers started allocating their resources to travel, dining and entertainment again).
6. Look at the trends.
Varied board widths and lengths are a relatively new trend. There has been an increase in "related products" that help designers, contractors and homeowners create a cohesive look to the exterior of their home. These materials include railings, trim, moldings, siding and even furniture. More flush-installed, solar-powered lighting products have also been introduced.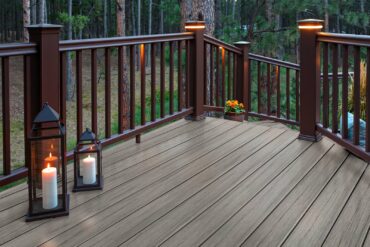 7. Cost out your project.
The cost of a decks will be predicated on many factors such as size of the deck, slope grade of the deck site (if any), applicable codes and the inclusion of a vast array of amenities. A good source for pricing out a deck project is the "Cost vs. Value Report" compiled annually by Remodeling magazine for the Real Estate industry (search for the 2021 version at remodeling.hw.net).
Most decking contractors are booked out for several months if not a year; therefore, it's important to do your due diligence in the very near term if you would like your deck project built by a licensed professional before the end of summer 2022.
Can't you just hear the sizzle of a dinner being prepared on the barbecue on a new deck, with your family gathered around an outdoor dining table on a beautiful Northwest summer evening?