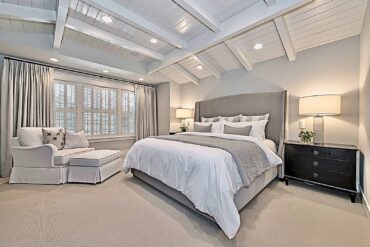 Whether your lifestyle is casual or formal, creating an inviting master suite should be a priority when you decorate your home. Often, homeowners consider this room secondary to the common spaces, but the master suite is a room that you should invest in for personal enjoyment.
With proper execution, you'll be delighted with the results and may find that you are spending more time enjoying this private sanctuary than you could have imagined.
Have you ever daydreamed about that place where you stayed and had "the best night sleep ever?" When you develop the plan for your bedroom, keep that nostalgia in mind and tap into what made "that place" perfect.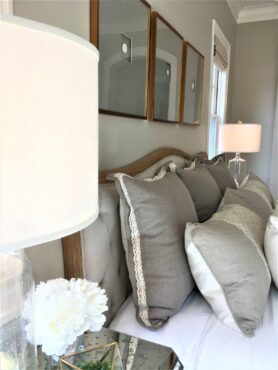 Was it the lighting? Wall texture? Plush bedding? Sophisticated finishes? These intricately selected details are designed specifically to provide consumers an unforgettable experience of luxury and comfort, likely resulting in a return visit. Re-create the ambiance you so fondly remember. Each detail contributes to the satisfaction and ultimate relaxation that you can attain in a particular space.
Walls, Floors and Ceiling
Creating the master bedroom of your dreams starts with thoughtful consideration of the walls, floors and ceiling.
Think about the walls. Do you desire wall covering for added dimension and texture or maybe even a subtle pattern? If so, collect wallpaper samples and hang them in place to get a sense of how they will look in the room. Painted walls can have a significant impact as well. Inviting paint colors can range from soft green or neutral beige to dark, saturated blue or gray. Keep colors calming and warm, but not bright.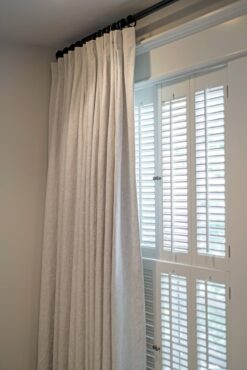 Flooring plays a large role in the overall comfort of a space. In the Pacific Northwest, carpet is a common treatment for bedroom floors. However, if you have wood or tile flooring in your master suite, consider a soft area rug to increase the sense of warmth and texture.
The rug should be large enough to cover a significant portion of the floors. For inspiration, visit Furnish Bainbridge in Winslow or Macy's Home Gallery in Silverdale. Both offer a variety of quality area rugs to choose from.
The ceiling is the most substantial visual surface in a space and has great potential if addressed appropriately. High or vaulted ceilings can be treated with impressive beams, detailed paneling, interesting lighting design or a textural wall covering. This can be an expensive project and it's best to consult a professional before exploring this option.
Furnishings and Layout
When deciding on the furniture layout for your space, prioritize views. Mountains, trees, a cityscape or the always-stunning Puget Sound should be the focal point and easily seen from the position of the bed and any applicable seating.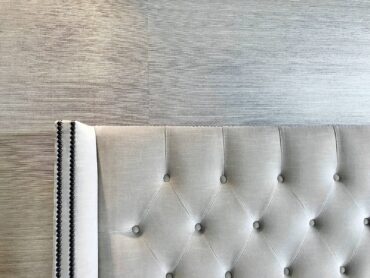 Rooms are typically designed with a designated "bed wall." Determine what size bed best fits the space. If you have a wall large enough to accommodate a king-size bed, this is a highly recommended option.
Consider upholstered beds — they carry a certain elegant quality. If you decide on this design, select a soft fabric, like velvet. Tailor edges with a clean welt or nail-head trim and create balance with properly scaled nightstands or bedside tables. The width, depth and height of nightstands should be compared to the scale of the bed, as well as the height of your mattress crown. Use closed nightstands to cut down on visible clutter created by books, cords, remotes, etc.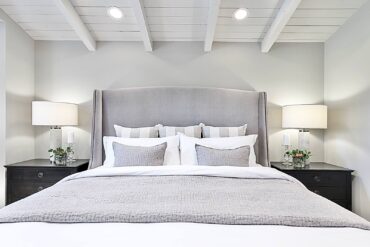 Luxurious seating is a wonderful amenity in a master suite. Depending on the footprint of the room, decide what you have space for. Two lounge chairs placed by the window? A chaise lounge for reading? Or a comfy chair and ottoman for watching TV?
It's important to select comfortable seating. Down-filled back pillows with soft upholstery fabric will certainly entice you to sit and relax. Select a soft fabric with a high durability rating. Add finishing touches that will contribute to the functionality of your seating area — side table for setting your coffee, a reading light and a cozy throw blanket.
If possible, eliminate overpowering, large-scale casegood furniture such as armoires. If storage is a necessary feature, consider a dresser or built-in solution.
Lighting
Lighting is a key component when creating an inviting ambiance. Ceiling lighting on an adjustable dimmer is a great feature. This allows you to set a low, soothing light level when relaxing in your master suite.
If your ceiling height is generous, perhaps a chandelier would suit nicely? Bedside tables can be dressed with elegant lamp lighting or overhanging, adjustable wall sconces. Either option should be properly scaled in relation to your headboard height and nightstand size.
When selecting lamp materials, consider natural stone like marble or alabaster, which are on trend and add an interesting element. Polished nickel or honed brass are also an excellent choice.
Complete lamps and sconces with a white or ivory linen shade. This treatment will emit a diffused and soft light, which is ideal.
Bedding and Draperies
Quality bed linens and bedding inserts are essential for promoting sleep satisfaction. The bedding may have been a key contributor to the impact "that place" had on you. A beautifully made bed sets the tone for the bedroom.
Hotel-collection linens are an excellent choice for sheets and duvets if you are re-creating a hotel suite. However, don't be afraid to use a subtle, elegant floral or other pattern for your duvet and shams.
Layer the duvet, a textured and solid-colored coverlet and pressed sheets for a complete collection. In addition to the pillows used for sleep, king beds are preferably dressed with three 28-inch euro shams for added scale and a pair of decorative throw pillows for a designer touch.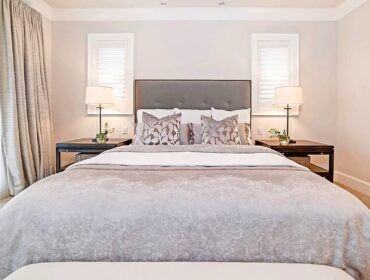 Firm? Plush? Pillow top? Adjustable? Which is best for you? Sleep comfort is highly dependent on your mattress. Adjustable bases have become a popular solution for consumers, especially among partners. Read consumer reviews and consult with a local mattress retailer like Mattress Firm or Sleep Number to see what style best fits your comfort requirements.
Most consumers have a strong preference for shading their bedrooms while they sleep. Shades can range from sleek roller shades to traditional shutters; however, it's the soft window dressing that creates the allure of coziness.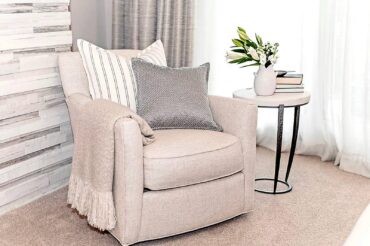 Draperies add an unmatched dimensional layer, which is not only functional, but incredibly beautiful. Drapery fabric in a master suite should be subtle. Avoid strong patterns. Consider ready-made options from retailers such as Pottery Barn or, if your budget allows, custom-pleated treatments from a local workroom.
Whichever method you choose to decorate your master suite, the important takeaway is to prioritize this space and enjoy the impact it has on your home satisfaction. If you're struggling with how to get started, work with a design professional, who will help you create the inviting retreat of your dreams.