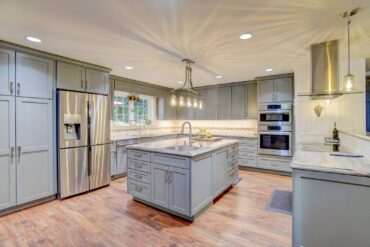 Dana Boys had a problem. His expensive, two-year-old wine cooler broke, leaving costly bottles at risk. Brenda, his wife, had had a kitchen crisis for years. Their teeny-tiny kitchen allowed no more than one person to operate in it at a time. They had talked about remodeling, but hadn't quite taken steps in that direction until the wine cooler issue. The intersecting crises overcame inertia and they began making real what had only existed in their minds.
Step-by-step, the couple discovered they'd have to make a million decisions, move out for the eight-month construction phase and see their home stripped to the studs. Once the project begun, they held to the vision of a kitchen big enough to host family time and a wine cellar and tasting room to protect their wine. Because nobody wants good wine to go bad.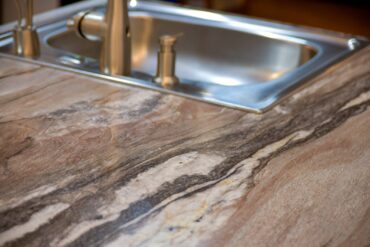 Boys bought what he describes as a typical three-bedroom, two-car garage, single-level house in 1975. It was the first and only house he saw, and he bought it with a two- to three-year plan in mind. Boys and his two dogs moved in, with room to spare. But life throws curves, right?
Dana met Brenda. By 1983, she, her three children and her cat moved in, just as he gained custody of his daughter. The small house showed its limits with the family's expansion. The kitchen was a disaster.
To give them breathing room, Boys himself turned the two-car garage into a living room. The remodel was a godsend, but it didn't address the kitchen problem. That it worked at all for a family of six is due to Brenda's good nature.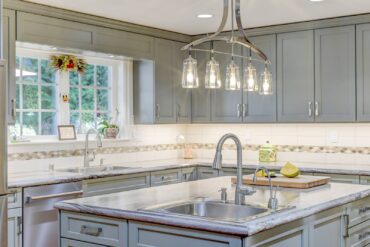 These two are no strangers to hard work. Both retired from the aerospace industry, where early mornings and a commute started their workday. They toiled for years on the garden with no results, until they called in some experts. Danson's Landscaping installed a stone wall that turned the drop from the street to the home into a design feature and background for plants recommended by Savage Nursery. The Boyses now enjoy the garden they had longed for.
Perhaps passing the garden problems off to professionals set them up for finding the kitchen expert, Molly McCabe at A Kitchen That Works. She's made perfecting kitchen dreams her life's work.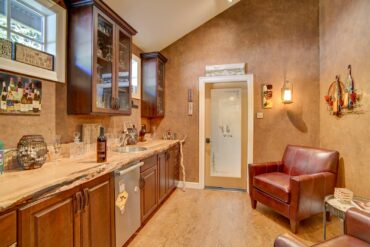 Part of McCabe's success lies in her team: Clive Pardy, the contractor; and Christopher Gutsche, the architect who is hip on aging-in-place principles.
Aging in place was a new concept to the Boyses, but being of a certain age, they embraced it with enthusiasm. The 30-year-old garage-turned-living-room had two steps to navigate between it and the house. This transformation removed the steps and leveled the floors. A concrete ramp extends to the front porch and a second one runs to the wine-cellar, deck and kitchen door. Groceries and trash hauling are easy tasks with their collapsible wagon. Cork flooring in the living room attenuates reverberation for Dana's hearing aids.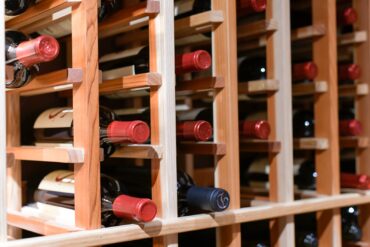 Aging-in-place decisions came into play soon after they moved in. Brenda fell off a ladder and broke her knee. Dana said that without the ramps and leveled floors, they would have been in a serious situation. In perfect hindsight, they wished they had increased doorway widths because her recuperation included a wheelchair.
The teensy kitchen had an additional problem with a mish-mash of odd rooms for storage and laundry. The decision to extend the back of the kitchen streamlined the utility area into one sunny room, which includes Brenda's craft area. The bump-out and removal of a closet that blocked the kitchen from the rest of the house turned out to be key decisions.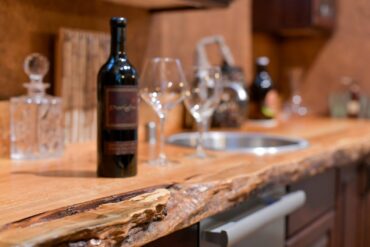 The kitchen stands as the heart of the home. It's a serene kitchen, with depth and subtle style in features like light fixtures that form star-like patterns on the ceiling and positive/negative cabinetry hardware. Specialty storage hides roasting pans, a canning pot, baking sheets and small appliances like the KitchenAid mixer. It moves up to counter level when its shelf is pulled out.
Brenda Boys still looks awed by the marvel of this kitchen. One memory is of a recent meal that allowed five friends and family to work on it together — with room to spare. Imagine!
The wine necessities started with a trip on the Spirit of Washington dinner train that ran to Chateau Ste. Michelle Winery. Wine tasting wasn't the draw for them. Wine from the grocery store had suited them fine and Dana Boys never got the draw of cabernets. But a train ride with friends and good food? They were in. The two tastings of a quarter-inch of each wine at the winery didn't impress them. So when wine was on the menu, they continued to shop at the grocery store.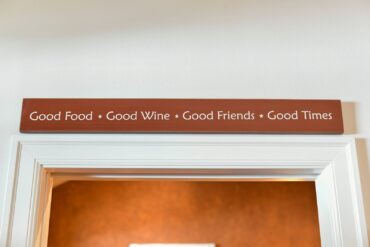 A few years later, Dana's brother-in-law invited them to another wine tasting. Again, to Chateau Ste. Michelle. They made a stop along the way at a Woodinville industrial park where the Woodhouse Winery operated. The ambiance — wooden casks, comfy chairs and a wall of refrigerators full of wines for the tasting — was enticing.
This wine tasting tour was serious business, with half-inch servings and exposure to many varieties. By the end of the day, Boys had observed people sniff, swirl and swish wine. (He didn't mention spitting, thank goodness). And he learned that thing about letting wine breathe.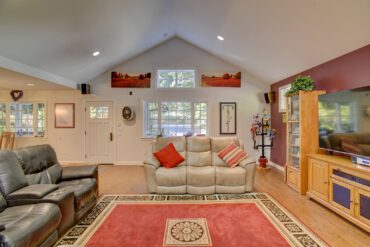 Did he like everything he tasted? No. But on this trip, he had an epiphany about cabernets, malbecs and merlots. The world of wine welcomed them in. And they came home with some excellent bottles of wine.
Boys grew up in a 1910 farmhouse on Big Valley Road. After graduation and time away, he returned to the homestead and set up a trailer on the property. He says he has a down-right aversion to paying rent. It's a good thing, because selling that trailer gave him the wherewithal to buy his house.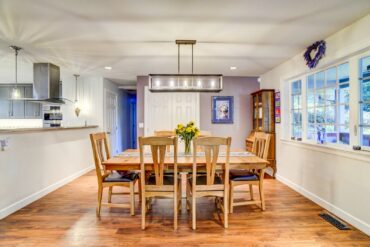 The family had what they needed, but staying in their small house, remodeling it on his own and being a die-hard saver led to this remodel of their dreams. The Boyses made the most of every opportunity corporations offer, like matching savings and managed assets. Boys took advantage of his company's education benefit by graduating from Olympic College and then the University of Phoenix, which gave his career a boost. Slow and steady could be their motto as a couple.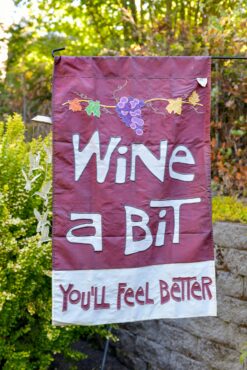 The wine realm was carved out of the new extension across the back of the house. A frosted pocket door with a grape motif is a portal to a world where the fruit of the vine is celebrated.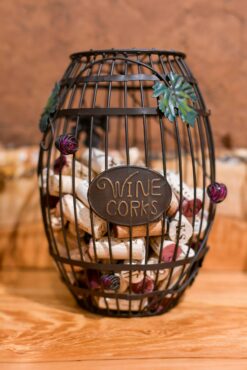 The tasting room oozes a rich masculinity, with dark-wood cabinetry and hand-painted walls that have a soft, chestnut, suede look. On the left, glass-front cabinets, a small sink and a dishwasher with a live-edge wood counter are about the business of wine serving and cleanup. A pair of leather chairs on the right invite slowing down and tasting wine.
Signs like, "If your dog is home, you aren't drinking alone" and, "Come back with wine" dot the room. Boys says all the signs are gifts from family and friends who are as excited about this addition to their home as he and his wife are.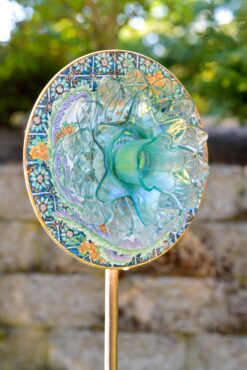 Passing through a matching door to the wine cellar, it's cool underfoot — 55 degrees, to be precise. An arched, broken-tile effect was hand-molded and painted and gives a sense of being in an actual wine cellar.
With a spotlight on the rugged, live-edge counter, Boys can feature a favored wine. Wood racks stand ready to receive 420 bottles (of wine on the wall). Their farthest wine excursion took them to McMinnville and Prosser, where Boys went to study pinot noirs. Brenda chimes in that on one day trip, they returned with 55 bottles. Clearly, they need room for future expansion.
The dead wine refrigerator — let's call it what it is — crisis is over. Brenda's long whine about the kitchen — over. The fruit of their labor in patient, persistent, small sacrifices and deferred gratification, plus home and garden professionals, turned their small estate into a place of beauty. Their eyes dance with the pleasure and joy of their home.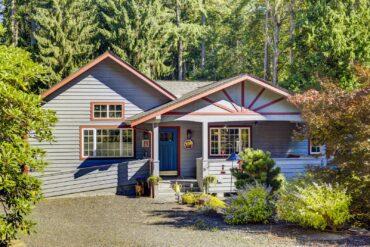 The Boyses deserve a toast. So raise your glasses — even if it's only grocery store wine. Yea, you two, yea. Tink!
Resources
Demolition | Trash Removal Service
Electrical | Day Rd. Electric
Plumbing | West Sound Plumbing
Cabinetry/millwork installation | Nyman Construction
Painting | Aqua Painting
Cabinetry | Dura Supreme Cabinetry and Bellmont Cabinetry
Countertops | Formica laminate
Flooring | Cork and LVP
Appliances | Bosch and LG
Sinks | Solara
Faucets | Moen
Lighting | Lamps Plus
Windows | Milgard
Wine cellar equipment | Whisper Cool
Decking | Timbertek
Exterior doors | Codel
Tubular skylights | Solatube
Wine cellar faux finishes | Heather Saylor