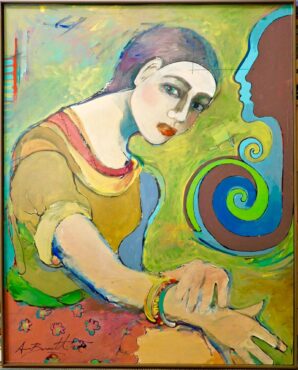 "Restriction" is a 40-by-32-inch, dramatic painting in the "Artist Behind Glass" series that is now featured at the Sidney Museum and Arts Association, located in Port Orchard at 202 Sidney Avenue. This is the Sidney Museum's 50th anniversary. My 24-piece art show will run through August, and "Restriction" will lead the parade.
It was selected as the example painting to represent the exhibit's theme: the feelings of isolation caused by COVID-19 restriction demands. They are all one person — the artist's expressions while trapped in walk-by display windows. In "Restriction," the artist expression is vague, colors are warm and the profile faces to the right seem to be invading the tight space.
"Amy's One Painting" is a six-part arts and museum awareness project to restart attendance. Even now, pandemic rules and suggested restrictions vary or are not written in stone, and so one adapts.
Before it was named Port Orchard, the town was called Sidney, after Sidney M. Stevens of Dekalb, Illinois, who purchased the original 88.5 acres in 1885. It was later platted by his son, Frederick.
As the artist of this July/August exhibit, I want to share some personal stories. I'm not sure how I heard about the Sidney. Back in the '70s, I'd moved back from Seattle and was involved with South Kitsap Artists, Brad Buskirk's Manette gallery and Viking Fest, and soon took notice of the Sidney Gallery. The director at the time was Helen Norris, who would soon become a best friend. We could talk all day about how to fix Bremerton.
In the late '80s, I had a feature art opening in Santa Fe, New Mexico. A few gal pals went with me. I found an outfit at a local thrift shop and we were all very excited. But that was only the beginning of the excitement, as my BFF Helen and few other Sidney Museum folks surprised me by popping into the Santa Fe art reception gala.
She is no longer with us, but there is a popular Helen Norris Scholarship Fund. I hope you'll be able to attend my "Artist Behind Glass" show, as all proceeds go to Sidney Museum, Helen Norris Scholarship and ArtHouse. It will be a show like you've never seen before. It's a show like I have never created before.