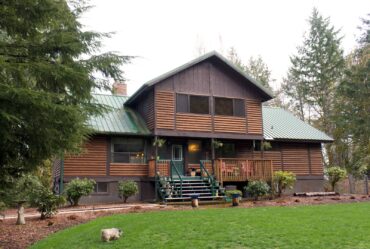 It's one of West Sound's best-kept secrets — a lovely little gem hidden in a 10-acre woods on the Key Peninsula.
Frog Creek Lodge was built as a private residence for a large family in the mid-1970s. The original owner sold it in the 1980s to a couple who turned it into a retreat center.
In 2009, Michael Ouellette and his partner, Michael Peterson, purchased the property and immediately began planning significant renovations.
"We had friends who lived on the Key Peninsula that we visited quite often," Ouellette said. "They kept urging us to move out here from Renton and when we spotted this place for sale online, we decided to check it out. We loved it, so we bought it."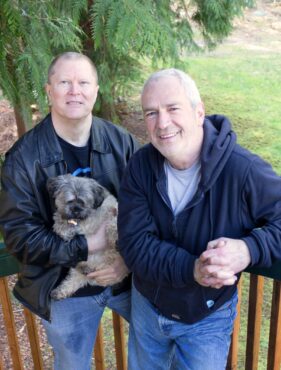 Eventually.
"It took more than a year — and a lot of hoop-jumping — to close the deal but," Ouellette said, "it was absolutely worth it."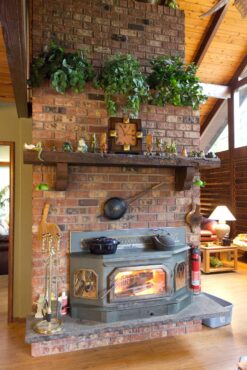 A retired contractor, Ouellette knew from the start that the property could use some upgrading. And so, the work began.
More bedrooms and bathrooms were added, the kitchen was renovated and other improvements were made — all-in-all, "a massive transformation," he said.
By far, the most significant change was insulating the three-story, 5,000-square-foot log house.
"It was never chinked so it was pretty drafty," Ouellette said. "We hired a contractor to strip and wash all the exterior logs — every one of them — while I had a shop vac going inside the house to clean up all the water leaking through. What a fun time."
Today, the lodge has two fireplaces, three living rooms, five bathrooms and 10 bedrooms, nine of which are available to customers who rent the building for getaways and special events.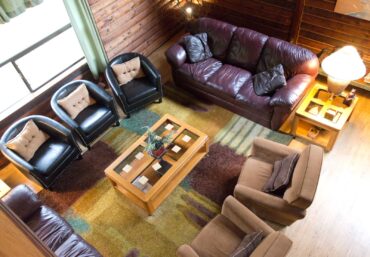 The renovated kitchen is completely furnished with cookware, dishes, silverware and small appliances. It also boasts two refrigerators and two ovens to accommodate large groups of 21 or more people. The big kitchen is put to especially good use when families gather at the lodge for holiday reunions, Ouellette said.
Outdoor amenities include a firepit, six-person jacuzzi on one of the decks and a big gas grill that's great for barbecuing. There's also space for tent campers and an RV spot and EV charging station.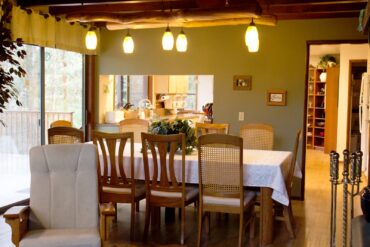 An old labyrinth was rebuilt with a new gazebo at its center. Twenty equally spaced paper birch trees encircle the labyrinth, which has become a favorite location for weddings and other ceremonies.
Not long ago, Ouellette and Peterson built a trail that winds around the 10-acre property. It took months of bushwhacking, dozing and fine-tuning to complete the trail, but it's become a popular addition to the Frog Creek experience, according to Ouellette.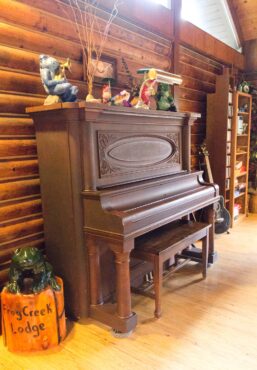 In the summertime, the garden provides an abundance of strawberries and raspberries, many of which wind up in the jams and jellies that Ouellette concocts.
Ouellette and Peterson use the lodge's extra bedroom as a personal office and storage space, but they live in a nearby yurt. Peterson also uses a small outbuilding as his office and art studio. He's responsible for many of the artistic touches found throughout the lodge and the grounds.
The Treehouse
"Ever since we moved here, we've wanted a treehouse," Ouellette said. And after years of envisioning, planning, revising and permitting — and months of construction — it's finally a reality.
Tucked alongside the trail, the 332-square-foot log cabin stands about 15-feet above ground. It sits atop four sturdy metal posts set in cement and is accessed via a lighted spiral staircase that wraps around an ancient cedar tree and leads up to a deck with outdoor seating.
Step inside the little building and you'll find a kitchenette furnished with a microwave, refrigerator, coffee maker, electric skillet, dishes and a dining bar with stools.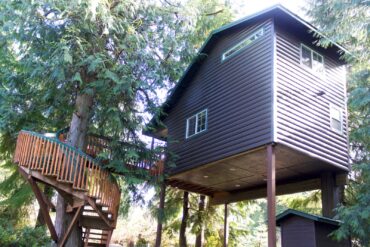 The bartop and counters show off Peterson's artistic touches: They're coated with many layers of resin tinted to mimic granite. On a corner of the bar, Peterson used a router to draw a frog with a spiral on its back (the Frog Creek logo), then painted it with gold powder and applied yet another layer of clear resin.
"Most people think it's stone with a brass or bronze inlay," Ouellette said with a laugh. "But it's purely Mike's creation."
The small living room is warmed by an electric fireplace and furnished with a loveseat that converts to a twin bed. There's a full bathroom with all the necessary fixtures and a sleeping loft upstairs — but it's the spiral staircase leading to the loft that grabs attention. It was hand-crafted from a single 36-foot log by Florian Stauss, a Port Orchard furniture maker who was born in Switzerland.
"It's truly a work of art," Ouellette said. "Florian is the epitome of craftsman. His work is meticulous down to the tiniest details."
For example, Stauss even cut tiny plugs from the log to cover the screws. "I can't express how impressed we are with his work," Ouellette added.
The pair also give kudos to their general contractor, Fox Island resident Andy Sharp of Sharp Estates Construction. Because Ouellette himself has years of experience as a contractor, he interviewed several other builders before selecting Sharp. Finding the right contractor was not an easy task, he recalled.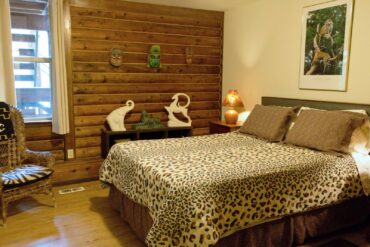 "Once the plans were drawn up, we had to get them engineered and permitted by the planning and health departments. There were a lot of pieces to put together and it was a real learning experience for everyone involved. Andy really did most of the brain-work and he always followed through. We'd hire him again if we ever have another building project."
Although lodge rentals decreased significantly during this past year due to the coronavirus, the treehouse has been in almost constant use.
"So many people have just needed a little getaway to get some relief from all the COVID-19 stress. The tree house is a perfect little escape," Ouellette said.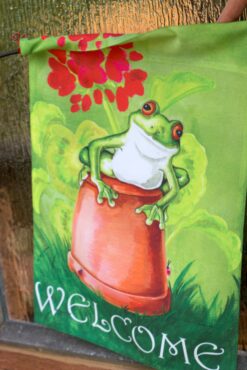 In normal times, the lodge is busy all year through. It's used for business retreats, weddings, family reunions, holiday gatherings — you name it. Quilting groups are frequent guests, as are book clubs and church groups.
A group of gamers gets together at the lodge almost every year.
"It's fun to have them here," Ouellette said. "They all arrive with big Tupperware containers filled with board games. That's all they play are board games, and they stay here for three or four days playing games."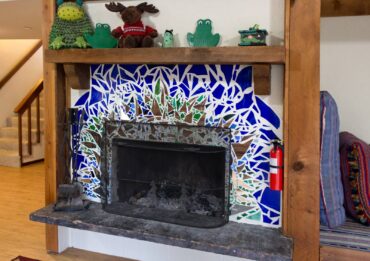 A Czech group from the Seattle area are also frequent guests, usually over the Labor Day weekend.
"They like to sit around the firepit and sing and chat until dawn. They obviously really enjoy each other's company and they love this space," he said.
The lodge and its surroundings are such a unique property that almost any kind of large event can be accommodated.
For rates and other information, visit frogcreeklodge.com or follow Frog Creek Lodge on Facebook.