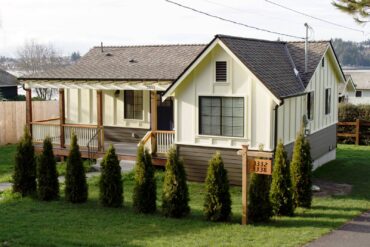 Frank Tweten calls his years at Tweten's Lighthouse Restaurant his inherited position. His father established the restaurant and Frank grew up in the business, eventually taking it over and building it into a fine-dining establishment. But when retirement came a few years ago, Tweten felt free to pursue his first love — carpentry.
Life Magazine documented Tweten's early aspirations in a story that ran in a 1955 issue about his family. A photograph of him shows a determined 3-year-old attempting to saw down a bush with a man-sized saw.
Alongside his hospitality career, Tweten was building carpentry skills on the side as he designed and built furniture. A major project of a headboard and two nightstands features Brazilian mahogany and displays a menu of skills: round-edged frames for drawers, waterfall edges, a graphic line of marquetry running through all three pieces, and a satin finish. It's a beauty.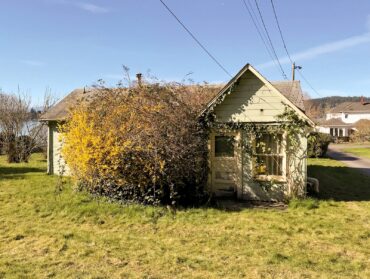 Friends of Tweten's pointed him toward a lovely waterfront property formerly owned by Fred Walls, who lived to 107 years old. He had lived on the lot until he was 105, so there was plenty of maintenance, not to mention possibilities, to consider when Tweten took over the two small homes and carports.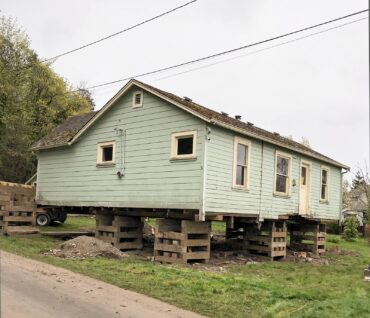 After due consideration, Tweten determined the guest house, built in 1940, would be Phase I of the remodels. His goal was to maintain the cottages' appeal and bring them up to today's standards. He also wanted to reuse and repurpose as much of the materials on site as possible. The 750-square-foot guest cottage would maintain its original foot print. OK, a plan!
Now for the permits — a file full of them. Tweten discovered a permit is not needed to lift a home off its foundation. However, one is required to set it back down. Water and sewer were available, which might lead one to think that would make things easier. Wrong.
Nothing is easy in remodels, even when all is going well. This is especially true when working on older structures. For instance, a blackberry bush as large as the guest house itself had to be excavated before construction could begin, an operation that could be called Phase Zero.
After the house settled back onto its raised foundation and the subcontractors finished the framing work, Tweten took over with his hammers and saws. This is a man who relishes building.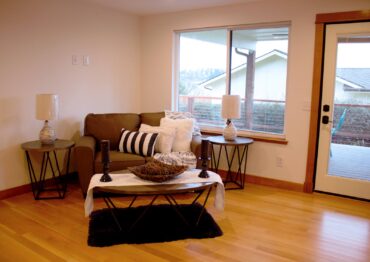 The physical process and the creativity of repurposing and reusing is pure pleasure for him. His eyes gleam and he grins when talking about the project, telling stories of making it work and seeing it come to life. His success in the hospitality industry peeks through as his storytelling abilities are as delightful as the project itself.
Giving the property a jolt of that elusive quality called curb appeal, an old-fashioned front porch added on the east side offers a place for morning coffee and is only steps away from the tiny one-car garage. The garage gains presence with a new side porch and its recycled wood benches and a waist-high flower box. Sweet.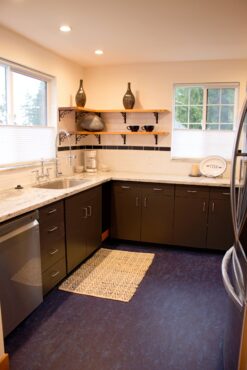 A western deck as large in square footage as the house itself expands the cottage's livability by offering both a covered porch area and an open-to-the-sky, sunning deck. Port Orchard local Joe Neal recut the cedar from the old carport for use as trim and uprights on the Trex deck, which is perked up with a contemporary, steel-wire railing. The board-and-batten siding nails the cottage's traditional appearance. Overhead, Henry, the resident eagle, watches from his nest. He recognizes the restaurateur's expertise in presentation.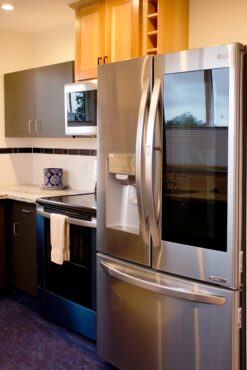 Before any building began, Tweten consulted with local architect Tom Herstad. They hammered out a layout of the entire lot, with an emphasis on keeping the casual, traditional flavor of the property. Herstad drew up detailed blueprints for the cottage, a large garage and the waterfront home to keep everyone on track when endless choices in the building process came up.
The cottage's new interior flipped the kitchen to the west side for the water view and opened it up to the living room. A small, east-facing bedroom settled into the kitchen's former cramped location. On the other side of the living area are the bath and master bedroom. A barn door that slides between them saves on floor space.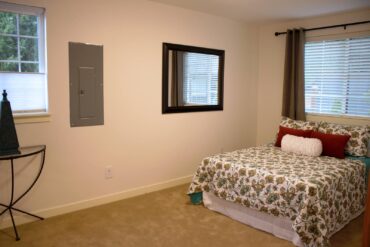 The small but up-to-the-minute bathroom features a heated floor under 1-inch stone tiles, which form the shower floor, too. Walls are porcelain tiles that look like grayed barn wood. Paint and carpet are warm cream accented by the original fir flooring and millwork that were reused. Old fir doors were cut into open shelves, adding natural textures in the bath and kitchen.
The kitchen "aged" 70 years in the remodel — in a good way. Stainless appliances, western windows and chocolate-color laminate cabinets make this working kitchen a delight. A big-pot water faucet, an undercounter sink and granite counters combine easy use with easy care.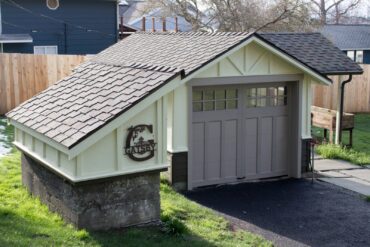 Tweten found the industrial cabinets in a Burien medical clinic that was being remodeled. Paper labels were still on the drawers: cotton balls, tongue depressors, latex gloves.
This smart remodel proves that not every old building is a tear-down. Keeping the smaller scale and traditional details enhances the nostalgia of the beach home while Tweten's eye for combining subtle recycling and modern materials brings a ton of charm to the project.
But the project is not done. During Phase I, Tweten sandwiched a thoroughly modern four-car garage between the guest cottage and the waterfront home. It's a jumpstart and a promise to Phase II, in which the garage will tie into the larger home's structure. Herstad's blueprints hang in Tweten's office, waiting out the pandemic.
Until then, Tweten enjoys the fruits of his labor, keeps his hand in at cooking on his gas stove and squeezes in a bit of retirement before he undertakes the duties of contractor-builder once again. So he says.
But talking about Phase II reignites that twinkle in his eyes, along with restless hands. Are they looking for his hammer? Probably. After all, Frank Tweten has dreamed of being a carpenter his whole life.