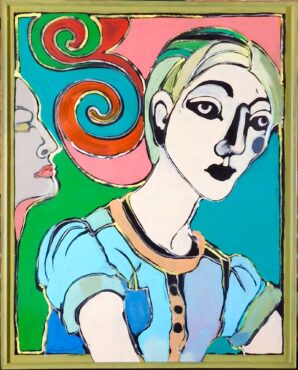 "Listen" (41 by 33 inches) is a painting that took center stage during an awkward period of 2020 when COVID restrictions blanked downtown Bremerton. This was the last year I owned the Amy Burnett Building.
The 14,000-square-foot building has display windows that span 100 feet down Pacific Avenue and 60 feet down 4th Street, probably more street-level display windows than any other commercial building in Kitsap County. I saw a calling, and spent the year creating huge face paintings that I taped to the display windows, looking out to greet passers-by walking down the city sidewalk.
The installation grew each week and word signs were also taped to the glass. The face painting "Listen" took center stage, a simple dramatic expression of isolation, wanting out.
Diagonally across the street is the famous Admiral Theatre. Paul Allen and Bill Gates both contributed to its restoration in the '90s. I heard one of the Seattle Men's Chorus performers say that the Admiral was the prettiest performing arts facility that they'd performed in outside Seattle.
Brian Johnson, the theater's executive director, expressed gratitude for the span of faces that would greet him each day he came to work. He noticed strangers stopping, looking and maybe taking solace for a moment of distraction. "Listen" became a star window performer. He felt it expressed the drama of an untold story, humanity wanting to help — but powerless.
The goal of "Amy's One Painting" WestSound series is to enhance Bremerton's museum and arts awareness. "Listen" has escaped. It was donated to a forever home. No longer trapped behind glass, it is now in the permanent collection of the Admiral Theatre.
By the end of the year, over 35 unframed, huge paintings were created and taped to the windows. In November 2020, they were all pulled out for refining, repainting and framing. This July through August, 22 select window paintings will be featured in a major exhibit to celebrate the 50th anniversary of the Sidney Art Museum in Port Orchard. The paintings are for sale and all proceeds go to the Sidney Museum, the Helen Norris Scholarship Fund and my ArtHouse.