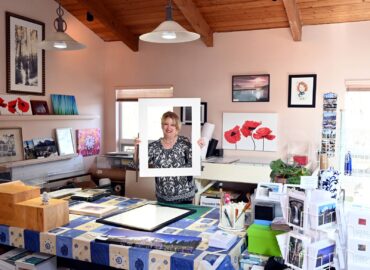 Event cancelled.
It was a familiar refrain for local artists as galleries, First Friday Art Walks and studio tours shuttered last March to accommodate COVID-19 regulations.
Ironically, while the pandemic quiet provided area artists more time for painting, photography and kiln firing, it resulted in fewer outlets to showcase and sell their art. It's a business that relies heavily on in-person shopping and discretionary income. Pandemic retooling was necessary for the West Sound art world.
In early March, North Kitsap ceramic artist and instructor Elena Wendelyn arrived home after attending a ceramics school in Moscow, Russia, to dramatically changed circumstances.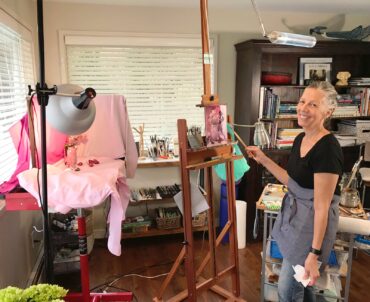 "When I returned, it was a challenge to create at all, much less think about marketing my art," she said. "Are we heading into impending doom? Would I have to guard my potato field with a gun at night like my grandfather did during World War II? Who may need pots then?"
Once she found her footing, Wendelyn reduced her teaching schedule at Bainbridge Parks and Recreation to give herself time to create more inventory for the Poulsbo Farmers Market, which had plans to open and where she'd been a regular vendor.
"We live in an amazing community who wholeheartedly supported small, local businesses. My overall drop in sales at the market was not that significant," she said.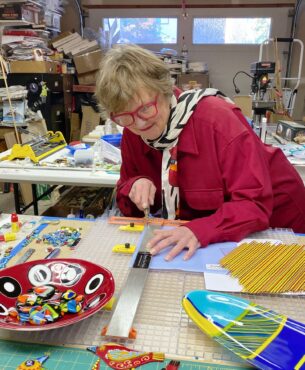 To supplement other sources of lost art income, Wendelyn considered teaching classes on Zoom but realized virtual instruction wasn't for her, so she upped her presence on social media; helped organize impromptu, popup, open air art shows; and took on a side accounting gig. The pandemic has proven the importance of virtual sales, so her 2021 plans include the opening of an online store.
For Robin Paul Weiss, a Poulsbo plein air artist, social distancing comes with his specialty — painting outdoors.
"However, a lot of my marketing comes from group plein air painting events around the country," he explained. "Many of those events altered their venues so the artists worked online. Some have even used Google Street View to facilitate a 'plein air' session virtually."
Weiss maintains the blog for Washington Plein Air Artists. The organization cancelled its large group paint-outs and provided members new opportunities like portrait painting over Zoom and smaller, popup paint-outs. He's had success with gallery sales but acknowledges that's not the case for everyone.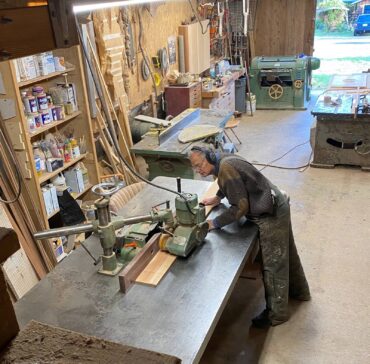 "I think the galleries I show at are doing better than expected because they've taken many shows online and because many folks are shopping online due to the pandemic," Weiss said. The end-of-year show at Tacoma's American Art Company that includes Weiss and other area artists saw an increase in artist participation in their virtual 2020 exhibit.
For area photographer Dinah Satterwhite, the pandemic restrictions created a trio of issues. She has her own photography business, is manager of the semi-annual Bainbridge artist studio tours and is a co-op member of Verksted Gallery.
"We had to cancel the summer Bainbridge studio tour just weeks before it occurred," lamented Satterwhite. "We had a quick online presence, but not a thorough and detailed one like we would have if we could have planned ahead."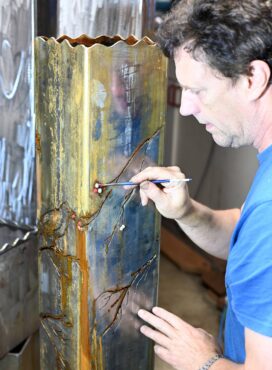 The interim between the summer event and the December tour gave tour artists time to regroup. They launched a new website, including a spotlight page of art for sale selected by each artist, a gift page with items under $50 and under $100, and a featured artist page with different artists every week. The website also includes artist interviews, behind-the-scenes studio photos and videos, and an events page of individual artists' shows and teaching gigs.
"The result has been quite positive," Satterwhite said. "We've had great success with visitors to the site and good sales for the artists. And we're continuing to keep the site active for sales even though the tour has ended."
Creating websites and weekly newsletters for artists who wanted to market virtually provided Satterwhite a side gig.
"I have several lovely sites up and running for regional artists with completely different art mediums," she said. "It has been fun working with them to establish their style and see the site built from scratch."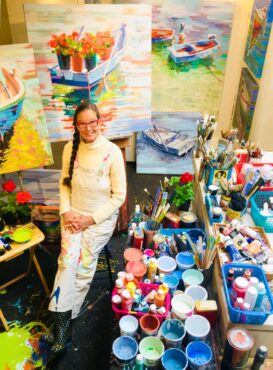 The area's popular First Friday Art Walks normally draw customers into community galleries for browsing and meeting the artists. When the Bainbridge event was indefinitely cancelled, Jeffrey Moose Gallery joined forces with other art venues to create a virtual First Friday.
Beginning in April, Moose used Facebook to livestream from his gallery each month. "Facebook viewers got to virtually walk through the gallery with me and a featured artist chatting about the artwork, with music playing in the background," he said.
For artists who teach, virtual conferencing services like Zoom were an invaluable tool, allowing them to provide online instruction to classes of participants relieved to have an artistic outlet. Kingston artist Melissa McCanna moved her popular Art Flights series and painting classes online, as did part-time Bainbridge artist Amy D'Apice, who managed to instruct local art students from her base in Thailand.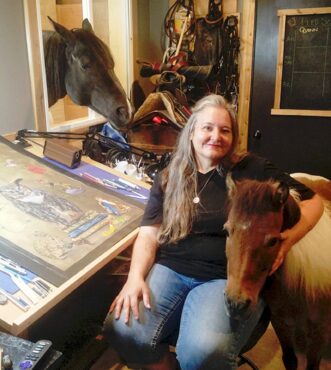 While Bainbridge Artisan Resource Network (BARN) was unable to offer open studios or in-person classes, it created an enthusiastic audience by moving many of its classes that could be done at home and a long-planned gallery event pairing fiber artists and poets to Zoom. For BARN, it was important during the pandemic to support the community of makers and artists with regular online gatherings and discussion groups, as well as exploring new ways of showcasing art. The organization launched a new online journal and has teamed up with nonprofits such as Bloedel Reserve and the local Boys and Girls Club to create and offer opportunities.
For much of the West Sound art world, "event cancelled" became "event transformed." Flexibility was important. So was learning new skills like livestream teaching, selling online and finding inspiration during a year of uncertainty.
Despite the crisis, local artists were resilient and persistent, giving the pandemic-weary public opportunities to learn, socialize and support the arts.