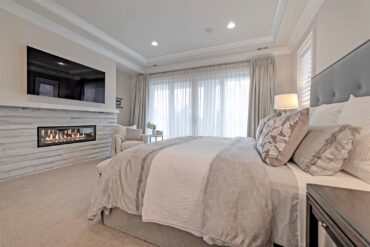 Window treatments have been used to provide important light and climate control for interior spaces for centuries. Throughout the past, this interior layer has been made from different materials with various hanging methods. Dating back to the great Egyptians, coverings were made of animal hides and hung in doorways and window openings with hooks.
In more recent history, the concept of window treatments, specifically draperies, may trigger a vision of opulence. Originating in Italy with the production of fine textiles, heavy, elaborate, draping silk and velvet became a standard dressing for the windows of royalty and the very wealthy.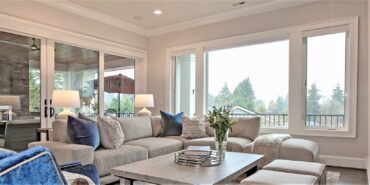 Draperies, along with other window treatments, have evolved in recent decades to offer more simplicity and precise function. Dressing windows is an art. It takes time and consideration to determine the proper application for each space.
When developing the treatment plan for your windows and doors, think about how you would like them to perform. Will you be adjusting them every day? Or are they simply decorative? Do you require climate control or blackout features? Would you prefer to manually operate them or have power options? Listed below are some important details to consider.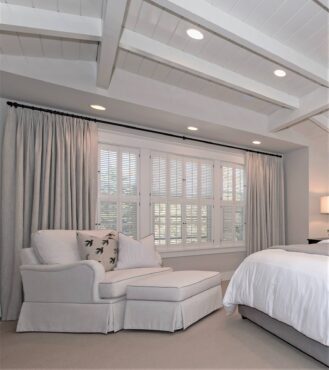 Privacy
Privacy may be the most significant feature offered by window treatments. For ultimate privacy, wide-slatted blinds or shutters are an effective choice. However, these treatments come with their limitations. Consumer demand for privacy without eliminating natural light or views has been a task for window treatment creators, who have provided innovative and effective solutions.
The novel top-down, bottom-up function is a go-to when you desire partial privacy. This creative treatment provides the ability to shade the lower section of windows without obstructing views or light from the upper portion. This treatment is very discrete and can range from a soft, light-diffusing fabric to textural blackout.
"Silhouette" window shades, engineered by Hunter Douglas, easily rotate from a soft, private setting to sheer, open blinds by a simple pull of the cord. These treatments are abundantly functional with little fuss when it comes to mechanics, and highly recommended for homes with close proximity to their neighbors.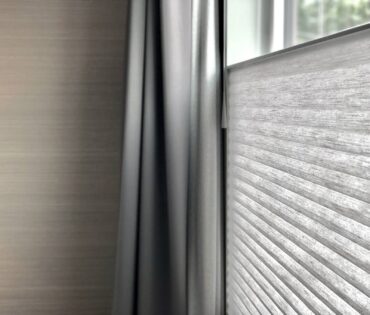 Sheer draperies provide a sense of soft privacy. This style is often a secondary treatment to an opaque covering. This lightweight option allows diffused natural light to flood into a room without restricting views from the interior spaces. The view from the outside is diluted to a comfortable level.
Sensible colors for sheer are white, ivory or light gray. These colors provide a neutral base for the primary treatments.
Preview material options in person before finalizing your design. If you are ordering online, use complimentary material swatches. This step will help ensure your satisfaction. Inside-mounted treatments are custom-made to fit your windows and are not returnable.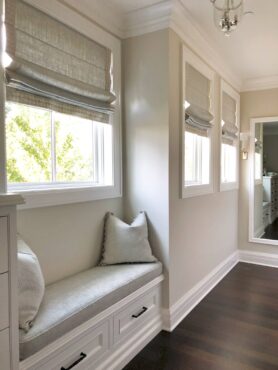 Style and Texture
Draperies, romans, blinds, shutters, rollers, pleats, grommets, loops, tassels and trim — the options can be overwhelming for consumers. However, abundant possibilities are also exciting for window treatment designers.
Customized treatments have an unmatched aesthetic. They elevate the interior impact and provide a complete and cohesive space. If you are interested in a treatment with highly visual texture, a woven natural product is an appropriate choice. If you prefer a soft look but a clean drape, choose linen or cotton.
When creating fabric draperies, desired "fullness" and tailoring details are extremely important factors. The fullness is determined by the width of your window space, but also the available stacking area.
A 10-foot window width will expectedly have a 12- to 18-inch stack of drapery on each side when the treatment is in the open (pulled back) position. If you prefer your treatment to have gathered and full appearance when it's closed vs. flat and straight, opt for an additional fullness and pleated tailoring. This can result in a stacking width exceeding 24 inches on each side.
If you have a series of smaller windows in your space, a custom treatment mounted inside the window casing (inside mount) may be the best option. Roman shades provide a superior aesthetic and are frequently applied in hallways, bedrooms and kitchens. These shades are truly spectacular when customized with trim detail, and stunning when repeated.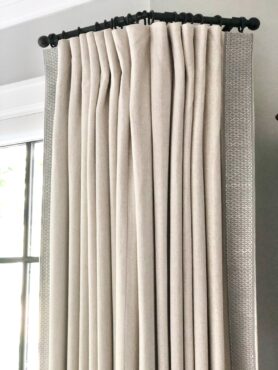 Roman shades are beautiful in fabric, but if you desire more texture, consider a natural woven material from Conrad, a lead innovator for this style.
For windows that do not necessarily require a functioning treatment, a stationary option may suit nicely. Stationary treatments range from a patterned valance to floor-to-ceiling panels. Valances and cornices are mounted above the window and typically overhang a minimal portion of it.
Cornices are very structured. They can be embellished with lovely trim and fabric. A valance design is a softer version. Visually, they appear lighter and more casual. They can be finished with pleated corners and decorative trim.
Stationary drapery panels provide the appearance of a functioning curtain, but they are designed to rest on the outer vertical sides of windows or doors, without the ability to effectively cover the space. They typically have a short drapery rod.
Stationary treatments provide softness and dimension that improve the layered appearance of an interior space. When selecting stationary panels, choose a panel width that looks "believable" rather than faux.
Climate Control
If your windows experience intense sun exposure, consider the use of solar shades. This option not only helps to keep the interior temperature from drastically changing, but also protects upholstery and flooring from fading. These treatments are commonly completed in a low-profile roller shade design and tuck away in a very discrete casing, often matching the window trim to create a higher level of camouflage.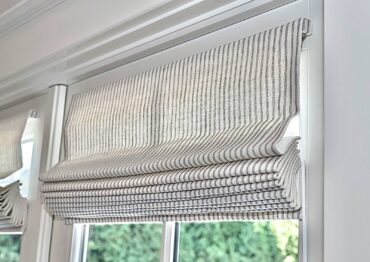 There are many color and texture options available in solar shade material. Each comes with a UV and privacy rating.
Cellular structured shades, such as Hunter Douglas' "Duette" collection, provide superior insulation qualities. These lightweight shades are available with "power-rise" capabilities, offering remote control of your shades. Treatments can be programed on specific "zones" for customized light adjustment.
Custom window treatments can be expensive, as can power functions and premium hardware. Therefore, know your budget before getting started. Consult with a professional, whose knowledge will guide you toward making selections that fit within your budget and provide you with the outcome you desire. A professional can also help coordinate installation and quality control.