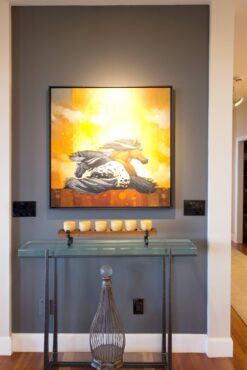 The Animals sang, "We gotta get out of this place" — and years later, Scott and Lyn Scherer resonated with their angst. After living in Carnation for 15 years, the couple sprung into action due to the increasingly dreadful traffic situation. Thus began their search for a new place. Maybe waterfront. Definitely acreage for their four Doberman pinschers. Maybe more sunshine.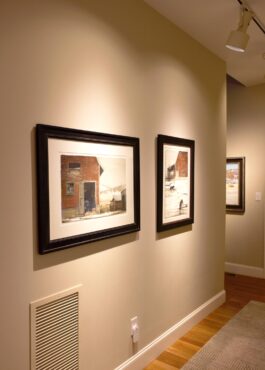 After considering Eastern Washington, the couple took a ferry ride and toured the rain-shadow peninsula, where they learned waterfront neighbors are too close together and waterfront loses land to Puget Sound every year. Sometimes, homes fall into the water, too. So they looked higher — about 1,600 feet higher — and found a house, 20 acres and a water view. That'll do!
The peaked roof lines of the two-story home mimic the Olympics. Lyn Scherer, who worked with the Academy of Canine Behavior on the Eastside, saw running room for the dogs. Scott Scherer saw the acreage as a space barrier for his sound systems. Both saw the graveled parking area out front and decided to start the remodel there with a concrete courtyard.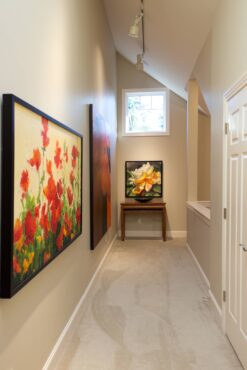 They begged their Eastside interior designer to come out of retirement, and she did. Their Craftsman furniture from Carnation didn't make the cut to this home, so the designer found furniture and rugs, mirrors and accessories better suited to the new architecture.
The Scherers own another home in Santa Fe, New Mexico, where they fell under the spell of artists and galleries. Scott says that one in six people there are involved in making, framing and selling art. There was no way around jumping into the fun of art collecting for the two of them.
Large, bold contemporary canvases were chosen from their Santa Fe home to bring sparkle to this Northwest contemporary. Painters removed ceiling fans and lighting fixtures, and prepped the walls for a neutralized color scheme the designer chose to make the art glow.
Pottery, glass vases and plates, and bronze art pieces are placed to use the light or as secondary focal points. Carl Baker of Sequim crafted the multiwood chess table and ceramic chess set in the zen room. The elephant collection reflects Scherer's beginnings at Boeing, when he was a 26-year-old whose territory was the whole of Africa. What a daily adventure!
A Seattle painter specializing in custom wall finishes stayed in their guest room for weeks at a time as the master bedroom walls were hand-worked to look like suede buckskin, giving the suite's background subtle texture, dimension and richness. What looks like wall paper in the laundry room is hand-painted by her.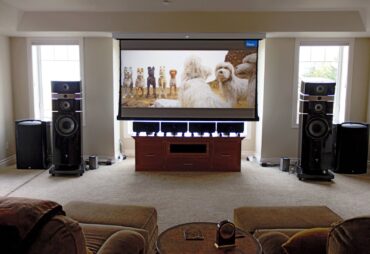 White ceilings unfold like origami, with peaks and alcoves defining room shapes. The delineation between the wall and ceiling colors are dramatic. Lyn Scherer points out that the home has the added advantage of 11 skylights. Their slanted light pierces hallways and rooms, shifting their dimensions.
The living room's 25-foot-high ceiling uplifts the ground floor and upper hall. A field rock fireplace and mantle anchor a rich canvas of a native chief by Kevin Red Star.
Building out the unfinished daylight basement took time and attention. It now houses a media room, a billiards room, a guest bedroom and bath, and a motorcycle garage, all graced with art.
The media room features a gigantic, realism canvas of a family and their Conestoga wagon and animals by Ethelinda. The Scherers bought this canvas straight out of a Southwest Art magazine. It is balanced by another large painting of a paint mare and foal on a dark background by Ray Hare. A small ferry by Christopher Mathie battles its way through choppy water in the billiard room. He had a gallery in Gig Harbor at one time.
Besides their art, windows frame the ever-changing view of the Strait and its sea crafts, clouds and weather moving across the landscape. The outdoorsy environment and a pond with a water feature bring endlessly peaceful and engaging sights and sounds to the Scherers.
Scherer took his DJ name, Scotti Ducati, from his motorcycles. He spins platters at a community radio station, KSQM-FM 91.5, on Friday nights and Sunday mornings as a volunteer radio announcer — a totally different gig than the financing job at Boeing he retired from. The radio gives him exposure to people in their new community, and since he makes the community announcements, he knows what's happening and where to find folks for local fun.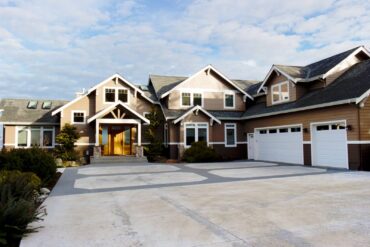 The couple participate in the Northwest art scene, too. For instance, the aqua and rusted pickup truck in Scherer's office came from a plein air competition. The truck sits outside a business in Agnew, Washington. Craig Kosak, a Northwest artist, painted a small abstract in the stairway. His larger canvas of two horses lounging under a golden sky anchors a hall.
Carol LaRoche is a favorite of the Scherers. An abstract red horse in the upper hall, two white horses nuzzling each other in a guest bedroom and a straightforward lion portrait are hers. She is also featured in the motorcycle garage with a painting of a black wolf protecting a litter of four red pups — or are those dobermans? Certainly, this piece is whimsical and made even more so by its unexpected location.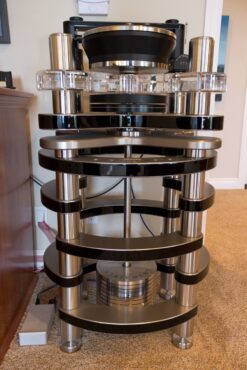 The art of music, movies and television plays a big role in the Scherer home. Scott lived on Mercer Island when he wanted a Krell amplifier 25 years ago. The dealer turned out to be Nuts About Hi-Fi in Silverdale. Jim Lee, the current owner, came over the next day with equipment for him to check out. Since then, Lee and his team, Matt Krawoski and Adam Huson, have equipped the Scherers' Carnation, Santa Fe and West Sound homes.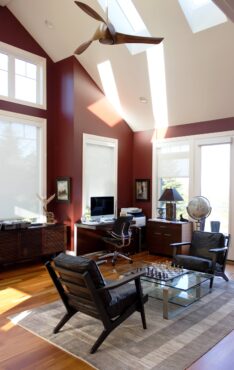 As an audiophile, Scherer owns a collection of vinyl. But with master quality authentication (MQA), he can listen to the music's original production without the care and snap-crackle-pop of vinyl. He says the sound is phenomenal, plus he can use Amazon or Tidal's streaming libraries, which make a gigantic selection of music easy to find. One round, multitiered piece of equipment looks like an alien-form of sculpture that landed in the media room. It turns out to be a super-duper turntable.
His tastes grew into appreciating these experiences as technology kept getting better. Recent digital developments have elevated the possibilities in movies to match audio technology. Kaleidescape offers an ultra-high definition system of both the visual and audio components of movies.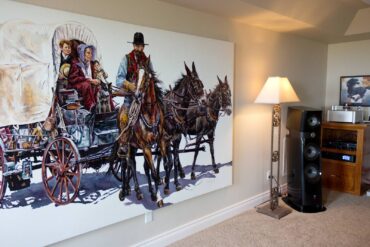 Scherer is not a techie kind of guy so he relies on Lee and his team to manage the systems. He and his pup, Bogie, want to go into the three-dimensional sound bubble in a separate garage where subwoofers and Focal speakers let them rock out without interrupting Lyn's zen.
Settling in has taken far more time than the couple had imagined. Remodels go on and on, and living at 1,600 feet has a learning curve around the subject of snow and its equipment. Unpacked just in time for lockdown, Lyn and Scott Scherer could not be happier with their home.
They could rephrase The Animals' lyric and say with wonder, "We get to stay in this place." If it gets too calm, hey, there are seven screens in the house to check in on the world and its news.