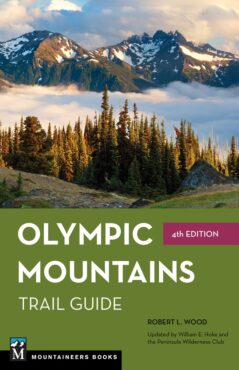 The most comprehensive and authoritative guide to the Olympics originally written by Robert L. Wood and first published more than 35 years ago, was recently updated by local author Bill Hoke and the Peninsula Wilderness Club.
Sales of this new edition benefit Olympic Mountain Rescue.
"Olympic Mountains Trail Guide" is a treasured, classic guidebook to one of the region's top hiking destinations. Reading Wood's text is like having an old friend describe last weekend's hike to you. Wood died in 2003 but Hoke along with Doug Savage and volunteers from the Peninsula Wilderness Club, picked up the reins to do a thorough update.
Every trail has been re-hiked and fact checked. Every new trailhead or rerouted path is documented in the descriptions, and 30 all-new trails have been added, bringing the total number of hikes to 206 within Olympic National Park and Olympic National Forest. But Wood's voice and even his original overview maps have been retained, lending this edition a classic tone while the information is decidedly current.