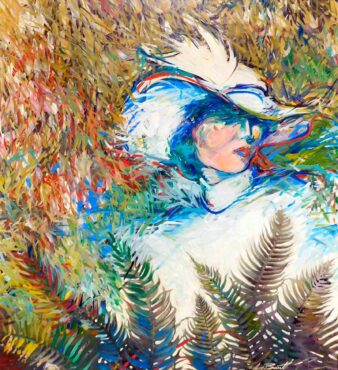 This is a community awareness project to help kickstart our comeback from COVID-19 restrictions. The awareness is to bring attention to our local museums.
"Amy's One Painting" is a six-painting project where every two months, a different painting is displayed, donated or sold to benefit local museums and art.
Meet Maggie Allen, my great grandmother, who, with family, ventured from Ohio around the turn of the previous century. The family homesteaded and built a log cabin where the Bremerton Airport property is now located.
It's a complicated family story. Later, some headed to Seattle and some went south. JW and Maggie settled in downtown Bremerton, where JW helped build the Navy yard and later saw the beginning of the family business on 6th Street, B.H. Allen Plumbing and Heating (B.H. being JW's son, Bruce Henry).
Maggie is buried in the Evergreen Cemetery off Callow Avenue. I know little about her, but I inherited a large, ornately framed photo of Maggie — a plain but beautiful woman. It's a three-quarter profile of her wearing a large, brimmed hat turned up on one side, with huge feathers flailing out and up.
Maggie Allen would be the most significant inspiration in my art career, as that old photo imagery would thereafter be my symbol to represent all women. The original photograph is now in the permanent collection of the Kitsap History Museum, located at 280 Fourth Street in Bremerton. This painting and the photograph will be on display together.
I painted this 38-by-32-inch painting, "Rose Cottage Lady," some 20 years ago. It's one of the first paintings with that positioned female imagery. Usually, I would consider myself a contemporary compositionalist with complicated arrangement, but here is a simple textural arena holding a woman's face. The encroaching ferns would also be the start of a new series that would last several years.
This one painting that holds history is now in a two-month display in the county museum, where the Puppet Museum is also located on the second level. Even as COVID restrictions may linger, visitors will be able to see the painting from outside the impressive museum building.
The painting is for sale, with all proceeds going to the Kitsap County Historical Society & Museum, Puppet Museum and Art House. For those interested, contact the Kitsap History Museum at 360-479-6226 or visit to kitsapmuseum.org. Learn about the Valentinetti Puppet Museum at valentinettipuppetmuseum.com. The museums are located in downtown Bremerton on 4th Street next to the historic Roxy Theatre, a few blocks from the ferry terminal.