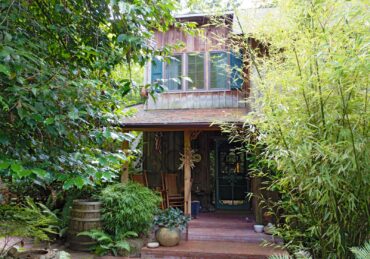 Current times may not be normal but all hearts will still come home for the holidays. Reimagining holidays leads to thoughts about what a home is. The word itself triggers longings from a primal place where you intuitively know home is the heart of everything.
Wendy and Arthur Davenport's home speaks to this quintessential yearning: Home as a place of comfort and safety where beauty nourishes. Time after time, they hear guests say, "Oh, I feel at home here."
The vintage screen door rouses curiosity that is satisfied two steps into the entry. There is much to see, unexpected and interesting, unrelated yet related in diversity and warmth. Everywhere you look, a vignette of loveliness combines with utility and whimsy. Stories abound in every item.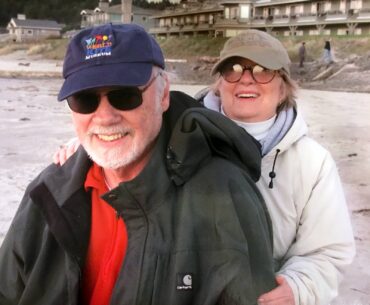 Fundamental to this home is a love story. The couple met at Sunday School when they were 12 years old. Arthur knew instantly she was the one for him but, alas, she didn't get it. He knew though, so he never dated. Wendy didn't wake up to Arthur's charm until they returned from college. And one day from her porch, Wendy saw a handsome officer in a crisp, blue Air Force uniform leaning against a sparkling white Corvette. A highly visual person, she woke up to a whole new possibility.
Soon they found themselves married and housed in France, in deserted barracks furnished with twin beds and a nightstand. Period. Wendy Davenport found lovely vintage postcards in local markets and tacked them onto the barren walls. Thus began their life together.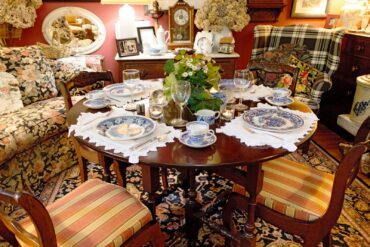 They married as the women's liberation movement took off and Davenport felt conflicted. Her sense of home called for a presence of beauty, safety, comfort, belonging and fun that would nurture the bonds of family. She imagined a place of creature comforts and emotional shelter where her husband and children could retreat from the daily assault of work and school, recharge and go out again ready to do their best work creating a better world.
Davenport herself had lived in Greenwich Village and danced with Dustin Hoffman when nobody knew his name. Out of college, she worked as a historic interpreter for the homes of Mark Twain and Harriet Beecher Stowe. She knew the demands of the world and the strength that comes from a settled, stable home life. Davenport's vision of home became her mission and the foundation for the family.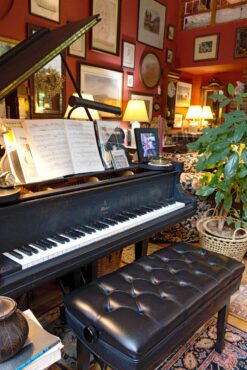 These two North Easterners hale from East Hartland, Connecticut, founded in the 1600s. For many years, they lived in the East, where antique and second-hand stores, auctions and farm sales are down every road, making the offerings of timeless homes easy to come by. Pottery, china plates, picture frames, baskets, candlesticks and small rugs could be had for $5 or $10, or maybe $15. Davenport ignores "don't-touch-me furniture," choosing useful, comfortable, everyday items of simple beauty with stories to tell.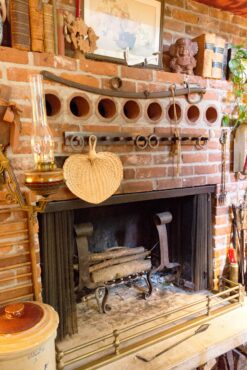 Up for a new adventure 34 years ago, the Davenports followed their adult children to the West Coast. Within 15 months, Boeing found Arthur Davenport, and the couple found a board-and-batten cedar-sided home that spoke to their Northeast roots.
They added further touches from back East, like green shutters and multipane windows, and carved three bedrooms and two baths from six previous bedrooms. They designed together, doing all of the renovations themselves.
Usually, Wendy would say, "What if," and if Arthur didn't know how to build her idea, he'd read up on it and figure it out. He loved — yes, loved — wallpapering but left painting and staining to her.
Family-Themed Home
The home's effortless design welcomes without fanfare. Touring their home is like walking through an award-winning set designed to activate the heart's yearnings but never flaunting its skill. This takes work and is not a simple achievement.
The eye finds beauty in the objects themselves and the mind senses how one object enhances another. The body finds longed-for creature comforts in softness, places to nestle alone or gather with others. Wendy Davenport's magic lies in knowing that in the presence of unfolding beauty, body and soul rest.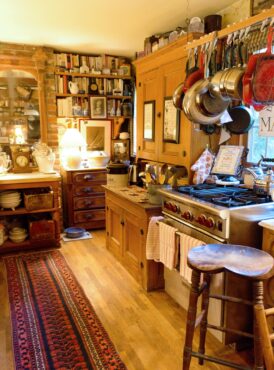 An understanding of art principles, combined with adept skills in mixing color, pattern, texture, line and theme, is at work here. Living in the East and South infuses one with this particular sense of design and Wendy watched her father work on sets and home interiors.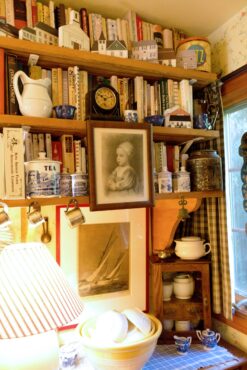 The theme of this home is family. A home like this takes a lifetime of collecting. It's a lovely, three-dimensional collage, part this and that, part historical memorabilia from two families, and then from two people living individual lives while merging. She likes trains. He's on the frontiers of the aerospace industry. Nothing is left out. Everything is gathered in and finds its place.
Four generations are represented: in photos; certificates and diplomas; illustrations and drawings by her father; and paintings by their daughter, Meril, and their sons, Chris and Tyler. Books written by Arthur stand on desk corners. He made a cradle for Tyler, who made a wooden rocking horse in high school that reigns in the nursery.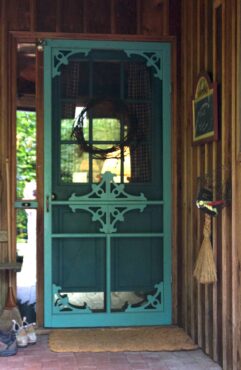 A sword over the mantle was used in the Civil War by Arthur's maternal great-grandfather, a Union soldier. Wendy's birth certificate written in a beautiful script with a fountain pen on browning paper evokes a portal to another time.
Wooden floors peek out from beneath rich patterns and textures of oriental rugs and runners. Smaller rugs float diagonally on larger ones. Chinese-red walls appear in the two-story living room, in the library and down a long and narrow hall, adding warmth beneath the multitude of frames. Each object holds a memory, a story to tell younger generations.
With home as an evolving, living legacy, the Davenports' children knew they stood on a firm foundation. It is literally in their home. Strengthened and nourished, they went out and met the world knowing their achievements would find a place among their ancestors. Daughter Meril works as a teacher of the deaf in Bellingham and speaks fluent American Sign Language. She adopted a trio of very young siblings who are now adults.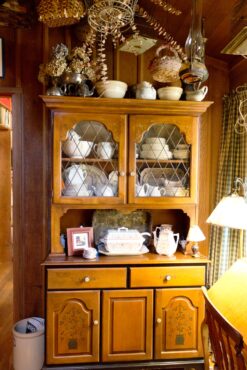 Son Chris is a documentary filmmaker. In fact, Wendy worked as the set designer and interviewer for many of his productions, including "Bainbridge, Voices of an Island." His current company helps nonprofits tell better stories so these organizations can raise more money and have a greater impact in the world.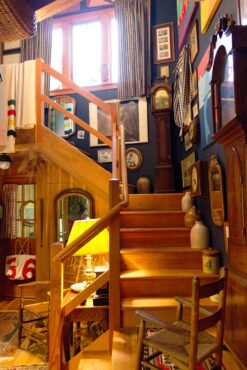 Tyler, the youngest, served in the Navy and died in a freak accident two weeks after he was discharged. He was on his way to becoming a jet pilot. His nieces and nephews didn't know their uncle except through his beloved presence in the home and garden. This, too, is home and legacy sustaining through the slings and arrows of life.
A Mix of Layers
Traditional homes are layered: mixtures of fabrics, colors, textures, patterns and many types of woods and metal finishes. Small writing desks tuck in throughout, baskets hang from ceilings. Books are everywhere: in glass-fronted and open shelves, in stenciled hutches, on shelves running over doors and up walls. Creature comfort rules. Pillows, quilts, sheep skin and afghans soften chairs, sofas, love seats, beds and daybeds, even on wicker chairs on the covered porch. Dappled light creates contrast and enhances the sense of timelessness. Time slows down — even with the company of 60 or so regulator-style clocks that whisper tick-tock and chime a charming song on the hour.
Arthur Davenport built a delightful system of narrow shelving for books that climb to the ceiling in the library. A two-level system of train tracks and trestles allows the Polar Express and Alaska White Pass trains to surprise and delight as they pass under a skylight.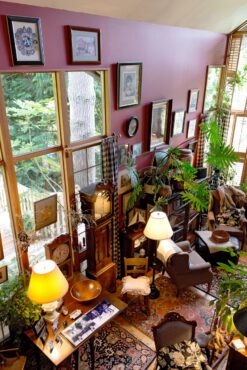 Davenport's career at Hamilton Standard lead him to NASA in Houston. He was the lead designer of the backpacks used on the Apollo moon missions. The pack's official name is "Apollo Extravehicular Mobility Unit and Thermal Meteoroid Garment." Blueprints for it hang in the library with an official thank-you letter from astronaut Jack Swigert. Davenport is listed in Who's Who of Men in Frontiers of Science and Technology and has a plaque honoring him at the Museum of Flight in Seattle.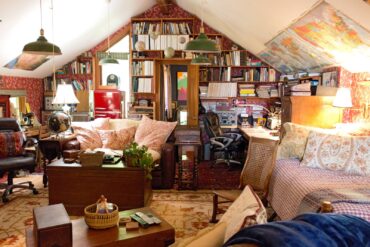 The kitchen is not a statement room. It's organic, natural, with butcher block counters and small, checked curtains covering the secrets of lower cabinets. Cabinets are few, replaced by hutches holding mixing bowls, pottery and dinnerware. Well-used pots and pans hang above. Covers on the multitude of cookbooks display graphic styles of the years. Tucked in the corner and easily overlooked, a 32-inch television hides. It's a delight to discover it. And clocks tick along.
The kitchen sitting area, centered around a well-used table, invites a cozy sit-down. The table's vignette holds a vase of flowers, a mug of spoons near the sugar bowl, a stack of small plates and marble eggs in a saucer. Nearby, a barrel is filled with gigantic pine cones.
The Chinese-red paint in the two-story living room grounds it. The glass of framed art and old mirrors flicker light across the room. Wooden shutters filter the view of tree tops, revealing bits and pieces of sky and sun. A gigantic, split-leaf philodendron bridges the space between living room and loft.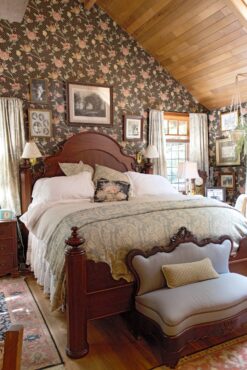 Arthur Davenport's Weber concert grand piano had a life in Seattle, used in a 1908 concert. It is one of four instruments in the world designed to Jan Padereski's specifications. The furniture arrangement conceals its 9-foot size, but when Davenport plays, big music echoes through the house, bouncing off the walls and into the garden. He used boogie-woogie to roust the kids for Sunday School, and neighbors enjoyed Scott Joplin's "Entertainer" cascading out of open windows to their patios and porches.
The home's property is a shy acre cultivated with the same care as the interiors. A soaring redwood was planted 25 years ago as a memorial to Tyler Davenport. Farther along the path is his memorial rock. Both seemed right for a young man who loved nature. Both root the family more deeply to this place.
The Davenport home is a reminder of the depths that home can nourish in a family. As Wendy Davenport says, "Home is what you make it."
Gather each other close and keep what matters. Here's a pillow, a throw. There's a table for your cup. Rest now, you are home. And, later, the world needs you.