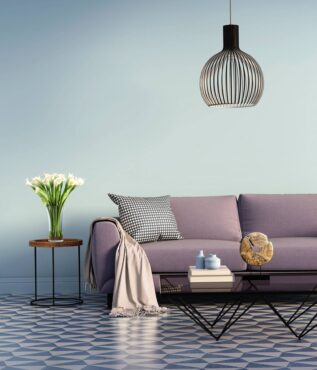 So many new trends coming our way for 2021. It's been exciting to watch design ideas evolve. See what's new in designs — from colors and furniture to flooring and surfaces.
Every year, we gather our panel of design experts to discuss some of the hottest design trends.
In 2021, expect to see more high-performing fabrics, natural-looking finishes, natural materials like wood, and more recycled and upcycled choices for the environmentally conscious. After much time at home, comfort is the key for families. And, of course, the home is becoming more high-tech — there are new apps for just about everything!
As any good designer will tell you, trends come and go. The best advice for creating a timeless look is to choose based on quality, your personality and your lifestyle.
We've asked 12 designers to weigh in on what new and returning trends they are seeing, and to share some advice on how to use these trends for fresh design ideas.
---
Nancy Finneson
DeMane DESIGN, LLC
Gig Harbor • 253-973-8442
demanedesign.com
nancy@demanedesign.com
Nancy Finneson, AKBD, CAPS, CLIPP, Allied ASID, is an award-winning interior designer and kitchen and bath designer. She attended the Art Institute of Chicago and later received a degree in interior design. She is a certified associate kitchen and bath designer with the National Kitchen & Bath Association, a certified aging in place specialist, certified living in place professional and an allied member of the American Society of Interior Designers. After spending many years in the San Francisco Bay area, Finneson now makes her home on the beautiful Puget Sound. She loves working with people and enriching their lives by helping create spaces that inspire, entertain and function brilliantly. One of her favorite projects has been adopting and creating a room for the new YMCA domestic violence shelter in Tacoma. Recently she was honored with three first-place and one second-place awards for design from the prestigious American Society of Interior Designers.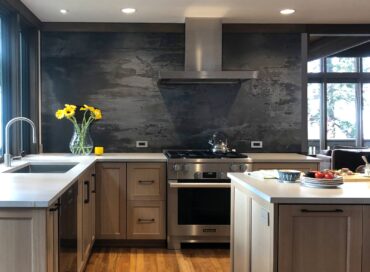 Nancy Finneson says that lifestyle changes and more time at home have shifted some design elements. For example, the kitchen, the hub of the home, is more essential — planning starts with function, adding style and aesthetics.
The bathroom continues to be the second most-popular space to remodel. The spa look and feel dominate. Showers are larger with seating, niches for easy reach, stylish and safe grab bars and curbless entries.
The office space no longer is boring — it's styled and inviting, making it a productive place to work. It's become expanded, organized and efficient.
"The challenge of designing the modern home continues to evolve," Finneson says. "We consider how much space do we really need and want, with the thought that we don't want to be wasteful or extrovert at the environment's expense. The balance is a happy medium that I discuss with clients and requires creative design solutions. Our homes need areas for rest, entertaining and handling our daily activities."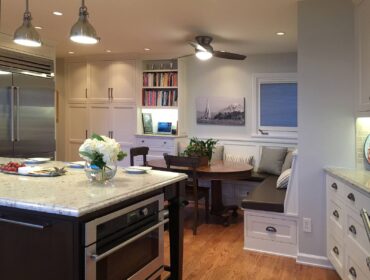 Color: For 2021, color forecasts range from soothing to bold. Finneson recommends checking out some Benjamin Moore colors like Aegean Teal 2136-40, Gray Cashmere 2138-60 (very soothing) and Silhouette AF-655 (deep and saturated); and Sherwin Williams hues like Urbane Bronze SW 7048 (grounded and meditative), Modern Gray SW 762 (just the right gray) and Jubilee SW 6248 (a soft combination of blue and gray).
"Most of my clients gravitate toward neutral palettes for walls, seeking out color with accents with pillows, window treatments and accessories," she says.
Counter surfaces: Engineered quartz is still the preferred countertop material over granite and stone. "Many engineered quartz products mimic natural veining that we organically see in certain marbles and granite," Finneson says. Veining patterns are dominating the market and will continue next year. They range from striking dramatic to subtle, most often in whites with veining in gray, tan or black. For a more dramatic look, white veining on black is also popular.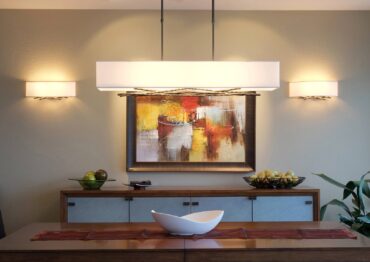 Don't rule out natural stone as an option. "I'm excited to see that quartzite, a natural stone that is harder than granite, is available. It has a natural beauty and depth, but don't confuse it with manufactured quartz surfacing or marble," she says.
Fabrics: Textures in fabrics are coming in 2021 with a focus on brushed velvet. "Look for velvets and velvet textures in living rooms on sofas and in the bedroom with bedding," Finneson says.
Wall coverings have made a comeback with great textures and bold patterns, and three-dimensional wall coverings are seen across the globe with detailed patterns in bold colors. "There are the classic materials like grass cloth, but now they are stained in lovely colorways like deep blue or pewter," Finneson says. "The materials have improved dramatically — vinyl is durable, giving us more options for placement without feeling like we're taking a risk."
Floor coverings: Finneson looks for trends that she believes will have longevity. For example, engineered wood with elongated long planks (6-9 inches wide and 24-60 inches long) look great and are here to stay. "Cork is also an option we seeing more of. It's soft on your feet, a good insulator, hypoallergenic, antimicrobial and eco-friendly," she says.
Patterns are a huge hit in flooring. Chevron and herringbone patterns are similar, with the latter being less expensive to install.
Carpets and area rugs with character are still strong in the design corner. "Character is the key — think bold patterns, not necessarily bold colors," she says.
Furniture: If you want a space to look curated and unique, Finneson recommends blending new with old, introducing different styles that complement each other. "The key is, 'don't be afraid,'" she says.
No more grouped sets of furniture. "In the living and family room, make sure you can face each other with sofas and chairs," she says.
Lighting: Finneson recommends thinking about natural light in your home and how you can enhance it with lighting fixtures. "Pieces add aesthetic to a room and they also draw attention to certain elements," she says. "Choose bold lighting and make it the focus of a room."
This year, pendants and chandeliers in organic and geometric shapes are present.
"The use of a combination of lighting — natural, ambient, accent and task lighting — make a space livable, comfortable and pleasing to be in," Finneson says.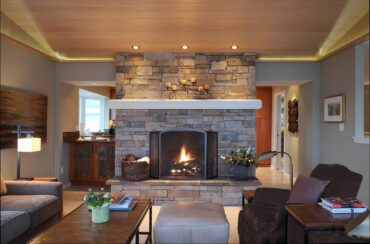 Finishes: Trending in metals are gold tones — not brassy gold, but brushed and refined.
Windows and doors: Let the light in with windows, doors and skylights. "Any space where you can add natural light makes Northwesterners happy and joyful," she says.
In kitchens, wall cabinets are coming down and are replaced with windows. Storage is reallocated with more accessible and better organization. Skylights and light tunnels are high on home improvement lists.
Window treatments: Homeowners want to view the outside, whether it's a mountain view or a city scape. "Window coverings are not intrusive but minimalized these days using shades and blinds," she says. "Heavy drapes are a thing of the past."
Window treatments are also all about motorization — thanks to technology that can raise and lower shades, blinds and drapes through a remote, your phone or tablet.
New green options: Think of going green by installing a washlet with your toilet, Finneson recommends. "You'll save on toilet paper use and cost. They have been popular in other parts of the world for years and have become more common in the U.S.," she says.
Bio-glass, another green product, is 100 percent post-consumer recycled, made into countertops.
"New life comes from previously discarded products," Finneson says. "Leather floor tiles can be very green and manufacturers are making them with leftover scraps from furniture and shoes."
Natural materials: Wicker and basketry are fresh and alive, not painted white as in the past. Bamboo, which is a quickly renewable resource, is being used more in fabrics, especially linens and towels.
Finneson's advice to homeowners is to design your space for the way you live. "Create a 'sense of place' — determine what makes you feel good when you walk into a space," she says. For example, think what excites you in terms of color, then try to incorporate it in small doses throughout your home, giving it a connected flow.
To make a space cohesive, collect pieces that complement each other without being "matchy." "Don't be afraid to pair a modern sofa with a vintage table to create some variety. Less is more; a cluttered space doesn't generate calm," she says. "Be selective with what you display. Layer contrasts with texture in a room. Look at things not just by color or size, but by how they feel (rough and soft). Accent pillows in a variety of fabrics and shades can add depth to a room. Consider using different materials such as metals, wood, glass, woven goods or soft fabrics."
Don't be afraid to seek assistance; collaborating with a designer can help make your design dreams come to reality. "My design theory is to enrich lives by creating uniquely personal spaces that inspire, entertain and function brilliantly," Finneson says.
---
Bethany Reilly
Bethany Reilly Interior Design
Indianola • 360-908-5519
brinteriordesign.com
bethanyreilly4@gmail.com
Bethany Reilly settled in Kitsap County in 2002, after living in Seattle and Philadelphia, and founded Bethany Reilly Interior Design. She graduated from CIDA-accredited Bellevue College in 1998 and started her career by joining the largest U.S.-based architecture-engineering firm, HOK. With extensive experience in both commercial and residential desig, Reilly has a wide range of design talents. She is continuing to expand her expertise by staying involved in the design industry and regularly attending webinars. She is a member of the Olympic-West Sound NKBA chapter and is currently working on her CKBD certification.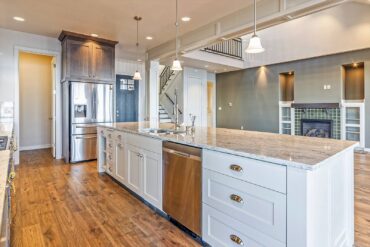 Bethany Reilly believes the COVID-19 pandemic has made a big impact on how people live, drawing a lot of attention to the residential design industry. "People are spending as much as 90 percent more time in their homes and are reflecting on the need for home improvements," she says. "I can see a big movement toward homeowners investing more in their home offices as well as outdoor entertaining areas so that they can still safely social distance with family and friends."
Colors: Because boosting mental and physical wellness is essential during tough times, homeowners want to feel safe and at ease — which means they'll be leaning toward earth tones and soothing colors, Reilly says. "Benjamin Moore's Aura Color Stories collection reflects colors derivative of nature," she says.
Tones of white are still in, and bold, dark colors for those with a high color tolerance. "Black is big — as well as bronzy grays, earthy greens and warm burnt umber," she says.
Counter surfaces: Thin slab porcelain with large-scale veining is still on trend. Additionally, Reilly says neolith is popular with environmentally conscious homeowners because it's highly durable and hygienic and comes in a wide range of colors.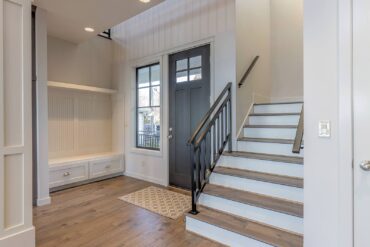 Kitchen features: Reilly notes the 2020 Kitchen Bath and Industry Show made it evident that plumbing fixtures and appliances are becoming a new art form. "Audiences are being wowed with the vast options of color and finish," she says. "With the effects of COVID, I see many more touchless options being installed and options for more antimicrobial surfaces."
European homeowners are gravitating toward a seamless kitchen that is multipurpose and invisible when not in use. However, in the United States, the kitchen is still the center of the home and more recently being used as a home office or study area.
Fabrics: High performance is still a must, according to Reilly. "Linen and other natural fibers are still making waves, as are large-scale botanical and animal prints," she says. "Leather is being used in many areas around the home, including accent pillows, cabinet hardware and lighting."
Floor coverings: Luxury vinyl tile is still running strong, as is traditional hardwood. Reilly sees some new products hitting the market that make install a cinch and says subcontractors are loving them.
"For instance, Revotile from Daltile is a floating porcelain tile that is quicker and easier to install," she says. "Cement encaustic tile is a huge trend with its bold colors and intricate designs. However, many installers are shying away as they easily chip and crack. With that, I see more porcelain and ceramic patterns emanating this look to create a more installer-friendly product."
Furniture: Comfort is crucial since people are spending much more time at home. "Comfort and function are key, as different styles are getting blended together more than ever before — like traditional with bohemian and country with modern," she says.
Lighting: Reilly sees a lot of brass and natural materials, like woven rattan or handcrafted clay, coming into the lighting scene. "Designers and architects are getting a lot more daring with larger-scale fixtures to make a statement," Reilly says.
Finishes: Mixing metals is on trend but Reilly advises using two finishes or three at most. She notes that exposed hinges as accents are making a statement in many kitchens. Additionally, matte black is making waves and copper may be in demand because it's a natural antimicrobial metal.
Windows and doors: "The front door is always the first impression, so homeowners are getting more and more daring with using this area to be playful and powerful with color," she says.
Green options: "Homeowners understand their responsibility to the planet and are willing to make the investment," she says. "Green demolition or Habitat for Humanity will take away old cabinets and appliances for reuse so homeowners are not adding to landfills."
Reilly's advice to homeowners for finding resources is to check the local interior design association, such as the National Kitchen & Bath Association, the International Interior Design Association, the American Society of Interior Designers or the Northwest Society of Interior Designers. Local shop owners may also have great recommendations.
---
Stefanie Brooks
SB Interior Design
Tacoma • 253-225-6545
sbinteriordesign.com
info@sbinteriordesign.com
With a keen eye for design, thoughtful attention to detail and fabulous style, Stefanie Brooks brings creativity and enthusiasm that enhances your design experience. In her 14-year career, she has served as lead designer or team player on a wide variety of projects from custom homes and remodels for kitchens, baths, whole houses and commercial projects, to providing many homes in Western Washington with carefully selected furnishings and adornments. Brooks strongly believes that the most essential hallmarks of a designer are impeccable communication skills and the ability to be a great listener. She truly heeds her clients' preferences and concerns throughout the entire design process. Brooks' commitment to community is reflected in her many business relationships and active involvement with the Master Builders Association, Remodelers Council and Design Professionals Council.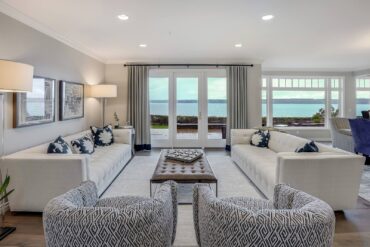 Stefanie Brooks says that her clients don't want trendy things implemented into their remodel or custom-home projects — but anything that's current or available on the market is technically a trend. That said, one general trend she's observing are ceramic tiles in various sizes, shapes (hex, rectangle, square) and finishes and a simpler approach to the typical backsplash material.
"Brass is still a trending finish, but only in small doses," she says. "Luxury vinyl plank (LVP) is also a popular choice due to the durability everyone wants, particularly those with animals, kids and waterfront."
Color: For the longest time, color has trended toward white, gray and blue. Now, earthy palettes are creeping back, but in a more muted way than before. "Think monochromatic neutrals, layered shades of one hue," she says. "For those seeking more of a 'pop,' we are seeing an increase of the classic jewel tones."
Counter surfaces: Manmade quartz has been on top of the list for many years, pushing most granites to the bottom. "I've had an increased interest in concrete countertops with integrated barrel sinks in bathrooms," Brooks says. "Quartzite is a beautiful natural stone more unique in many ways than granite, which, of course, comes with a higher price tag."
New kitchen features: For families that truly use their kitchens, double islands are a nice feature (if the space allows). "Appliances tucked away in drawers are always a favorite feature, giving a clean look without stainless steel breaking the flow of the cabinetry," she adds. "Pop-up outlets sitting flush and integrated into the countertop are great and help eliminate a beautiful backsplash cluttered with many outlets."
Fabrics: Durable performance fabrics, faux leathers, linen textural fabrics over loud patterns, at least for the big pieces, bring in the bold with accents.
Floor coverings: Brooks says preferences vary based on each client's home and lifestyle. "Each recommendation has different durability factors and longevity," she says. "I have had clients in million-dollar homes request LVP simply for the durability factor. Carpet is still loved in bedrooms and often in living rooms; otherwise most want the dust-trapping surfaces out and prefer a hardwood or tile with area rugs for added warmth."
Furniture: Comfort is everything. And Brooks still sees mixed reviews on leather vs. upholstery for the main pieces.
"I will also add that cleaner, minimalistic looks are often requested," she says. "Mixed woods and metal, greenery, shag rugs and throws for texture. An eclectic mix of styles and different pieces is more desirable than having a matching set of something."
Lighting: Natural woven, metal and clear glass fixtures dominate. "When planning for your island pendants, think larger scale, not the small-scaled fixtures that have been going in homes for several decades," Brooks recommends. "Energy efficiency is high on clients' list as well. The technology is constantly shifting, making it easy to stay with the best option at the time of your project."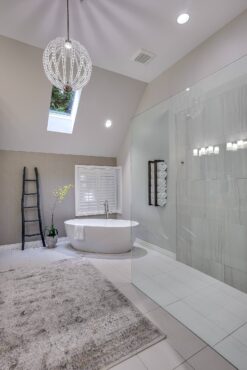 Finishes: Wallcoverings are still in high demand — "they give that special wall or room the impact and drama," she says.
Windows: Hands down, black is the trend, most likely in higher-end custom homes. Otherwise, white vinyl is always a go-to for Brooks.
Window treatments: These also depend on the client's lifestyle and the home style. "I love a classic roller sunscreen shade, particularly in my waterfront homes with sweeping views," she says. "I also love the natural woven shades, although not a popular option here in the Pacific Northwest."
New green options: For Brooks, most green options relate to the efficiency of various products. "There was a period of time long ago when the green trend was thriving; it has been somewhat dead for a very long time. I think the lack of finish options at a high price veered most homeowners away from going 100 percent green," she says.
Natural materials: Oak is very popular; however, not the old, heavy-grain, golden oak. Rather, rift or quarter-sawn oak in an almost bleached, light tone. For the darker-wood fans, walnut has spiked the popularity charts. Homeowners also love grasscloth, woven wallcoverings for their subtle added texture.
Brooks' advice to homeowners is to have a good team.
"That includes your contractor, designer, architect and all of the subs involved," she says. "The advice you receive from your team surpasses what you see on any HGTV show."
---
Connie LaMont
LaMont Design, Inc.
Poulsbo • 360-779-7227
lamontdesigninc.com
connie@lamontdesigninc.com
Connie LaMont has been an interior designer and colorist in the Pacific Northwest since 1993. She holds a bachelor's degree in arts from the University of California in Irvine and a second bachelor's from the Interior Designers Institute in Newport Beach, Calif. LaMont and her architect husband, Wayne, own LaMont Design Inc. in Poulsbo. Some of their joint projects include Austin Towers in Poulsbo and Elkhorn Place in Sequim.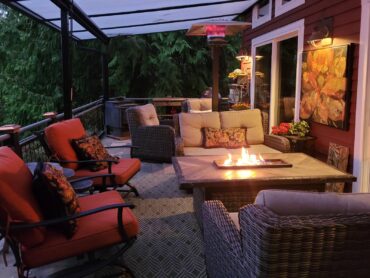 Connie LaMont believes that during this time of uncertainty, covered, outdoor living spaces have become more popular — and almost necessary.
"People want a safe and comfortable environment to connect with their friends and family, whatever the weather may be," she says. "I've seen the trend to extend our living experiences (lifestyle) outward, onto our decks and patios, just as the restaurants are doing."
With unpredictable inclement weather, she's noticed that patio covers have become one of the latest trends. Outdoor furnishings have usually included patio tables with umbrellas, but now are including sectionals, gliders and swivel chairs to give people the same comfort as interior furnishings, while being upholstered in durable all-weather materials, like Perennials Fabric.
"Once these gathering pieces are paired with propane fire tables and freestanding heaters, our outdoor living spaces become as desirable as our interiors, keeping the temperatures comfortable even during the winter months," she says. "Some clients go the extra mile and have outdoor kitchens installed, as well as outdoor TVs for enjoying dinner and movies outside all night long.
"There are many different approaches to get the protection from the elements, such as 4-feet-wide ACRYLITE panels that create covered roofing," she says. "These panels can be clear or a milky white (which also cuts out 75 percent of UV rays) and can be installed within natural wood structures or with lightweight aluminum posts and beams."
Colors: Color trends are as different as personalities, LaMont believes, because comfort is an individual choice. Some people still prefer "white on white on white" while others prefer to pair black (or gray) and white with their old favorites once again.
"Aegean Teal," the Benjamin Moore color of the year, has earthy slate look in the blue, gray and green spectrum, "which gives an earthy soulful feeling when painted on walls, furniture and cabinetry," Lamont says.
The Sherwin Williams color of the year is a bit bolder, completely leaning into the deep blue sea of color with naval. "This bold hue gives us a sophisticated look and is striking when paired with clean whites and touches of luxe gold finishes," LaMont says. "All the shades of blue happen to be the most soothing color to our souls."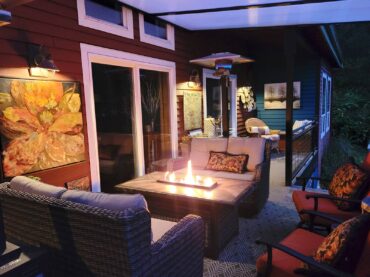 New kitchen features: For those living within an "open floorplan" home, where the kitchen is the center of living, LaMont loves to see appliance garages housing most of the mess in those kitchens.
Fabrics: Perennial Fabrics, a type of Sunbrella fabric that has a softer "hand" or feel, is moving to the forefront. Pottery Barn, Crate & Barrel and Restoration Hardware have introduced these fabrics to the public, referring to them as "performance" fabrics. They are resistant to stains, fading and mildew.
Floor coverings: LaMont recommends low-maintenance flooring that is paired with beauty, so she continues to be a huge fan of luxury vinyl plank. "With the look of any wood species, to concrete looks, etc., it is the first thing I think of when helping a client who has a busy lifestyle," she says.
Furniture: LaMont looks for sleek and comfortable. She designs rooms with this mantra: seating for two, option for many. "And I always want to take advantage of whatever beautiful views that I can," she adds.
Lighting: To make a statement in a room, use lighting that's functional art. LaMont also recommends integrated LED lighting, which provides the ability to illuminate a room without seeing any lightbulbs.
Finishes: Blackened iron and oil-rubbed bronze finishes are trendy, whether it's plumbing fixtures, cabinet hardware or lighting. They have a very structured and vintage appearance. "But the softening effect of a luxe gold or a Champagne bronze finish will bring a bit of a Coco Chanel feel to our rooms," LaMont says.
Window treatments: If privacy is an issue, then definitely dress your windows, LaMont says. "But if that is not a need, I prefer a nondressed window myself," she says. "Now, if controlling the amount of light within your rooms is your need, then I would suggest a roller sunshade, which controls the light without blocking your views."
For homeowners who need advice, LaMont suggests asking for referrals from friends and neighbors who've had design work done.
"But, more importantly, I would want to encourage a homeowner to get a subscription to WestSound Magazine. There are so many talented people in our community and businesses showcased in every issue. Architects, interior designers, builders, landscape designers, concrete artisans, flooring, lighting, plumbing and furniture showrooms, artists — the list goes on and on," she says. "The magazine is such a phenomenal resource for people in the area."
---
Kae Rosenberg
Kae Rosenberg Design
Seattle • 707-495-5292
kaerosenberginteriordesign.com
kaerosenberg@comcast.net
Kae Rosenberg Design & Consulting collaborates with clients, combining interior design and interior architecture to synthesize beauty and functionality into each project. It is always a bespoken reflection of its occupant. Rosenberg is a member of the local chapter of NKBA.
Kae Rosenberg sees a continuation of two divergent trends, as well as a third one that's still evolving.
The first is continuation of what she thinks of as a "1980s revival" — the use of multiple patterns, lush colors and styles combined into one space.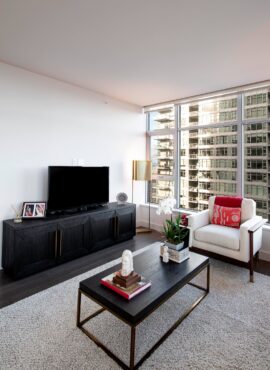 "Although on the surface it seems like a conglomeration of unrelated facets, it is actually a very carefully orchestrated pairing within the built environment," she says.
The second trend is the still popular midcentury style — but it too, is evolving. Rosenberg sees it as moving toward what she calls "organic modernism" — where furnishings have clean, simple lines (almost the Danish modern style of the late '50s and early '60s).
But for 2021, it combines the use of natural, organic materials in furnishings with sleek, clean lines and accessories gleaned from the exterior environment, such as plants and shells. Colors are shades of whites and other neutral tones such as grays, taupe and beige.
"Overall, I think of this trend as cocooning its occupants in a calming environment. It is a sort of refuge from the outside world," Rosenberg says. "So simply put, one trend embraces the world around us and the other one removes us from the fast-moving outside world."
The third trend she sees as gaining popularity in 2021 is the ethnic one that emerged in the 2020 marketplace. This style uses natural materials (leather, grasses, rattan, etc.) in rich, earth colors and accessories that are often gleaned from Third World environments.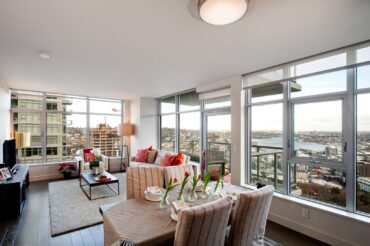 Counter surfaces: Rosenberg's clients are asking for quartzite and quartz in the kitchen and bath, where white still seems to be the most popular color.
Fabrics: Rosenberg believes durable, easy-care fabrics will continue to be practical and popular, especially for furniture upholstery. She notes there's a huge selection of colors and textures for "smart fabrics."
"It is like having your cake and eating it too — you can have the beauty of lush and opulent-looking fabrics that are practical, durable and at a fraction of the price," she says. "I am a fan of using recycled materials and many, many of them fall into this category. "
Floor coverings: Rosenberg recommends engineered wood flooring because it has the beauty of hardwood, but the multiple finishes make it much more durable. For bathrooms and kitchens, clients are asking for ceramic tiles; although Rosenberg says she would not hesitate to specify engineered wood flooring in the kitchen as well.
Lighting: For recessed lighting, Rosenberg prefers 4-inch, square recessed LED lighting, rather than 2-inch or 6-inch.
"I like its small profile and the square shapes usually echo the shapes of the room it lights," she says. "As far as a finish, I would tie it to the ceiling color, so it disappears as much as possible. I also like to put dimmers on all the overhead lighting as this gives my client options."
Rosenberg notes that placement of recessed lighting is very important and very specific — and in a kitchen, critical.
Window treatments: Rosenberg says her clients are still requesting shades and blinds in both fabrics and natural woven fibers. Even when they request drapes or curtains, they frequently ask for windows to be double hung with blinds beneath the drapes.
"One important trend that I have noticed is that my clients are requesting green options and universal design without my suggesting the use of them," she notes.
"Don't be totally influenced by fads or passing trends," she says. "Remember, fads and trends come and go, but you will be living with your choices for years."
For all of the above are reasons, as well as many others, consider adding a space in your budget for an interior designer, even if it means only a consultation, Rosenberg says. "A designer consult will give you a starting point and a direction," she says.
---
Alinda Morris
Alinda Morris Interior Design, LLC
Gig Harbor • 253-579-8431
alindamorrisinteriordesign.com
alindamorris@gmail.com
Alinda Morris is a nationally published, award-winning interior design professional, habitual remodeler, adventurous creative, entrepreneur, wife and mom, specializing in full service, luxury residential interior design: Custom furnishings, unique kitchens and artfully designed bathrooms, attention to details, and clean, updated spaces are her specialties. She has the experience, education and talent to provide interior styling that includes furniture procurement and installation. She also offers thoughtful space planning, detailed floor plans, elevations, sketches, finish selections, cabinet drawings and furnishings to take your remodeling project from beginning to magazine-ready completion.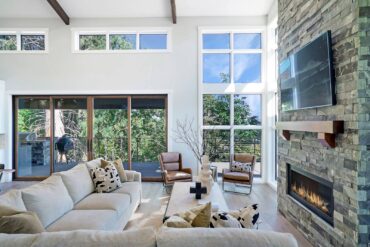 Alinda Morris believes the new year is an opportunity to bring comfort and creativity to living spaces.
"Most people are working from home and going to school at home. Open-concept living works best when you have defined areas like dedicated home offices," Morris says. "Clients are looking for multifunctional spaces — the formal dining room can also be a classroom. I love to observe market trends, hot colors and patterns and all the fun new things, but remember, investing in quality and craftsmanship that is going to stand test of time is always in style."
Color: Lighter, brighter spaces are still the top request Morris sees. "This does not mean white walls, but we are seeing a lot of them," she says. "Just when you (finally) painted everything gray, beige is back — some are calling it soft white or taupe, but make no mistake, it is beige, and the beige interior trend is rapidly gaining traction."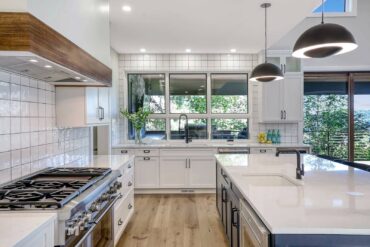 In contrast, dark and moody color schemes can create harmony and feel classic and timeless. It's all about balance, Morris says. She sees navy and dark blue as the 2021 trend, but it feels more timeless than trendy.
"Color is light-dependent. Before you commit to a color, start with larger paint swatches and watch them at different times of the day so you can see how the color transforms in different light," Morris advises.
Counter surfaces: Engineered stone is the most popular countertop surface, according to Morris. But it's not for the reason you might think.
"Engineered stone is consistent, which makes it very convenient for designers, architects and builders," she explains. "If we specify a product now for a project that may get built in a few months, it will most likely be available. A one-of-a-kind natural stone will not."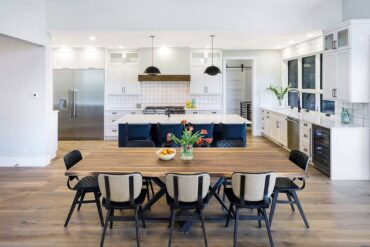 Engineered stone is made by using crushed quartz and resin material. "It's not stain-resistant as manufacturers would lead you to believe," Morris says. "It can withstand heat of about 225 degrees and cannot be used outdoors. I recommend engineered stone to clients who enjoy consistent two-dimensional look."
Natural stone, including most granite, quartzite, marble and limestone, has natural depth and variation. Each stone is different and completely unique — but Morris recommends viewing the natural slab before confirming the selection. "It does require minimal maintenance and it can be used outdoors," she adds.
Finally, porcelain stone is possibly the most aesthetically consistent out of all options, according to Morris. "It is more of an investment, it is heat resistant and will never need to be sealed," she says.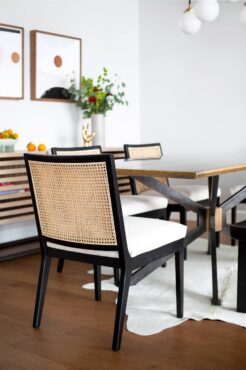 Kitchen features: Every kitchen deserves focal point, Morris believes. "A kitchen hood does not need to be boring or basic. A custom hood can feel architectural and add visual weight to help anchor a space," she says.
Other upgrades include high-tech appliances, modular refrigeration and interesting tile details beyond basic subway tiles. In plumbing matte, black will continue to be popular because it doesn't show fingerprints and "it plays well with others," she says.
Fabrics: Morris recommends soft and cozy upholstery in durable performance, washable velvets, chenille. Lighter interiors and white sofas are on trend, and high-performance fabric that's family- and pet-friendly is also in high demand.
Morris predicts more fun fabric and wall coverings with edgy graffiti print and street-art techniques.
Floor coverings: European, wide-plank wood like white oak is popular. "We are seeing it in dark and cool tones as well as gray, greige and brown/gray," Morris says.
Light woods will be a trend material for interiors, used not only for flooring but also for covering walls and ceilings in both natural and muted hues. Wide-plank floors also continue to be popular in both engineered wood and luxury vinyl plank (LVP). "If you are deciding between the two options, remember, hardwood is repairable and LVP is not," she says.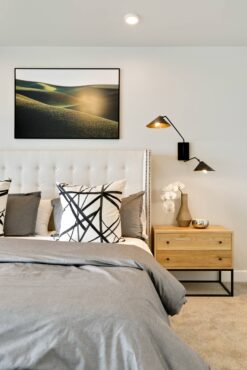 Furniture: Popular are curves, 1980s revival — "this means beige is back with vengeance," Morris says. Other trends she notes are textures like boucle fabrics (which are durable and work well on upholstery), bold colors and painted prints, boho chic pastels, rattan and cane furniture mixed with neutral and black.
Lighting: For Morris, lighting is a favorite design element — and the most important element to consider when selecting a light fixture is scale. "We will be seeing large statement fixtures in mixed metals — matte black, brass, bronze and Champagne," she says. "This is a great area to take a risk. Consider splurging on any light fixture that is at eye level — kitchen pendants, wall sconces in an entry way. It is something that you will enjoy every day."
Morris' advice to homeowners looking for ideas is to do your homework. With information everywhere, consider whether the advice is good and pertains to your space.
"When starting any project, think about how you want a space to function," she says. "Defining space is easy when you have a plan from the beginning."
---
Janet Weber
Janet Weber Interior Design
Poulsbo • 360-626-4484
janetweberid.com
janet.jwid@comcast.net
Janet Weber owns and operates her own interior design business with the goal of creating atmospheres that are unique and well-suited to each client's values, lifestyle and personality. She assists clients in realizing the vision for their homes and commercial spaces by guiding them through each phase of the design process, from the initial space planning to the final selection and placement of accessories. Weber received her bachelor of arts degree from Washington State University and has been working in the industry since 1986. Her professional involvements include Design on Broadway in Everett, Markie Nelson Interior Design in Seattle and Fine Home on Bainbridge Island.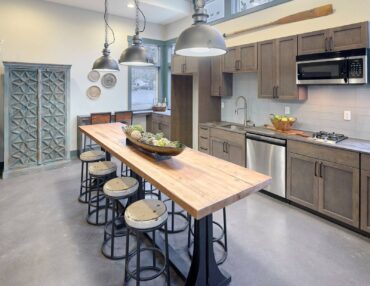 Janet Weber is observing a variety of overall trends, including "less is more," biophilia (using plants in interiors to bring the outdoors in) and multifunctional spaces to incorporate work-from-home trends. There's also a huge shift in purchasing trends, including buying local, supporting local businesses and seeking custom-made furniture and one-of-a-kind items.
"'Grandmillenial' style is also becoming a thing — a modern take on Granny's look, or granny-chic, with cozy details and pretty floral," she says.
Colors: There's a move away from cool gray tones to more yellow, neutral and beige tones. "Gray will not go away but will move into a more greige color," Weber says. Turquoise blue is a hot color, including the Pantone color of the year, A.I (artificial intelligence); Aqua, an electric shade of blue that is fresh and fun; Benjamin Moore color of the year Aegean Teal and Gliddin color Aqua Fiesta.
"Cheerful colors will become more popular — colors that uplift our mood and help us to cope, like marigold, cerulean, French blue, green ash, burnt coral, mint, amethyst and raspberry," Weber adds. "Blue is the color of many technology companies branding so it is a color that you will see over and over again next year."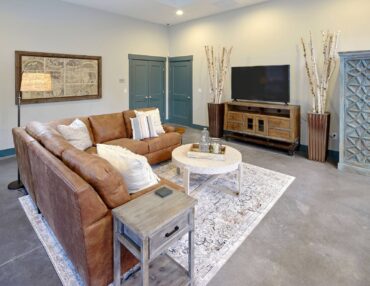 Counter surfaces: For Weber, quartz is still the most requested countertop. But honed and leather finishes are becoming popular as well, and granite is still a great countertop choice, especially if it's a unique look that can't be duplicated with a quartz product. "Quartzite is a beautiful natural stone product that is harder than both granite and quartz," she says.
Concrete countertops are making a comeback. "I have concrete countertops and they are looking good 15 years later," Weber says. "They do need to be refinished but other than that they are wearing well."
New kitchen features: Double islands are becoming a new feature in the kitchen.
The all-white kitchen is taking a back seat to color, while dark or black kitchens with lots of natural light to counterbalance the light effect are coming on strong. Additionally, the two-toned kitchen is still popular, like the island or upper cabinets being a different color than the base cabinets or vice versa.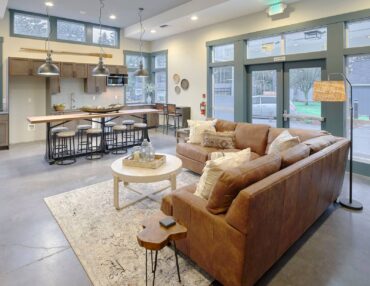 One area Weber recommends "dressing up" is the range hood. "The modern, stainless-steel hood is being replaced with decorative finishes surrounding the fan mechanism," she says. "Surround your hood with reclaimed timber, painted wood, metal, tile or whatever you can dream up."
Fabrics: Weber sees a variety of popular choices, including handmade and eco-dyed fabrics and genuine wild native materials; denim, navy and indigo; marble- and stone-themed fabrics and geological patterns; velvet; and patterns that include geometrics, palm and botanical, chinoiserie, floral and exotic birds. "There is a yarn trend happening with knitted fabrics being on the rise," she adds. "And crisp, breathable cottons and French terries are in vogue."
Floor coverings: The most requested floor by Weber's clients is engineered wood floor. "This hardwood product has been around for years but it is still popular and desirable," she says. "The engineered wood floor is less expensive than typical hardwood flooring but can last for years and even be sanded down and refinished."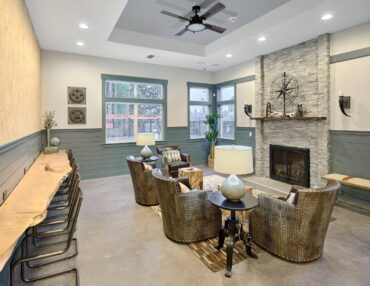 Waterproof luxury vinyl tile and plank are also making a big splash, especially rigid core products. "They come in handscraped looks that can be wire-brushed and distressed to resemble hardwood and stone," Weber says. "Luxury vinyl tile is now being manufactured in geometric patterns to resemble concrete tile. Loose-lay products are a whole other option in luxury vinyl products. These can be laid down and removed and taken with you when you go. This product is great for the DIY crowd."
Carpeting is always a popular choice but people are using more natural options such as sisal, coir, jute and wool. "Velvet-style carpet is making a comeback in bold colors and deep piles. Bold patterns and jewel tones will be on par for 2021," Weber says.
She's also a big fan of carpet tile — while it's typically used in commercial projects, she likes to use it in residential as well.
Furniture: Modern style in furnishings is still popular but it's gradually adding some elegant and often art deco details, like gilded finishes, metal, jewel tone colors and mirrors. Other trends Weber sees include Scandinavian minimalism, which pairs well with the modern style; velvet in noble colors; curvy furniture styles; "statement" sofas in bold colors and designs; natural and eco-friendly fabrics and wood; and accent arm chairs in patterns.
"I have always said every room needs one piece of wicker and this is true now more than ever," Weber adds. "Wicker, cane and rattan are seeing a big resurgence."
Lighting: Geometric shapes are very much in demand in lighting, and matte black is the new light fixture finish for 2021.
"Material combinations in light fixtures are big — wood, metal, steel and ceramics," Weber adds. "Also, sculptural light fixtures like bubbles, clouds and spears in organic materials like glass, stone, marble, bamboo, wicker, wood and even knitted yarn fixtures; free-form abstract shapes; soft metallic finishes, especially gold."
Weber says the circle or sphere is the light trend for 2021. She recommends creating a larger fixture by using together several light fixtures in the same finish but different shapes.
New green options: Weber says homeowners have many green options, both new and emerging, including:
Reclaimed hardwood — it's as beautiful as it's green.
Recycled glass products — countertops and tiles made out of recycled glass are stunning.
Recycled aluminum products — such as countertops and backsplashes.
Recycled paper products — including countertops that are unique and beautiful.
Tesla solar tiles — solar roof shingles that are small and blend seamlessly with traditional roof tiles.
Smart glass — a glazing for glass whose light transmission properties change depending on how light or heat is applied, eliminating the need for window coverings.
Natural materials: The list is long and interesting. "Look to use linen, bamboo, concrete, cork, hemp, wool, seagrass, straw, plywood, wicker, cane and wood," Weber says.
Her advice to homeowners is to reach out to a local interior designer, who can often steer you in a good direction. She notes that one comforting trend this year will be individuality. "This is the year to just do what you love and enjoy your style," Weber says.
---
Andrya Cooper
Andrya Cooper Interiors
Bainbridge Island • 206-550-5433
acooperinteriors.com
andrya@acooperinteriors.com
Andrya Cooper has been designing award- winning Northwest interiors for over 15 years. A graduate of Washington State University's interior design program, Cooper first designed commercial interiors and custom homes at Seattle architecture and design firms. After moving to Bainbridge Island with her family, she has continued a passion for residential design founded on creating strong relationships with clients and local trade partners. Specializing in remodels and new construction projects, the goal of each new project is to listen to clients' goals and ideas, guiding them into cohesive, well-thought solutions that stand the test of time. Cooper is NCIDQ and LEED Certified.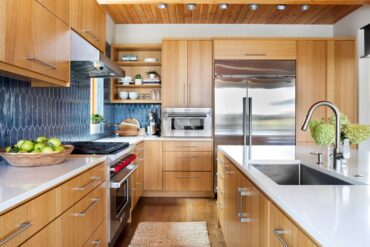 Andrya Cooper sees home trends overall leaning toward simplicity, but with a twist of personality. "Homeowners are willing to add an unexpected color, a material with hand texture or a contrasting fixture for interest and personalization," she says.
Colors: If the past few years were all about gray, now there's a move back toward warmer tones. "I am still seeing a lot of desire for white, but we're bringing in olive green or clay tones in cabinet paints," she says. "Blue remains a popular color in the Northwest, but expanding toward the warm, earthy greens as well."
Counter surfaces: Quartz composite countertops continue to be a popular choice among homeowners wishing for low maintenance and durability. "I have been specifying quite a bit of quartzite (a natural stone) as well. It is generally very light in color, either in the gray or warm ivory tones like a marble, but with the durability of granite," Cooper says. "Like granite, it is available in polished, honed or leathered finish textures. Any material that is light in color without being too precious will continue to be a popular choice here."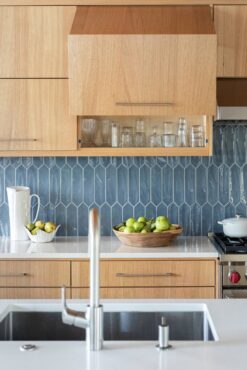 New kitchen features: Now that many people have been working and schooling from home, Cooper says her clients are specifically asking for a dedicated "tech zone" to wrangle inevitable papers and cords in the kitchen. "Open concept can have its limitations when the island is doubling as home office," she says. "I try to carve out a dedicated space, often a cabinet bay or drawer to include extra chargers, even file cabinets, to fill this need."
Fabrics: Cooper believes indoor- outdoor fabrics have come a long way in the past 10 years. Many companies now offer embroideries, luxe velvets and textured boucle fabrics, all in UV-stable and stain-resistant yarns.
Floor coverings: Cooper has seen a big interest in wool carpeting this past year. "Clients are looking for natural products that offer timeless style and durability," she says. In hard surfaces, she continues to see a mix between natural stone and more playful shapes and colors with cement or porcelain, even terrazzo tiles used in bathroom or laundry rooms.
Furniture: Northwest trends lean toward Scandinavian or midcentury influence, thanks to the many talented woodworkers here, Cooper says. Homeowners are willing to invest in fewer but higher-quality furnishing pieces and let their furnishings take on a more eclectic, collected feel over time.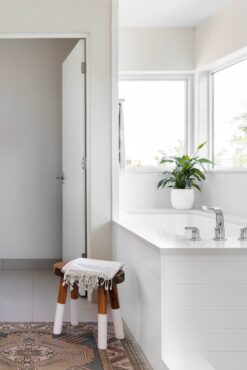 Lighting: Aside from getting into the fixtures themselves, Cooper's clients are asking for their lighting to do more and offer more user control. "Overhead and accent lights easily convert to dimmer switches. LED fixtures are becoming visually much more comparable to incandescent," she says. "Clients want additional layers of light within a room rather than relying as heavily on the standard can fixtures. I am also seeing much more in the way of surface-mount fixtures to replace both recessed cans and pendants."
Windows and doors: The Northwest is a suitable market for aluminum clad exterior and wood interior doors and windows. "Obviously maximizing daylight through large windows is still a very popular trend," Cooper says. "Some homeowners are also interested in minimizing the interior framing on windows and doors, which takes a bit more careful planning between the designer and contractor to fit them in with a drywall or flush wood reveal."
Window treatments: As in lighting, Cooper's recommendations for window treatments are about offering layers of control. "We love the look of roman shades, but it is an either all-open or all-closed scenario, so perhaps we include a side panel for sheer privacy or light control, and a stronger blackout roman shade for sleeping," she says. "It is about meeting the function while still bringing in softness."
Green options: One green option Cooper is excited about is in decking, a product called Kebony (through Greenhome Solutions) that looks and wears like ripe wood and doesn't deplete the tropical hardwoods.
"And don't forget about your rugs and furnishings' impact on the overall sustainability of your home product choices," Cooper adds. "I try whenever possible to specify upholstered goods manufactured in the United States, using sustainable and nontoxic framing, fill material and upholstery."
Natural materials: Natural woods remain very popular in flooring and cabinets, especially white oak when done in a more contemporary door profile and a tighter wood grain than what people may think of as a '90s oak cabinet. Walnut is also a popular choice, as well as fir for those willing to be careful about scratches.
Cooper's advice to homeowners is to talk to trusted local contractors and suppliers, especially when it comes to building conditions and pricing in the local area. "Looking to national standards is not going to reflect accurate local pricing, availability or timing," she says.
---
Chelsea Travaglio
The Grey Door Design & Build, Inc.
Silverdale • 206-669-7443
thegreydoor.net
chelsea@thegreydoor.net
Chelsea Travaglio's passion for interior design continues to expand after more than 14 years of professional experience in high- end residential interior design and luxury home staging. Her expertise ranges from color consultations to a complete interior plan and installation and her service base extends beyond Seattle and West Bellevue to include Bainbridge Island, Gig Harbor and the Kitsap Peninsula. Travaglio enjoys contemporary and traditional projects while upholding a design philosophy that each space relates to its consumers and its function. By focusing on client relationships and satisfaction, she is able to develop customized interior plans with a concept of practicality and timelessness.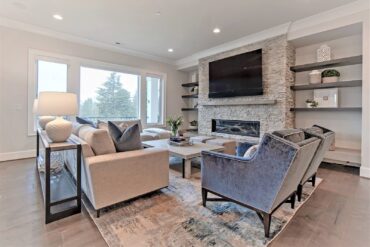 Chelsea Travaglio believes some of the priorities homeowners had in 2020 will roll over into this year. "The year 2020 emphasized the importance of functionality, durability and comfort of our homes. This will continue to be an important quality when deciding on building materials and furnishings in 2021," she says.
Colors: Warm colors are returning to the desired spectrum, she says. "Blending warm, earthy colors with cool, neutral tones creates a beautiful balance and timeless cohesion. Contrast is always important when establishing your color palette — partnering rusts with grays, beiges and a spot of black," she explains.
Counter surfaces: Quartz products continue to innovate and expand. "The performance aspects of this product and variety of colors and finishes makes it a go-to," Travaglio says. "We will see less tile detail on vertical surfaces in 2021 and an increase in the counter material extending up the walls for a more simplistic appeal." She notes that Caesarstone has been a trusted quartz provider and offers a collection of relevant colors and patterns.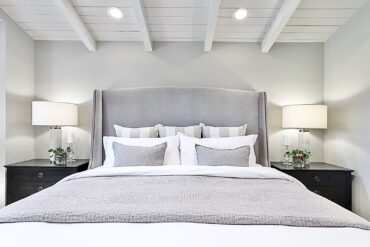 New kitchen features: Among the new 2021 features Travaglio is excited about are ever-evolving appliances and plumbing fixtures. "Induction technology is quickly innovating," she says. "Induction ranges and cooktops heat pots and pans directly, instead of using an electric or gas-heated element. It boils water up to 50 percent faster than gas or electric, consuming less energy and resulting in a more planet-friendly appliance."
Fabrics: Fabric is responsible for the incredibly important tactile experience you have with your interior, according to Travaglio. High-performance fabrics are in demand for upholstered items. "Durable varieties range from linen-like textures to faux leathers," she says. "Bold and graphic fabric will find focal placement on small, occasional pieces such as ottomans and side chairs, as well as on small-scaled window treatments like valances or roman shades."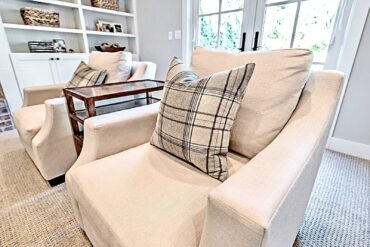 Floor coverings: She recommends prefinished engineered hardwoods like wire-brushed white oak as a great choice for Northwest interior spaces. "They provide the natural grain details as well as a variety of finishes ranging from light natural to dark charcoal," she says.
Furniture: Simplicity has become more and more popular in furniture. "Sectional sofas continue to grow in popularity, as well as upholstered dining chairs with simple leg and arm details," she says. "Dark, distressed-wood furniture will be perfectly paired with light, clean interiors."
Lighting: LED lighting has rapidly evolved and the abundance of abstract designs has created interest for various settings. Travaglio says that LED and smart lighting technology offerings create better efficiency and lighting control. "Modern Forms is one to watch for exciting new lighting introductions in 2021," she notes.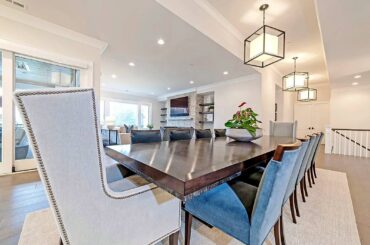 Finishes: Travaglio leans toward timeless finishes like polished or brushed nickel. "Black finishes go with everything and the contrast is sure to create interest," she says. "I urge consistency when selecting plumbing fixtures and cabinets and door hardware. Lighting can have more variety: some polished nickel, some black."
Window treatments: Window treatment applications depend on the style of the home, Travaglio says. "For more contemporary spaces, roller shades are a great option because their simplistic design blends well with a modern interior. For traditional spaces, shutters or roman shades continue to be a favorite," she says.
New green options: She recommends assessing cabinet quality before removing cabinets for a remodel, unless the entire layout is being redesigned. "Many older cabinets are nice quality and can be brought up to date with a great paint job (use a professional!), new hardware and fresh counter surface — creating savings on the overall budget and cutting down on landfill waste," Travaglio says.
Natural materials: As interests grows for creative and natural wall treatments, keep a look out for new trends in this area. "One thing is for sure, consumers cannot get enough of textural wall coverings," she says.
Travaglio advises homeowners to take their time and to do research when seeking professional guidance. "Look for good reviews or ask for references from friends, family or trade suppliers in your area," she says.
---
Cheryl Bloom
Bloom Design Group
Seabeck • 360-571-1377
bloomdesigngroup.com
cheryl@bloomdesigngroup.com
Bloom Design Group was founded upon the idea that your space should speak your language, not ours. Creating homes that are more personal than perfect and more loved than simply lived in offices that reveal core branding and attract the right target market. Cheryl Bloom is an award-winning, trained expert in interior planning and a Certified Aging-in-Place Specialist (CAPS) whose talents have earned a reputation within her industry for innovative design in both residential and commercial projects.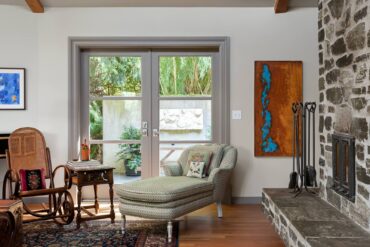 Cheryl Bloom believes nature has risen to take the influential lead.
"Clean fresh air, an explosion of natural colors and room to stretch and play are all important for homeowners," she says. "Our clients are asking for help in enlarging their kitchen footprints to accommodate multitasking, as we experience life at home in a new and expanded way."
Trends include larger windows to bring more nature and light inside, and outdoor living projects.
Color: Botanical and earthy hues are important right now. "Not the earth tones of the '90s, these are colors that refresh and inspire: green, which has been brushed with a bit of the brightness of blue; and colors more lightly grayed, such as you'd see in the herb garden," Bloom says.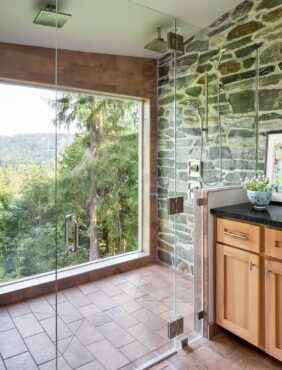 Also popular are warm golden yellows and redden clay colors such as cognac and mustard. All these, along with black and white, nod to the expression of tradition, family, home and garden life.
Counter surfaces: While quartz is big on the public radar now and the demand is raising the bar on those product's visuals.
"Emerging is sintered stone, an innovative through-body material with angular and intersecting veining," she says. "One of the incredible features of sintered stone is that every slab's veining and coloring goes all the way through the material, not just on the surface, which gives a very realistic stone look and feel."
New kitchen features: Although not new, motion-controlled, hands-free faucets are making more and more sense for many. Additionally, more space is being dedicated to pantries that provide bulk storage.
Fabrics: Performance fabrics are big. "Today, there are no limits, and anything is possible in fabric solutions," Bloom says. Fabric that sustains use from the kids and the dogs is no longer ugly and rough — rather, it's luxurious-looking, durable and cleanable.
"Here, we also use many of the popular colors (described above), layering and using a lot of texture, pattern and natural interest," she says.
Floor coverings: Consumers are more aware of luxury vinyl tile (LVT) or plank but Bloom notes that "there is a lot of ugly LVT out there."
Bloom also likes to use cork tiles. "Cork has amazing attributes, including comfort underfoot, sustainability in manufacturing, durability, easy clean and good acoustics," she says.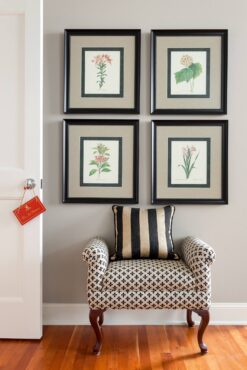 Furniture: USA-made craftsmanship and a handmade quality of products are leaders at Bloom Design. Classic midcentury style remains popular due to the rounded, simple forms with natural wood and fabrics that are comfortable and calm.
Lighting: This is one of the most important design and living elements within a home, and Bloom feels that the more lighting options for a space, the better — including recessed ceiling lights, table lamps, wall lights, chandeliers, pendants, etc. "A home in the Pacific Northwest can never have too many lighting options," Bloom says.
Finishes: Composite stone materials for a soaking tub are hard-wearing and stain-resistant, and will keep the tub water warm. "Warm, coppery casts in metals are relevant, again taking us into the natural world," Blooms says. "Bar finishes in the kitchen when real wood is used will allow durability and cleanability, and everything natural and unstained is supporting our current lifestyles."
Window treatments: Easy-use and clean lines such as a woven wood or bamboo shades are in demand. "We rarely suggest drapery panels anymore unless right for the project and client, and if appropriate, sometimes no window coverings at all," she says.
New green options: Bloom has always loved sustainable products and continues to be on the hunt for emerging manufacturers. For flooring, she loves Terrazzo tile, which is 85 percent recycled marble and granite in a tile format.
Cork is also at the top of the list because it's truly sustainable if purchased from the right manufacturer. There are also amazing new countertop surfaces that include recycled glass into their concrete matrix.
Natural materials: Living plants have become more important in interiors. "With our clients at home more, they feel they can take proper care," Bloom says.
Bloom's recommendation to homeowners is to seek advice and trades recommendations at the lsocal or regional building association, which includes builders, subcontractors and related service providers representing the home building industry, members and consumers.
---
Cate Adams
Arnold's Home Furnishings
Bremerton • 360-377-5582
arnoldshomefurnishings.com
Cate Adams has a degree in art and design from the University of London and has worked in London, Paris and Spain. Adams eventually settled in the Pacific Northwest. She currently serves as an interior designer with Arnold's Home Furnishings. She lives with her husband, Jack, in Silverdale.
"There is a new appreciation for the home front now. It's our safe place and so much more," Cate Adams says, "so we, at Arnolds, have gone from wondering when we would be able to conduct business again to concerns about keeping up with demand."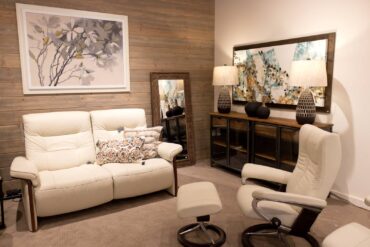 Comfort and nesting top the latest trends, she notes.
"We are seeing a less fussy style that incorporates basic hues and easy-to-clean surfaces," Adams says.
Curved sofas and sectionals, as well as rounded edges on tables, add a softness to otherwise sleek designs. Black, white and a strong blue are abundant. The antithesis of this is a trend toward warmer neutrals.
"While gray is still prominent, even these tones have warmed with more taupe and gold undertones," she says. "And metallic finishes continue to warm up, moving toward deeper gold, brass and bronze."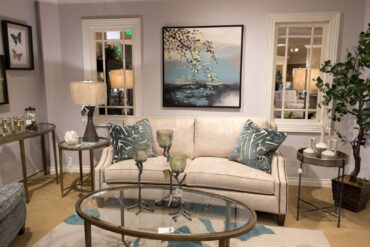 Patterns in the form of abstract florals and geometrics add pops of playful color to accent the subtle tones of neutral anchor pieces, adding drama and fun.
"Style is as varied as the individual," Adams says. "The farmhouse theme is transitioning to modern farmhouse and urban farmhouse, both a little less fussy with a touch of industrial metals."
Traditional is always in style, albeit with a 2021 twist. Take a fresh look at your window treatments, she recommends.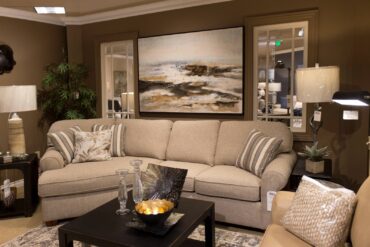 "We are starting to think about how we function in our homes rather than what people think when they walk in," Adams says. "Let's face it — there's not much entertaining going on. Comfort and functionality are the high priorities when a house needs to be everything to everybody. Because of this, the open-concept floor plan may fade in popularity in favor of separate, divided living spaces to allow everyone privacy for work, school and leisure."
Aside from color, style and layout, one major theme in home design that Adams sees in the pandemic era is comfort.
"We're in true nesting mode as our homes are now our every space, from restaurant to office," she says. "Trends may come and go, but the lifestyle shifts caused by the pandemic don't seem to be going anywhere. Nestle into your home — just make sure it's comfortable enough to enjoy."
---
Eleanor Olsen
Total Spaces Design
Port Ludlow • 206-713-2869
totalspacesdesign.houzz.com
eolsen9218@comcast.net
Eleanor A. Olsen, AKBD, is the owner of design/build firm Total Spaces Design and an accomplished award-winning interior, kitchen and bath designer and general contractor with more than 30 years of experience. Her projects have been published numerous times nationally and internationally. Olsen studied at Parsons School of Design in New York and Paris. She is the current president of the Olympic West Sound Chapter of the National Kitchen & Bath Association.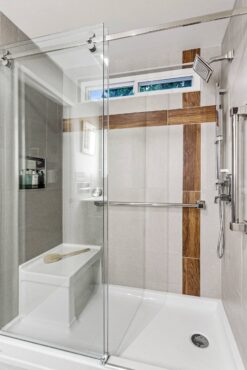 Eleanor Olsen sees a need among customers to enhance the luxury bath experience as a way to relax and escape with a little "me time."
"Our clients are seeking escape moments in this time of families being at home together for more than we are used to, due to the COVID-19 restrictions," she says.
Colors: Blues are staying very strong as a great base to work with, she says. "But we see the red spectrum showing itself on the fringes of what is new," Olsen adds. "Reds, pinks, oranges and corals are now balancing out some of the cooler spectrum colors that are so popular."
Counter surfaces: The light-toned quartz products that look like Carrera marble are still in high demand, largely due to their low maintenance. "What we are seeing emerging are some very exciting dramatic tones that play so well into a sultry feel of having a room wrap around and hug you," she says.
New kitchen features: Olsen says she's thrilled with any wine storage options, but especially handy is her 6-inch wine chiller — an enchanting way to use a tiny filler space in a cabinet run. These chillers typically hold seven to nine bottles of wine and they're always at the perfect temperature.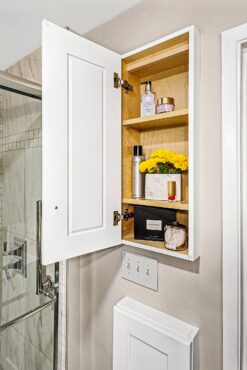 Fabrics: Olsen is a big fan of easy-care, indoor-outdoor fabrics for rough and tumble family life. "These fabrics hold up even if the kids seem to have grown feral being so couped since the 'rona.' I have often looked at commercial fabrics to take on the wear and tear of kids, pets and even some spouses in interiors. Today, there are so many beautiful options to choose from in the indoor-outdoor arena," she says.
Olsen notes that not every room needs to be designed around a very active family with lots of kids and pets. "A Ralph Lauren dark royal blue and black wool plaid that I am putting on my own dining room chairs currently is a very exciting and fresh casual balance," she says. "It is a wonderful juxtaposition for a very formal room, on a very formal chair that could easily get too stuffy. The informality of the plaid tempers the formality so you won't need your tiara to dine. The soft wool just feels so cozy and inviting for a room that is perfect for entertaining in the winter (if we ever get to have friends over again)."
Floor coverings: Total Spaces Design designs a good number of kitchens and baths, so tile is often the go-to choice. The firm recently completed a small, en-suite primary bath for a sophisticated gentleman. For the main tile, the designers used a beautiful, linen-textured tile on the floor and then up the walls to expand the space.
"It is reminiscent of a linen suit, without the wrinkles," Olsen says. "We offset it with just a touch of a tile that looks like wood, as a way of adding a further masculine accent to the very neutral space."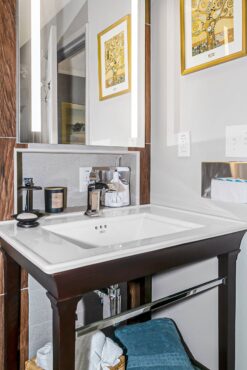 Furniture: Comfort and versatility are paramount to a stay-at-home lifestyle, and carving out even a small space for school and work in home spaces is on many homeowners' minds right now. "I have done lots of repurposing and recycling for several years and now it is a real trend called grandmillennial," Olsen says. "Mixing fabric and wallpaper patterns, like we have seen in the boho looks, with traditional wood tones and then a few elements of contemporary thrown in keeps a grandmillennial room from looking too much like your Great Aunt Ethel's rooms, even though many of the pieces might have once lived in an '80s Mario Buatta interior."
Lighting: LED is important now for reducing energy consumption, and the market has many choices. "At Total Spaces Design, we often use mini cans that give a very directed beam of light to highlight an art piece, without really being aware of where the light is coming from. This is a dramatic technique often used in museum settings — and is the ideal way to add an element of mystery and drama to any interior," Olsen says.
Finishes: There is no predominate trend, with a blended mix of finishes being popular. "Yes, it is possible to have chrome, silver, pewter, stainless and a touch of brass or copper in the same room," Olsen says.
Windows and doors: Olsen says her company recommends the very best windows a client's budget can handle. "It is best to stay away from the inferior quality. Windows are the eyes of your architecture and not the place to cheap out," she says. "They will be with you for a very long time, so don't cut corners here."
Window treatments: Olsen says window treatments have been fairly minimal for some time and that still works well in sunnier spots where you simply need a diffused look of a light and airy sheer at the window. Currently, for the darker areas of the home, she's leaning toward a layered look in the window treatments, more of a winter feel. "Maybe it is the inspiration of the wool plaid, but I think some rooms just say winter and others need to have a summery feel," she says. "I just bought a very long bullion fringe to add to the leading edge of the curtains going in the dining room with the Louis XVI style chairs."
Olsen notes that kitchen and bath design is a very specialized aspect of interior design that blends the best of function with the aesthetics you want to achieve. She recommends using designers who are members of the National and Kitchen & Bath Association (NKBA). "NKBA designer members have continuous training and certification to be able to help their clients get the best of everything so the finished project will be not only be beautiful but fully functional and safe for all who use the spaces," she says.