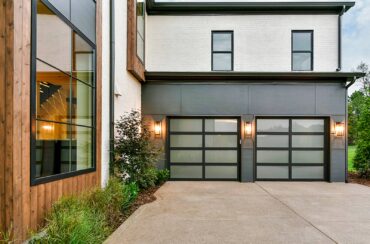 National Curb Appeal Month (apparently, it's a thing) was in August, and this year the focus was on garage doors. And for good reason.
Once the sole domain of the family car, today's garage serves a multitude of purposes. People play in them, work in them, store belongings in them, keep supplies in them. The garage might serve as a home office or double as a craft room, laundry room or workout room.
While the garage is an important interior space, it also has a big role in the home's curb appeal. For a home with a street-facing garage, the garage door is a prominent feature, comprising 20-25 percent of a home's curbside visibility.
"The aesthetics of the garage door have come a long way even in the last five years, but really in the last 15 years, it's climbed the charts on return-on-investment," said John Ramer, owner of Kitsap Garage Door Co. in Bremerton. "If you look through the national magazines, it's been No. 1 or 2 for the last five or six years. In some instances, you can get over 100 percent return on your investment."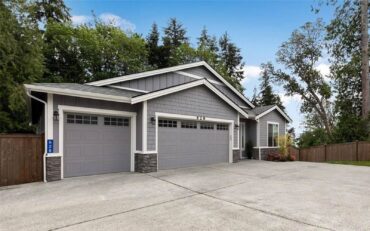 According to Remodeling magazine's 2020 Cost Versus Value Study, installing a new garage door has a higher return on investment — 94.5 percent — than a kitchen remodel, bathroom remodel, a new roof, or siding or window replacement. On recoup value, a new garage door is second only to manufactured stone veneer.
Today's garage doors are well insulated, have obscure windows that allow light in without compromising privacy, and range widely in design and materials.
"The standard practice for years and years was the basic, white garage door," said Eileen Black, a realtor with John L. Scott Real Estate Bainbridge Island. "And then a few years ago — actually, it's been a trend for a while now — you started seeing windows in them. Then, you started seeing carriage-house-style garage doors, which, depending on the style of the home, really complemented that look.
"But what really made a basic house something special was the garage door that has glass slats that go across each level of the door, from bottom to top. It gave traditional homes more of a modern, updated, cooler-vibe look."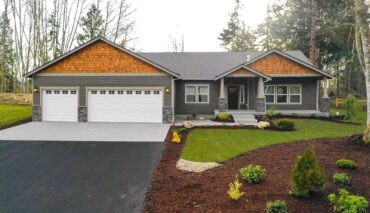 Selecting the Right Garage Door
Whether investing in a new garage door for comfort, curb appeal or marketability, here are some things you should know.
If you're selling: As the saying goes, you never get a second chance to make a first impression.
"The word on the street is how important pictures are, especially during the COVID-19 pandemic," said realtor Jan Zufelt of John L. Scott Real Estate in Kingston. "The first thing you're going to see in those photos is often the exterior. If the garage door needs to be replaced, that's the first impression and so it's important to make that better. A two- and three-car garage takes up a lot of floor plan, so it really makes a difference."
Investing in a new garage door can improve the marketability of your home — and help you avoid unexpected costs later.
"I sold a home in Driftwood Key where the garage door truly needed to be replaced, but the seller didn't see it that way," Zufelt said. "We ended up with multiple offers, but every one of the agents said, 'We're going to go full price or escalated price, but we want you to know right now that through the home inspection process, we are going to be tackling that garage door.'"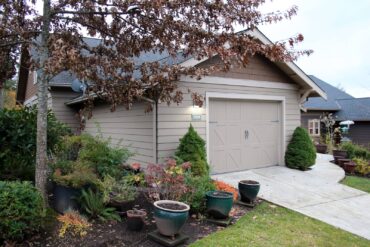 Shop from home: Online apps like the Door Imagination System on Kitsap Garage Door's website enable you to choose the best garage door for your home. Go to www.kitsapgaragedoor.com and click on "View Door Imagination System." Upload a photo of the exterior of your garage. Follow the instructions to see what different styles of garage doors would look like on your home.
What's trending: There are many styles of garage doors, but Ramer said the most common are the traditional, raised-panel door; the carriage-house-style door; and the modern, glass-panel door. The glass used in the panels is "obscure," meaning it's opaque or translucent so light can enter but someone cannot see inside.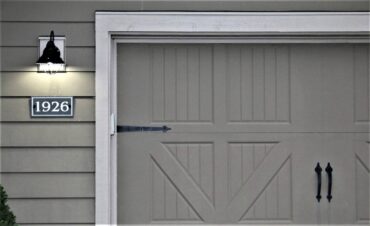 Ramer prefers the modern glass-panel door. "It's a style that can fit on just about any home," he said.
Black agrees. "If you drive down a street you take a traditional cul de sac — you see white garage door after white garage door, and then you see this new garage door and everybody just kind of stops and looks. It's really contemporary looking but not in a way that makes the home too modern looking, it just brings it up to date. And if you offset it with pretty lighting on the outside, it just pulls it into the 21st century. It can really make a house stand out."
You also get an interior advantage. "It's nice to have lots of light coming into the garage," Black said. "It makes the garage feel fresh and bright."
Lots of choices: Ramer mentioned three prominent styles, but there are many variations within those styles. On the Door Imagination System, you can try the look of Avante; Bridgeport Steel; Canyon Ridge Modern, Carriage House and Classic Steel; Coachman; Gallery Modern Steel; Reserve Wood custom doors and Classic Wood doors.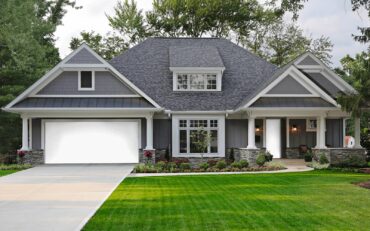 Enjoy the experience. Avante Modern glass and aluminum garage doors, for example, offer 13 types of glass and seven door colors. Expect a similar number of variations offered by other manufacturers and styles.
Most enduring style: "You can always go with the classic look of that traditional, raised-panel door," Ramer said. "The industry is offering a lot of different finishes to give it that wood-grain look or even custom colors. You can match your door to a Sherwin Williams or other brand of color to match your house, as opposed to painting it afterward and it not having the same finish."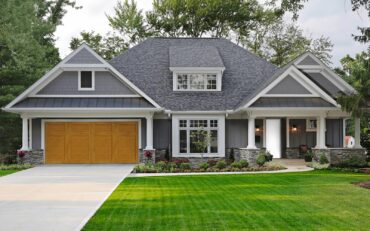 Zufelt said her garage doubles as her husband's shop. They bought a traditional door that has panels of windows along the top, providing plenty of natural light while ensuring privacy.
The materials: Wood was long the primary material used, but — particularly in this region — it's susceptible to damage from rain and warping from the sun. Wood also requires regular maintenance, such as painting.
"It used to be that 90 percent of our doors were wood," Ramer said. "We almost don't ever put wood in anymore, and if we do, it's a very high-end door. Steel doors are more efficient, are better insulated and have better warranties."
He added that aluminum doors used to be strictly commercial grade, but now residential ones come powder-coated.
"The lifespan is really so much longer and when you powder-coat them, they're almost indestructible," he said.
Better insulation: Today's garage doors are made of better materials and are well insulated.
"They've come a long way in the insulation factor and in safety," Ramer said. "The R value is huge."
R value is the measurement of how well a layer of insulation resists the conductive flow of heat. The greater the R value, the better the object's thermal insulating properties.
With today's garage doors, "you can get an R value up and over 20, which is more than you'd have in a wall of your home," Ramer said. "On a door like that, you're generally working inside your garage, which a lot of people are doing now."
The cost: "Five years ago, the average sale was $1,500 to $2,000 on a brand-new door, maybe a 16-by-7 or two single doors," Ramer said. "But it's not unusual anymore to see a $15,000 order. Some of these high-end doors keep getting higher-end." He notes that his is all driven by consumer demand because people want these types of doors.
Tech-friendly: Garage-door openers have also evolved in recent years. Many of the units connect via Wi-Fi to the internet and have a battery backup.
"You can actually use your phone to open and close your door, even if you're out of town," Ramer said. "A lot of people are specifically requesting that."
Timeline — Evolution of the Garage Door
8th century B.C.: Buildings are built in Greece and Rome to house chariots used in racing, the premier sport of the time.
1700s-1800s: Carriage houses are built to house horse-drawn vehicles, a.k.a. carriages and wagons. They are often located away from the home.
Early 1900s: The automobile leads to the development of early modern garages. In 1902, the word "garage" first appeared in the English dictionary. The word is derived from the French "garer," which translates as "cover" or "shelter."
1906: Portable garages and garage kits are available in Sears Roebuck & Co.'s mail-order catalogs.
1921: C.G. Johnson invents the first overhead operating garage door, the forerunner of the garage doors used today. These doors were lifted manually and would fold parallel to the roof.
1926: C.G Johnson invents the electric door opener.
1950s-1960s: Auto manufacturers start designing larger vehicles for postwar families. As a result, garages and garage doors become bigger. Families start having more than one vehicle, leading to the development of multi-car garages.
1960s: Manufacturers start to use aluminum, steel and fiberglass in garage door construction. These materials are lighter and give manufacturers more design and production options.
1970s: More than half of all new home builds in the United States include two-car garages. Automatic garage door openers also become a standard.
1980s: Steel garage doors are the most popular option, and manufacturers offer steel doors that have the appearance of wood.
1993: The U.S. Consumer Product Safety Commission requires all garage doors to have sensors to prevent injuries.
2000s: What's old is new again, as vintage garage-door designs become popular with homeowners.