SunDog Ranch received its occupancy permit five days before the COVID-19 lockdown began. Dean and Sherri Church, owners of Liberty Bay Auto, were both delighted and shocked to find themselves virtually home alone with their two teenage sons. Where did the contractors go?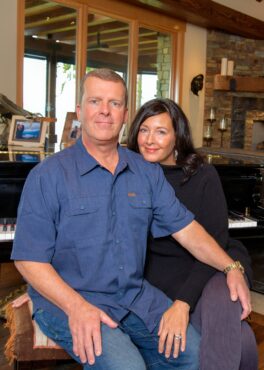 They hunkered down to learn the intricacies of their new home, with plenty of time to move furniture and artwork around to find the perfect placement. However, the skies over the Olympics and the shades of sunset reflected in Hood Canal were familiar. They had lived just down the road in a waterfront home a few feet from the water and barely inches above it. This beloved western view says home to their hearts.
Along the road to their old and new house, they had owned a lot that housed Sherri's tipi-style bed and breakfast and another lot where Dean's barn sat. They passed this current property, too, hidden behind mounds of blackberry. Out of sight sat an old, blue-vinyl house that had been barged up from Bangor during its expansion.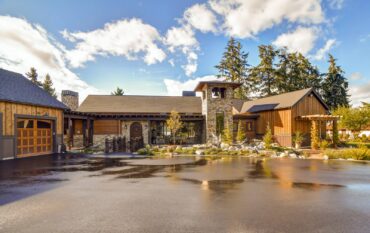 Dean Church had sent the owner a letter saying he might be interested in buying if the owner wanted to sell. As fate would have it, the owner responded as the Churches were in the process of selling a home they built in Cle Elum at Suncadia. This larger property would gather their home, tipi and barn into one place.
A welcoming gate with logs stair-stepping up to an arch marks the entrance to SunDog Ranch. The home off to the right is a gutsy Northwestern contemporary, with the accent firmly on "western." Stacked rock-and-timber elements complement cedar board-and-batten siding.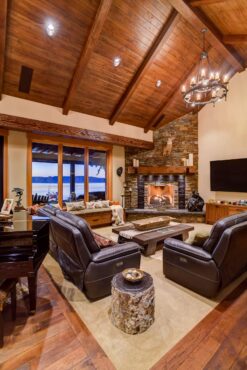 Straight ahead stands Dean Church's new barn with oversized garage doors, otherwise known as Phase I of the project. After its completion, the family moved into their RV so the old house could be razed. To the left of the barn, the 26-foot tipi, which sleeps 12, adds western interest.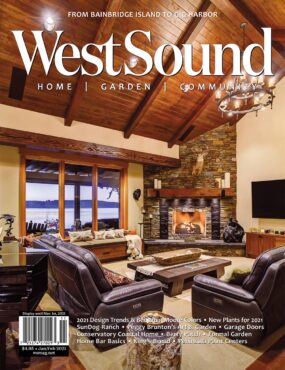 A quintessential chicken coop is home to 15 chickens. When asked about their breed, Church said, "Egg-laying machines!" Veggies are grown in waist-high steel troughs. A lone bronze wolf by Jeff Oens prowls the center circle of the drive, setting the stage for discoveries behind the front door.
The landscape, designed by Brian Sundberg, is heavy on peaceful horizontal lines: lawn, flat-topped rocks, huge and old silvered logs, low native plants, small western cedars and a tumbling creek water feature. A bridge over the creek leads to the home's front porch, where a gorgeous totem of a bear, wolf and owl protects the property.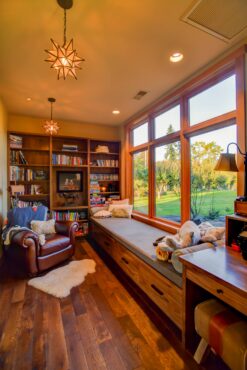 Church's great-grandfather was the acclaimed, early 20th century sculptor Alexander Phimister Proctor. He trained in Paris and later traveled with the Buffalo Bill Wild West Show. His purpose was to connect with true Native Americans so that he could sculpt them and their way of life.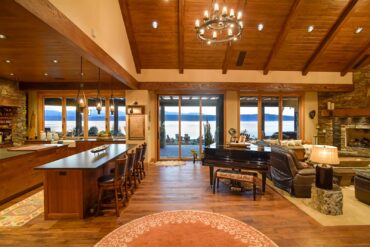 Church acquired many of the bronzes and shields his great-grandfather made as models for larger commissions. For instance, a great black tiger stretches out in the sun on the edge of their patio. Princeton University commissioned the larger version, which also inspired the name of its team, the Princeton Tigers. Another one of Proctor's pieces, "Bronco Buster," stands in front of the Civic Center in Denver and the Robert E. Lee statue that came down in Texas this summer was also his work.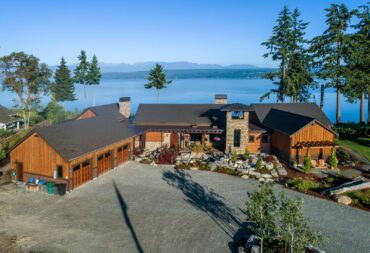 The Churches envisioned a home with a Western-Spanish-Mediterranean feel. Their architect, Charlie Wenzlau of Bainbridge Island, matched the strength and power of the Proctor bronzes in wood timbers, glass walls and rock fireplaces.
As one steps through the intimate entry, the great room soars into a slatted-wood ceiling. This core room of the home features the kitchen on the left and the living room opposite. A deep, covered patio shelters the room from too much western light and frames the Olympic view.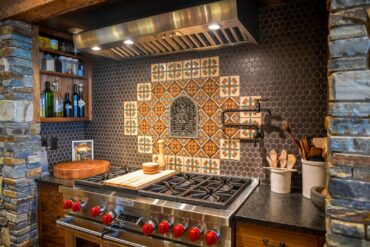 Church remembered beams in his grandparents' home on Shaw Island that had been sand-blasted, emphasizing the wood's grain. Using a similar technique gives punch to the posts and beams, outlining the architecture.
The couple looked for reclaimed wood and found the mother lode in Port Townsend. The wood flooring, stained a dark brown, matches the beams above. A fine-grained cedar used in the bedroom wings adds subtle warmth.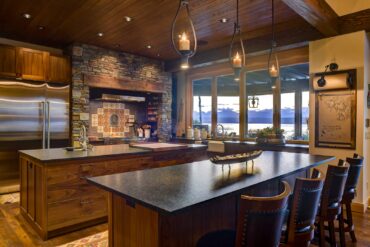 The kitchen features a tiled wall behind the stove, with a heat register as its centerpiece. Sherri Church found it rusted out, and due to a prominent "C" in its center, decided it was worthy of restoration.
The lack of upper cabinets gives a western window room to stack open, turning the rich-brown-and-black, granite countertop into a pass-through. Heaters in the ceiling plus wind and screens provide solar and wind protection so the family can eat on the patio year-round.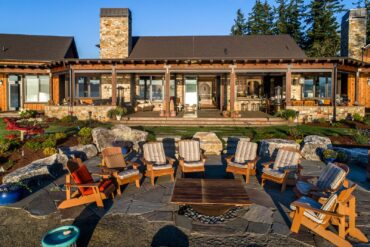 The inside eating option is a second island that floats between kitchen and living room. Casual gatherings congregate there for meals, coffee breaks and group planning.
The grand piano belonged to Dean's grandfather. Sherri enjoys it now, playing gospel music and a repertoire of pop songs. Rich-brown, saddle-stitched leather sofas gather around a stacked-rock fireplace for conversations. An unusual fireplace surround with images of western animals turns out to be one of Proctor's bronzes.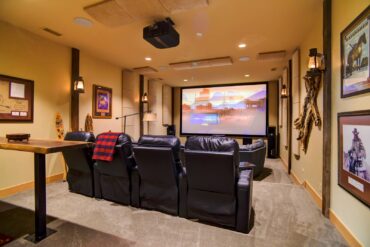 A wide gallery with arches runs the length of the home. Deep window seats plump with pillows and throws border the living room. The north wing houses Dean's office, where the western water view and a western painting by John Potter dominate.
Shelves hold smaller bronzes of his great-grandfather's work. Bronze shields, which are sculptors' equivalence to sketches, hang above. A shield and a finished bronze sculpture titled "Native Bear Hunter" stand outside his office across from the theater door, which has a subtle western bling.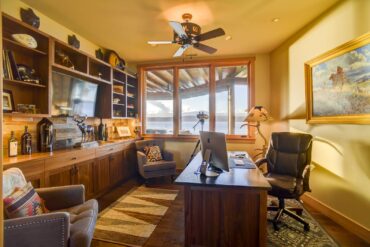 Delicate, wrought-iron torches hang on both sides of the door, on which the couple installed clavos, or nailheads, in a precise pattern. They used a smaller nailhead and less elaborate design on the boys' doors. Delightful touches. A window seat in the gallery outside of the boys' rooms is also used for sleepovers and the added bookshelves make this area a casual library.
The original building plans didn't include a basement but when the lot was excavated, there was a huge hole where the old house had been sitting on top of the well. (Yes, on top of the well.) So they used it and the boys lucked out with a lower-level room outfitted with exercise equipment, a big screen and gaming equipment. The cooler temperatures down there are perfect for the SunDog wine cellar, too.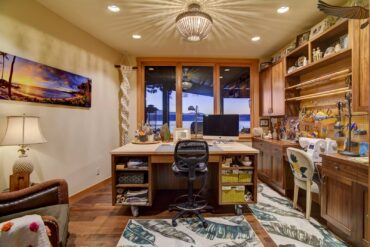 The Churches gather for a weekly family movie night. The home theater turned out to be a bonus during lockdown as their extended pod of grandkids, nieces and nephews joined in.
Jim Lee and his Nuts About Hi-Fi team designed and installed the theater's sound and video system and the placement of acoustic panels, as well as the home's interior and exterior sound systems. Other bells and whistles, 21st-century style, make the property energy-efficient and green: on-demand, hot-water, high-tech heat pump; LED lighting and a super security system.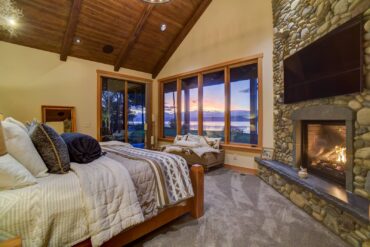 A shared love for Amos Lee's album, "Mission Bell," had the couple pursuing the idea of a mission bell tower for guest quarters, but it fell apart in the face of reality. Still, Sherri didn't want to give up on a bell tower so Dean set off on a quest. It turns out, bells grow into their sound as they age. What he needed was an old bell.
He searched until he found a bell cast in 1885 in Europe and reclaimed from Georgia. Thanks to a feat of engineering, the 500-pound bell tilts with an easy pull on the rope. It rings out over the neighborhood every night. Seven times at 7 p.m. sharp.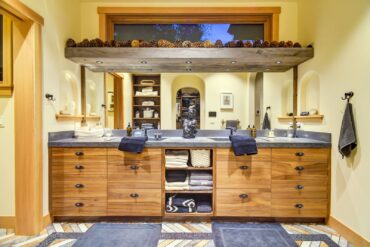 Dean and Sherri Church regularly visit Cody, Wyoming, where the Buffalo Bill Center houses a wing named for his great-grandfather. On one trip, they met an artist named John Potter, who turned out to be the great-grandson of a prominent Indian chief. Dean Church knew that Potter's ancestor had been a close friend of his great-grandfather's. Potter knew about that friendship and said the two men were actually blood-brothers — a relationship that carries down through generations.
Potter then pointed out, "We are brothers." It was a spine-tingling moment for these two great-grandsons.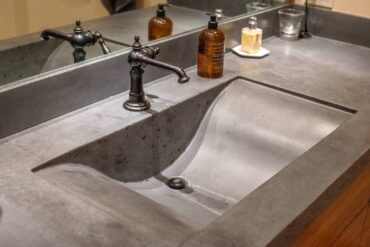 Church and Potter still connect through visits back and forth. When Potter stayed at the couple's original beach house, he was enchanted by the number of sundogs, prismatic colors near the sun, that he saw there — telling them they were fortunate to see so many. The Churches adopted SunDog as the name of their wine label and now, their ranch.
Eventually, Potter performed their wedding ceremony. As a wedding gift, he painted a steer's skull with two rivers joining and a sundog shining above. It hangs over the couple's bed.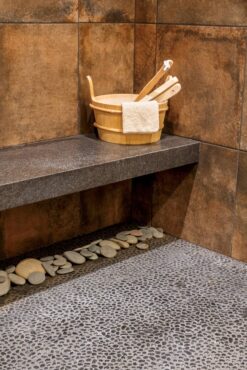 A contemporary painting of a bear in dynamic yellows and oranges by Linda St. Clair radiates warmth over the south wing where Sherri's studio and the master bedroom reside. Sherri and her daughter, Chanelle, raise rock painting to an art level. A long, narrow bowl on the gathering island in the kitchen displays some of their beauties.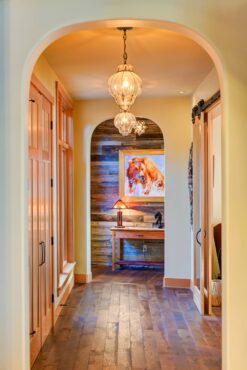 They also explored the craft of woodburning on circles of cedar. A collection hangs in the back hall. Her 3-year-old grandson, Riley, points out his favorites. Sherri also creates three-dimensional art from old jewelry.
Her sister and her brother-in-law, Karyn and Joe Kuberski of Utah, work in specialized concrete. They embedded a desert scene made of agates and beach glass found over the years in a countertop in the laundry room. A shadow box displays a rectangular beehive found between the walls of a rental home. Sherri has an eye for beauty whether found in a gallery or nature. These pieces living side-by-side give a sense of time and place plus a bit of whimsy that makes a comfortable and fascinating home.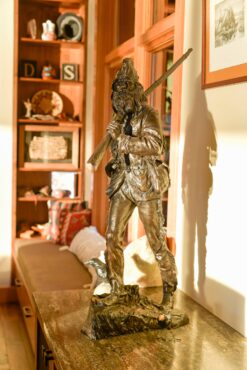 The master bedroom features a large square timber that matches the mantle in the living room. It was carved out to accommodate small spotlights over the hand-crafted timber bed. The Kuberskis formed a concrete, cracked-front hearth on the river-rock fireplace. The floor in the bath is a daring herringbone pattern of black, amber and clay tiles, with charcoal grout in keeping with the bold style of the architecture.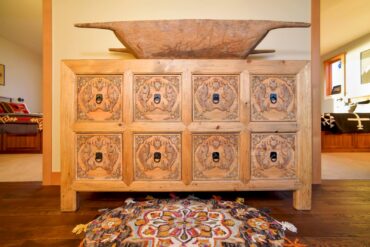 Sherri and Dean Church literally lived and breathed sawdust for five years while building two homes. Days of running up and down the road tending tipi guests and the old barn are fading memories, along with punch-lists, contractors and lockdown. Come 7 o'clock in the evening, they will celebrate with seven peals of an old bell and a western sunset not to be beat — home at last on SunDog Ranch.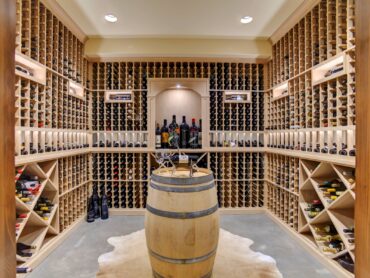 Resources:
Wenzlau Architects, Bainbridge Island
Fairbank Construction Co., Bainbridge Island
Brian Sundberg, Port Orchard
Nuts About Hi-Fi, Audio & Visual Systems, Silverdale
Grandy Tile and Marble, Poulsbo
Pacific Northwest Timber, Port Townsend
Outer Edges Concrete, Dameron Valley, Utah
Northern Asphalt, Kingston
Rolling Bay Upholstery, Bainbridge Island
JD Painting, Port Hadlock
Monkey Wrench Fabrication, Bainbridge Island
Ridge Top Archway, Cody, Wyoming
Sullivan Heating & Cooling, Bremerton
Hanley Roofing, Port Orchard
Peninsula Electric, Poulsbo
Renaissance Woodworks, Poulsbo
Heritage Fireplace Shop
Swift Plumbing & Heating
­Tipi accommodations are available by booking through Airbnb and Hipcamp.