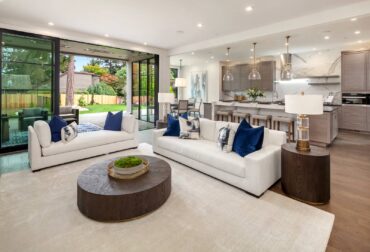 Luxury lies within the intricacies of design. The perception of soft and lush textiles, shining crystal and high-polished metallics can instantly elevate a space to feel more lavish. Luxurious designs, by description, embrace opulence at great expense.
Complete interiors can revolve around this extravagance; however, there are also many simple opportunities to include details of luxury in your home. The following designer tips will guide you toward achieving the level of elegance you desire.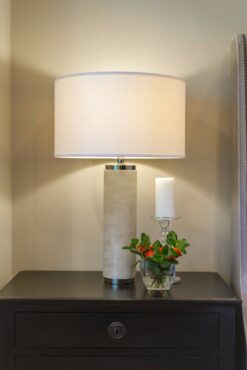 Lighting
Creating reflection with lighting is key when designing luxurious settings. Chandeliers, wall sconces and lamps are often seen as the "jewelry" of an interior collection. These items are crucial when developing your overall plan, as they provide significant impact for the space ambiance.
Options are endless when it comes to chandelier styles. For a more distinguished appeal, select a fixture with a reflective finish, like polished nickel or glass. If your selected model has several arms, consider adding small, linen or silk lampshades. They will break up the intensity of the light emitted from each bulb, resulting in a soft and more inviting setting.
The chandelier is often the focal point of the dining room, but in addition to great style, it must also provide ample lighting for the space. If your dining table is long and rectangular, consider a linear design. Dimmer switches are best for achieving soft, ambient lighting for large gatherings and can be easily installed by an electrician.
Sconces have drastically evolved over the last decade and have become statement pieces for entries, bathrooms and hallways. It can be easy to get carried away with the variety of fun and abstract options. However, when it comes to evoking luxury, timeless design is the goal — so gravitate toward simplicity.
Clean lines or gentle curves are best suited for an elegant end-result. Lighting fixtures should feel cohesive throughout your home. Before making purchases, think through how the finishes will work with other hardware in your home. Compare the new style to your existing door handles, plumbing fixtures and other lighting in your space.
Lamps and candlelight are the finishing touches. Marble column lamps with linen or silk drum lampshades are not only beautiful, but precisely on trend. Instead of a traditional and expensive crystal lamp, select clear glass, which provides a similar look but at a lower price point.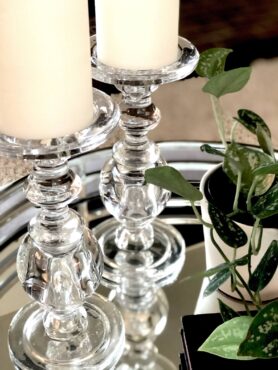 Glass candlesticks; oversized hurricanes or small, metallic votives are all effective ways to use candlelight as a detail of luxury. Have fun when accessorizing — but remember that simplicity is important. Group small accessories together or with larger-scale items to avoid cluttered surfaces.
Exquisite Fabrics
What materials come to mind when you think about their luxurious feel to the touch? Perhaps velvet? Maybe silk or leather? These luxe textiles work well in various levels of styled interiors.
Velvet is a current and commonly used material for headboards, sofas and chairs. It pairs beautifully with a variety of fabrics and textures.
When adding loose layers to your seating elements, soft, mohair throws in a solid color are best. Throw pillows can range from bold, contemporary patterns for a dynamic impression, to muted colors and soft patterns for a soothing combination.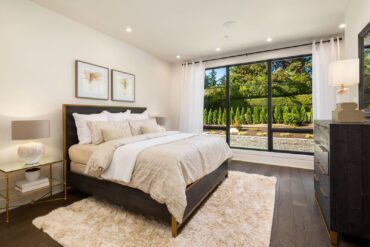 Silk should be limited to bed linens, accent pillows and draperies because it is does not hold up well as upholstery on high-use pieces. Neutral or tone-on-tone fabric combinations contribute to a more sophisticated collection.
Bedding is a main factor for achieving a luxurious bedroom. A beautifully made bed sets the tone for the entire room. Layer a duvet, textured coverlet and pressed sheets for maximum impact (not to mention a splendid sleeping experience).
Beds are preferably dressed with euro shams to match the coverlet, a pair of shams to match the duvet, and a pair of decorative throw pillows. Full and fluffy duvet and pillow inserts are best. Add a pair of velvet patterned throw pillows for a complete and custom look.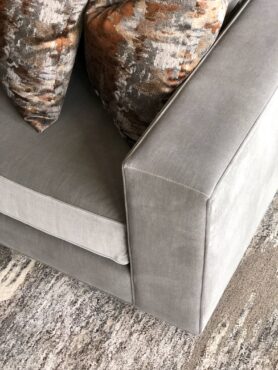 Mirrors and Art
Wall décor should be minimal to maintain a luxurious feel. Large, focal walls in entries, great rooms and dining rooms should be outfitted with oversized mirrors or original art when possible. Abstract reproductions can be very convincing and should be a consideration when original art is outside of the budget. When selecting pieces, focus on large-scale canvas art with texture, which gives it the appearance of original media layers.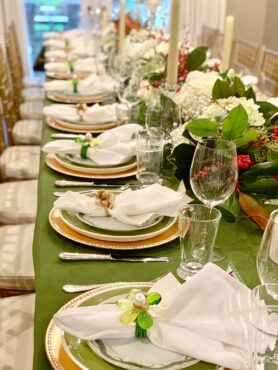 Group small art or family photos together and present them as a gallery in more casual spaces like the family room, kitchen and home office. When creating galleries, try to group similar or matching frames. When frames match, they are perceived as a set. Excessive frame varieties appear cluttered and busy.
Holiday Décor
The holiday season is upon us and what better time to explore the concept of luxury. Try it out when setting your holiday table.
Deluxe designs are all about the layers. Start with a freshly ironed tablecloth that appropriately fits your table. A second, smaller tablecloth or runner can be layered on top if desired.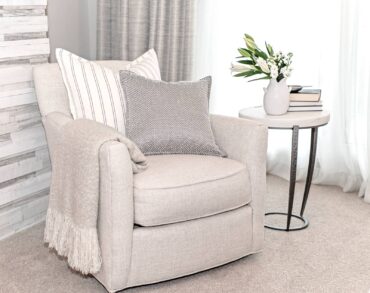 Design your floral centerpiece to be low so that it will not interrupt your guests' conversation. Tuck in candle votives or candlesticks throughout the centerpiece for balanced candlelight. Layer, layer — and repeat.
Each place setting should be complete with a charger, dinner plate, salad plate, flatware, glassware and napkin. Napkin rings can be a fun touch and do not all need to match. If you are not sure how to decide on a style, use entertainment resources for inspiration.
How can your Christmas tree become more elegant this year? Beautiful tree ornaments and an abundance of clear, white lights are the most important components.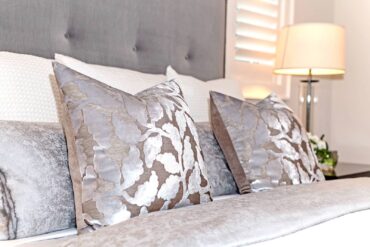 The same rules applied to luxurious accessories or lighting for the home can be repeated when selecting décor for your tree. Combine large-scale balls of clear, metallic and winter-white glass to create an elegant result. Balance the various textures and finishes throughout the tree.
It's the special details you allow yourself to implement in your interior environment that contribute to the feeling of luxury. These details prove that living with luxurious style is not only experienced by the affluent.