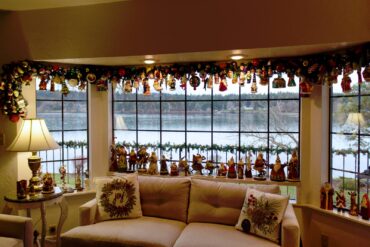 Christmas starts in October at Ann Ryan's home on Oyster Bay.
That's when she hauls out the boxes and boxes of holiday decorations she's collected over the years and starts decking the halls of the 100-year-old home.
Ryan's collection includes Christmas-themed paintings, dozens of carved Santas and little ceramic Dickensian villages set in wintery scenes. There are creches, tiny felt mice and reindeer, stockings hung by the chimney with care and dangling from door knobs and shelves. There are even Christmas-y pillows and linens for the bedrooms and bathrooms and holiday cups and saucers ready to be filled with hot cocoa, tea or spiced cider.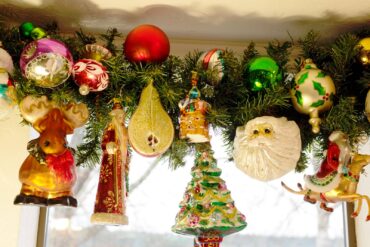 And there are hundreds and hundreds of glass ornaments.
"I probably have at least 1,500 ornaments," Ryan said. "And so many of them are filled with special memories."
She's been collecting them for decades. The oldest ornament belonged to her late husband's mother. It was a small figure made in the 1930s.
When her husband, Field was stationed in Germany on special assignment with the U.S. Air Force, Ann began collecting in earnest. They travelled all through Europe, and everywhere they went — Bavaria, Czecheslovakia and elsewhere — Ann Ryan purchased glass Christmas ornaments.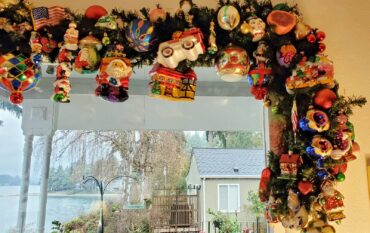 Field Ryan was also a long-distance runner and the couple traveled the world over as he competed in races.
"Wherever we travelled, I picked up new ornaments," Ryan recalled fondly. "Field was on the U.S. Masters track team and he also was the founder of the Kitsap Road Runners and they have a Halloween run named after him."
Among her favorite ornaments — in addition to that first treasure from her mother-in-law — are several harlequin balls and the Santas. Ryan is especially fond of the dozens of cast resin Santa figures in her collection by artist Jim Shore, each an example of how Saint Nicholas/Santa/Father Christmas has been depicted in different cultures.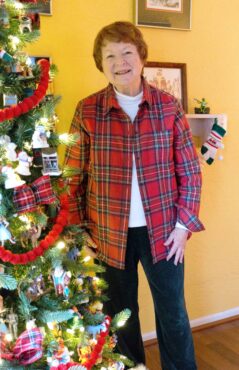 The Santa collection began on one of her husband's running trips to Leavenworth, Washington, a town known for its Bavarian village theme, especially popular during the holiday season.
"I also have many glass Santa ornaments and I used to do at least one Santa tree," Ryan said. "But now they're all hung in garlands, like most of my other glass ornaments."
Her collection also includes dozens of Christopher Radko ornaments, most of which she acquired from the local McBride Hallmark stores where she worked for 30-plus years. Her youngest daughter, Stacey, is married to Scott McBride, whose family has owned several Hallmark stores in West Sound.
Every room in Ryan's home is decorated for the holidays. Every window is bedecked with a garland of ornaments and every windowsill is filled with figurines. One entire wall features a row of hutches, each shelf displaying a village of little Victorian buildings.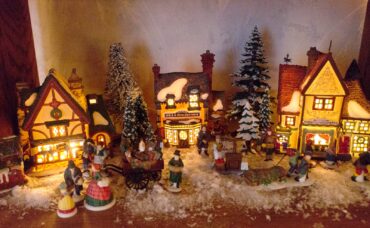 "My sister gave me my first little house," Ryan recalled. "It was a 1907-style candy store."
Other little buildings came from McBride's and from the Beach Basket Christmas Shop in Gig Harbor.
"I've actually been to a lot of the actual houses and train stations in England," Ryan said. "It was such fun to see the real buildings."
The little houses were Field's favorites and every year, she sets up those first.
She used to put a Christmas tree in every room, but these days Ryan limits herself to just 10 trees on the first and second floors of the house, including a tree in the main bathroom, plus several "permanent" trees in the rec room. She still does several theme trees of snowmen, Mickey Mouse, Santas, angels and other religious images, for example.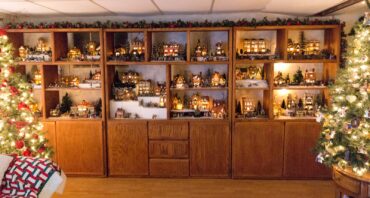 She also was a longtime participant in the Kitsap County Festival of Trees.
Early on, her beautiful, fragile glass ornaments were hung on trees in the living room.
"But then we got cats," Ryan said with a smile. "And the cats loved to play with the ornaments, dangling from the tree limbs."
So now, most of the glass ornaments dangle off garlands that she hangs in all the windows and strings across nooks and crannies throughout the house.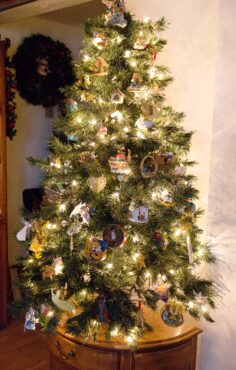 As she decks the halls each year, Ryan takes down every painting in her home and swaps it for a holiday one. Some are tiny, just 4 by 6 inches; some are as large as 40-inches high. She owns every Christmas image painted by Bellingham artist Jody Bergsma and many are signed by the artist.
"I even have one that she signed 'Happy Birthday, Ann.' My birthday is in December, so people often give me Christmas ornaments for my birthday," Ryan said. Those, of course, have just added to her vast collection.
Over the past few years, she's given away many of her ornaments to her grandchildren and great-grandchildren.
"But now they have so many that my kids have begged me not to give them any more," she said with a laugh.
The decorations stay up until well after the holiday season.
"After all the work putting everything up, I'm not in a hurry to take them down," Ryan said. "I just want to enjoy them and share the holiday spirit with others."