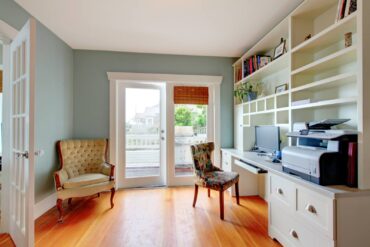 The way people work and conduct business has evolved from a traditional, brick-and-mortar platform (think factories and office buildings) to a less structured, more fluid environment. Many can now establish an office or workspace anywhere in the world and still conduct their business or work without skipping a beat — thanks in large part to laptop computers and the internet. Add a global pandemic and the decision to telecommute, a.k.a. work from home, becomes a very relevant consideration, not just a desire to shorten one's commute and achieve more flexibility with the "workday."

Regardless of whether you work from a micro apartment or a fully dedicated home office, your productivity is key to your business and career success. Having a thoughtfully designed workspace can enhance your focus and work product.
Here are a few things to consider when creating a workspace.
Location
First, establish where in the home you want to locate your workspace. When selecting your location, keep in mind potential auditory distractions such as television, laundry machines, etc. You will also want to consider visual distractions such as piles of unfolded laundry, dirty dishes, toys, etc.
Does the size and layout of your home require you to locate your work area in a shared space such as a living room, den, guest room or kitchen? If so, consider how your desk will visually impact the surrounding room. If you plan to locate your work area in an unused bedroom, consider removing sliding or bi-fold closet doors and placing the desk "inside" the closet.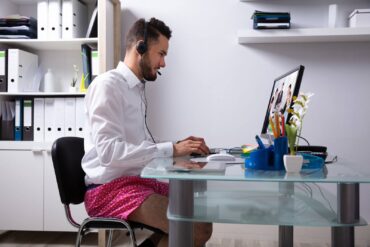 Alternatively, if space is tight and the closet is small, consider removing the closet door and hanging a curtain in the doorway to alleviate the floor space required for a swing door and store your office supplies behind the curtain.
Also, consider where the natural light and artificial light originate from. Locate your work surface, i.e. your desk, where both natural light and artificial light will illuminate your work surface but not create glare on your work screen. Additionally, think about proximity to utilities, including ethernet and electrical outlets for CPUs, laptops and phone chargers.
Work Surface
When selecting the size, shape and location of your work surface, remind yourself what tasks you will be performing at your desk and review your available space. If you use multiple computer screens or need an uncluttered surface area to lay out papers and materials, then an L-shaped or wraparound desk would best fit the bill. If you are writing or primarily corresponding on a computer, a drop-down or simple rectangle desk can serve your needs at a low space and cost investment.
If you think best on your feet, you might consider a stand-up or adjustable desk (one that goes from standard desk height to stand-up height). If your desk is located in a "public" area of your home such as a living room, family room, kitchen, etc., you may want to choose an armoire or rolltop-style desk that can be closed off to keep the overall room looking tidy, as well as secure the content of your desk for privacy.
Chair
Once you have your desk selected, it's time to consider which desk chair is right for you. If your budget is tight, this is the one item you do not want to skimp on — it can be the difference between productivity and chronic neck or back pain. If you have chosen an L-shape or wraparound desk, a chair that swivels is the best choice.
Ask yourself whether the arms on the chair will be an enhancement or a nuisance in your workspace. A chair that has multiple adjustments such as height and lumbar that are customizable to your body may be the best way to keep you in your seat and focused rather than wandering around the house attending to nonwork-related tasks.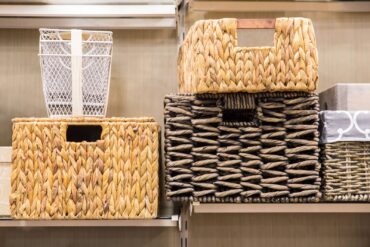 Space allowing, consider adding a "reading" chair or small couch, which makes the room cozier.
Storage
Creating storage for office supplies, books and personal mementos can be challenging but with a little creativity and ingenuity, you can make a space for everything and then everything will have its place. For example, a simple bookshelf can hold books and mementos and if you add a few attractive storage baskets, you can obscure the storage of office supplies.
Have a small closet? Install shelves of varying depths to store supplies and reference books. No light in the closet? Add a battery-operated touch light.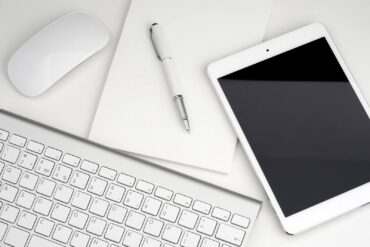 Item of note: Consider how your "visible" storage may look in your videoconference meeting background and tailor your look accordingly.
Equipment Access
Equipment and utilities such CPUs, modems, routers, printers, screens, electrical outlets, charging stations and phone or ethernet lines need to be accessible without being a nuisance. First, go wireless with your mouse, keyboard, printer and other devices to cut down on the total quantity of wires and cables. This also gives you more flexibility in where you locate these items.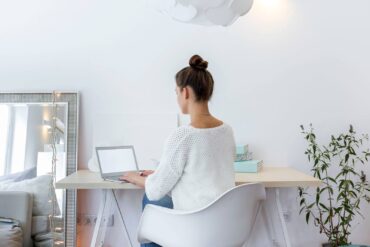 Corral your equipment wires and cables with gromets and wire-manager accessories from manufacturers such as Mockett (mockett.com). If you are using a power strip to plug in multiple items, make sure you select a heavy-duty model with a built-in surge protector.
Lighting
Lighting is so important in every aspect of your life, but especially in your work environment. If you want to avoid tearing up the sheetrock on your walls and ceiling, turn to table and floor lamps for proper illumination.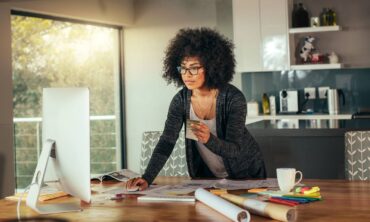 Be particular about the bulbs the lamp accepts. Many lamps can accept an LED bulb, provided it has the right size and shape base. When selecting bulbs, read the bulb package for the following characteristics:
Lumens — simply put, the higher the number, the more light output you receive from the bulb (a better measure than wattage).
Kelvin — this is the color temperature of the bulb, and the lower the number ( 2,700, for example), the "warmer" the light; the higher the number (such as 4,000-plus), the cooler the light, mimicking sunshine.
Wattage — the manufacturer of the lamp will have placed a sticker on the fixture indicating the maximum wattage allowed for the lamp. A 60-watt incandescent bulb is approximately equivalent to a 15-watt LED bulb, and a 75-watt incandescent bulb is roughly equal to an 18-watt LED bulb.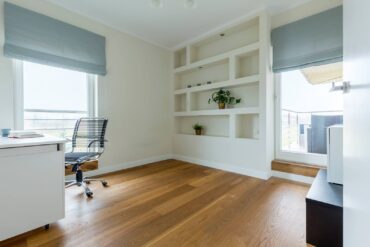 Do not run lamp cords under rugs or carpeting, as this can be a fire hazard.
Whether you are paying bills, writing the next bestselling novel or running a mail-order business from your home office, it's important to make your workspace a reflection of who you are and how you work. Just remember to keep it simple and give yourself time to tweak the fine points once you have the basic elements in place.
Wishing everyone a productive workday!