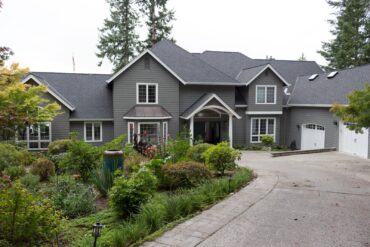 Donna and Brent Stinnett, longtime Kitsap County residents, undertook an adventure that many Northwest travelers to Hawaii envision but never act on. They vacationed on the enchanted Big Island and decided to move there. And they did it! It doesn't take long to recognize the fun and adventurous spirit in this congenial couple.
Their home in the town of Holuloa did not disappoint as they explored the island and its culture. Their adventure reenergized them and Donna Stinnett says they were completely taken by the flow in homes between the inside and outside. They actually felt like they lived outdoors. But, after a few years, they missed their families and friends and returned to the Northwest version of paradise.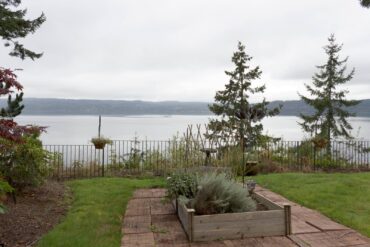 Their new home has alluring assets: a 5-acre forest with waist-high ferns, a lovely home on the banks of Hood Canal and a world-class view of the Olympics. A remodel by previous owners lifted the home from a straightforward builder's spec house to one rich with architectural focal points and warm woods. The kitchen received the royal treatment with granite slab counters, cherry cabinetry, sleek appliances and a wide bay window overlooking an oversized viewing deck. Traditional fireplaces and mantles and built-in shelves and wainscoting blended with a more relaxed, Northwest contemporary style.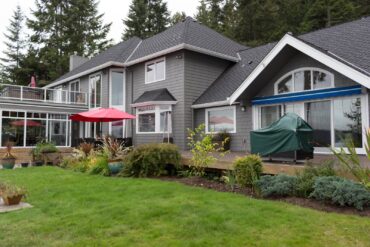 The original cabin on site was redesigned as an attached apartment. But the Stinnetts have opened it up and turned the former living room into a party room with a huge screen and sound system. Always the creative one, Donna Stinnett is forming a plan for a more relaxed look here with paneling and a wood ceiling. However, they aren't ready to undertake a big project again — just yet.
The couple missed living as connected to the outdoors as they had in Hawaii. Decks in the Pacific Northwest are ill-used, Stinnett says, and this home has a huge one. So they started sketching and dreaming, considering new possibilities for reaping the benefits of their natural setting. When they had solidified their ideas, Justin Ingalls of Kitsap-Trident Homes collaborated with them on a fabulous outdoor room steps away from the family room.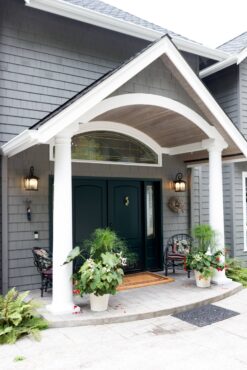 To see this room is to want to collapse into one of the comfy chairs and never, ever move. The house seems to have been waiting for this addition to complete itself. This room fulfills the promise of the view, shifting it from a backdrop of nature outside to a place to revel inside.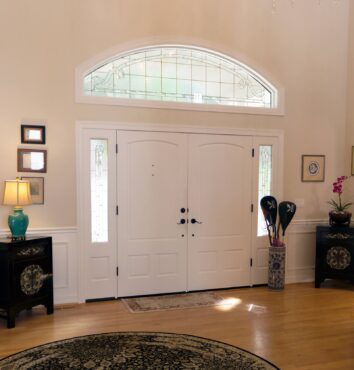 On the northwest corner, a mammoth, rock fireplace set on the diagonal stair-steps up to a deep, coffered ceiling of rough-cut, natural cedar. A fabulous, heavily textured fan matches the robust statement of the fireplace and ceiling.
The south wall has four glass panels that run in tracks and stack so nature, water and sky can come on in. When closed, the glass creates warmth like a solarium.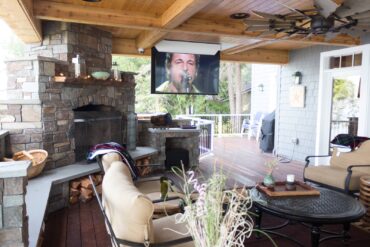 The west wall has a bench with glass above. A section free of glass abuts the fireplace and continues on the north side. The Stinnetts report with big smiles that they use this room (almost) every day of the year.
Upstairs, a theater with a large screen and sound system comes with a lively history. When Brent Stinnett lived in Poulsbo, he asked a cable company tech who could help him with a whole-house sound system. The tech recommended Nuts About Hi-Fi so he called Jim Lee, the owner. Little did they know what capers would come of their meeting.
Lee installed a sound system with a music library called Sooloos that put 15,000 albums at the fingertips of Stinnett, who expands his access to music further with a subscription website called Tidal. Oh, happy days! Stinnett lights up as he talks about their love of all kinds of music. Well, except rap.
When Brent and Donna Stinnett moved to Hawaii, that system traveled to their new home and they hired Lee to reinstall it. He sent his lead technician, Matt Krawoski. Then, of course, Lee had to go over to inspect the work. Their three faces light up at those memories.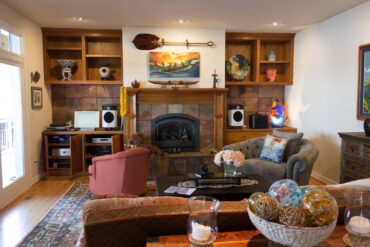 Two years later, the beloved system was packed up and brought back to Poulsbo, where Lee and his team reinstalled it in the upstairs theater. One system, three different houses — that's a well-loved home essential.
Meanwhile, Nuts About Hi-Fi installed a new setup in the downstairs entertainment room and tweaked the existing central-sound system. The outdoor room sports a drop-down screen and barrel speakers. Donna Stinnett says sometimes the guys are out around the fireplace watching a ballgame and the gals are down the hall singing karaoke.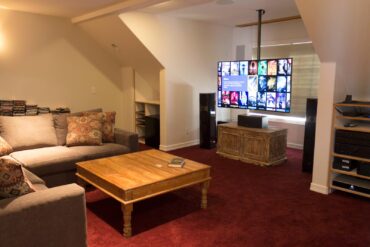 The Stinnetts sold their home in Hawaii turn-key and brought back only personal belongings and art. A cool fish rug that was Brent's birthday gift for his office sits below a sign on his desk that says, "I'm very busy now." Two niches feature Nano Lopez colorful, bronze sculptures. They are magical. The dragon protects the entry hall and a parrot delights in the family room.
A small paddle, a graphic seascape of an outrigger and paddlers and a canoe model are featured over the family-room mantle. Lovely, thick rugs with warm colors and intricate contemporary designs gather conversation areas together and run down halls leading to yet another intriguing room.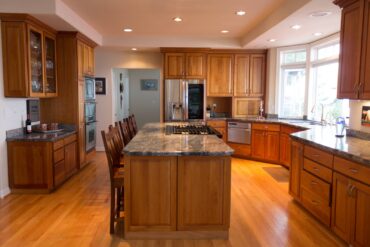 Donna uses color and pattern with confidence and keeps creature comforts in mind. She upholsters chairs in a way that turns them into delightful characters. A seahorse print on a low-backed chair is charming, a small throne waiting for a mermaid. Pops of color and throw pillows add excitement and whimsy.
In one bedroom, she layered three different patterns of comforters on a bed, creating a fresh and inviting look. A woven sea grass headboard with its delicious texture anchors another bedroom. This room goes full-tilt floral with linens and area rug while colored pen and ink drawings of Holuloa, the town where they lived, prompt closer inspection. A black head board highlighting shutter insets grants the master bed prominence. A comforter of black-and-cream, batik fabric softens its impact and maintains the island flavor.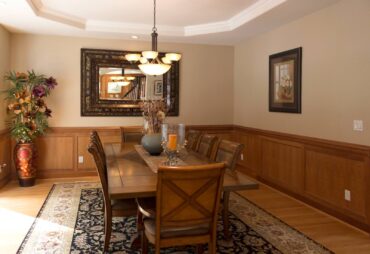 The Stinnetts start their mornings with coffee made in a corner of their lovely, large bathroom and a soak in the upper deck hot tub. They check out the weather, the water and mountains, the eagles aloft and dolphins and boats cruising the canal. They soak in the pleasure of that inside/outside living thing they crave.
The bedroom and the bathroom share a two-sided fireplace with a soaking tub between the fireplace and the western skies and mountain vista. Glass-bricks surround a shower with multiple heads set to individual temperature preferences.
On the lower deck attending the panorama, a hunky table and chairs float ready for long, leisurely meals and conversations. Thick, comfy, bright paisley seat cushions mixed with striped ones inject a sense of anticipation. An exotic-looking plant nearby turns out to be an ordinary eggplant bush.
Donna Stinnett punched up the circle garden with canna lilies and hot-colored, festive dahlias, introducing a tropical vibe at the home's entrance. Gardening is her dearest hobby and she looks and listens to the garden to see what it calls for. This is similar to her approach in the home's decor. She doesn't work from a plan but from an instinct of what catches her eye and makes her smile.
From the gracious two-story entry hall to the wide-open spaces flowing from formal to casual rooms, this wonderful home is made for parties, large and small, inside and out. Reunited with family and friends in a home that blends the exceptional beauty of two regions, Bruce and Donna Stinnett are back home in the Northwest and ready to entertain in the spirit of Aloha.