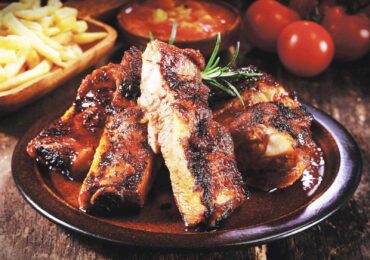 It's summer. That means long days, fun outings, get-togethers with family and friends — and, of course, barbecue.
Mmmmm, barbecue: bold, smoky, sweet, tangy. The flavors are as much a part of summer memories as the smell of fresh-cut lawn and the feel of beach sand under the feet.
But before you break out the briquettes and barbecue sauce, there are some things you need to know.
One, grilling and barbecuing are not the same. In grilling, food is prepared using high and direct heat, no smoke and a short period of time — minutes, not hours. In barbecuing, food is prepared using low and indirect heat, smoke and a much longer cooking time — hours and sometimes a whole day.
In short: "Barbecue differs from grilling in that barbecue typically means long cooking over low heat, whereas grilling is done quickly over higher temperatures," Fred Sauceman, associate professor of Appalachian studies at East Tennessee State University, wrote in the "Encyclopedia of Alabama."
Two, barbecue is a cultural experience. Newcomers to this continent picked it up from the Taino people, indigenous to the Caribbean, who call it barbicu', a meat-roasting process using a fire pit and a four-legged stand made of sticks. The cooking style was adapted in U.S. colonial times and on to reflect the dominant meats, spices and tastes of specific regions.
These are the most prominent barbecue styles:
Memphis — Signature Dish: Pulled pork prepared with a dry rub of garlic, paprika and other spices and served with a tangy tomato-based sauce.
North Carolina — Signature Dish: Pork shoulder or pork ribs brushed with spices and vinegar while cooking and served with a red sauce seasoned with apple cider vinegar with a little ketchup and red pepper flakes.
South Carolina — Signature Dish: Ham or pork butt prepared with one of four sauces — mustard, vinegar and pepper, light tomato or heavy tomato. "Vinegar and pepper sauce, the most popular style along the coast, is perfect for those who love a bit of heat," Gwen Fowler wrote for Discover South Carolina. "The acidity of the vinegar works magic with the pork. It's also the oldest sauce, perhaps the oldest in the nation, and has been traced back hundreds of years."
Kansas City — Signature Dish: Brisket rubbed with spices, slow-smoked over a variety of woods and served with a molasses and tomato sauce.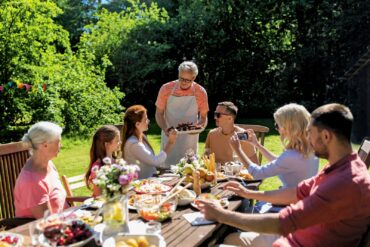 Central Texas — Signature Dish: Brisket and ribs rubbed with salt, black pepper and spices and cooked over indirect heat from pecan, oak or mesquite wood or a combination of woods. Sauce is typically served on the side.
East Texas — Signature Dish: Chopped brisket cooked over hickory wood and marinated in a sweet, tomato-based sauce.
Alabama — Signature Dish: Pulled pork cooked over hickory, oak or pecan wood, then served as a sandwich with white sauce made from mayonnaise and vinegar and often topped with coleslaw.
9 Steps to the Perfect Barbecue
Now, let's walk through this with some masters of the 'cue. We'll assume we're working in the backyard with a common 40-inch black barrel charcoal griller.
Step 1
Prepare the meat. When buying meat, invest in higher quality. Look for good marbling, which adds flavor. Keep the seasoning simple — like rosemary, olive oil, salt, pepper, thyme and garlic — to allow the natural flavor of the meat to come through.
"If you're brining or marinating, you might need a whole day for the full flavor to develop," Barbecue Hall of Famer Ray Lampe told Food & Wine. "Even a dry rub needs to be on the meat long enough for the two to get to know each other."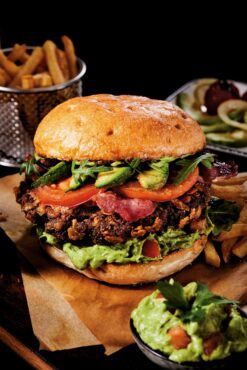 Betty Walker of Sweet and Smokey Diner in Bremerton prepares her Texas-style barbecue — brisket, chicken, pulled pork — with a dry rub of spices and serves it with a sweet and spicy sauce (more on sauces in a minute).
When cooking ribs, caterer Ray "Bubba" Idell of Silverdale first removes the membrane, gripping it with a paper towel and pulling it off. Removing the membrane results in super-tender meat.
Step 2
Make sure your grill is clean.
Step 3
Set up two zones on the grill: indirect heat and direct heat.
Step 4
Place your charcoal on the direct heat side and fire it up. Preheat your grill for 10-15 minutes.
Step 5
Put wood chunks on the glowing embers of the coals; if your grill has a smoker box, you'll place the wood chunks or wood chips there instead. The best all-purpose woods for smoking are hickory and oak. You can use mesquite and pecan for a stronger smoke flavor or fruit woods like apple or cherry for a lighter smoke flavor. Only use wood that is seasoned, and never use softwoods or pressure-treated wood.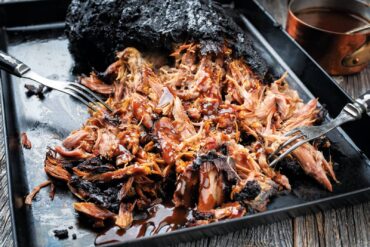 For a more pronounced smoke flavor, Idell soaks his wood chunks in water (some use a mixture of water and beer) for one hour, then drains before adding them to the fire. Soaking causes the wood to smolder and generate more smoke.
How much wood to add? "All grills and smokers are different," Lampe told Food & Wine, "so it can be hard to determine the right amount of wood. Start with a small amount of wood and gradually add more, if needed."
Step 6
Put your meat on the indirect heat side. Don't overcrowd the grill grate; leave one-fourth of the grill free so you can move food if you get flare-ups.
Step 7
Close the lid with the vents open. The lid traps hot air and smoke. When cooking thick cuts of meat, you want to use the lid to conserve heat and make sure the food cooks through.
Step 8
Be patient. "Outdoor cooking has many variables: cooking conditions, equipment, fuel, weather, meat thickness," according to TastyMeat.net, a website dedicated to all things barbecue. "Grilling requires patience, practice and flexibility."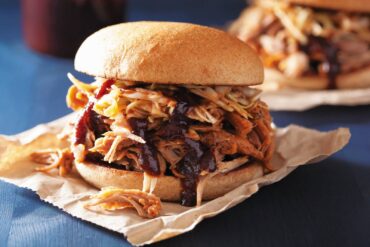 Juan and Yadira Fimbres of Danny's BBQ in Silverdale are too busy to chat. Lunch crowds are drawn in by pulled pork, babyback ribs and smoked brisket with sides of baked beans, cornbread, cole slaw or potato salad. But on their website, they write about the importance of quality meat, wood and patience.
"There are no cutting corners or time-saving interventions that produce authentic Texas BBQ," they write. "First you have to have the highest quality of beef, pork and poultry (that's chicken and turkey). Next is a hardwood (alder, apple, hickory). Last, we use a match to ignite the real wood to create the heat and smoke for 12-18 hours."
Idell barbecues ribs for three hours at 225-250 degrees. He then removes them and puts them on foil, adds honey and "a little bit" of brown sugar, closes the foil and places the ribs in the smoker for one more hour.
Walker of Sweet and Smokey Diner barbecues her brisket, chicken and pulled pork 12-14 hours. Her advice to backyard grillers: "Cook it slow and make sure you have the right spices."
Step 9
If you add sauce, don't add it too early. Unlike a brine or a marinade, a tomato-based sauce with brown sugar and molasses doesn't soak into the meat and can easily burn before the meat is properly cooked. Barbecue masters recommend waiting until the meat is almost finished cooking before adding it. When ready, brush the sauce on and flip the meat. Keep brushing and flipping until you see a glaze.
The Fimbreses of Danny's BBQ prefer the natural flavor of smoked meat and remind grillers that barbecue sauce is a condiment, not a marinade: "Sauce only enhances real barbecue, it doesn't make barbecue."
Honing Your Skill
Keep at it and if you don't know, ask. When you buy meat, ask the butcher for recommendations on how to prepare and cook the meat. Have a friend, neighbor or relative who is consummate at the 'cue? Ask for tips.
"My grandfather loved barbecue, and we would travel together to barbecue joints in Alabama, Tennessee and the Carolinas," said Idell, a native of Nashville.
Idell began barbecuing when he was 14 or 15 and continued studying the flavor profiles of different regions as he perfected his technique. He became a building contractor but catered barbecue on the side. A highlight of his career: Idell built a house for a client, and the client hired him to cater a celebratory gathering. One of the attorney's clients, Wolfgang Puck, was among the guests.
"He told me the food was wonderful and gave me a pat on the back," Idell said. Today, Idell caters 40-60 weddings a year.
Barbecuing takes some skill. "But you shouldn't be intimidated," Idell said.
With some research and practice, your home will be the go-to place for weekend gatherings. And — "There's nothing better than barbecue that goes from the smoker to your plate," Idell said.