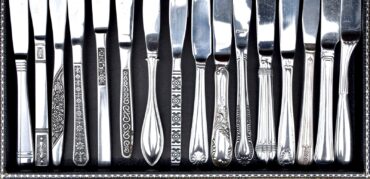 I might as well be a split-pea floating in the middle of the ocean. It was a subject that caught me off-guard, thinking it would be like all the other kitchen item study subjects.
Even napkin rings and kitchen utensil holders unfolded with a bevy of excitement, as the article subjects were historically significant. Not to say that flatware isn't historically significant, but the subject of eating utensils was beyond my comprehension; so huge, I might as well have been explaining Mars.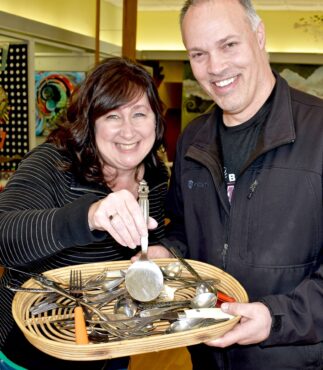 Usually a subject study follows a simple formula of research, interview, obtain, use and formulate.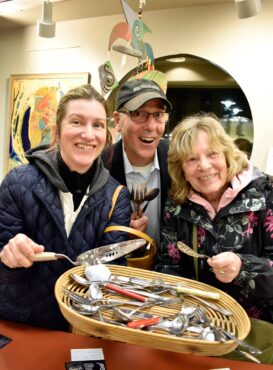 To explain how this started: About six months ago, I was in a local thrift shop in Belfair, looking around for new article subjects. That in itself is a task, since there aren't many kitchen subjects I haven't covered, from pots and pans to old plates.
Faith in Action Thrift Shop is now officially The HUB, a nonprofit thrift and activities center that assists seniors. On this day, I saw a tower of small bins filled with silverware. Was I seeing them for the first time? Or did I always just walk by?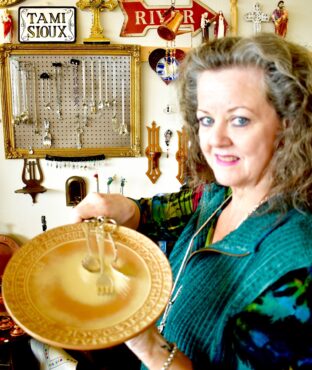 I noticed four pointy, wood-handled forks. Picking one up, I read "Japan" on the underside. Going back home, I thought about those simple forks that were made in Japan, like many other vintage items of that era that I find fascinating and attractive.
"OK," I said to myself, "here it is, maybe my next subject." So next day, I went back to buy those little gems. They were gone! I could have fallen over on the floor. What was about them that someone would buy those plain-Jane, kind of ugly forks?
"Is flatware a popular thrift item?" I asked manager Debora Shafer. She smiled and pointed to the packed bins, and then took me to the backroom, where I saw an enormous amount of silverware on the big sorting bench.
After that, I was hooked, and headed off to five area thrift shops (three were Goodwill stores — in Port Orchard, Silverdale and Bremerton). One guy said that they get so much junky, old silverware that they don't keep a lot of it. Something that surprised me was when two different shop directors said that no one wants the knives. Apparently, those wanting or needing eating utensils can use spoons and forks but have no need for knives. That says something about today's dining trends.
That month, I accumulated over 30 pieces of vintage flatware, each having a different pattern. Here's the thing. I could have picked up 10 times that much.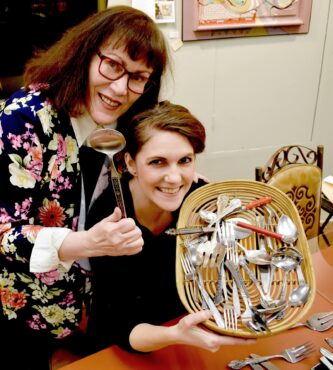 Now to research the patterns, can you imagine the tedious endeavor with this project? I'd find a name and image match, jot the info on paper, then cut up the info paper and tape to the utensil. Oh my, what a mess.
Next step was then to research the names that I had found, while some flatware had no indication or markings of anything.
Stop! I was over my head and barely began my formula approach to article studies. Lines had to be drawn. I had quite a bit of old, silver-plated pieces, but way more Japan-era stainless steel flatware. (The term "flatware" came about around 1850.)
Tedious research was too enormous and not getting me to where I wanted to go. I was going to introduce you to a massive amount of pattern names, but decided otherwise. I downsized the study-arena to the 1960s, primarily being Japan flatware produced in the '60s.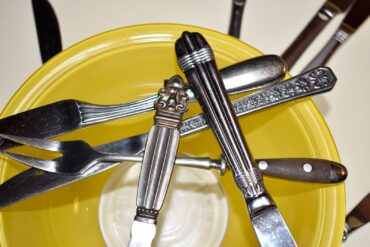 When talking about anything midcentury, there appears to be trend categories. There's super trendy "midcentury modern," where decor is a minimalist atomic pattern; and the late '60s, where it starts to be that heavy wood thing. The '60s Japan ware was all over the chart as far as pattern design. So interesting when a short time like the '60s presents a wide range of style.
It was necessary to change direction since flatware was so historically all-encompassing. Rather than giving up, I changed direction — now going after public opinion.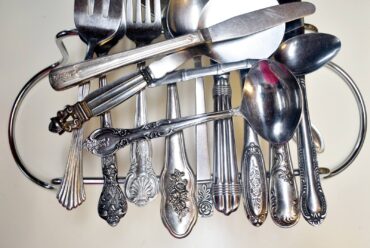 I had an art opening in my downtown Bremerton building. It was a gallery walk evening. I knew tons of folks would be attending, so I gathered up all the vintage flatware and sprawled the pieces on an 8-foot folding table that I placed by the entrance.
We did get attention, and most were bewildered at first. When I stated that the stuff was not for sale, just asking for opinions, people relaxed and engaged.
Holly Moss knew a lot about vintage kitchenware, and the party began. "This looks like a 1965 pattern. This looks like 1962 Denmark," she said as we drew a crowd and conversations.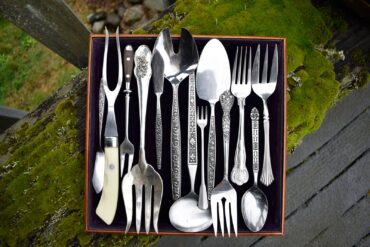 Then gal pal Tami Sioux stopped by the cluttered table. She is well-known for her jewelry and items made from vintage silverware. Even she was amazed at the quantity. Told her I was going to give her the pieces when done, but she informed me that stainless steel was not a material that could be physically transformed.
Here's what I discovered. Some 80 percent of the folks I talked to had vintage flatware, whether it was in use or not — either handed down, a wedding gift or thrift finds. Most had standard current patterns.
New flatware is relatively inexpensive, sets being services for four to eight with a standard price range of $20 to $100. Vintage sets are cheap but harder to find, but singles are out there by the trillions. Many I talked to revel in the idea of variety.
Yes, I did find a vintage 16-service set. Question: When is the last time you served 16 people at your dining table?